If you've never used a stovetop pressure cooker before, they can seem intimidating and even dangerous. But, once you get your hands on one and use it for the first time, you'll realize they're safe and easy to use.
These low-tech cooking gadgets are the best way to speed up cooking times for things like tough cuts of meat, dried beans, soups, and stocks. They can be a real game-changer when it comes to getting weeknight dinners on the table on time
From my professional kitchen experience and hours of research, I've chosen three of the best stovetop pressure cookers for any budget. By the end, I think you'll feel more comfortable with this useful cooking tool, and maybe even come away with a few ideas to try at home.
The Zavor Duo stovetop pressure cooker is reliable, easy to use, and won't break the bank. Simple, but very important factors that make this the best option for most kitchens.
The body of this pressure cooker is built from sturdy and durable stainless steel, with a disc-clad base. The multilayer disc attached to the bottom of the pot is built with an aluminum core surrounded by stainless steel.
The even heating of the tri-ply base plays a big role when you're sauteing or browning food before you secure the lid and start cooking with pressure.
The build quality is solid and impressive, especially when you consider the reasonable price. But, the best thing about this stovetop pressure cooker is how easy and intuitive it is to use.
Everything is controlled by a simple and clearly labeled selector knob on the top of the cooker. There are four choices that can be selected. The "high" setting cooks with high pressure at 15psi, while the "low" setting cooks at a more gentle 8psi.
The next setting is "release" for when you're ready to release steam and pressure, and the last one is "clean". This simply allows you to disassemble and clean the steam valve.
The lid is also one of the easiest and most straightforward to attach, lock into place, and remove when you're done cooking.
Even if this is your first stovetop pressure cooker, the intuitive design and settings are incredibly easy to use. Or, if you're a pressure cooking pro, the consistent results are sure to impress.
What we like
Intuitive design, even for beginners
Very easy to attach and lock the lid
Very high quality for the price
What We don't
Some owners found this model to be loud during use
For a stovetop pressure cooker that's more affordable and even easier to use, the Presto stainless steel model is your best bet.
This pressure cooker has virtually no settings or dials to worry about, making it the easiest model you're going to find. The downside to that is that there is only one pressure setting.
The Presto cooker is set to cook at 15psi. This is the most common pressure setting, so you won't be limited by the recipes that you can use.
Once you're done cooking, the pressure valve is easily switched to release steam. Other than that, there are very few moving parts. That means fewer things to mess with and fewer things that can potentially break.
The lid is easy to attach and lock in place, but the small two-handled design makes it difficult to lift or carry with one hand.
The base is similar to my top pick, constructed with tri-ply disc-cladding. Again, this provides good heat distribution and is helpful when searing and browning ingredients before attaching the lid.
For ease of use, it really doesn't get any simpler than the Presto 8-quart pressure cooker. This is a great option for beginners. But, it's also a great choice for anyone who doesn't want or need multiple settings but still wants quality construction and performance.
What we like
No settings to fiddle with
Well constructed base for sauteing and searing
What We don't
Handles make it difficult to carry with one hand
No settings to fiddle with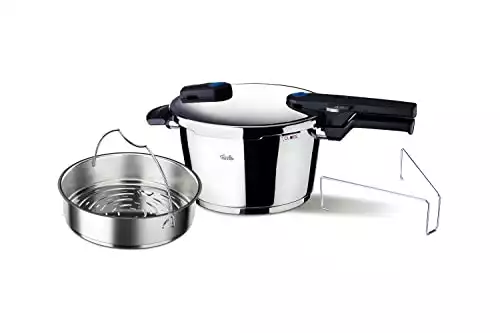 If you've got a little extra room in your budget and you want the best of the best, the Fissler Vitaquick pressure cooker is the one to get.
This option is still extremely easy to use, and it does everything just a bit better than everyone else.
Let's start at the top with the lid. There is a red dot on the lid and one on the handle that you simply line up and rotate to lock. The lid slides and locks into position smoother and easier than any other. Plus, to ensure the lid is locked and ready for action, you'll hear an audible "click" and see a green indicator.
Like my top pick, this model has a high and low-pressure setting for a wider range of cooking uses. When you're done cooking, Fissler has brilliantly placed the steam release button on the handle, far away from where the steam actually escapes.
This is an appreciated and well-thought-out feature. No more twisting a steam release valve that's millimeters away from a cloud of scalding steam, then diving out of the way like your life depends on it
At the bottom, you'll also find tri-ply disc-clad base. Fissler also uses an aluminum core surrounded by stainless steel. This base however is thicker than the rest, for more even heating, and it covers the entire bottom of the pot.
Most other options have a slight bulge or overhang that the multi-layered base doesn't cover. This can lead to scorched ingredients in those unprotected areas, especially if your cooking over a flame that's wider than the base of the pot.
Fissler has taken all the shortcomings of other pressure cookers and thoughtfully solved them. Of course, all of that comes at a price. This model costs about twice as much as my top pick. But, if you're going to be using a pressure cooker often, I think the thoughtful features of this upgrade are worth the investment.
What we like
Disc-clad base covers the entire bottom of the pot
Easy and intuitive to use
Pressure release button is far away from where steam escapes
What We don't
Significantly more expensive than the competition
Other Options That Are Great But Didn't Make The Cut
The Presto 23-quart pressure cooker is too big for most daily uses. But if you do a lot of preserving and canning, this option may fit the bill. Its ultra-large capacity can hold up to 20-pint size mason jars. And, it offers a lot of control when it comes to the amount of pressure you'd like to cook with.
Again, not a good option for daily cooking needs, but one that will make quick work of large canning projects.
Buyers Guide: Choosing The Best Stovetop Pressure Cooker
The Best Size And Shape For The Job
There are a lot of sizes to choose from when picking the best stovetop pressure cooker. But, go too small or too big and you'll limit the versatility and how often you use yours.
Stovetop pressure cookers in the 8-quart range are an ideal size for most people. This may seem like a really large pot, but you have to remember that pressure cookers can only be filled about one-half to two-thirds of the way full. So, anything smaller will likely have you wishing for more volume in the end.
All pressure cookers are round, but you want to look for models that have a wide cooking surface. This allows for better sauteing and browning, an important step that adds a lot of flavor to the finished dish.
All of my top picks have a cooking surface that is at least 10-inches across, which is a solid amount of cooking real estate. And, they all have thick heavy-duty bases for even heating.
Material And Durability: They Go Hand In Hand
There are only a couple of options when it comes to what your pressure cooker is made from. Stainless steel or aluminum.
Aluminum is lightweight, inexpensive, and excellent at conducting heat. The problem with aluminum is that it's not extremely durable and it can react with acidic ingredients, which can lead to pitting and leaching.
If you're only using your pressure cooker for canning purposes, then an aluminum model is a great way to go.
Stainless steel is your best bet for daily use. Almost all stainless steel pressure cookers have a multi-layered base. This is important for even heating, durability, and to avoid scorching the food inside the pot.
Stainless steel is also safe to use with any ingredients. Plus, most models are compatible with all kinds of cooktops, including induction.
Even-Heat For Searing And Simmering
Even heating is an important factor when using a pressure cooker. There can be a lot that goes on before you seal your pot and start building pressure.
Searing meat, and sauteing veggies and spices help to build flavors that will make the end product much more delicious. A thick base that heats evenly helps to ensure better and more even browning and caramelization.
Once the lid is attached and locked in place, a thick base also helps to maintain consistent pressure. This means you can use lower heat on the stove, and won't have to constantly babysit your pot and fiddle with the temperature.
Choose A User-Friendly Model
Stovetop pressure cookers are simple machines, but some models have confusing dials and more settings than you need.
The best pressure cookers have intuitive controls that are clear and easy to understand. The lids should be easily attached, lock into place, and be removed once you're done cooking. One or two pressure settings and a release valve are all you really need.
Not only are simple models easier to use, but they're also easier to clean and often have fewer moving parts to break or get lost. In my experience, fewer moving parts translates into time and frustration saved.
Warranty And The Parts That Will Need To Be Replaced
The standard warranty for most good stovetop pressure cookers is around 10 years. In almost all cases, the warranty only covers manufacturers' defects but not damage caused by regular use.
Fissler is one of the few that offers a lifetime warranty on their pressure cooker, but again, this only covers manufacturers' defects.
The most common thing that will need to be replaced on every pressure cooker is the large rubber gasket that helps seal the pot. These usually cost between $15 and $30 and are easy to find and replace yourself.
You'll know that your gasket needs to be replaced if you have a hard time maintaining the correct pressure. Or, if you notice any steam escaping from around the sides of the lid.
Electric Pressure Cookers: What's The Difference?
Electric pressure cookers can do an impressive number of things all in one countertop device. Aside from actual pressure cooking, these can usually act as a rice cooker, slow cooker, and do low temp tricks like making yogurt.
They're also very convenient and usually have delay timers so you don't even have to be in the same room (building) when they start and finish cooking.
But, when it comes to searing and their actual pressure cooking prowess, stovetop models are superior. When using the pot to sear or saute on the stove, you have a lot more control over temperature. And, they almost always heat more evenly than electric models.
Plus, stove top pressure cookers can cook at a higher pressure than electric models. That means a higher internal temperature and faster cook times. This can be especially important if you live at a high altitude with a lower boiling point.
Cleaning And Storage
The bottom of most stovetop pressure cookers can be cleaned like any other pot, and many are dishwasher safe. The lids on the other hand should be hand washed. These can have a lot of cracks and crevices, plus the steam valve, that can require special cleaning attention.
In general, I would always store a pressure cooker with the lid off. This is just a precaution to avoid moisture getting trapped inside the pot and possibly causing mold or mildew.
What You Can Expect To Spend
If you're going for an 8-quart pressure cooker (and I recommend you do), you should plan on spending $50 at the very least. Smaller models can be found for less than that, but options are limited.
The $75-$150 range is a great place to look for a combination of value and high performance. If you're just getting started, you can find great options that you won't quickly outgrow and will give years of solid performance.
If you want the best of the best, expect to spend at least $200 but easily more. These options offer the most even heating, and often have long-lasting components that can be serviced or changed by the owner.
Frequently Asked Questions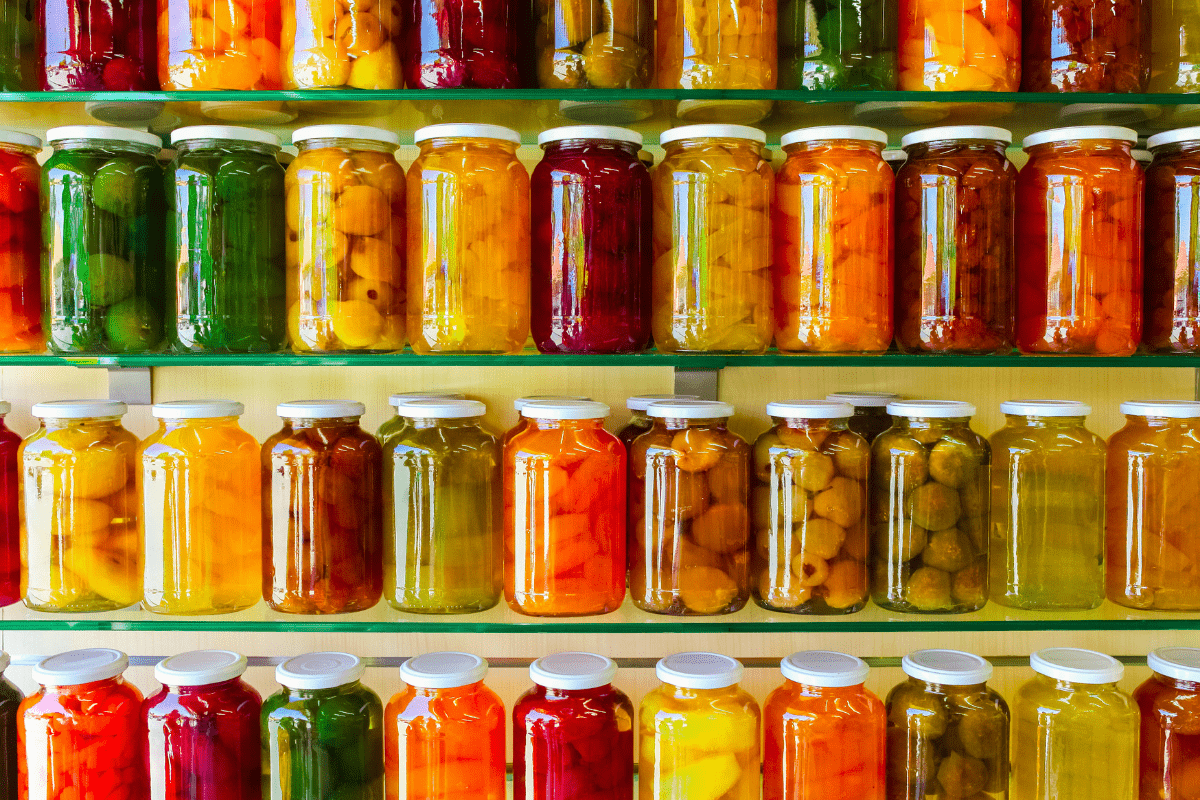 What Is A Stovetop Pressure Cooker Used For?
Stovetop pressure cookers are used to cook items at a much faster rate than conventional cooking methods. For example, a beef brisket that would normally be braised for 3 or 4 hours, can be cooked and tender in about 1 hour.
It's also an excellent way to make stocks or bone broth. These can be simmered for 12 or more hours, but high-pressure cooking is able to extract most or all of the nutrients and flavor in a fraction of the time.
How Does It Work?
With traditional cooking techniques (i.e. boiling, simmering, braising), liquids can only be brought to water's boiling point. That's 212 F at sea level and lower if you live at a high elevation.
A pressure cooker works by sealing in liquid and air so that pressure builds in the pot. This increases the boiling point to around 250 F. That's a significant increase that drastically speeds up cooking times.
Are There Any Safety Issues?
Pressure cookers used to be produced with a single pressure release valve and no backup safety features. So, if the valve was blocked, there was potential for the entire pot to basically explode.
All modern pressure cookers are very safe and have multiple safety measures built-in. These are usually in the form of second or third escape valves that are triggered if the primary one fails.
To be on the ultra-safe side, it is a good idea to regularly clean the release valve so that food particles don't build up and get clogged.
Should I Get A Stovetop Or Electric Pressure Cooker?
If you want the convenience of multiple appliances in one package, an electric pressure cooker might be what you're looking for. But, for better pressure cooking performance and results, a stovetop model is superior.
Are They Used In Professional Kitchens?
Stovetop pressure cookers are used in many professional kitchens. You'll often find very large models that are used for cooking large quantities of dried beans, stocks, or for canning and preserving.
What Should I Make In My Stovetop Pressure Cooker?
I love using a stovetop pressure cooker for dried beans. I think dried beans taste better than canned ones, and it allows you to easily infuse any additional flavors that you want. Not to mention they're much less expensive.
My Recommendation
When choosing a stovetop pressure cooker, go for one that's easy to use and has a nice thick base. All of my top picks have you covered on those fronts.
If you're just getting started or won't be using your pressure cooker very often, the Zavor model has high-end features at a reasonable price.
Or, if you're someone who uses a pressure cooker every week, you'll definitely appreciate the high-quality features and usability of the Fissler Vitaquick.