My Chinese grandmother served rice with just about every meal. She used a simple, one-button rice cooker, measured the water using her finger, and it was perfect every time. At least that's how I remember it.
If you didn't have anyone to pass down their secret rice technique, you're in luck! Rice cookers have come a long way since then and the Japanese models are the cream of the crop. Through hours of research and my ingrained love of rice (no pun intended), I've chosen three of the best Japanese rice cookers that will suit any home cook.
Our Top Picks
Features:

Controls are simple and easy to use
Rice bowl and exterior are easy to clean
Retractable power cord is great for storage

Features:

One of the least expensive Japanese rice cookers
Can do a lot more than just cook rice
Light-up LED display is easy to read

Features:

The inner cooking pan is built like a high-end pot
Rice and other foods cook very evenly
The backlit control panel is easy to read and use
Best Overall
Features:
Controls are simple and easy to use
Rice bowl and exterior are easy to clean
Retractable power cord is great for storage
Best Value
Features:
One of the least expensive Japanese rice cookers
Can do a lot more than just cook rice
Light-up LED display is easy to read
Features:
The inner cooking pan is built like a high-end pot
Rice and other foods cook very evenly
The backlit control panel is easy to read and use
12/01/2023 02:07 pm GMT
Detailed Reviews Of The Top-Rated Japanese Rice Cooker Brands
Best Overall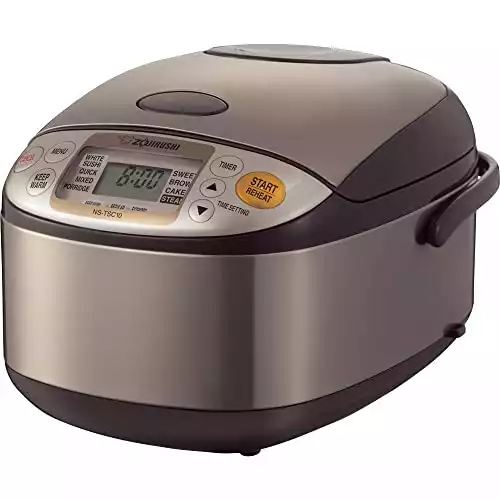 Buy on Amazon
We may earn a commission if you make a purchase, at no additional cost to you.
12/01/2023 02:07 pm GMT
I like to think that I make a mean pot of white rice on my stovetop. But, when it comes to brown rice, I can never seem to get it right. If you're in the same boat or you don't know how to cook rice in general, this Zojirushi NS-TSC10 will do all the work and thinking for you.
Zojirushi makes 17 different rice cookers and this one strikes a perfect balance between features, ease of use, and price. Not to mention, it makes exceptional rice.
With its LCD display and eight different cooking settings, this may look intimidating. Especially if you're used to a single-button rice cooker with no options. But, with just one or two uses you'll realize how simple and intuitive the controls are.
There are pre-programmed settings designed to handle each type of rice you might want to cook. They have you covered for white, sushi, brown, mixed, or sweet rice. There are also settings for porridge, cake, or steam, which works well with the included steamer basket.
The delayed start feature on this rice cooker is also very useful and well thought out. Simply set the time that you want your rice to be done and dinner comes together easily and on time. It's like having an extra set of hands and is one more thing that you don't have to worry about doing.
The nonstick rice bowl has useful measurement markers inside and also makes clean up incredibly easy. It is dishwasher safe but since it's so easy to wipe clean I would recommend hand washing to avoid damaging the nonstick coating. It's also important never to use metal utensils, which can easily scratch the non-stick layer.
The power cord automatically winds into the body of the rice cooker, which is a small but much-appreciated feature.
I do wish Zojirushi had added a backlit display like they do on some of their more expensive rice cookers. But, that's just a small gripe on an otherwise very impressive machine.
What we like
Controls are simple and easy to use
Rice bowl and exterior are easy to clean
Retractable power cord is great for storage
What We don't
The non-backlit display can be hard to see in low light
Best Value
Buy on Amazon
We may earn a commission if you make a purchase, at no additional cost to you.
12/01/2023 03:43 pm GMT
The Comfee' 10-cup Japanese rice cooker has the features and looks of a high-end model but at a much more approachable price. Plus, the 10-cup capacity makes it big enough to feed large groups.
This cooker has a setting for any kind of rice that you might want to make as well as modes to slow cook, saute, bake, steam, or make yogurt. That makes this a multitasker that can potentially replace several other small appliances.
With so many settings (17 in all) the Comfee' rice cooker is less intuitive to use than my best overall pick, and unfortunately the instruction manual doesn't offer a lot of detail for each cooking mode.
Most owners get the hang of things after a few test drives. The extra settings give this unit a lot of versatility, but if you're the type of person who is looking for a less complex control set-up then you might do better to consider one of my other picks, even the single-button Panasonic that I'll mention below.
The nonstick inner pot has useful measurement markers and the whole thing is easy to clean without needing to use the dishwasher. Although the bowl is dishwasher safe if the need arises.
The Comfee' Japanese rice cooker can do an impressive number of things and hold a large amount of food, all at a very budget-friendly price. But, if your priority is perfectly cooked rice every time, then you may want to look toward one of my other two top picks.
What we like
One of the least expensive Japanese rice cookers
Can do a lot more than just cook rice
Light-up LED display is easy to read
What We don't
Cooked rice results can be inconsistent
"Keep warm" setting often leads to mushy rice
Best Upgrade
Buy on Amazon
We may earn a commission if you make a purchase, at no additional cost to you.
12/01/2023 06:07 pm GMT
The Tiger induction heating rice cooker does everything my other top picks can, but it does it all a little better. It also costs a lot more, but if you are a frequent rice eater then the extra expense might be worth it.
One of the biggest differences between this Japanese rice cooker and my other choices is the heating element. My best overall and best affordable options both use a heating plate as the cooking element and Tiger uses an induction heating system.
Induction heating technology is much more efficient than the radiant heat produced from a hot plate. It can also heat and cook rice more evenly. The result is rice (or other ingredients) that cook faster and more evenly, all while using less energy. This is also one of the reasons that this model comes with such a high price tag.
This rice cooker has all of the cooking settings that you would ever need, and then some. But the steam function is a good example of how this machine does things a bit better than the rest.
Most other models use a perforated steam basket that can sit above the rice as it cooks. Tiger takes it a step further with their "tacook synchro-cooking" function. Their specially designed steam basket is sealed. That means you can cook an additional dish, even if it's liquid-based, directly above the rice without affecting its flavor or texture.
The quality of the non-stick inner pan is another area where Tiger outdoes the competition. The inner pot is built from five layers of metal with a three-layer nonstick coating on top of that. That's a similar design to some top-of-the-line, fully clad cookware and it leads to more even heating and better durability.
For the casual rice eater, this option may be a bit overkill. But, for those in search of rice perfection, you may have found your answer.
What we like
The inner cooking pan is built like a high-end pot
Rice and other foods cook very evenly
The backlit control panel is easy to read and use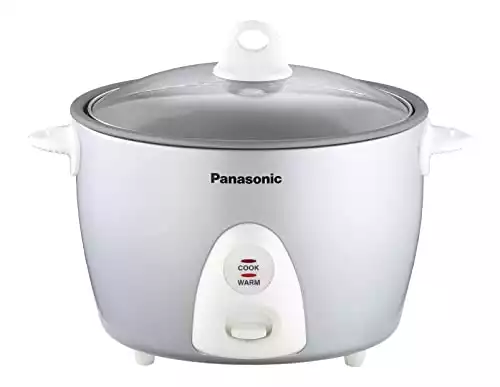 Buy Now
We may earn a commission if you make a purchase, at no additional cost to you.
12/02/2023 10:02 am GMT
This Panasonic rice cooker doesn't have the technology or features that you might expect from the best Japanese rice cookers. Instead, it has one button and one setting, "cook". It turns out perfectly good white rice, but brown varieties can often need more time even when the cooker says it's done.
The price of this rice cooker is very appealing.
If you're the type of person who wants the simplest possible appliance for white rice only, look no further. But if you need more versatility for the type of rice you'll be cooking or want more control over how it gets done, the Panasonic simply won't be the best Japanese rice cooker for your kitchen.
Buy Now
We may earn a commission if you make a purchase, at no additional cost to you.
12/02/2023 07:02 am GMT
The Aroma rice cooker is another option that's affordable and isn't packed with a bunch of bells and whistles. But, unlike the Panasonic, it does have settings for both white and brown rice, as well as a delay timer.
This may be a step up from the push-button rice cookers of yesteryear, but it's another case where you'll be missing out on several modern features by choosing this option over my top picks.
What To Look For
Size
Picking the right size rice cooker can be a little tricky. Some manufacturers label their sizes by cups of cooked rice and some go by cups of uncooked rice. And to make things even more confusing, the cup size doesn't refer to an 8-oz cup as you might expect.
Instead, most manufacturers use the traditional Japanese rice cup measurement. That's 180mL or approximately ¾ of a U.S. cup. To make things simple you can think of each uncooked rice cup as one large portion.
So a 5.5-cup capacity (uncooked) rice cooker would be a good size for groups of up to around 6 people. If you're feeding more than that on a regular basis you might want to jump up to a 10-cup (uncooked) model.
From my picks, the Zojirushi and Tiger are available in both 5.5-Cup or 10-Cup capacity. The Comfee' rice cooker is sized to 10-Cups, only.
Materials
A good inner cooking bowl is one of the key pieces to any rice cooker. And they can be difficult to replace if you end up denting the bowl or scratching the nonstick surface.
Investing in a rice cooker that has a strong and durable nonstick coating is a good idea. But, avoiding the use of metal utensils and the dishwasher is even more important. You should always use a plastic or wood rice paddle and a soft cloth or sponge for cleaning.
The thickness of the non-stick inner pan also plays a big role in how evenly your rice cooks. Thin, single-layer aluminum bowls are often the culprit of scorched rice. Thick, multilayered bowls like the one in my Upgrade Pick help with even cooking and help ensure you never have burnt spots on the bottom of the bowl.
Control Panel
When you compare the control panel of a Japanese rice cooker to a single button model they seem much more complicated. But after a few uses, most should become easy to navigate.
There are almost always preset cooking functions for the most common cooking tasks. Things like white and brown rice, porridge, and steaming.
The onboard computers do a good enough job for most people. But, if you're someone that's more hands-on, some of the more expensive models let you program your own settings. Some also have the ability to control everything wirelessly from an app.
A backlit control panel is a nice feature to look for. It makes using the controls much easier in poor lighting conditions and is one of the only things missing from my best overall pick.
Heating Method
The heating element is one of the biggest factors that make a rice cooker more or less expensive. And there are two primary options to consider, induction or radiant heat.
Radiant Heat
Rice cookers with a heating plate use radiant heat just like you get from an electric coil stove or the heat generated from the flame of a gas burner. These models are generally more affordable but do cover a wide price range. You can find this type of rice cooker for around $20 or up above $200.
The downside to radiant heat is that it can heat unevenly and it's less efficient so it uses more energy. A thick, high-quality bowl goes a long way in ensuring even heating and cooking with this style of rice cooker.
Induction
Rice cookers that use induction heating technology rely on an electromagnetic field to produce heat. I know, it sounds like science fiction but is actually a heating method that's been around for years. I won't go into the science now, but I've written a primer on induction cooking if you want to dig deeper.
Induction heating is incredibly efficient and produces very even cooking results. So, rice cookers that use this technology use less energy and can cook faster and more evenly. Just be prepared to spend at least $200 and up to around $600.
Components
A removable cooking bowl is a given. But, you should also look for models that have a removable steam valve or a removable inner lid and gasket. Those are the places that can be hard to get to in the machine and often collect gunk over time.
Warm Function
One of the beauties of a good Japanese rice cooker is that it can keep your perfectly cooked rice warm for hours, without sacrificing texture.
When using the "keep-warm" function they will monitor and manage temperature and moisture. This keeps rice from getting soggy or burnt even after extended periods of time.
A 12-hour keep warm function is very common, but some options like my Tiger pick will do it for a full 24-hours. That means if something comes up right when you are about to sit down for dinner, your rice will be as good as new whenever you're ready to eat.
Cook Time
Japanese rice cookers are impressive, but they're not the fastest way to cook rice. Cooking rice in a normal pot on the stove usually takes somewhere around 20-minutes (longer for brown rice).
For most models you should plan on close to an hour. But, what you have to remember is that time also includes a rice soaking period. This is one of the keys to perfectly cooked rice.
If you're short on time, many models also have a "quick cook" mode. That simply eliminates the soaking step so your rice is cooked and ready in around 30 minutes. Or, you can always use a delay timer so you're never waiting around for the rice to finish.
Weights And Dimensions
You don't need a ton of space for your rice cooker. On average most models will take up about one square foot of countertop real estate. And that goes for both 5 or 10 cup models.
When it comes to height, there can be a bit of a difference between the two sizes. 5-cup options are usually between 8 and 10-inches tall, while 10 cup versions are closer to the one-foot range.
If you'll be lugging your rice cooker from place to place, plan on carrying around 10-pounds for most of the smaller cookers and close to 12-pounds for the larger ones.
Care
You should get into the habit of cleaning and drying your machine after every use. That will help avoid any off-odors that can develop when moisture gets trapped in the cracks and crevices. And, it will cut down on build-up that can end up blocking the steam vents.
Each model is slightly different and some have more removable pieces than others. So check your user manual. But in general, you should remove as many pieces as you can and clean them all!
One of the most important places to check and clean is the large gasket that helps seal the pot. That's a prime place for water and debris to get stuck and forgotten about. Some models also have removable steam vents that should be cleaned regularly.
Most of the time the body of the machine should only be wiped down with a damp cloth. But always be sure to unplug the machine before getting after any of the electronic components.
Price
Japanese rice cookers ain't cheap. A large part of what you're paying for is the technology that's packed into the machines. And that's largely what makes them more expensive than the old, single-button machines.
The more entry-level machines that rely on radiant heat to cook, will cost anywhere from $20, up to around $200. The pricier options here will have more settings and more customization. And, they tend to offer better and more consistently cooked rice.
Or, you can get into induction heated models. These use less energy and offer the most even and consistent cooking. But, be prepared to fork over at least $200 or up to around $600.
Rice Cup
Most rice cookers come with everything you need to get cooking, which isn't much. A paddle and a measuring cup. The paddle is used to fluff, separate, and serve rice. These are easily found and replaced online or in most grocery stores.
The measuring cup can be a key item that is more important than you may think. My grandma used her finger to perfectly measure her water to rice ratio. But, for most people, the measuring cup is indispensable.
And, as I mentioned earlier, the rice cup is not a standard 8-oz measuring cup. So if you lose yours you'll be stuck guessing until you can get a replacement.
My Recommendation
The best Japanese rice cooker is indispensable when it comes to consistently cooking rice of various types.
My best overall pick cooks rice like you would get in your favorite restaurant and won't break the bank. If you want perfect rice but you also plan on using your machine as a slow cooker for other recipes, my upgrade pick could be a better fit.
And if you think this is just another step closer to computers taking over the world, you can always use one of my best saucepans instead.
FAQs
Why Are Japanese Rice Cookers So Expensive?
Japanese rice cookers are packed with tiny computers and high-quality components. They generally offer more features and cooking settings than other types of rice cookers. And, the best models are unmatched when it comes to the consistency and quality of the cooked rice.
Is A Japanese Rice Cooker Worth It?
If you want to cook different types of rice and the end product is important to you, then yes they are worth it. Models that cost more than $200 are really geared towards rice enthusiasts. Luckily they come in a wide range of prices so you can try one without too much of an investment.
If you only cook plain white rice and you don't do it very often, you might be better off with a low-tech single-button model, or an even lower-tech pot and lid.
What Types Of Rice Can You Prepare In A Japanese Rice Cooker?
White rice, brown rice, sushi rice, short-grain, long-grain, and every rice in between. Every type has different cooking requirements and one of the best things about Japanese rice cookers are the built-in settings for all of those varieties.
Can I Get The Same Results Using A Pot On The Stove?
Yes, but it will take a lot of practice and you will likely never get the same consistency that you will from a Japanese rice cooker. The built-in computers do a great job of sensing when there is too much or not enough moisture. Then they can adjust how much steam is released to help ensure the rice is properly cooked every time.