We recently tried the Zelite Infinity Chef Knife as part of our hands-on trials of more than a dozen Japanese knives in the Test Kitchen.
Right out of the box it was evident this knife was different from the others we tested. The shape and weight set it apart, and made it feel more familiar to German knife. We knew from the start that it would be great for cutting dense meaty food product, and were excited to see how the knife would perform in other trials.
Over 6 months, we put this knife to the test in an effort to uncover – is it really worth it?
In this article, I'll share what we learned about the Zelite Infinity, how we tested it, and how I'd think about this purchase after extensive hands-on time with the product.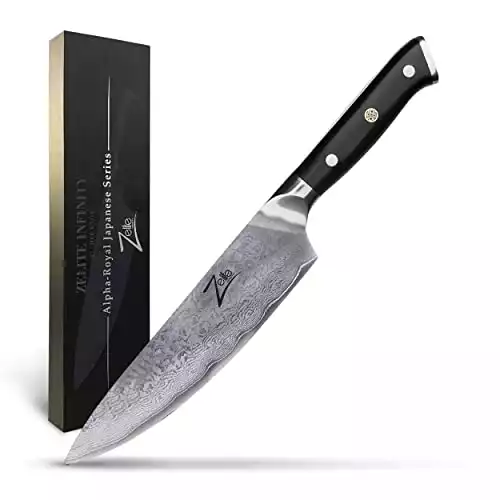 Buy on Amazon
We may earn a commission if you make a purchase, at no additional cost to you.
09/25/2023 07:44 am GMT
What we like
The shape and weight means it handles like a Western knife.
Blade depth (~47mm) is ideal for the deeper cuts like red meat and root vegetables.
All of the edges are smooth and well-rounded.
What We don't
Handle is heavy, and can get slippery when wet.
Some nice details, but not a high-aesthetic knife.
Bolster shape is not well suited for a pinch grip.
First Impression
At a glance, this knife presents very differently than the other Japanese chef knives we tested.
While all of the Gyuto's we brought into the Test Kitchen were created with kitchens in Europe and North America in mind, this one was probably the most distinct. From the shape and weight, to the handle style and finishes.
All of the design choices seemed tasteful and understated, from the packaging to the brand impression on the blade. The handle has a subtle (but ornate) inlay of brass, copper and stainless steel. A nice touch, but not over the top.
The Damascus folds also stand out, with 33 layers of SUS410 high carbon stainless steel (66 in total) surrounding each side the sharper cutting core of the knife.
The whole package is elegant and we were excited to see how the blade profile would work in the rigors of the Test Kitchen.
Shape
Most "Japanese" knives that you'll find for sale in the West aren't Japanese by any traditional measure.
The most popular Japanese chef knife style, called Gyuto, is almost a mirror image of a French chef knife. The primary difference being the blacksmith method and type of steel used in production.
While the other Japanese chef knives we tested take on a French shape, this blade was distinctly more round. Practically German.
This design choice makes the Zelite Infinity uniquely suited for smooth rocking cuts, which most home chefs will be familiar with.
While nearly all of the other Gyuto knives we tested were suitable for a rocking cut, none were quite as smooth as this knife. However, if you're looking for a traditional Japanese up-and-down cut, our team found it was really tough to perform with this knife. Both because of the shape and weight of the blade.
Handle
The shape and weight of this knife's handle is distinctly Western.
While not as ergonomic and form fitting as a Wusthof, the design is clearly not traditional Japanese. It's big, heavy and curved.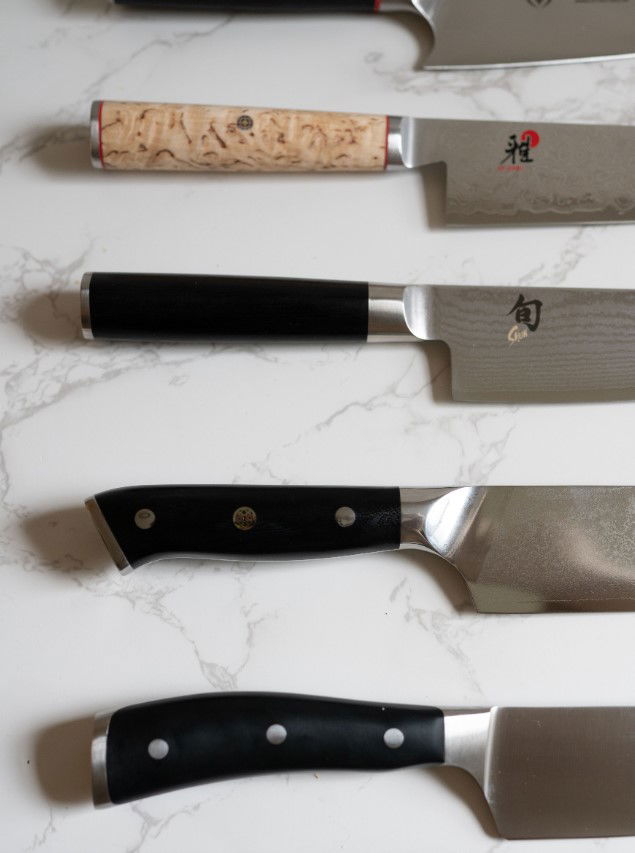 From my experience, the extra weight was welcome for making tough cuts like piecing out a whole chicken or prepping dense root vegetables.
The tapered half-bolster is shaped with rounded edges which makes it especially comfortable to hold as part of a pinch-grip. This is a big contrast to others we tested which had rough, even sharp, edges on the spine of the knife.
The handle is crafted with a composite of fiberglass and epoxy, which looks nice, but that our team also found can become slippery when wet or covered in animal fat during butchery.
Weight
The Zelite Infinity was heavier than any other Japanese chef knife we tested.
It was about 80% heavier than the lightest knife we tested, and 40% heavier than the average of all 8″ Japanese chef knives we tested.
Why so heavy?
The weight is very similar to what you'll find with most German chef knives, so I'd presume this was an intentional design decision to cater to people who like that shape and weight.
Compared with other Japanese chef knives, the blade of the Zelite Infinity is relatively thick. About 20% wider at the spine than others we tried. A wider blade mean more metal means more weight.
The blade shape also dictates that the depth at the heel of the knife, from cutting edge to spine, is somewhat tall (47mm). The depth made it easy to make clean cuts at the but of the knife without fingers getting in the way – especially root vegetables.
If you're looking for a weighty knife that will do a lot of the work for you on stubborn cuts, this one is a great fit. But, if you prefer a blade that is light and petite, you may be better served by another option.
Sharpness
Our knife was dull out of the box, but quickly took a sharp edge using a whetstone.
The 12 degree sharpening angle created a very sharp edge, but peak sharpness didn't last for long. Maybe one month.
One thing that was interesting about our experience with this knife is that when it dulled, it was still functionally sharp. Just not to its peak ability.
| Knife | Blade Angle | Cutting Edge Material | Rockwell Hardness Index |
| --- | --- | --- | --- |
| Shun Classic | 16 | VG-Max | 60 |
| Miyabi Birchwood | 9.5-12 | MC63 | 63 |
| Oishya Sakai Kyuba | 17 | VG-10 | 62 |
| Zelite Infinity | 12 | AUS10 | 61 |
| Dalstrong Phantom | 13-15 | AUS8 | 58 |
| Misen | 15 | AUS8 | 58 |
Zelite uses an AUS10 carbon steel core, which has a Rockwell hardness of 61. This is similar to our favorite Japanese chef knife, the Shun Classic. Although we weren't able to determine why peak sharpness was brief, we found that overall edge retention was similar to the Shun.
Balance
Many traditional Japanese knives are designed to balance on the heel of the blade, which can be a great benefit if you prefer to take a forward pinch grip. Since this knife was designed with a Western audience in mind, the balance is positioned over the sloped bolster instead. We found this offers the best performance for both worlds – pinch grip and handle grip.
Price
If you're looking for an affordable option, the Zelite Infinity is priced just above the "budget" end of the Japanese knife price spectrum. While you can find a more affordable option (like Misen), it won't have ornate Damascus folds like this knife or as sharp of a cutting edge (61 Rockwell Hardness). This blade is the best value we've found among Damascus knives.
The Bottom Line
After 6 months in the Test Kitchen, several sharpenings, and a whole lot of food prep I can confidently say that the Zelite Infinity chef knife isn't for everyone.
This blade is a fusion of Japanese-style Damascus production and German-inspired design. If you're looking for both of these things baked into a single blade, then it may be the most affordable way to get what you want.
And there's no denying that the price is excellent given the materials used.
At the same time, there are more ergonomic options for a German-style knife. And most people prefer a softer steel for heavy butchery, a hallmark of top German brands like Wusthof.
Most Japanese knives feature a thin, lightweight blade and straight handle. This knife doesn't have either.
If you are looking for a little of both worlds, if nothing else, we found this knife was an interesting take at combining them. And, while I probably wouldn't buy this knife again, I can see how it might be a great fit in some kitchens.
Interested in other Japanese knives? We wrote a comprehensive guide to Japanese blades for your convenience.