Though they've been making Japanese knives for over 100 years, Yoshihiro is still a relatively new name in the United States knife market. But since they started selling worldwide in 2008, the company has quickly developed a reputation for providing some of the most affordable Japanese knives for home and professional chefs.
Even with my professional kitchen experience, sorting through Yoshihiro's incredibly wide variety of knives felt a bit overwhelming. So I called up three of my chef friends and had them weigh in with expert opinions for this article.
With all of our product feedback combined, I think you'll find a balanced and comprehensive perspective presented in my Yoshihiro knives review. My hope is that you'll walk away with a better understanding of the brand and which of their knives actually deserve a place in your kitchen.
Yoshihiro VG-10 Gyuto Japanese Chefs Knife
By selling directly to US consumers through their website and Los Angeles based storefront, Yoshihiro does away with the costs of using a middle man. This makes their knives one of the most affordable introductions to Japanese knives for the home chef. The hardest part is deciding which of their many knife styles is right for you and your cooking style.
Buy Now
We may earn a commission if you make a purchase, at no additional cost to you.
09/27/2023 11:48 am GMT
What we like
Excellent price for genuine Japanese knives
Options for everyone from beginners to experts
Their wide selection of knives lets you fine-tune your cutting experience
What We don't
Almost too many options to choose from
The entry-level options don't have the best edge retention
High carbon steel knives require a lot of maintenance
Yoshihiro Knives Review, By Type of Knife
At the time of writing, Yoshihiro offers a range of knives in 15 different types of steel. And while each steel has its own unique characteristics, they can be broken down into four main categories:
Double-edged stainless steel
Single-edged stainless steel
Double-edged high carbon steel
Single-edged high carbon steel
As I've ordered them here, each category becomes progressively more specialized. Let's take a closer look at how each of these classifications matches up with your skill level.
Double-Edged Stainless Steel
Because these blades are the most similar to Western-style knives, double-edged stainless steel is the best starting point for anyone unfamiliar with Japanese blades. They're also the most affordable knives in Yoshihiro's entire catalog — making them an excellent choice for first-time Japanese knife buyers.
If that sounds like you, my first recommendation would be the Yoshihiro VG10 Gyuto. It's made from Japanese steel and pakkawood, but the design is closer to that of a Western chef's knife.
The curved blade allows for a rocking cutting motion, which is characteristic of Western knives, and the hard steel blade gives it impressive sharpness. And since it's made with stain-resistant steel, maintenance requirements are minimal.
Alternatively, consider the High-Speed Steel Gyuto if you'd like to upgrade to the sharpest knife possible. It's forged from premium steel that's heated to an incredible 1200 degrees Celsius, making it harder and sharper than any comparable Western knife.
Who should buy these knives? Yoshihiro's double-edged stainless steel blades are a great choice for first-time buyers of Japanese knives. The price is right, and the cutting characteristics reflect several familiar aspects of western cutlery.
Single-Edged Stainless Steel
Many traditional Japanese knives have a single edge, giving them a very different cutting style from Western knives. Instead of cutting with a rocking motion, you'll have to pull through your ingredients with a long, smooth slice.
Unlike traditional Japanese knives though, this group of Yoshihiro knives uses modern stainless steel in its construction. I'd qualify the characteristics of these knives as landing right in the middle of Japanese and Western styles: Low maintenance, but with an incredibly sharp edge that requires a different cutting style.
Two knives stand out in this category:
The Ginsanko Yanagi, a specialty sashimi knife. It's much pricier than general use knives, but still represents quite a bargain for a knife this long and this sharp.
The Ginsanko Usuba, or vegetable knife. It's a rare combination of true Japanese knife design with added alloys that make it stainless.
Who should buy these knives? A former chef of mine at a sushi restaurant in Portland, Oregon recommends them as starter knives for professional sushi chefs. They're affordable enough to save up for over a few months, and give an excellent introduction to the style.
Double-Edged High Carbon Steel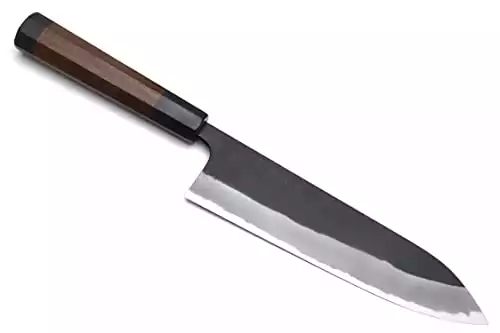 High carbon steel is the traditional material of choice for Japanese knives. That means this category is another blend of Western and Eastern style: A double edge for ease of use, with sharper steel that requires more maintenance.
This is the tipping point for home use into professional use knives. For most at-home chefs, regularly oiling and sharpening your high carbon steel knife will feel like an imposition on your cooking time.
But if you're willing to practice the extra care and maintenance necessary for one of these knives, they can be incredibly sharp for their price. Take Yoshihiro's blue steel gyuto: At 62-63 Rockwell hardness, the performance of its blade will put comparably priced Western-style knives to shame.
Who should buy these knives? These are mostly oriented toward professional cooks, though some dedicated home chefs might take on the challenge of extra maintenance. The blades are incredibly sharp, but if you're not using them at great duration the care can seem like an imposition.
Single Edged High Carbon Steel
At this point, you're looking at Yoshihiro's most expensive and highest-performance knives. They're well out of the reach of most at-home chefs, myself included! Though if I had a few hundred dollars laying around, it certainly would be tempting to buy one.
The Hongasumi Kiritsuke is a perfect example of the category: Wildly sharp, with excellent edge retention and exhaustive maintenance requirements.
Who should buy these knives? Professional chefs with well-developed knife skills are the only group I'd confidently recommend these knives to.
Buyer's Guide
To recap what I've explained in the reviews above, let's take a closer look at each of the qualities you'll have to decide on before buying a Yoshihiro knife. Together with the reviews, this will point you towards the exact right knife for your cooking style.
Blade
Old school high carbon steel blades require more maintenance than more modern stainless steel blades. You'll have to be careful to keep them clean and dry at all times, and regularly oil the blades with mineral oil to prevent rusting.
The tradeoff for more maintenance, though, is that you can buy a sharper high carbon steel knife for less than a stainless steel one. That's because the metal alloys used for stainless steel knives are more expensive to produce and often harder to work with during the forging process.
Edge
A large part of a knife's sharpness comes from the angle of its edge.
In double-sided knives, the edge is ground down on both sides, creating an angle that is the sum of both sides of the edge. For example: A grind of 10 degrees on both sides of a double-edged knife will add up to 20 degrees total.
Single-edged knives, as their name implies, are sharpened only on one side of the blade, usually to 12 or 15 degrees. This means that the total edge angle will always be less than a double edge knife — making it sharper, but requiring more skill to make smooth cuts with.
Is sharper always better, though? Not really.
For a workhorse knife like a gyuto, having a double edge provides longer-lasting edge retention. A double edge also makes these knives less prone to chipping, and easier to use for rough chopping of herbs and vegetables.
That's why you'll often see long, slicer-style Japanese knives with a single edge. They excel at making the long, smooth cuts necessary for sushi and sashimi. And because you won't be cutting many hard ingredients, they'll keep a sharp edge much longer.
In short: Single edge for precise slicing, and double edge for everyday use.
Tang
All of Yoshihiro's knives are made with a full tang, meaning that their steel extends from the tip of the blade to the butt of the handle. This is the gold standard in Japanese knife making, ensuring maximum durability and a refined balance.
If you're comparing Yoshihiro's knives with another brand, make note of whether they feature a full tang or a partial (semi) tang. Semi tang knives are less expensive to manufacture, but offer less longevity than full tang knives.
Handle
Traditional Japanese knives are made with hardwood handles in one of two types: D-shaped, or octagonal.
D-shaped handles are more friendly towards beginners, but still not as easy to get used to as most molded Western style handles. With a little practice, though, the straight handle style of Japanese knives will give you more maneuverability while cutting.
Octagonal handles are featured on the priciest of Japanese knives, as they give the greatest ability to manipulate the tip of the blade. A skilled chef can use the many facets of octagonal handles to minutely adjust their position before starting a cut. Beginners often find this style of handle uncomfortable for long-term use.
Care and Maintenance
As explained above, the type of steel a blade is made of will change how much care and maintenance you'll need to give it. But there's one other maintenance area you should be aware of: Sharpening.
Traditional single edge blades are much more difficult to sharpen than modern double-edged blades. Even experienced sharpeners can find it tricky to get the perfect angle on one side without rolling the blade over to its unsharpened side.
That makes the double-edged blade categories much better choices for beginners. If you're interested in learning how to sharpen your own knives, I strongly recommend starting with a double edge knife.
Type of Knife
The traditional Japanese kitchen has a much wider variety of knives than a Western one. And while the usual suspects are there — a chef's knife, paring knife, filet knife, etc. — you'll also find a half dozen specialized knife styles.
So what type of knife do you need? A chef's knife is the traditional place to start, as you'll be using it most often. Then, a small paring knife complements the chef knife well, allowing you to make more detailed cuts.
Unless you're intent on cooking classic Japanese cuisine, those two knives will be enough for 90% of kitchen jobs. Past that, a Yanagi knife will allow you to cut flawless sashimi. And if you're making the intricate vegetable preparations of much Japanese cuisine, an Usuba vegetable knife is an excellent addition.
Frequently Asked Questions About Yoshihiro Knives
Before we get to my final recommendations, I'd like to take a moment to answer a few of the most common questions about Yoshihiro knives. Especially because they're less well-known than major brands, this should help to give a fuller picture of what the company is about — and whether you should buy a knife from them, or consider a competitor's offerings.
Are Yoshihiro Knives Good?
Yoshihiro's knives are excellent. They're a rare combination of affordability and classic design, mixed with a touch of modern technology. And with their incredible variety of knife styles, they really do have something for everyone from absolute beginner to seasoned expert!.
Where Are Yoshihiro Knives Made?
All of Yoshihiro's knives are made in Japan, though the company does not divulge the exact city or cities in which they are made. Some of their sharpening services are performed through their storefront in California.
Are Yoshihiro Knives Single Bevel?
Yoshihiro offers both single bevel and double bevel knives. For a closer look at each, check out my reviews of their different knife categories above.
Yoshihiro vs Shun — Which Knife Brand Is Better?
Shun is the biggest Japanese knife name in the United States, owing to their wide availability in department stores. And for the most part, their knives are designed in a style that's much more friendly to Western cuisine.
Does this make Shun knives better than Yoshihiro? I'd say it's more of a matter of your cooking style. Shun's santoku, for instance, is probably the most beginner-friendly Japanese knife on the market. But if you're willing to practice a different cutting style, Yoshihiro's knives will open your eyes to a whole world of Japanese cutlery in a way that Shun cannot.
My Recommendation
We've made it to the end together — thanks for sticking with me through the technical parts of the article! To recap:
Yoshihiro's knives run the gamut from beginner-friendly Western-style blades to top-of-the-line traditional Japanese knives. This makes the brand a good choice for just about anyone, from home chef to sushi master.
But if I had to recommend just one knife to the home chef, it would be the Yoshihiro VG10 Gyuto. It blends the best of Western and Eastern knife making and is so affordable for the quality it offers.
If your situation is more specific, I'd be happy to lend my advice. Just drop me a line in the comments below, and I'll reply with a recommendation for you.