If you're looking for good side dishes to serve with pierogies, then you've come to the right place.
I'm a classically trained chef from a Polish family in Jersey. And we've been making these small, half-moon dumplings since I was a child. I've tried every pierogi pairing you could imagine, and these ones stand above the rest. All of them are practical & easy to prepare, even if you're a beginner.
My only caveat is that you should consider how your pierogies will be stuffed before picking a side from this list. Regardless if you're using mashed potato and cheese, sauerkraut, mushroom, pumpkin, or fruit there is a good option for you in this list.
1. Sour Cream
Sour cream had to grace the top of this list because all you need is a pan-fried pierogi and some sour cream to create a satisfying meal.
Even if you decide to serve your pierogies with additional sides, sour cream is always a great topping. (If I'm eating pierogies, you can be sure a heaping spoonful of sour cream will accompany them.)
2. Sautéed Onions
Onions are another "always" side for pierogies, along with sour cream. Since pierogies are often pan-fried, sautéed onions are a perfect (one-pan) companion.
The onions' sweet caramelized and buttery flavor, cut with the bright, tangy, and sharp sour cream, atop warm, crusty-yet-soft potato or cheese pierogies, is a match made in heaven.
You can melt butter and sauté thinly sliced onions in the same pan you plan on frying up your pierogies in. Then, remove and set aside the onions, add more fat to the pan, and continue cooking!
If you're short on time, sautéd onions are quick to whip up, are soft with tasty browned bits encrusting their edges, and pair beautifully with pierogies. However, if you have more time on your hands, consider cooking the onions low and slow to caramelize all of the natural sugars for a sweet and jammy alternative.
Check out this recipe for the best-caramelized onions!
3. Brown Butter and Herbs
A simple topping for pierogies is to create a brown butter sauce with whatever herbs you have on hand. This is a great way to serve pierogies since it will pair well with whatever else you prepare alongside them, but it is still tasty on its own.
Although brown butter may seem intimidating at first, the trick is to take your time and keep an eye on the heat, so the butter doesn't burn. The goal is to create a complex nutty flavor by toasting the milk solids in the butter, thus "browning" them.
With a heavy-bottomed pot or pan, add pats of butter to melt over medium heat. Continuously stir the butter to prevent the milk solids from sticking to the bottom and burning.
The butter will melt, then foam, and then settle into the delicious golden brown butter you are looking to achieve. Next, add any herbs you have on hand during the foaming stage, and prepare for your tastebuds to sing.
Here is an excellent recipe detailing exactly how to prepare the browned butter and herb sauce!
Pro-Tip: My favorite way to eat pierogies is to combine the sides we've discussed so far. Begin by sautéing your onions and then moving them to the side. Then create your brown butter and herb sauce, and put this on the side. Finally, fry your pierogies, and top them. Are you drooling yet? I am.
4. Cabbage or Brussels Sprouts and Bacon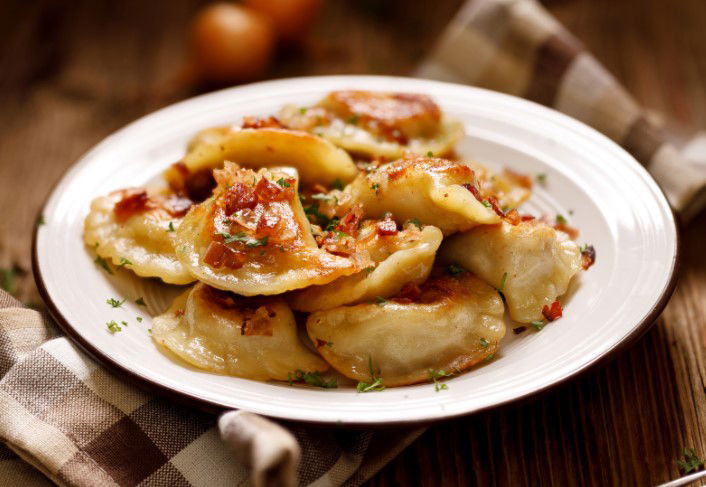 Cabbage or brussels sprouts with bacon are excellent sides for pierogies when you're looking for additional substance but don't want to cook an entire protein.
You can serve this combination as-is since the fat rendered from the bacon will act in place of the melted butter commonly served with pierogies, or you can mix and match with any of the sides listed above.
First, you will chop and fry the bacon in a pan, reserving some bacon grease to fry your cabbage or shredded brussels sprouts, and later your pierogies. You can serve this alongside the pierogies or top them with the mixture; either way, it's delicious.
For a step-by-step recipe, this is a simple and tasty one to follow!
5. Kielbasa
Kielbasa is a Polish sausage that can be served boiled, or sliced and fried. Consider kielbasa if you're looking to accompany your pierogies with something substantial and filling. It is relatively easy to come by in your grocery store and is usually near the hot dogs and other sausages.
My Polish grandmother would slice Kielbasa into angled medallions, fry them, add them to a baking dish, and cover them in jarred apricot preserves. It was delicious.
For all the ways you can fry up some kielbasa, check out this super helpful guide!
Pro Tip: Bake at 400°F until the preserves melt and warm through (about 15-20 minutes). The apricot mixes with the kielbasa juices and creates a delicious sweet and salty sauce to pair with some pierogies!
6. Pork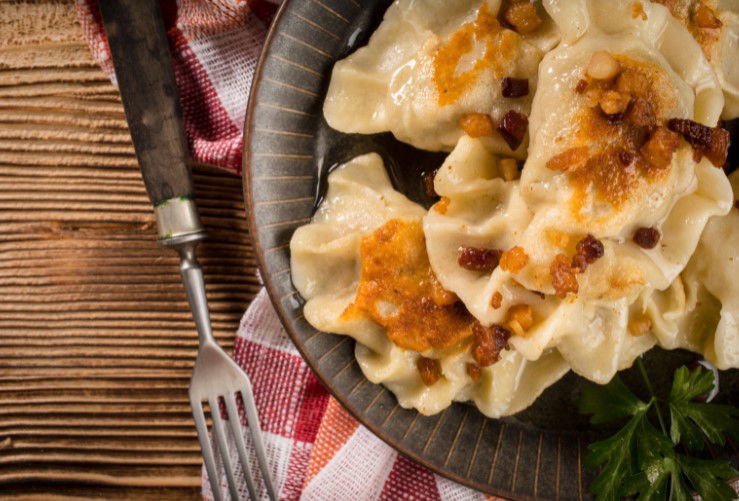 Bacon, pork chops, seared pork tenderloin, fried pork cracklins, pulled pork, or any other kind of pork will pair well with pierogies. If you're looking for a relatively inexpensive yet filling accompaniment to your pierogies to round out a meal, pork is a strong contender.
Pork and sausages are the most commonly served protein with pierogies. Therefore, pork, pierogies, and sauerkraut are integral to a Babcia's Sunday meal!
I'm a fan of frying the pork in the same pan I will fry my pierogies in, so I can utilize all of the flavorful lard and browned bits that collect at the bottom of the pan.
Being Puerto Rican and Polish, I like to prepare a fusion meal of Pernil, a slow-roasted, marinated, and ultra-seasoned pork shoulder with mouth-watering crispy skin, alongside my fried pierogies with caramelized onions and sour cream.
7. Braised Meat
To braise meat, after an initial sear at a high temperature to lock in the juices, you will cook the protein low and slow in liquid until it is tender and falls apart. Chuck roast, pork shoulder or ribs, or lamb shank or shoulder are perfect cuts for braising and will pair beautifully with pierogies. Check out this detailed How to Braise Meats article and apply it to whichever protein you prefer!
Braised meat is a great option when you're looking for pierogies to be the side of the meal instead of the main. Pair with steamed veggies, and you've created a rounded meal.
Pro-Tip: Chuck roast is a relatively inexpensive cut of beef, considering the amount of meat you yield. Both braised beef and pierogies keep well in the fridge and easily reheat for leftovers later in the week.
FAQs
How are pierogies traditionally served?
Pierogies originated in Poland, and traditionally they are pan-fried with a topping of melted butter and fried onions. 
Do you have to boil pierogies before frying them?
You only need to pre-boil pierogies if they are frozen. A thawed or fresh pierogi is perfect for frying as-is. 
What do you dip pierogies in? 
Pierogies are delicious dipped in melted butter or sour cream.