Where I'm from, everyone and their mother (and their grandmother) has a family lasagna recipe.
Here in New Jersey, there are vegan variations, variations with meat sauce, creamy white sauce, thinly sliced eggplant, squash and zucchini, and so on and so forth.
Each one is different, has a little bit of this, a little bit of that, but ultimately, is made up of lasagna noodles, some kind of sauce, and usually ricotta cheese.
What doesn't change from one lasagna recipe to the next is the side dishes that complement and highlight a slice of lasagna as the star of the plate.
In this article, I'll walk you through 8 perfectly paired Italian sides to serve alongside your lasagna.
Buon appetito!
8 Satisfying Sides For Lasagna
1. Green Salad
From Caesar salad to cobb salad to a wedge salad, any green salad will all pair well with lasagna.
Salads are light yet satisfying and will not overpower or compete with your lasagna as the main dish. Instead, your side will highlight all your hard work in putting together a delicious lasagna.
If you need some salad inspiration to keep your dinners fresh and exciting, here are 20+ Green Salad Recipes that will all compliment any lasagna.
2. Giardiniera
If you haven't heard of giardiniera, it is an Italian relish made of pickled vegetables in vinegar or oil. You can incorporate it into dishes (like lasagna), but it is also delicious and refreshing on its own.
The vinegary, pickled taste of giardiniera lifts the heavy and often dense flavors of lasagna, making it a perfect pairing for the dish.
You can find giardiniera prepared in jars in your grocery store, either near the pickles and olives or in the international aisle near the Italian staples.
If you'd like to try making giardiniera, you can follow this recipe and tailor the spice level to your taste.
3. Antipasto
Antipasto is traditionally the first course of an Italian meal and consists of small bite-sized chunks of cured meats, cheeses, olives, and crudites, tossed in a vinaigrette dressing.
You can change out the ingredients in an antipasto to get creative or cater to dietary preferences.
For inspiration, here are 15 Irresistible Antipasto Recipes.
Any of them will complement your lasagna, so feel free to pick and choose or jot down the basics and create your own.
4. Roasted Vegetables
Whether you prefer meat sauce lasagna or lasagna with vegetable medallions layered throughout, roasted vegetables will always compliment the dish.
Pairing a filling lasagna with a lighter side dish like roasted vegetables balances your meal nicely and can be tailored to any dietary preferences.
When you uncover your lasagna to create the golden brown melted cheese and crisp edges, that's the perfect time to put your vegetables in the oven to roast. The lasagna and roasted vegetables will finish at the same time, and serving a hot dinner will never be easier.
Here is a great basic recipe for roasting vegetables, which you can adapt to whatever kinds of vegetables you'd like to serve.
5. Prosciutto and Melon
Putting together a decadent plate of salty prosciutto, ripe and juicy cantaloupe, umami balsamic glaze, and herbaceous basil couldn't be simpler, yet it will impress every time.
It feels like a rich treat to enjoy this side, and to serve it alongside a steaming savory slice of lasagna pushes an already delicious dish over the top.
The melon's opposing sweetness enhances the lasagna's tomato taste, and the similar salty taste profiles weave them together.
If you haven't already enjoyed this tasty pairing, follow this easy recipe for Prosciutto e Melone.
6. Cheesy Garlic Bread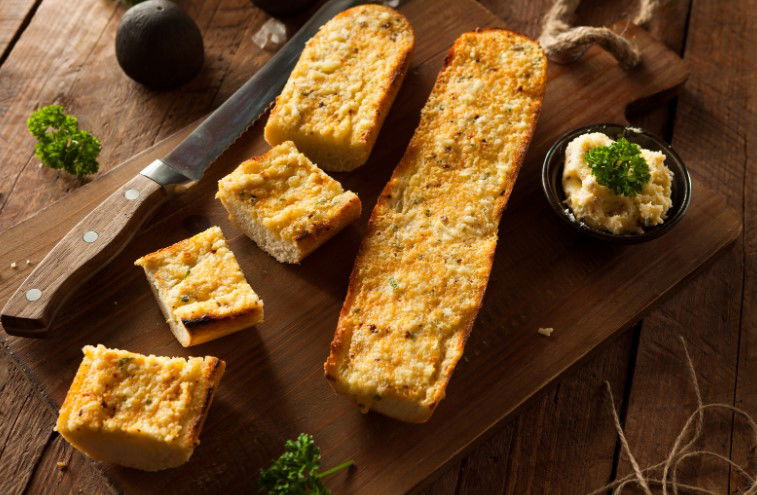 Why not pair cheesy, garlicky lasagna with equally cheesy and garlicky bread? It's easily a match made in heaven.
This side dish is simple to put together and can be finished in the oven alongside the lasagna.
Use whatever kind of crusty bread you can get your hands on. Or, switch it up and use soft and sweet Hawaiian rolls or pumpernickel rolls.
You can't go wrong when covering bread in butter, garlic, and cheese, especially when you use it to scoop up the leftover sauce and lasagna filling from your plate.
If your mouth is watering, check out this Homemade Easy Cheesy Garlic Bread recipe.
7. Breadsticks
Bread and pasta always go together, but pairing light, airy, and buttery breadsticks with a thick slice of lasagna is a classic for a reason.
Store-bought fresh or frozen breadsticks will work in a pinch, but who knew they could be so easy to make at home?
Follow this recipe to enjoy homemade breadsticks from start to finish in 90 minutes.
8. Garlic Knots
Garlic knots are another classic pairing for lasagna since they have all the same makings as garlic bread or breadsticks.
The difference is that the dough used for garlic knots is more similar to pizza dough than crusty Italian bread or soft breadsticks.
Garlic knots have a toothsome, almost chewy texture, with a smooth crust and airy middle.
The buttery garlic taste is delicious alongside a slice of tomato or cream-based lasagna.
If you'd like to make the garlic knots entirely from scratch,this recipe will walk you through it.
However, if you need a side dish in a pinch, this recipe uses canned biscuit dough to have hot and tasty garlic knots served in less than 15 minutes.
Frequently Asked Questions
Do green beans go with lasagna?
Yes, green beans are great alongside lasagna. Try sauteéing them with a splash of oil, garlic, and a squeeze of citrus. Simple and delicious! 
What goes best with lasagna in winter?
Any of the homemade bread listed in the article is perfect for serving with lasagna in the winter. There is truly nothing better than the heat from a warm oven and the smell of baking bread on a cold winter's day. 
What is the difference between "lasagna" and "lasagne"?
"Lasagne" refers to the noodles themselves, while "lasagna" is the cheesy, saucy pasta dish created with lasagne noodles.