There's nothing better than a steaming pot of hearty gumbo. This stew is loaded with meat, vegetables, and a thick, rich broth that combines in a symphony of Southern flavor.
So, what do you pair with a dish that packs such a punch?
Whether you want to keep it simple or serve something a little more surprising, you're sure to find a winning idea in this list of the best Southern sides for gumbo.
1. Rice
Typically, you would serve gumbo with a side of white rice. Any white rice will do, so pick whichever kind you like best. You can also use brown rice, if you're into that sort of thing.
Rice is the way to go if you're looking for a simple and traditional side that will please everyone. It also reheats quickly and easily for leftovers or a filling meal prep dish.
Rice gives extra body to the stewy consistency of gumbo. It also doesn't contain any strong flavors that might compete with your gumbo.
Your Cajun-Creole dish will still be the star of the show, but the rice will satiate even the hungriest groups and make the meal go further.
If you'd like to make rice at home more often, it might be time to invest in a rice cooker for fluffy, perfect rice every time. We've even picked out the 3 Best Japanese Rice Cookers to make sure you pick the best one for your family.
Or, if you'd prefer to whip up some rice on the stove, here is a guide to help you cook it right, in any old pot you have in your cupboard.
2. Potato Salad
Potato salad and gumbo may seem like a surprising combination at first, but hear me out.
Potato salad is an excellent option if you're looking for a filling side dish that will cool down your spicy gumbo.
As a bonus, it can be prepped ahead of time and kept in the fridge. So when you serve dinner, everything comes together in no time at all.
The creamy mayo-filled potato salad will take the heat off your tongue in between bites of a heavily spiced or hot sauce-ladened gumbo.
Opt for this Southern Potato Salad recipe to maintain the roots of your Louisiana-based gumbo.
3. Cornbread
Cornbread is another southern classic that tastes great served alongside gumbo.
Cornbread is a hearty option that's always a crowd-pleaser. It can be as simple as buying a boxed mix and following the directions, or you can try throwing a pan together from scratch.
I like cooking mine in a cast-iron skillet, so I can effortlessly serve it right from the pan it cooks in.
This Southern Cornbread Recipe is great, and it's easy to modify to make it your own. Have some jalapeños on hand? Toss them in! Maybe you'd like to add crumbled bacon or grated cheddar cheese.
The options are endless, and no matter what, it will taste delicious dipped into your gumbo.
4. Bleu Cheese Wedge Salad
Bleu cheese is funky, creamy, and tastes divine when served with a hot and spicy gumbo.
A bleu cheese wedge salad is a lighter option when you don't want to serve something heavy with an already thick and hearty stew.
This recipe comes together in just a few minutes and is fresh and light. Perfect to pair with a rich gumbo.
5. Fried Okra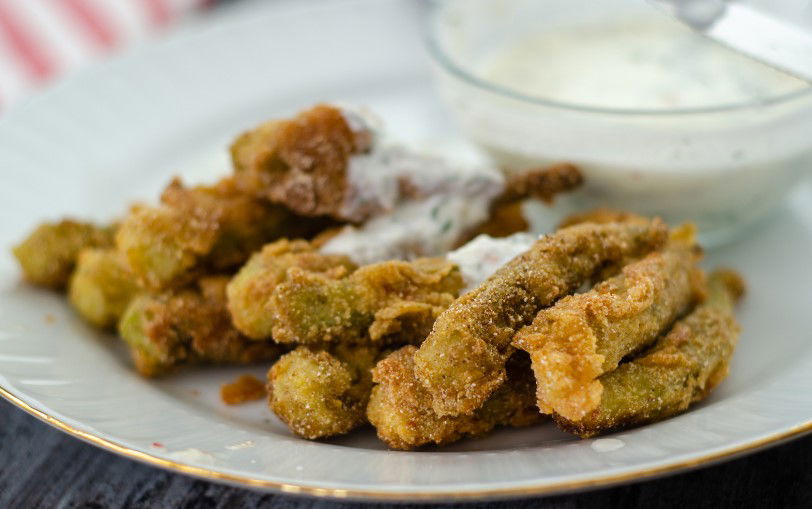 Serving okra with your gumbo is an excellent option if you want something easy that everyone will enjoy. You can fry up a bunch, and your guests or family can top their gumbo with it or snack on it on the side.
Okra is common in gumbo. The name "gumbo" is actually derived from the West African word for okra!
So, why not have it two ways and fry some up to serve on the side. Not only will the flavor pair perfectly, but you'll be adding some much-appreciated texture to the meal.
Here is a quick recipe for frying up okra at home. Then, complete the dish with a creamy and cooling dipping sauce, and you'll have a match made in Southern Heaven.
6. Creamed Corn
Southern-style creamed corn is absolutely loaded with butter and cream. Both of these ingredients are perfect to put out the fire of spicy gumbo.
This is a great side if you want something that's tasty on its own but is even better in between bites of the main dish.
Creamed corn is a delicious option that can be spooned on top of your gumbo or served on the side. And this option won't compete with your gumbo but will act as a mouth-watering companion.
Try out this Southern Style Creamed Corn recipe, and you'll never go back. It is so simple to make and carries a ton of flavor.
7. Fluffy Baked Potatoes
I love serving gumbo with a perfectly cooked baked potato. It should have a crispy salty outside and fluffy steamed inside.
Serving a baked potato alongside your gumbo is an inexpensive option that you can easily scale up to feed a large crowd. No one will leave hungry.
Want to know the secret to making the perfect baked potatoes? Double bake them.
Bake the potatoes once until the skin is tight and wrinkly and the insides are soft. Next, brush them with butter or olive oil, and season them with salt, pepper, and maybe even a bit of garlic powder.
Then, back into the oven until the skin is crispy and ready to burst open with the softest, most pillowy middle you've ever tasted. Be careful; they're addicting.
Serve it split open with a bit of butter, and spoon gumbo on top. Or, stuff it with the works, like shredded cheese, bacon bits, chives, and sour cream, and serve it on the side.
This recipe will take you step by step and show you how to achieve the best baked potato imaginable.
8. Coleslaw
Nothing puts out the fire of a spicy gumbo better than a cooling forkful of coleslaw.
Crunchy cabbage, creamy sour cream, tangy vinegar, and spices combine to create the perfect side dish for your gumbo.
This is an excellent option if you're looking for a recipe that you can prepare a big batch of ahead of time.
Classic Southern Coleslaw is so simple to put together that you'll want to serve it alongside everything, not just gumbo.
Frequently Asked Questions
What kind of bread goes with gumbo?
Cornbread, biscuits, or a soft yeast roll all taste delicious with gumbo, and each brings a different texture to the meal.
Does jambalaya go with gumbo?
The two dishes are similar in taste and structure, so pick one or the other for your meal. They share many ingredients, but jambalaya incorporates rice into the dish, whereas gumbo is often served with a side of rice.