As a kitchen manager, it was very easy for me to push soup and sandwich specials when tomato basil was the soup du jour at the cafe.
Grilled cheese sandwiches are simple, delicious, quick, and easy. They fly off the line in a restaurant, and are simple to make at home. I consider them to be a comfort food.
A grilled cheese sandwich can be a meal by itself, but sometimes you need more.
In this article, I'll share some of my favorite sides to pair with grilled cheese. Whether you're preparing for yourself or others, here are some ideas we used in my restaurants that go beyond just soup.
1. Soup
There is a reason that soup and sandwich specials are so common at restaurants, and it's because they are simple, and they sell!
Tomato soup is a consensus go-to when it comes to grilled cheese, but feel free to use whatever you may have on hand.
Tomato soup is especially easy because of its ubiquity and availability at the grocery store, and there are plenty of shelf stable options that are delicious, and easy to heat.
A french onion soup can make for a lighter, less filling meal.
Creamy soups, like broccoli and cheese, or corn or clam chowder, can make for a heavy and fulfilling meal.
Go for the beef stew when you're really hungry and crave the meat and veggies.
This beef stew recipe is straightforward, delicious, and is always a hit at home.
2. Salad
Arugula salad is my favorite thing to pair with grilled cheese when I want something lighter and healthier.
Arugula's peppery tones make a fine contrast to a grilled cheese's savory and creamy flavor.
Arugula, topped with grape tomatoes, sliced red onion, some nuts, and a vinaigrette can complete the meal and make you feel (and be) healthy.
Arugula is not the law when it comes to what salad to pair with grilled cheese. Spinach, romaine, and spring mixes are fine as well, depending upon your tastes and preferences.
This arugula salad is a light and crunchy addition to round out a meal.
3. Fries
If I have time, I'm almost always going to eat a sandwich with french fries.
For those not counting calories, french fries are a starchy side to complete a filling meal.
An old chef once told me never to trust a skinny cook.
Fries are the perfect side after you've had a few drinks or are very hungry, and they are a hit with the kids.
Here's a french fries recipe that replicates what I did at restaurants pretty well!
4. Chips
Chips are a quick and easy side to complete a grilled cheese meal.
Corn chips have slightly fewer calories than potato chips, but I would not serve with either if you are calorie-conscious.
Corn chips will provide higher calcium, fiber, and protein versus potato chips, but from a health perspective, consume either in moderation.
Ruffle chips are my go-to for sandwiches. It comes down to your preference.
5. Pickles
Pickle chips or spears are a great, briny side to serve with grilled cheese. They can provide a nice, acidic contrast to the sandwich!
It's also a good addition that can be used in combination with other sides.
6. Dips
If the sandwich is plenty for a meal, but you need something else to fully satisfy yourself, try a dip!
Dips are easy to serve in a small cup or bowl, and are especially handy when you don't have too much time to dedicate to another side.
Marinara pairs with grilled cheese very well, and is a common compliment to cheese.
Lean into some Midwestern sensibilities with ranch dressing. Your mileage may vary, but it is not unusual to see a happy person in Minnesota or Wisconsin dipping their sandwich in ranch. You might be pleasantly surprised!
Salsa can be a good option if you're craving some Mexican flavors.
This salsa has become a star at home!
7. Macaroni and Cheese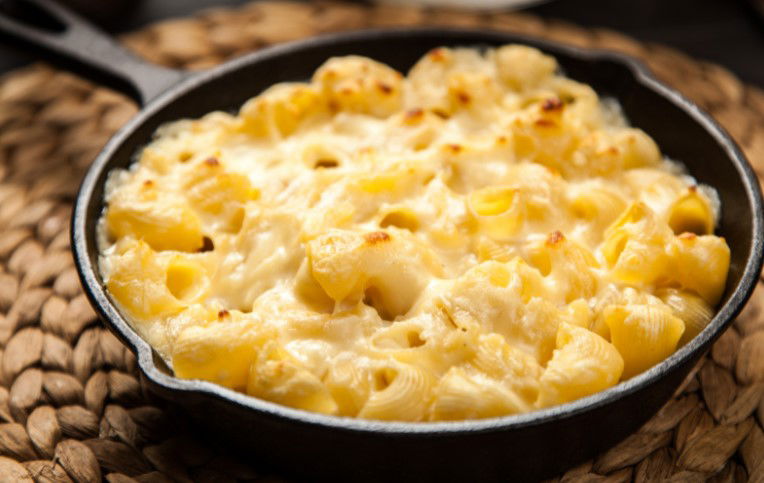 For a really hearty meal, eat your sandwich with some mac and cheese.
If you're okay with a lot of starch and dairy, a small cup (or even a big bowl) of mac and cheese will satiate even the biggest appetite.
Grilled cheese with a bowl of mac is a comfort food I often revisit during the cold winter months.
This macaroni and cheese is great at home, and it was easy to scale to larger portions at the restaurant.
8. Crudite
A crudite consists of sliced raw vegetables, and can help fill out a meal without piling on the calories. Consider this the opposite of eating the sandwich with french fries or chips.
This can be as simple as sliced celery and carrot sticks. Consider what produce you have on hand.
Here is a basic crudite that uses carrots, celery, red bell peppers, and asparagus.
9. Tomatoes and Cucumber
When working at a cafe, I had a regular that requested sliced tomatoes and cucumbers to go with their grilled cheese. It is a fresh addition to the meal that is healthy, with slightly acidic flavors.
Frequently Asked Questions
What goes well with grilled cheese besides tomato soup?
A salad or some chips can easily complete a meal with grilled cheese.
What meat goes with grilled cheese?
Bacon and ham are my go-tos for a good protein to make the sandwich a bit more filling.
Bulk cook bacon ahead of time, and cool and store to have easy strips to add to your sandwiches. Bacon will keep up to a week in the refrigerator and up to a month in the freezer.
What vegetables go with grilled cheese?
Tomato and avocado can take the sandwich to another level while adding nutrients.
Consider a pickle as a side for a good briny addition to the flavor profile.