Sometimes finding the perfect side to highlight your dish can be complicated. Especially when trying to find a side that can hold its own against a flavor bomb like clam chowder.
Whether you're whipping up a creamy New England Style or a hearty Manhattan Style Clam Chowder, I've got options that will elevate your meal.
I've put together a list of 7 delectable sides to serve with your clam chowder. Every option will complement the flavors of your chowder and turn it into an incredible meal that your family will enjoy.
1. Cheddar Biscuits
I love serving something dippable with clam chowder. And what could be more dippable than mouth-watering cheddar biscuits?
If you're looking for a side that's simple to make but will have your family leaving no crumbs behind, cheddar biscuits are what you've been searching for.
Biscuits are crumbly and can easily be torn apart and dunked into your chowder. And this combination works perfectly for New England and Manhattan Style clam chowders.
You will impress your guests with these Fluffy Cheddar Biscuits, and with only a little effort.
2. Oyster Crackers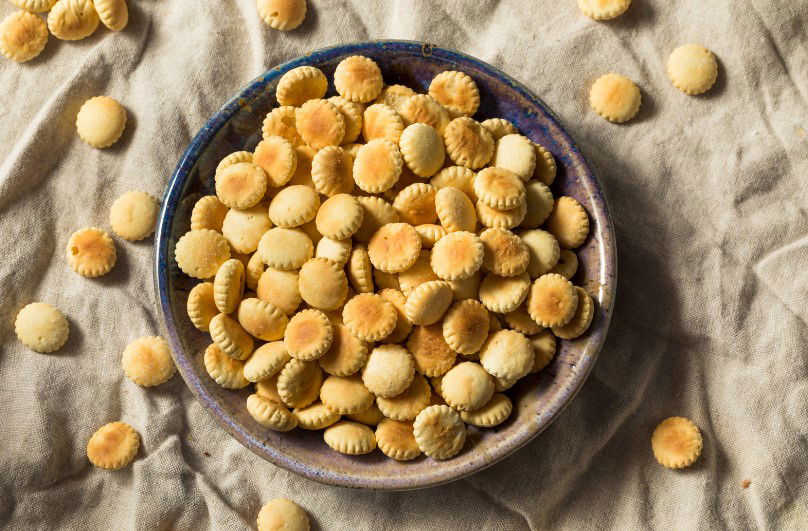 Is it really clam chowder if it isn't topped with oyster crackers? Well, yes, but it would definitely be more delicious if served with this crunchy seasoned soup topping.
Serving oyster crackers with your chowder is a great option when you want something quick that will add texture to the meal. It can be as easy as buying a package of oyster crackers at the store. Or, you could go the extra mile and make them yourself.
Oyster crackers are deceptively simple to make and taste way better when homemade. Sprinkle them on top of your chowder, or eat them by the handful. I won't judge.
I love this Seasoned Oyster Cracker recipe because it's easily adaptable. If you want more flavor, add in a ranch mix packet. If you like a more classic cracker, only season them with salt.
3. Potato Wedges
Potato wedges are a hearty and filling side that you can serve with clam chowder. Whether you dunk them or snack on them as-is, they will round out your dish to create a satiating meal.
This is a great option when you're looking for something that comes together with simple ingredients but will dazzle your dinner guests.
Dress them up with seasonings galore, or keep them simple with salt and pepper. Either way, you will have a delicious, crowd-pleasing side to accompany your clam chowder, no matter the style.
These Crispy Garlic Baked Potato Wedges are divine on their own but will elevate your clam chowder to new heights.
4. Honey Beer Bread
The juxtaposition between the sweet notes of honey, warm flavors of beer, and salty clams will create a taste of heaven with each bite.
This is an absolute must-have alongside Manhattan Clam Chowder but will also be delicious with any other chowder.
This side dish is as simple as slicing it up and serving it with some butter.
Honey beer bread is ultra-easy to make but tastes very impressive. Your guests will assume you spent all day on this recipe when it actually comes together in only an hour.
5. Broccoli Bacon Salad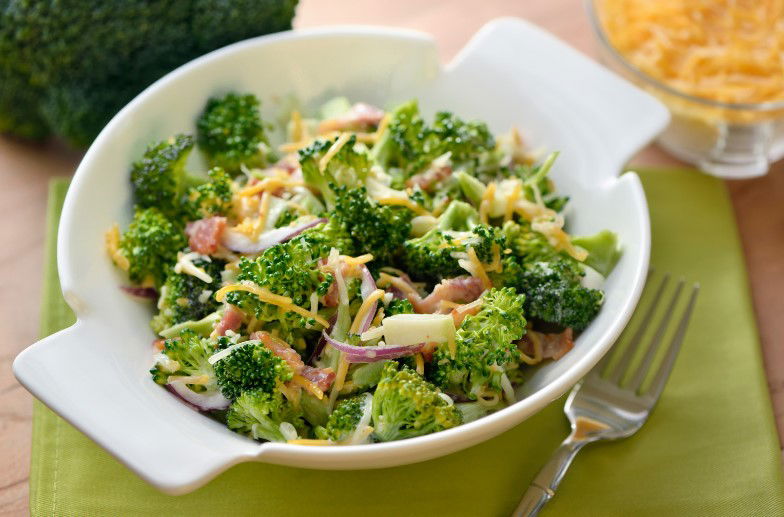 If you're looking for the perfect compliment for a creamy New England Clam Chowder, Look no further than this Easy Broccoli Bacon Salad.
True, bacon tastes good with everything. But it enhances the flavors of a thick clam chowder like you wouldn't believe.
Pair salty and crunchy bacon with fresh and crisp broccoli and serve it alongside your creamy clam chowder. You will be introducing complementary flavors and different textures to bring your meal to the next level.
6. Grilled Cheese
There's nothing quite like a melty-grilled cheese sandwich dipped into a piping hot bowl of soup.
This is an excellent option that pairs well with both New England Style & Manhattan Style clam chowders.
The thick creamy consistency of the New England Style clam chowder will hold onto a hearty bread like sourdough and taste delicious.
Alternatively, the tomato base of Manhattan Style clam chowder alongside a grilled cheese is a classic with which you can't go wrong.
If you need a quick way to round out dinner, serving grilled cheese with your chowder is an excellent and filling solution.
Your options are endless with this sandwich. Swap out the bread, try different cheeses, or add extra ingredients to spice things up.
Check out these 50 Grilled Cheese Recipes, and you're sure to find something that strikes your fancy.
7. Sheet Pan Roasted Veggies
Perhaps you're searching for a lighter side to serve with your clam chowder. Sheet pan roasted veggies are a versatile, inexpensive, and easy option.
The premise is simple: chop up your favorite veggies or whatever you have on hand. Cover them in a drizzle of oil, season to taste, and roast until their outsides caramelize, their edges crisp, and their centers become tender.
You could roast zucchini, summer squash, broccoli, carrots, potatoes, or any other vegetables your heart desires. They will all taste amazing on the side of whatever clam chowder you're cooking up.
This Sheet Pan Oven Roasted Mixed vegetable recipe will walk you through the cooking process for step-by-step instructions on perfectly roasting your veggies.
Frequently Asked Questions
What sides go with chowder?
Bread is a great companion to thick chowders. However, if you're looking for lighter fare, try a green salad. 
What salad goes well with clam chowder?
Bacon compliments clam chowder beautifully, so any salad with bacon bits would be a delicious side. 
What to drink with clam chowder?
A buttery Chardonnay goes great with a big bowl of New England Style Clam Chowder. It's heavy enough to stand up such a rich dish, with acid to balance everything out.