If you've gone through all the work of making the perfect beef wellington, you may want a sauce or side that can stand up to the indulgence of your dish.
Luckily, I've been in the same situation. Wondering how I can highlight my beef wellington masterpiece without too many extra steps (since putting together the wellington was nerve-wracking enough).
Together, we'll go through 3 sauces worthy of gracing your plate and 5 sides that come together quickly and simply with a huge flavor payoff.
3 Sauces To Serve With Beef Wellington
Red Wine Reduction Sauce
You can't get any more classic than drizzling your piping hot beef wellington with a red wine reduction.
This is how Gordon Ramsey serves his beef wellingtons in his Hell's Kitchen restaurant. And really, that's all I needed to know before trying this one myself.
It's a classic for a reason. The punchy flavors of garlic, thyme, balsamic vinegar, and red wine complement the red meat and mushrooms perfectly.
This Red Wine Reduction Sauce comes together in under 10 minutes. Just the right amount of time to whip up while your wellington rests before slicing.
Pro-Tip: If you don't have any wine on hand, or would prefer to make this sauce without it, simply substitute an equal amount of beef stock in its place.
Creamy Mushroom Sauce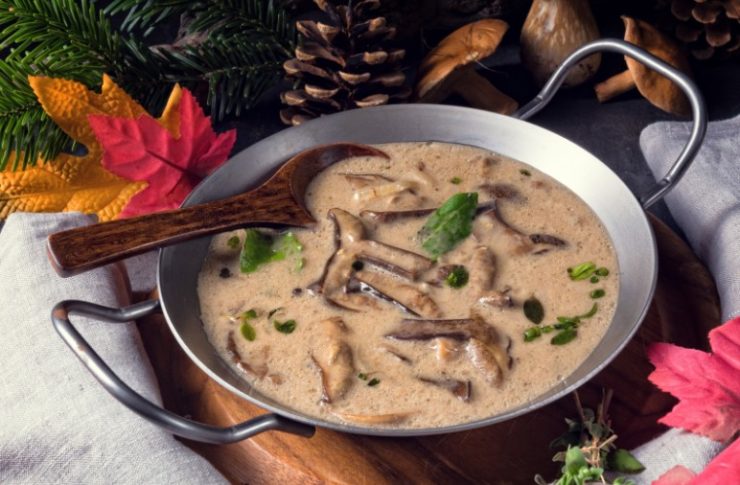 Beef wellington is coated in mushroom duxelles. So this sauce works by building on the flavors already present and doubling down its rich and earthy flavor.
This sauce comes together almost out of thin air with very few ingredients and is incredibly versatile.
And because it's so simple, you can easily jazz it up with whatever you have on hand. Maybe you want to add a fresh clove of garlic? Or a little white wine from the open bottle in your fridge? Chop up all your extra herbs and throw them in too!
This Creamy Mushroom Sauce comes together in minutes and will take your beef wellington to the next level.
Pro-Tip: If you don't have soy sauce on hand, you can substitute a bit of balsamic vinegar. And if you're all out of thyme, you can use just about any dried or fresh herbs that you have.
Decadent Peppercorn Sauce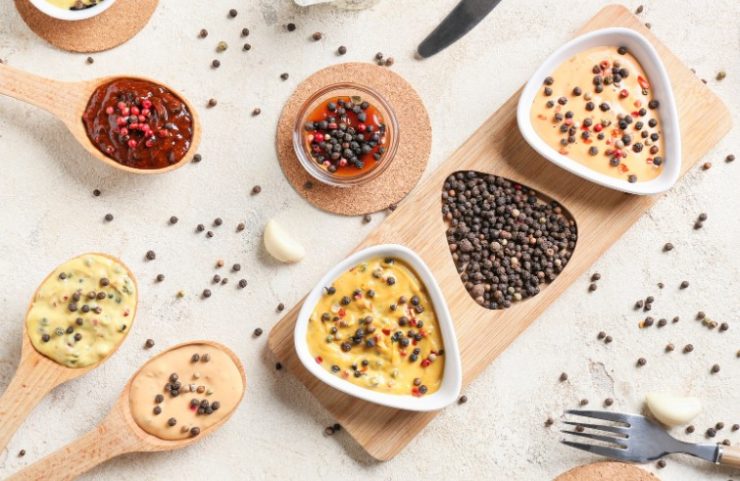 Heavy cream, cracked peppercorns, beef stock, shallots, garlic, butter, and Worcestershire combine to make a sauce so delicious that you may want to stick a straw in it. Seriously, it's that good.
The heavy cream in this sauce mellows out the peppercorns while also creating a thick and full-bodied sauce that holds up against all the flavors and textures in a beef wellington.
This Creamy Peppercorn Sauce is good on its own. But pairing it with beef wellington will create a dish that's over the top.
Pro-Tip: Serve this sauce atop your beef wellington and the french green beans mentioned further in the article. Both recipes utilize shallots, so you can grab a small bag of them and be assured that they won't go to waste.
5 Sides To Serve With Beef Wellington
Whole Grain Mustard Mashed Potatoes
Dijon mustard is one of the not-so-secret ingredients in beef wellington. And these whole grain mustard mashed potatoes are an excellent way to carry on that mustard flavor to round out the entire dish.
This quick and easy recipe uses simple ingredients for a huge payoff. It all comes together in one pot, and you can even make them ahead of time. Then, heat them with a bit of butter and cream before serving.
Follow along with this Wholegrain Mustard Mashed Potatoes recipe. You may never serve your beef wellington any other way again.
Roasted Garlic Mashed Sweet Potatoes & Carrots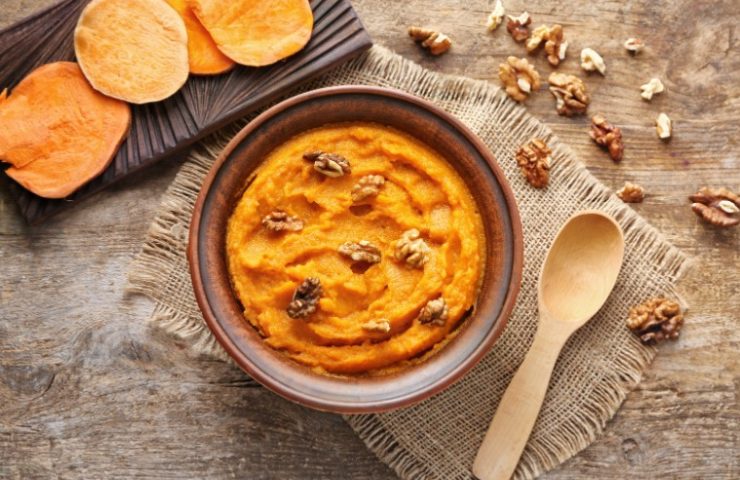 I know, another mashed side dish. But honestly, I don't think there's anything more satisfying than smooth mashed veggies drenched in whatever sauce you use on the wellington. It's a match made in heaven.
Try this savory take on mashed sweet potatoes by adding roasted garlic and blending in pureed carrots for a bright and smooth outcome.
The flavors of this side aren't so in your face that they'll compete with your beef wellington but will pair seamlessly.
Roasted Garlic Mashed Sweet Potatoes & Carrots is surprising enough to be impressive but straightforward enough that you can throw it together without a ton of extra effort.
Baked Asparagus with Parmesan
Panko Parmesan Baked Asparagus is a light, bright, and tasty side to compliment a decadent beef wellington.
This is an excellent option because you can make it in the oven alongside the wellington as it finishes. It also brings different textures to the plate to create a well-rounded and thought-out meal.
The acidic lemon flavor in the asparagus cuts through the rich flavors in a beef wellington. You'll enjoy the first bite as much as the last without getting weighed down from such a hearty dish.
Honey Balsamic Brussels Sprouts
Honey balsamic brussels sprouts are tender with crispy caramelized bits, tangy, yet sweet all at the same time. And, they're not too heavy, which makes them pair especially well with beef wellington.
Truthfully, I have a hard time not eating them all right off the hot tray.
Check out the recipe for these Honey Balsamic Brussels Sprouts, but don't say I didn't warn you if you end up eating them all before dinner is served.
French Green Beans With Shallots
French green beans with shallots is a simple, easy, and elegant dish worthy of serving alongside an indulgent beef wellington.
The trick is to cook them low and slow in olive oil to mellow their flavor and create tender, soft, pillowy green beans.
If you opt for the peppercorn sauce that I mentioned earlier, I would definitely recommend giving this side a try. The shallots used in both the green beans and sauce will play off each other, and the sauce tastes just as good atop the side as it does with the wellington.
You can follow this straightforward recipe for French Green Beans with Shallots and enjoy them with your beef wellington in no time.
Frequently Asked Questions
What's a good side dish for beef wellington?
Serve your beef wellington on top of mashed or pureed veggies with a sauce to coat it all. The combination will give you an indulgent, satisfying, and decadent meal. 
How do you keep beef Wellington from getting soggy?
Many factors can lead to a soggy beef wellington. First, cook the duxelles mixture thoroughly to remove excess moisture. Next, ensure your meat has been tied and chilled before baking. Finally, wrap the beef in Phyllo dough to create a moisture barrier between the hot juices and flaky layers of puff pastry.