Classic Tzatziki is a healthy and refreshing sauce, dip, or spread. It usually consists of yogurt, cucumbers, garlic, salt, olive oil, vinegar, dill, and sometimes other herbs. It can be prepared in about 10 minutes and doesn't require any special skills.
Why Tzatziki Works
If you want to learn about the world of Greek food, then Tzatziki is a great recipe to start with. After centuries of refining and evolution, many cultures have their version of this yogurt sauce, typically made as a fresh condiment to be paired with rich and flavorful dishes.
Here are a few reasons why Tzatziki works so well,
It's bright and summery. This fresh Tzatziki sauce recipe will liven up any summer meal. It is made using fresh and light ingredients. From bread to salads to grilled meats, this chilled dip goes well with almost everything you can think of.
This a quick recipe with simple ingredients. It is made using 8 simple ingredients and 10 minutes of effort. Tzatziki makes for a great last-minute addition to any meal.
You'll learn "the formula" for yogurt-based sauce. Every food culture seems to have its own version of this sauce, made with ingredients that are local to its geography. Tzatziki, raita, tarator, cacık are very similar. Master this yogurt sauce, and it will make way for you to experiment with a lot of similar ones.
Ingredient Notes
Plain Greek Yogurt – You can use full-fat, low-fat, or 2%. Pick a plain Greek yogurt for your preparation. It's much thicker and creamier than other types of yogurt because the whey is strained away. In addition to benefiting the texture of your tzatziki, Greek yogurt will also provide an extra protein concentration in the sauce. I wouldn't recommend substituting it with regular yogurt, as we need the consistency to be thick.
Extra Virgin Olive Oil – It rounds out the flavor and gives a creamy mouthfeel without loosening the sauce/dip.
Salt
Ground White Pepper – It adds a slight kick while retaining the beautiful white color of the Tzatziki. If you're not worried about the color, you can use ground black pepper.
White Vinegar – It enhances the other flavors and adds a subtle brightness.
Garlic – It adds a lot of flavor to the recipe. But make sure it's properly minced since we're adding it raw.
English Cucumber – They have thin skin and small seeds as compared to regular cucumbers and don't distract from the creamy texture. You can also use American cucumbers but make sure you peel them and remove the seeds if required.
Dill – Used as a garnish, it adds a lot of freshness to the recipe.
The Best Equipment for Making Tzatziki
To make this recipe, you need three basic tools/supplies.
Box grater (or hand grater)
Large mixing bowl
Cheesecloth (or kitchen towel)
Easy Instructions
Prepare the cucumber. Cut off the ends and grate the cucumber. Then sprinkle some salt and squeeze out the excess moisture using a cheesecloth.
Mix the ingredients. In a bowl, add all the ingredients and mix properly.
Chill and garnish. Cover the Tzatziki and chill in the refrigerator. Then garnish with dill and olive oil.
Serve and enjoy.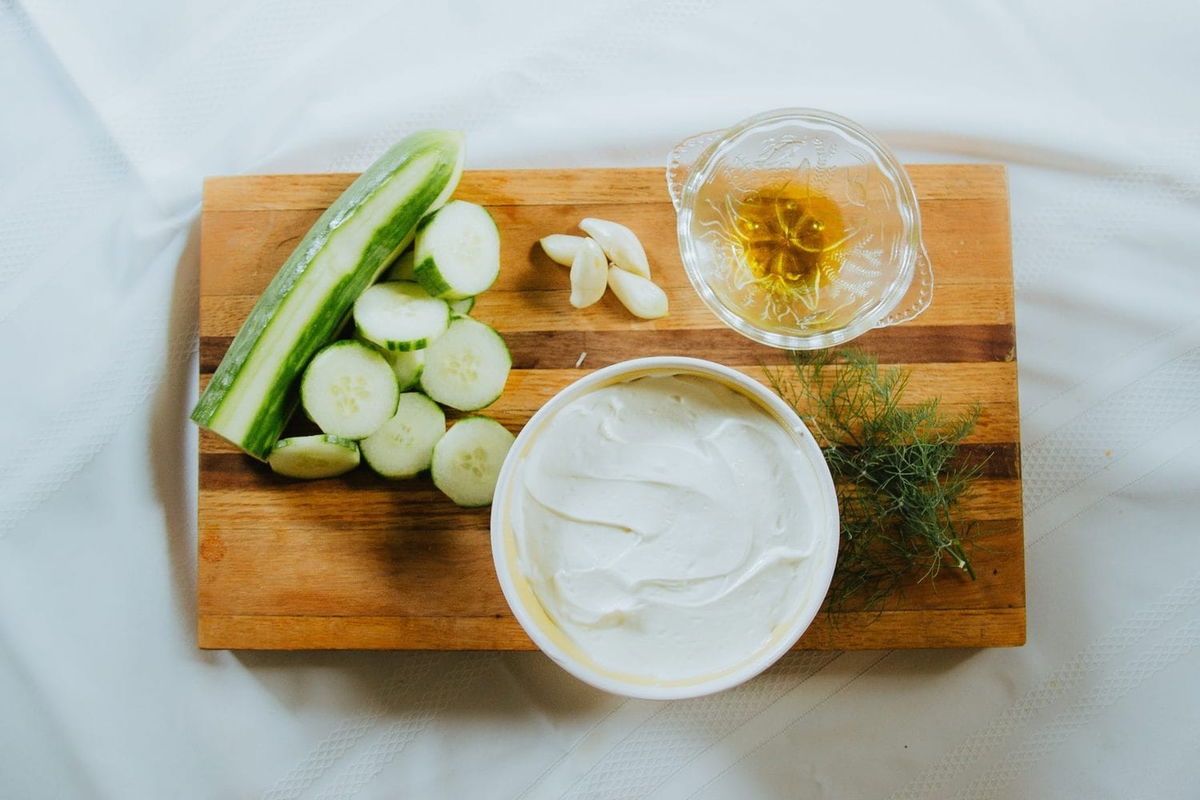 Tips and Tricks
Tzatziki tastes best when served cold. Allowing it to rest in the refrigerator helps the flavors get infused properly.
There are many ways to enjoy Tzatziki. It can be used as a dip with toasted pita wedges, raw veggies, and crackers, as a spread on a sandwich or wrap, or as an accompaniment to grilled meats, falafel, or on a classic mezze platter.
substitutions & adjustments
In Greece, vinegar is more common, but you can substitute it with lemon juice and even add some lemon zest.
To add more freshness, you can also add parsley and mint along with dill.
Make it vegan
To make Tzatziki vegan, switch the Greek yogurt with a vegan version. Or take any plant-based yogurt and pour it onto a cheesecloth and lightly squeeze it until you get rid of the excess moisture. Then follow the same recipe.
Storage
Although I doubt there will be any leftovers, you can keep it in an air-tight container in the refrigerator for about 4-5 days. However, it's important to note that the tzatziki is only as good as the yogurt you're using. If the yogurt expires tomorrow, then so does the tzatziki.
Pick a plain Greek yogurt for your preparation. It's much thicker and creamier than other types of yogurt
Print
Tzatziki Sauce
---
2 cups

, Plain Greek Yogurt

1

-Tablespoon, Extra Virgin Olive Oil

1

-teaspoon, granulated salt

¼

-teaspoon, ground white pepper

1

-teaspoon, white vinegar

5

-cloves of garlic, minced.

1

English cucumber. Partially peeled and sliced.
Dill, to garnish
Supplies
Metal Grater
Large Mixing Bowl
Cheese Cloth
---
Instructions
Cut the ends of the cucumber and grate the unpeeled cucumber on the thickest part of your grater.

You can also use the coarse-chop setting on a food processor.

Sprinkle ½ teaspoon of salt on the grated cucumber. This will draw out the extra moisture through osmosis and make it easier to get rid of excess moisture.

Place the grated cucumber in a cheese cloth, sturdy napkin, or clean and porous pillowcase. Firmly squeeze out the water into your sink or a deep bowl. Set aside.

In a large mixing bowl, combine the garlic, remaining salt, white vinegar, and olive oil. Then add the grated cucumber, yogurt, and ground white pepper. Gently stir until everything is combined.

Cover the bowl with plastic wrap and refrigerate for a few hours before serving. When ready to serve, garnish with dill and drizzle some extra virgin olive oil. You can also garnish it with some Kalamata olives or lemon slices.
FAQ
Why is tzatziki healthy?
Tzatziki is made using healthy ingredients that contain calcium, protein, and vitamins. In addition, it is an excellent source of probiotics and is also low in calories, fat, and salt as compared to most dips and sauces.
What's healthier, tzatziki or hummus?
Health experts say that yes, tzatziki is healthier than hummus as the sodium content of tzatziki is 307 mg per 100g serving, whereas the sodium content of hummus is 379 mg per 100g serving. Hummus also contains more calories than tzatziki. Hence, tzatziki is the better option as it also has several health benefits from its ingredients like dill, yogurt, and cucumber.
How do you pronounce tzatziki in Greek?
Tzatziki is pronounced as Tsaht-zee-kee. It doesn't lead with a simple "z" or "t" sound; it's the combination of the whistle-like "tsah" that produces the correct sound.