It's Greek night in our house, and we're preparing a large platter of small dishes that capture popular flavors from Greece and the surrounding region. 
Across much of southeastern Europe, the Middle East and areas of Medditeranean Africa these "meze" platters are served as an appetizer for multi-course meals. These snack plates are traditionally accompanied by conversation. For us, it's a great opportunity to stoke discussion about food, flavors and healthy choices with our toddler.
Like many of the foods we'll be enjoying tonight, we associate Tzatziki with Greek cuisine, but that's not necessarily where the tradition of this recipe began.
Wait, Tzatziki Isn't Greek?
It's complicated, but probably reasonable to say the sauce we call tzatziki today is Greek. Or at least Turkish-Greek. But before that it was ripped off from a Persian dish, which was inspired by (read as: also stolen from) a sauce in India.
The Ottoman Empire ruled over much of the eastern Mediterranean for 600 years, ending in 1922 after defeat in World War I. The culture of the Ottomans is complex and fascinating, and one of their cultural legacies was unifying cuisine across their territories.
Chefs from across the empire were brought to the imperial palace to prepare and refine local flavors. The resulting dishes were often homogenized to suit the tastes of the capital's foodie elite, before being exchanged across every corner of the empire and substituted with more localized ingredients.
It's rumored that a Tzatziki-like dish, called raita, was brought to the Ottoman capital by Persians who were ruling in the north of India. They used this yogurt-based accompaniment to cut through the heat of Indian spices[1].
The Modern Flavor
As this recipe reached Greece, the locals added their own flavor. The Indian roots of the dish faded into the background, and the original name was replaced by a Turkish phrase. Now you can find versions of Tzatziki around the Mediterranean that represent local tastes and customs. It's a common side-dish, like we are preparing tonight, or used as a condiment for various meats and wraps.
The classic Greek tzatziki that you know is actually quite simple. It usually consists of yogurt, cucumbers, garlic, salt, olive oil, red wine vinegar, lemon juice, dill and sometimes other herbs. It can be prepared in about 15 minutes, and doesn't require special skill.
Choosing Ingredients
We like English cucumbers for this dish. The length, consistent shape, and thin skins make these cucumbers easy to peel. And the small, thin seeds don't distract from the creamy texture of the tzatziki.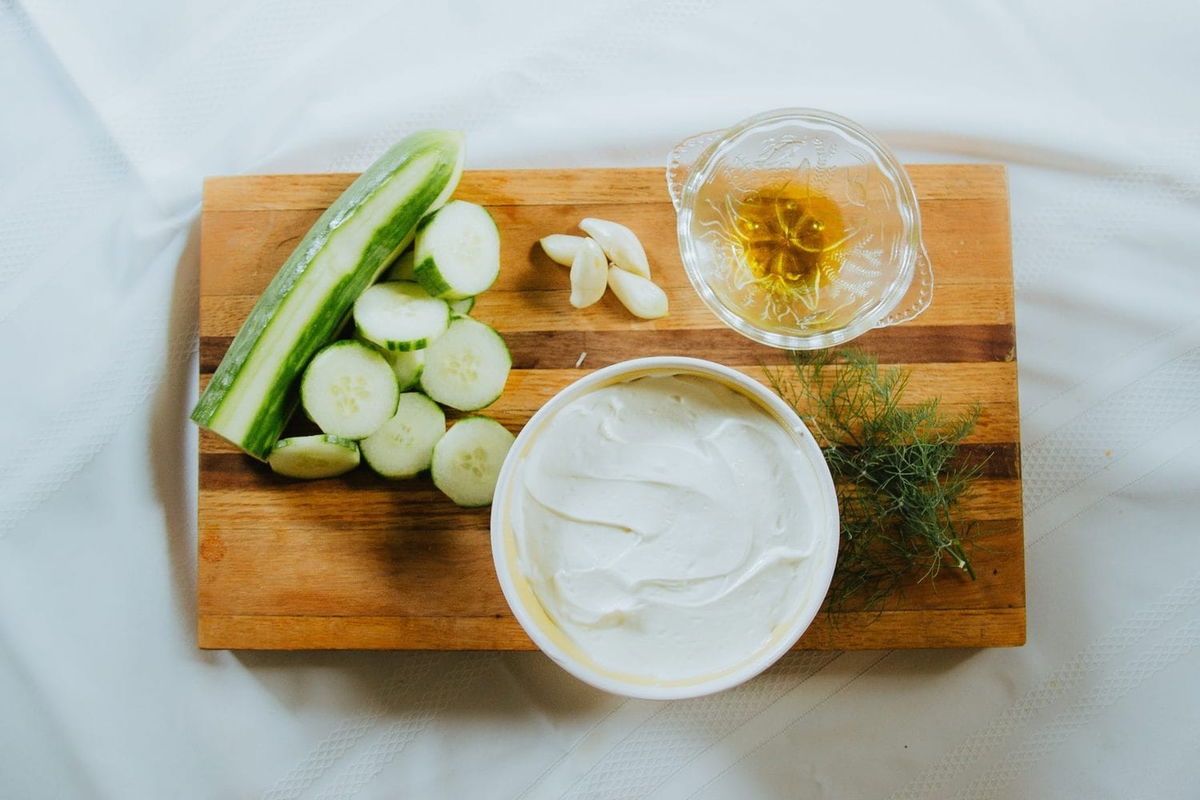 Pick a plain Greek yogurt for your preparation. It's much thicker and creamier than other types of yogurt because the whey is strained away. In addition to benefiting the texture of your tzatziki, Greek yogurt will also provide an extra concentration of protein in the sauce.
Use fresh herbs to finish your recipe. In our view, dill is essential. You can also add parsley and mint to suit your taste. This recipe is a great reason to grow an herb garden, which can be fun and rewarding.
How To Serve It
Tzatziki is served cold. The sauce can be used as a dip for breads, spread on a sandwich or wrap, or an accompaniment to many grilled meats. Tonight we'll enjoy it as a dip for falafel.
Start by prepping your ingredients and supplies,
Print
Tzatziki Sauce
---
1

-Tablespoon, Extra Virgin Olive Oil

1

-teaspoon, granulated salt

¼

-teaspoon, ground white pepper

1

-teaspoon, white vinegar

5

-cloves of garlic, minced.

1

English cucumber. Partially peeled and sliced.
Dill, to garnish
Supplies
Metal Grater
Large Mixing Bowl
Cheese Cloth
---
Instructions
Prep the cucumber. Grate on the thickest part of your grater. You can also use the coarse-chop setting on a food processor to accomplish this.

Toss ½ teaspoon of salt onto the grated cucumber. This will draw out the extra moisture in the vegetable through osmosis, and make it easier to squeeze dry.
Place the grated cucumber in a cheese cloth, sturdy napkin, or clean and porous pillowcase. Firmly squeeze out the water into your sink or a deep bowl. Set aside.
In a large mixing bowl, combine the garlic, remaining salt, white vinegar and olive oil. Then add the grated cucumber, yogurt, and ground white pepper. Stir to combine thoroughly.

Cover the mixture and refrigerate for a few hours before serving. When you're ready to serve, garnish with herbs and drizzle with extra virgin olive oil. We also like to include a Kalamata olive.