If you need a quick substitute for the toasty flavor of oat flour, no need to worry. This is an easy flour to substitute, with great gluten and gluten-free options.
I've had years of experience working with different types of flours in my time as a professional baker and pastry chef. And since I often bake gluten-free at home, I know which flours will give you close results to oat flour.
This comprehensive list starts with gluten-free substitutes and ends with four great flours that contain gluten. And to make things even easier, all of these substitutes can be used at a 1:1 ratio in place of oat flour, except for brown rice and barley flour.
10 Easy Oat Flour Substitutes
1. Buckwheat Flour
Buckwheat Flour can replace oat flour and add extra flavor to crepes, cookies, and pancakes. It can also be used in bread and pasta recipes.
Buckwheat's mild, nutty flavor rivals the wholesome taste of oat flour. This is one of my favorites for baking and goes well with savory or sweet flavors- especially chocolate.
Buckwheat flour does have a darker color than oat flour, which may not be desirable for certain recipes.
It's also prone to a sandy texture when used in large quantities as the only flour in a recipe. To counteract that, consider using buckwheat flour as a blend with other flours if you're making breads, quick breads, or scones.
2. Quinoa Flour
Quinoa flour is a surprisingly versatile gluten-free flour. It can replace oat flour to make fluffy baked goods and quick breads. Try it in pizza crusts and savory baking recipes, too.
With its high protein content and mellow taste, quinoa flour has a lot going for it. Like oat flour, it can go with just about any flavor and also pairs beautifully with chocolate.
Looking to thicken your soup or sauce? This flour is an effective thickener that adds an extra dose of nutrition at the same time. Bonus!
Note that quinoa flour will likely need an egg or egg substitute in your baking recipes.
Pro Tip: If you find quinoa flour to have a bitter taste (I don't, but some do), try toasting it for a more mellow flavor. It can be toasted while stirring often, in a skillet, or a 300°F oven, until golden. 
3. Sorghum Flour
Try sorghum flour in place of oat flour in breads, flatbreads, and biscuits. It can hold its own in any baked item and thickens soups, too.
Another gluten-free substitute, sorghum flour has a pleasant, mild flavor that goes well with anything.
Its soft texture makes it excellent for baking, which explains why it's often found in commercial gluten-free flour blends. It leaves a nice delicate crumb, which is hard to come by with most gluten-free flours.
Although sorghum can be used as a 1:1 substitute for oat flour, you may have better results with it as a blend. Try pairing it with a starch like tapioca or potato for extra moisture retention.
4. Brown Rice Flour
Brown rice flour can stand in for oat flour in baked goods, breads, and pancakes.
Since it's a whole grain, brown rice flour is nutritious and has a nutty, well-rounded flavor. It's also gluten-free and fairly easy to find.
The only downside of brown rice flour is that it can be gritty or crumbly when used by itself. For this reason, it works best when mixed with other flours and starches.
To replace oat flour with brown rice flour, start with 120g (¾ cup) of brown rice flour to replace every 120g (1 cup) of oat flour.
Pro Tip: Use a digital scale to weigh your ingredients when baking for more accurate and consistent results.
5. Almond Flour
Almond flour can replace oat flour for scrumptious cookies, cakes, and quick breads. Or, try it in pancakes for a low-carb breakfast.
This is a gluten-free flour that's high in fat, which of course, makes it delicious. And like oat flour, it's safe to eat raw and use in no-bake cookie recipes.
Almond flour can lend a pleasing texture to baked items. But expect your recipes to turn out a little denser. 
To use this substitute, ensure you're using blanched almond flour and not almond meal. Almond meal still contains the skins and yields a much drier result.
It will be helpful to add an extra egg or two to your recipe when using almond flour in place of oat flour. This helps to bind and hold the ingredients together.
6. Coconut Flour
This tropical substitute is a great replacement for oat flour in sweet recipes. It works best in cookies, pancakes, and quick breads.
Coconut flour is high in fiber and lends a mild coconutty flavor to baked items. And for those on diets, it's also low-carb and keto-friendly.
This can be a tricky flour to use, as it acts differently than any other flour. It's incredibly absorbent, so it can make baked goods dry. The end texture will also be different.
If you decide to try out coconut flour, be ready to add extra eggs and/or liquid to your recipe for the best results.
7. Spelt Flour
This whole grain flour is an excellent substitute for oat flour in cakes, biscuits, and scones. It also makes a fine loaf of bread and a satisfying stack of pancakes.
Its nutty and hearty taste makes it a good match for oat flour. It's slightly sweet and salty and gives baked goods a springy texture.
Spelt flour does contain gluten, so it's not safe for people with celiac disease. 
Pro Tip: Consider using spelt flour as a blend with other flours for an even lighter crumb.
8. Barley Flour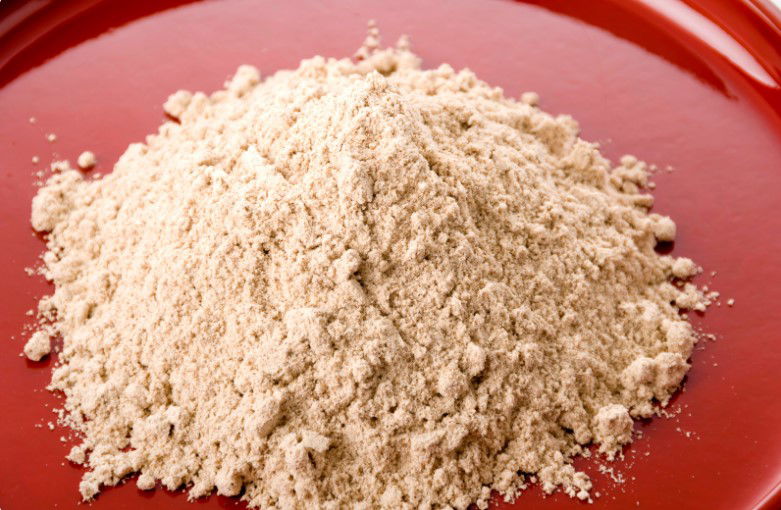 Barley flour is a close substitute for oat flour. It can work magic in pancakes, cookies, breads, and flatbreads.
In terms of flavor, barley flour is one of your best bets for matching oat flour. It has a hearty taste that's hard to resist.
When you're at the store, you're likely to come across two types of barley flour: Coarse and Fine.
Coarse barley flour is made from the whole groats. Try coarse barley flour for breads, flatbreads, and pancakes.
Fine barley flour is made from pearl barley, which has had the hulls removed. This flour is ideal for pastry items and light pancakes, too.
Barley flour has a darker color than oat flour, so consider that for your recipe. For a lighter color and texture, you may prefer to use barley flour as 50% of your flours.
9. Whole Wheat Flour
This whole-grain classic is a great substitute for oat flour. It can work in any baked item, including cookies, crackers, and scones. It also makes phenomenal breads and tortillas.
One thing whole wheat flour has in common with oat flour is that its hearty flavor can make almost anything taste better.
Be aware that this glutenous flour can make baked goods rather dense if used as the only flour. To avoid this, use it as 50% of your flour blend.
Pro Tip: Sift whole wheat flour before using it in yeasted recipes for a better rise.
10. All-Purpose Flour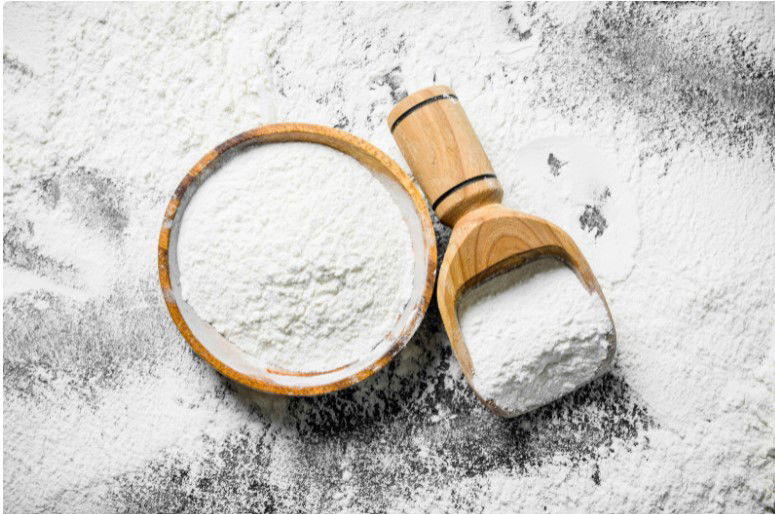 All-purpose flour is a powerhouse flour that can replace oat flour in breads, baked goods, and pancakes. Try it in any recipe that contains oat flour for great results.
This flour is as versatile as it gets and is readily available. It's a light flour that makes for a soft crumb and texture.
Compared to oat flour, all-purpose flour is not quite as flavorful. It also contains gluten, which may not be ideal for your recipe.
Tips for Using Oat Flour Substitutes
When substituting flours, measure by weight, not by volume, if possible. This ensures more accurate measurements since all flours have different weights and volumes.
It's especially important to measure by weight when substituting gluten-free flours because they can vary more in weight than wheat-based flours. For example, ¾ cup of brown rice flour weighs the same as 1 cup of oat flour.
Finally, to make whole-grain flours and nut-based flours last longer, store them in the fridge. They'll spoil faster than highly processed flours, so this helps make sure you get your money's worth.
Frequently Asked Questions
Can I use regular all-purpose flour in place of oat flour?
Yes, if your recipe is baked, you can use it as a 1:1 substitute. Unlike oat flour, all-purpose flour is not safe to eat raw or use in no-bake recipes. 
How can I substitute almond flour for oat flour?
Use almond flour at a 1:1 ratio in place of oat flour. For binding purposes, you will need to add an extra egg or egg replacer to your recipe.
Is oat flour gluten-free?
Technically, oats are gluten-free, but they're commonly processed on shared equipment with wheat. Seek out certified gluten-free oat flour if you need to avoid gluten.