Misen Essentials Knife Set
The Misen Essentials Knife Set is a 3-piece set that offers heavy and well-balanced knives. It is perfect for professional chefs and avid home cooks alike.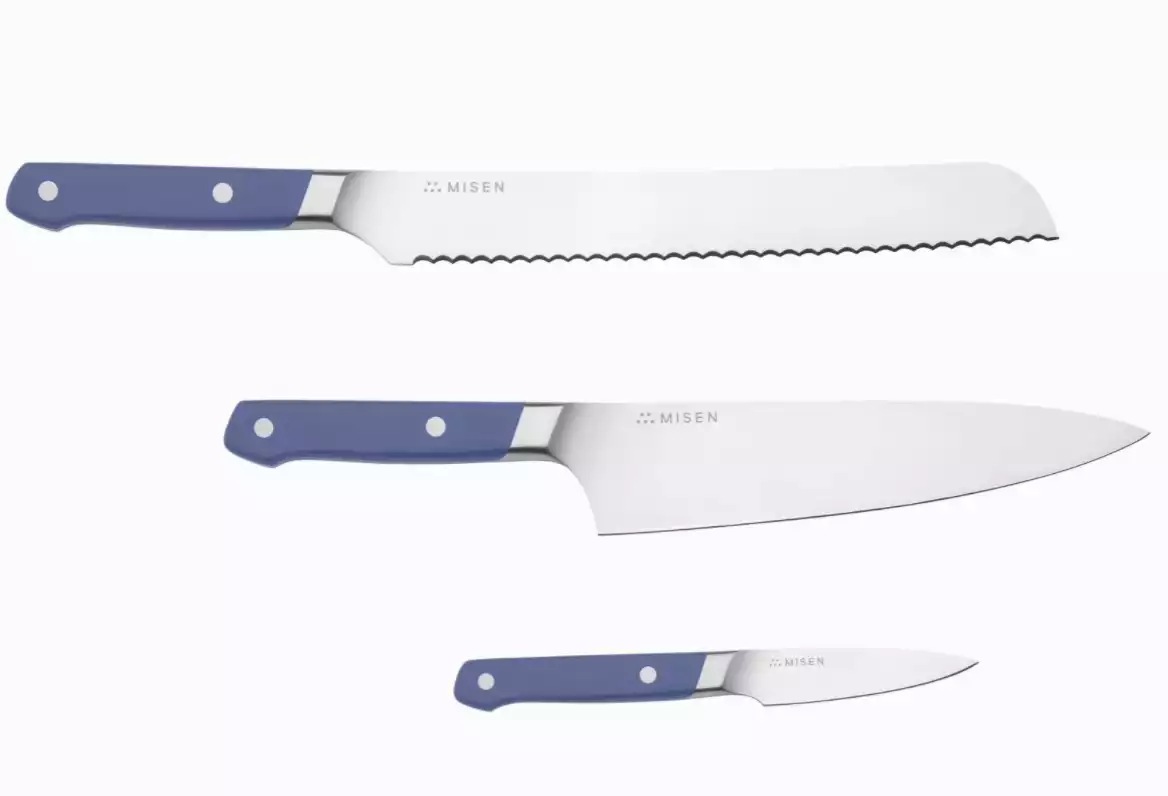 We may earn a commission if you make a purchase, at no additional cost to you.
What we like
Best prices available for knives with this quality of steel
Misen's knife selection is focused on the essentials
Excellent customer service, including lifetime sharpening services
What We don't
Effectively no options for customization
Knives do not feel great in everyone's hands
Sharpness "out of the box" can be disappointing
The Main Takeaway
Misen's main strength is a unique direct-to-consumer business model to offer knives made with top-quality materials at low prices. This is counterbalanced by a small selection of knives that may not be every chef's cup of tea. But with a 60-day test drive offered for all knives, you can test each blade with no real risk of losing your investment.
Beginning its life as a humble Kickstarter project in 2015, Misen has quickly grown into an impressive kitchenware company. It was founded with the idea of bringing top-quality equipment to consumers at a fraction of the price of competitors. And today, that same mission holds true in all of their offerings — especially their knives.
I've had the pleasure of using most of Misen's knives, and am combining my experiences with those of my editor. Misen was kind enough to send him an Essentials Kit for hands-on testing to bring you this guide. In it, we'll cover the ins and outs of each of Misen's knives before giving our honest verdict on whether they deserve a place in your kitchen.
Individual Misen Knives, Reviewed
Each of Misen's direct-to-consumer knife offerings has been redesigned and refined multiple times. In this section, I'll cover which of their knives are great examples of their respective styles, and which fall short of the mark.
Misen Chef's Knife
Misen Chef's Knife
The Misen Chef's Knife is made of top-quality AUS-10 grade Japanese steel which gives the knife excellent sharpness, durability, and edge retention.
We may earn a commission if you make a purchase, at no additional cost to you.
This is the knife that started it all for Misen with their original Kickstarter in 2015. After raising over $1 million to start production, it became an instant hit with home cooks and professional chefs alike.
Each chef's knife from Misen is made of top-quality AUS-10 grade Japanese steel. This gives the Misen chef's knife excellent sharpness, durability, and edge retention. And at well under $100, this may be the only chef's knife you'll find at this price with this quality of steel.
But now the controversy. A few years ago, Misen launched a redesign of their iconic chef's knife that has been met with mixed results.
The main change was in the design of the bolster. The first edition Misen knives had a wide and smooth place to grip at the spine of the knife. The latest version of the knife has slimmed this down, opting for a sloped bolster that allows for a wider range of gripping styles.
While I have found this type of bolster comfortable and easy to use, the feeling is not universal. When my editor tested the Misen chef's knife, he found it less comfortable to pinch grip when using it for long prep days. He also noted that his wife, who doesn't pinch grip, loved the handle feel.
So the final verdict on the Misen chef's knife? I'm still a fan of it because of the exceptional quality of its construction combined with such a low price. But you should plan on testing it out for a while first, and determining whether it suits your grip style and cutting preferences.
Pro Tip: All Misen knives are offered with a 60-day "test drive" to decide whether they're the right fit for your kitchen. If you decide for any reason in that time period that you don't like them, you can return the knives for a full refund.
As a final note, the chef's knife also comes in a shorter version with a 6.8-inch blade. First-time users of professional quality knives and people with smaller hands often find this to be a better fit.
Misen Paring Knife
Misen Paring Knife
The Misen Paring Knife offers a good balance, sharp blade, and precise cuts. It is a great choice for professional chefs.
We may earn a commission if you make a purchase, at no additional cost to you.
Made as a companion to the chef's knife featured above, the Misen paring knife excels at small and detailed cutting work.
As with almost all of Misen's knives, their paring knife is made with AUS-10 grade Japanese steel. This makes it uncommonly sharp for a paring knife, with excellent edge retention that will require little sharpening.
The sloped bolster of the chef's knife makes another appearance here, giving a multi-angle surface for secure gripping. I've found this particularly helpful for the paring knife, since you'll so often be holding it differently while making mid-air cuts. The shape of the bolster makes this easier while also allowing you to quickly transition to cutting on a board.
Some chefs report that they wish the overall size of the paring knife was smaller. It has a 3-inch blade, but the handle extends the total length to 7.75 inches. While this fits my larger hands well, it may feel excessive for cooks with smaller hands.
All of this taken into account, I'm still a huge fan of the Misen paring knife. At $30, it outperforms paring knives that cost twice as much.
Misen Serrated (Bread) Knife
Misen Serrated Knife
This knife is perfect for slicing broth hard and soft food. You will enjoy to use it because of its amazing feature to quickly slices soft foods like bread and tomatoes.
We may earn a commission if you make a purchase, at no additional cost to you.
Misen's bread knife is their best-designed blade. From the handle to the blade to the bolster, each element supports the others in a fine balance.
The serrated knife is the sole exception to the use of AUS-10 grade steel in Misen's knives. It uses a slightly lower grade AUS-8 Japanese steel — but this is for a good reason. The 32 serrated points are more effective with softer steel like AUS-8, because softer steel makes them less likely to chip.
A recessed handle design and sloped bolster give plenty of knuckle clearance for Misen's serrated knife. This is a huge boon when you're slicing bread or tomatoes, as it allows you to cut fully through without banging your knuckles on your cutting board.
I really have nothing bad to say about Misen's serrated knife. And with a lifetime guarantee and lifetime sharpening services included with each order, I think every person should have one of these in their kitchen.
Misen Utility Knife
Misen Utility Knife
The Misen Utility Knife is somewhere between a chef's knife and a paring knife. It comes in three colors, a 60-day test drive, and a lifetime guarantee. It is a great addition to a professional kitchen.
We may earn a commission if you make a purchase, at no additional cost to you.
With its 5.5-inch blade, the utility knife falls somewhere between a chef's knife and a paring knife. This makes it a versatile knife choice, but also a "jack of all trades, master of none" type of knife.
Misen's utility knife is made to the same exacting specifications as each of their other blades. The steel is top quality, and the design is appropriate to the style of knife.
But I always ask myself: When will I really need to use a utility knife?
You'll often find utility knives in professional kitchens, but they're not as important for home use. So even though this knife is very well made, I do not recommend buying one for your home kitchen.
Misen Santoku Knife
Misen Santoku Knife
The Misen Santoku Knife offers a thin and lightweight blade which makes it perfect for making precise cuts. It is a great choice for professional chefs, or if you want to bring your cooking skills to a higher level at home.
We may earn a commission if you make a purchase, at no additional cost to you.
Often used as an alternative to the chef's knife, the santoku excels at making a wide variety of cuts. It's known in Japan for its ability to deftly handle meat, fish, and vegetables.
But how does Misen's take on the knife stack up to a traditional Japanese design?
In many regards, Misen's santoku knife stays true to the knife style's original design. It features the rounded-down tip characteristic of all santoku knives, as well as a thin and lightweight blade. That's paired with a nearly flat edge that makes it a great knife for all-purpose use.
As with Misen's chef knife though, their santoku is designed the same one-size-fits-some bolster. Depending on your cutting style, it will either be entirely comfortable — or leave you with uncomfortable pinch points. For that reason, I recommend taking it for a lengthy test drive before deciding whether to keep it.
It's especially worth noting that a comparable quality santoku knife from any other company will easily cost twice as much. So if you're looking for genuine Japanese steel in a bargain-priced santoku, Misen is the only way to go.
Misen Essentials 3-Piece Set
Misen Essentials Knife Set
The Misen Essentials Knife Set is a 3-piece set that offers heavy and well-balanced knives. It is perfect for professional chefs and avid home cooks alike.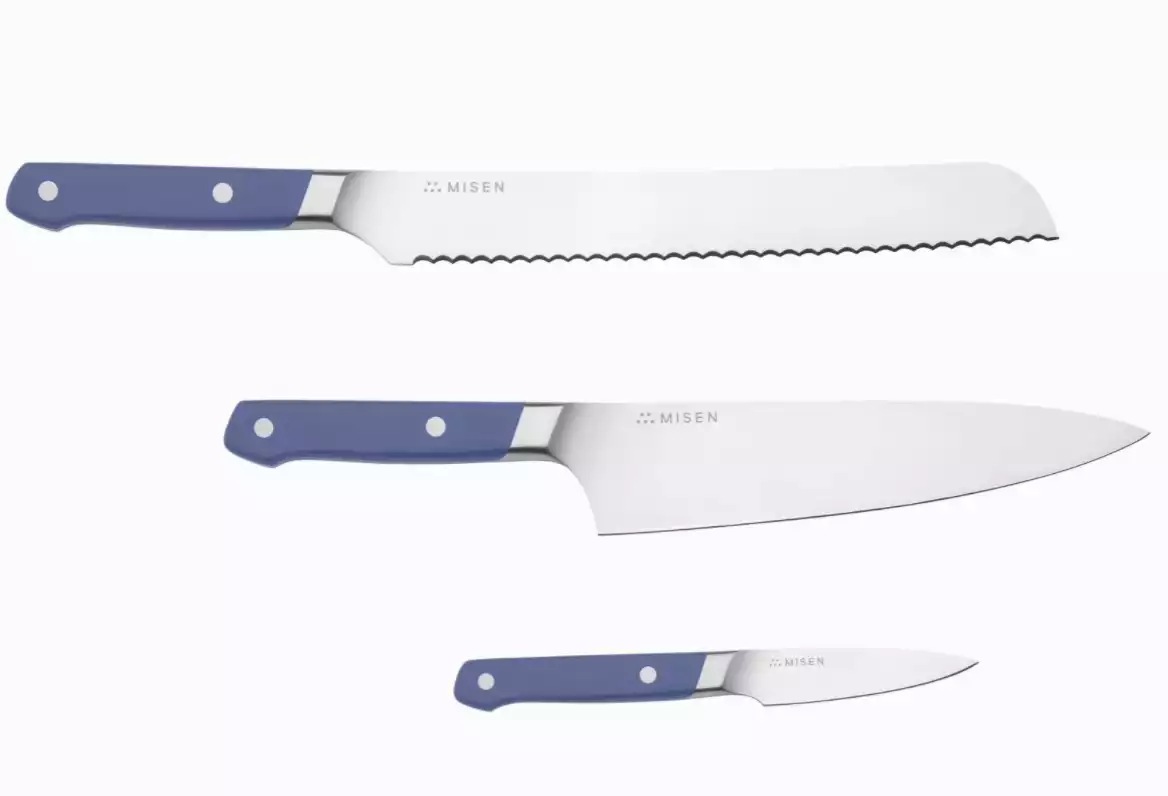 We may earn a commission if you make a purchase, at no additional cost to you.
If you've decided that it's time to upgrade your kitchen knives, buying a small set can save you money over buying each knife individually. The problem: Many knife producers stuff their sets with extraneous blades to increase the price.
Thankfully, Misen takes the exact opposite approach with their Essentials 3-Piece Set. It's a streamlined combination of the chef's, paring, and serrated knives featured above. This gives you the basics you need for almost any recipe, but for $25 less than buying the knives individually.
All of Misen's usual offerings remain the same with their essentials set. A 60-day test drive, lifetime guarantee, and lifetime sharpening program make it a safe investment.
Taking all of this into account, I'd recommend the Essentials 3-Piece Set to anyone looking to upgrade their selection of kitchen knives.
You may also be tempted by the offer of the 5-Piece Essentials Set, which adds a santoku and utility knife. But unless you'll be working in a professional setting, the 3-piece set is a more focused (and affordable) choice.
Buyer's Guide
Which Misen knife is right for you? That's what we'll answer in this section, by going through each of the qualities you'll need to consider to make an informed choice.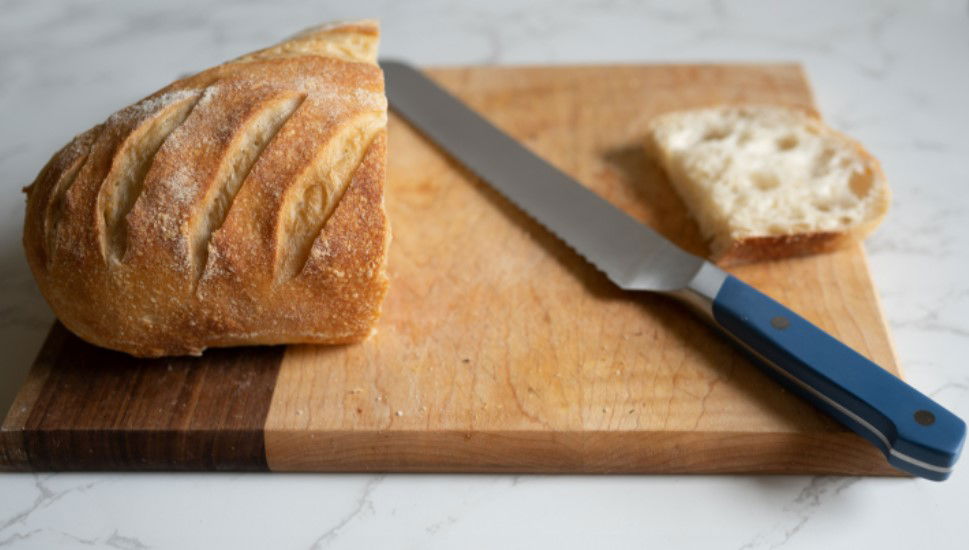 Type of Knife
First things first: What type of knife do you need?
If you're starting from scratch, a chef's knife is the most essential tool to buy. It's the major workhorse for your kitchen cutting tasks, and will take care of 90% of prep jobs.
Next, complement that with a paring knife for smaller and more intricate jobs. They're excellent for peeling and preparing fruits and vegetables, as well as mincing garlic and herbs.
From there, a serrated knife will take care of two situations the other knives aren't well suited for: Slicing bread, and cutting tomatoes.
Or if you'd like to buy just one knife that can handle the widest variety of cuts, go for a santoku. Known as the "three virtues" knife in Japan, it's a multipurpose knife that excels at prepping meat, fish, and vegetables. They're slightly shorter than a chef's knife, making them a favorite of cooks with smaller hands.
Construction
Knifemaking is part art and part science. So when you're considering whether to buy a knife, I'd encourage you to look at each part of its anatomy in great detail.
Blade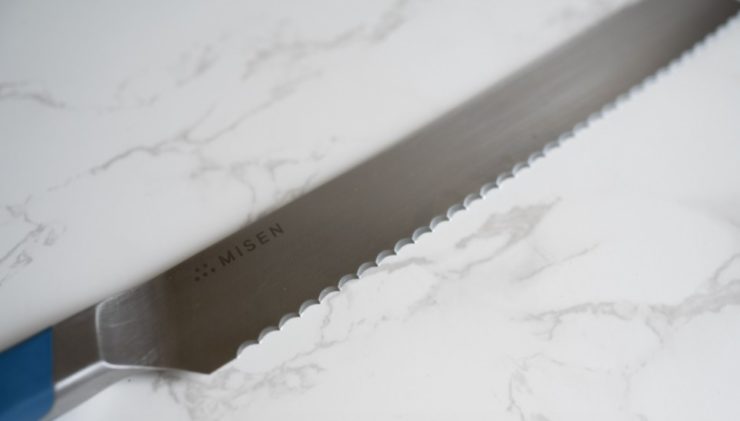 What do you want out of a knife's blade? Sharpness, yes — but also good edge retention, and resistance to chipping and staining. Each of those qualities comes from the type of steel used for the blade, and whether it is forged or stamped.
All of Misen's blades are forged from genuine Japanese steel. With the exception of their serrated knife, each blade uses top-quality AUS-10 grade steel. This yields knives that are sharp, durable, and stain-resistant.
Edge
Knifemakers often use different grinds and angles for the edges of their blades. This differentiates the cutting style that's meant for each knife.
Sadly, we don't have time here to discuss the intricacies of how edge shape and style affect cutting. Suffice to say, Misen uses the edge style most popular among professional chefs: A 15-degree grind that makes for a sharp and precise cutting edge.
Tang
The tang of a knife is the biggest contributor to its long-term durability. Lower quality knife producers often cut corners here, using a partial tang that can lead to the blade breaking at its junction with the handle.
Full tang knives, with one piece of steel extending from tip to butt, are the gold standard here. And every Misen knife is made with full tang construction, ensuring that they'll last for years to come.
Handle
A knife's handle should be comfortable and able to accommodate a wide variety of hand sizes and grips. Additionally, it's best if the handle provides some degree of slip resistance.
Misen's handles do all of this well, and are made in an easy-to-find blue color as well.
The bolster of a knife can be considered as an extension of its handle, as you'll often grip the handle and bolster at the same time.
The jury is out on whether Misen's new sloped bolster design is a good addition to their knives. In certain knives, it seems to fit perfectly (like their serrated knife). In others such as their chef knife and santoku, owners disagree on whether it's truly comfortable enough for long-term use.
Sharpening & Care
When you get into the world of higher-quality knives, there are a few extra care and maintenance steps.
First and foremost, none of Misen's knives should be cleaned in a dishwasher. They're hand wash only, and should be washed and dried immediately after use.
Other than that, you'll also need to keep your knives sharp. Thankfully, Misen offers a lifetime sharpening program for all of their knives. That will save you time, money, and effort.
We've heard a lot of feedback from purchasers of Misen's latest generation of knives, that the knives aren't always sharp out of the box. This is consistent with our experience – the chef knife in our sample kit needed a touch-up before use and the paring knife wasn't uniformly sharp.
To be fair, sharpening your own knives is an easy and valuable skill to learn, but it would be convenient if all Misen blades were ready to slice right out of the box. We haven't tested out the lifetime sharpening program yet, but we'll be sure to update this article with more information about it once we do.
Frequently Asked Questions About Misen Knives
Because you can't find them in stores, Misen's knives are the source of many common questions. So before we wrap up with my final recommendations, I'd like to take a moment to clear up those questions.
Are Misen knives a good quality compared with other brands?
It's tempting to think that because Misen's knives are offered at a lower price, they must also be of lower quality. But in my experience, they compare favorably with other major knife brands like Wusthof, Shun, and Zwilling Henckels.
That's mainly as a result of the high-quality materials that Misen uses. Their carbon steel is the same quality as that used for knives that can sell for twice as much. And the attention to detail in Misen's knife design far exceeds that of knives sold at the same price.
What makes Misen different from other brands?
Misen is unique in the approach that they take for selling their kitchen equipment. By using a direct-to-consumer sales model, they cut out the middleman — and thereby reduce the cost of each of their tools. That's paired with a lengthy design process that culminates in sleek and minimal knives and kitchenware with great durability.
Where are Misen knives made?
All of Misen's cookware is manufactured in China, just outside of Shanghai. But each of their knives is made from imported Japanese steel — making the quality just as high as other knife brands.
Is Misen a Western or Japanese-style blade?
All of Misen's knives fall in an interesting in-between category. Neither fully Western nor fully Japanese, they borrow elements from both knife-making traditions in their designs. The Misen chef's knife is most similar to a Western-style blade, while their santoku knife is most similar to a traditional Japanese blade.
My Recommendation
I've been a big fan of Misen since their debut in 2015. The quality of knives they offer is impossible to find at this price — but that doesn't mean every one of their knives is perfect for every chef.
That's why I would encourage you to take full advantage of Misen's 60-day test drive on any of their knives. It will give you a clear picture of whether their unique design is truly appropriate to your cooking and cutting style.
If they're not quite right for you, it's easy to send Misen's knives back for a full refund. But if you do find Misen's knives to your liking, then you'll have an excellent knife at a fraction of the price of any competitor.