The Le Creuset enameled cast iron skillet is a multifunction pan that will get a lifetime of use and requires almost no maintenance. Le Creuset is a luxury brand and so the price of their skillet is on the higher end. If the cost is within your budget then these cast iron pans offer enough durability and function to be worth it in the long run.
I've worked in several professional kitchens, and personally choose Le Creuset when cooking at home. Alongside my All-Clad D3, this skillet is one of the most essential pieces in my kitchen.
In this article I'll explain the incredible benefits, uses and some of the history of this cookware. I'll also give you critical feedback on some of the common drawbacks of the Le Creuset signature skillet, and explain why their enameled cast iron cookware isn't for everybody.
In addition to my own experiences, I spent several hours analyzing product data and feedback from other kitchens before writing this Le Creuset skillet review. I hope you'll find this article both insightful and actionable.
What we like
Extremely durable construction.
Sturdy and large handles are easy to hold.
Great heat retention and distribution.
Oven and dishwasher safe.
What We don't
Priced higher than some options.
These skillets are quite heavy.
No lid available that fits perfectly.
Cooking surface is not non-stick.
Is The Le Creuset Skillet Worth It?
If you can get past the price, this skillet will provide several lifetimes of use. There are budget alternatives, but none built to the highest standard set by the Le Creuset skillet.
Le Creuset Skillet Review
The enamel coated cast iron skillet from Le Creuset (that's luh-cru-say) is a useful and versatile pan. The pan is made of high quality cast iron and is covered in durable enamel. Those features offer excellent heat distribution for even cooking, and there is no seasoning or other maintenance required.
The black satin enamel that covers the cooking surface was created to work well at high temperatures, which makes it perfect for searing a steak. The coating is not nonstick but with a little oil and temperature control, you can have eggs that slide around the pan with no problem.
When it comes to clean up, the enamel coating allows you to soak the cookware with or with soap. After that, removing any stuck-on foods is generally hassle-free.
What We Like
We love the durability and ease of use that come with these skillets. Offering almost all of the function of a raw cast iron pan, without the special care and upkeep.
The brand has been making the cast iron cookware in the same foundry in France for close to 100 years, and you can often find their pots and pans being passed from generation to generation. A testament to their quality and craftsmanship.
All of the company's cast iron products come with a limited lifetime warranty. This covers any defects from the manufacturer but does not include wear and tear from normal use.
Aside from excellent performance and durability, these skillets are beautiful to look at. With a huge range of colors available, it's easy to match with any home decor.
What We Don't Like
The only major downside to this skillet is its lofty price tag. Often costing 8-10 times as much as the same size raw cast iron pan. But, if you can stomach the bill, you will be rewarded with industry-leading design and durability.
What to know before you buy
In 1925, a cast iron specialist and an enamel expert came together to create cookware that was more versatile and attractive than what was available at the time. Along with the Le Creuset brand, a new era of cookware was created. Moving away from the dull black and grey options and creating high-quality cookware in brilliant colors.
Le Creuset is a high-end cookware brand and their cookware comes with a high price tag as well. Along with the higher cost, you will be rewarded with industry-leading design and durability.
Here are a few important questions to ask before you buy,
What is so special about the Le Creuset signature skillet?
Le Creuset has perfected enameled cast iron in both form and function. Their enameling process creates a smooth cooking surface that is easy to clean and helps with food release while cooking.
Their cast iron cookware heats very evenly and holds heat exceptionally well. The quality of materials and craftsmanship results in cast iron that does not have any hot spots and will not change shape or warp at very high temperatures.
The wide range of colors look beautiful going from stove to oven to tabletop, and can be used with any heat source. Le Creuset's use of high-quality pigments results in colors that are brighter and more vivid than any of the competition. The brilliant colors are matched exactly across all lines (cookware, ceramics, tableware, etc.) and will not fade for the life of the products.
Is the Le Creuset skillet nonstick?
No, the Le Creuset signature skillet is not nonstick. The enamel coating is a barrier around the raw cast iron that protects against corrosion. The cooking surface is far more durable than nonstick coatings and performs well at high heat.
Why is my Le Creuset skillet sticking?
Sticking occurs most often when the pan has not been properly preheated, or when not enough oil has been used. Remember, enameled cast iron is not nonstick, and will not develop the same level of seasoning as a raw cast iron pan.
Low to medium heat is sufficient for most cooking tasks, but the manufacturer recommends that the pan be allowed to gradually warm for several minutes before you begin cooking. A light coating of oil in the pan after it has been heated will reduce the possibility of sticking as well.
How do I season my Le Creuset?
Le Creuset skillets do not need to be seasoned. The raw cast iron is completely encased in an enamel coating. It is possible to form a patina on the surface of the skillet through extended use and careful washing.
How does Le Creuset compare with other cast iron skillets?
There are a number of manufacturers that make cast iron skillets, but Lodge and Staub are the two brands often compared to Le Creuset. Let's see how they stack up.
Le Creuset vs. Lodge
Lodge is famously known for its inexpensive, raw cast iron products. They have been around for over 100 years, and their cast iron cookware is basically indestructible. I recently wrote an extended piece comparing Lodge vs. Le Creuset, and will provide some of the highlights here.
The cast iron skillet is arguably the most famous piece that Lodge makes. When compared to the Le Creuset signature skillet , the key difference is that the pan from Lodge does not have an enamel coating. This means that there is a bit of maintenance required.
Raw cast iron is reactive and so it will rust exposed to water or acidic ingredients for extended periods of time. The Lodge cast iron skillet does come pre-seasoned, but it is up to the user to make sure the seasoning is maintained and not washed away.
The Le Creuset skillet is nearly as durable and there is no maintenance required. Along with those benefits also comes a significantly higher price tag. It'll be up to you to decide if those benefits outweigh the higher cost.
Le Creuset vs. Staub
Staub is an iconic French brand similar to Le Creuset. They also specialize in enamel coated cast iron cookware but have only been around for about half as long as Le Creuset. Both brands are equally well known for their exceptional durability and functionality.
The enameled cast iron skillet from Staub functions very similarly to the one from Le Creuset. I think it would be difficult for any level cook to tell the difference in pure cooking performance between the two.
Both skillets feature solid cast iron handles, as well as two pour spouts. The Le Creuset signature skillet does have the advantage when it comes to the helper handle opposite the longer main handle. The grip from Staub is quite small and can be difficult to hold firmly. Le Creuset on the other hand has a large hoop style grip that is very easy to hold securely. An important consideration for a pan that weighs over five pounds.
Both pans are available in multiple colors, will last for generations, and are similarly priced. The large hoop style helper handle on the Le Creuset skillet is a small but useful feature that puts it just ahead of Staub.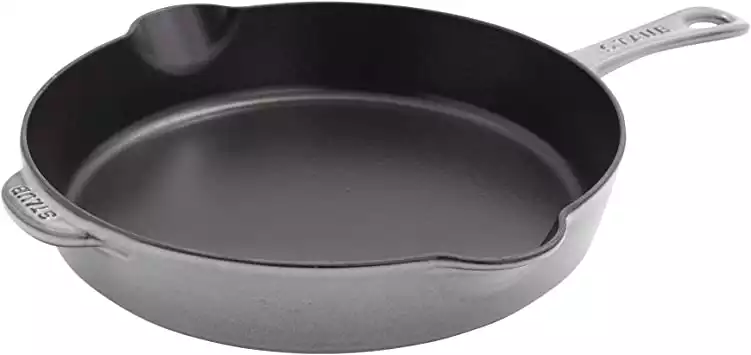 In addition to their enameled cast iron skillets, Staub and Le Creuset cookware are both well known for their dutch ovens. I recently compared the two makers at length and if you are considering a Staub skillet this is good related reading.
How to choose the right size skillet.
Le Creuset offers their cast iron skillet in four different sizes. These guidelines can give an idea of what's right for you.
The 6.33-Inch skillet is definitely a bit small. You can certainly fit a single chicken breast or one grilled cheese sandwich (depending on the bread), but your cooking options at this size can be limited.
The 9-Inch skillet as well as the 10.25-Inch option, are good sizes when cooking for 1-3 people. These two pans are pretty similar in size and I think the extra inch-plus of cooking real estate is the smarter choice. The 10.25" skillet is the most popular size sold and quickly becomes the go-to pan for many owners.
The 11.75-Inch skillet gives you a big cooking surface that is ideal for feeding a crowd or searing larger cuts of meat. This size can be a little large when feeding one but offers great utility for 3-6 people. From pancakes and sandwiches to one-pan meals, the large skillet feeds families and friends with ease.
Is cast iron is right for me?
Cast iron cookware is incredibly versatile and can be used with any type of stove, and is oven safe as well. It provides unmatched heat retention and distribution and can last for generations.
Nonstick pans make for easy eggs and even easier cleanup, but durability is always going to be an issue.
Stainless and carbon steel pans are a good option in a lighter-weight package. These pans can also go from stovetop to oven but are not very well suited for baking tasks.
While other cookware materials have specific uses where they shine, cast iron is a true swiss army knife in the kitchen. Searing, sauteing, roasting, braising, and baking, it can handle anything you throw at it.
If you cook often and you cook a wide range of things, then I think cast iron deserves a place in your kitchen.
My Recommendation
The Le Creuset enameled cast iron skillet is a very functional and useful pan in the kitchen. It offers great versatility and durability all in a very attractive package.
I find myself reaching for my Le Creuset skillet when cooking anything really acidic, like tomatoes or vinegar-based sauces. I have a very well-loved raw cast iron pan, but I don't want the acid eating away at the pan's seasoning that I've worked so hard to develop.
Is it worth buying?
If you can get past the price, then the short answer is, yes. If treated right, this skillet will provide several lifetimes of use. It's possible to try one of the budget brands offering enameled cast iron cookware, but the craftsmanship and durability will not be of the same high standard.
The only real downside to this pan is the price tag. If this cast iron skillet is within your budget, then we think the years of use and versatility are well worth it.
You can see the pan in its variety of colors here.