Cucumbers make a great snack on their own, and add great texture, taste, and color to anything from salads and sandwiches to sushi.
The type of cucumber you choose and how you slice it makes a big difference in its effect on a dish.
Today, we'll take a look at common cucumber varieties, and how to clean, store, and cut them. Plus, I'll get you squared away with all the right tools for the job.
Cucumber Varieties
There are tons of different cucumber varieties that you can buy and grow. But in most major grocery stores there are 3 types that are more common than any other.
No matter what kind you choose, look for cucumbers that are evenly colored and very firm, without any soft spots or shriveled skin.
Standard Or Slicing Cucumbers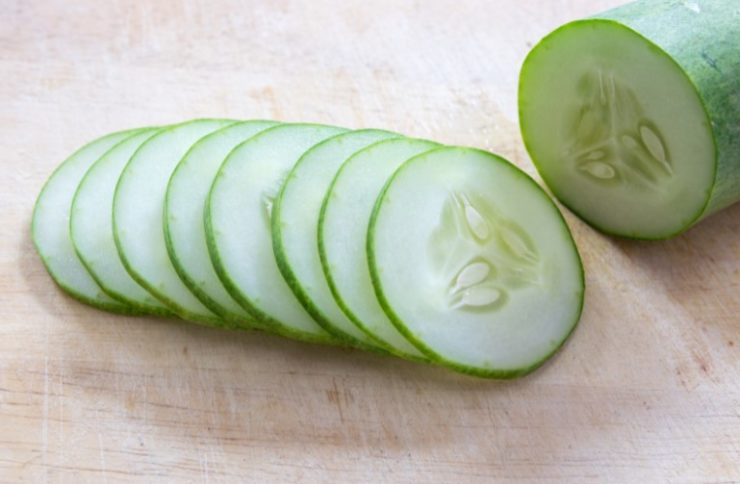 This is easily the most common type of cucumber that you'll find in most grocery stores. They have smooth, dark skin and are usually between 6 and 8-inches long.
These have thicker skin than most other types, and when unpeeled can have a fairly bitter taste. Standard cucumbers also have larger seeds than many other types, but they're also the least expensive.
Seedles Or European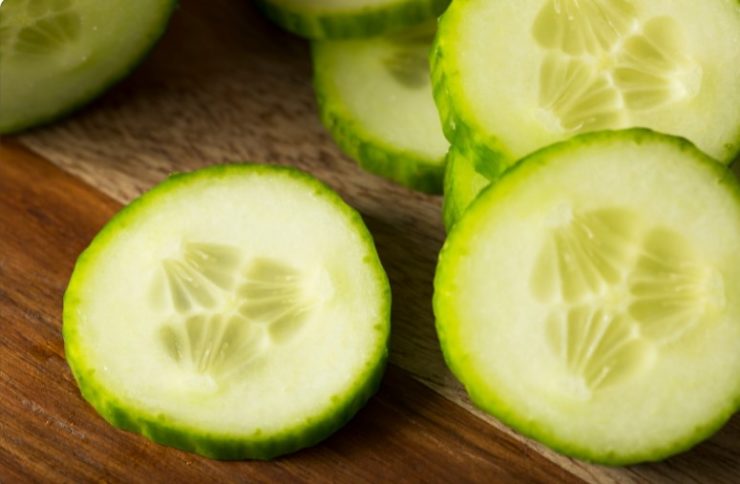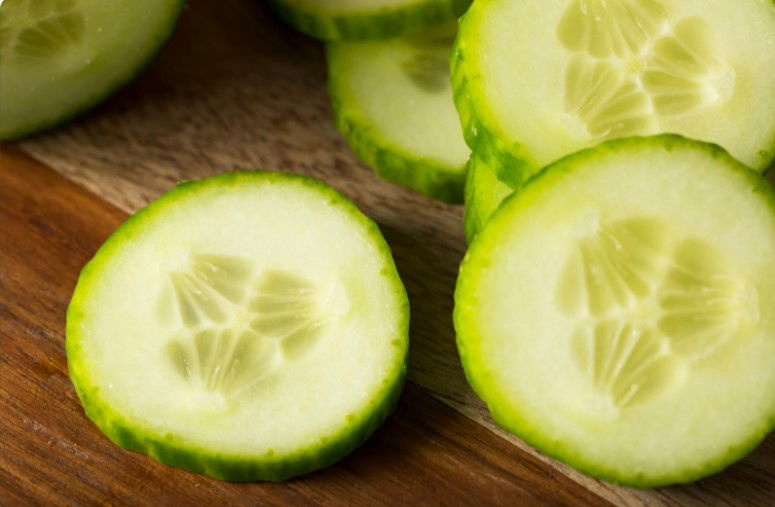 These long and slender varieties have a shallow ridged appearance. While a bit more expensive than standard cucumbers, these have a much thinner skin and less of a bitter taste.
Even though they are sometimes called "seedless" they usually do have seeds, although they are much smaller and less noticeable.
Pickling Cucumbers
Pickling cucumbers are much smaller than the standard or seedless varieties and often have more knobs and warts.
These cucumbers can still be eaten raw, but their dense, crisp flesh and very small seeds make them the best choice for making pickles.
How To Prep And Use Cucumbers
Cleaning
Clean cucumbers by rinsing them under cool water. Look out for overly shiny standard cucumbers as they are sometimes waxed for appearance and to retain more moisture.
The wax is food grade, but in general, these should be scrubbed more thoroughly, or peeled to remove the wax.
Peeling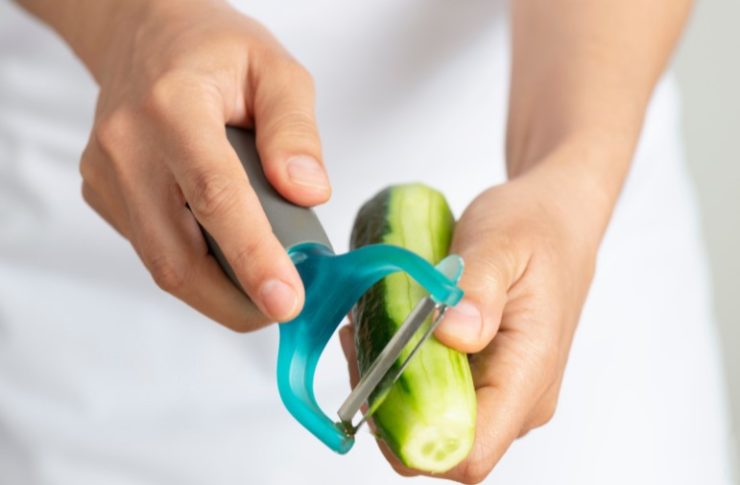 You don't necessarily have to peel your cucumbers, and it is where a lot of vitamins and nutrients are stored. But, the skin can also be on the bitter side.
You can peel the entire thing, none at all, or peel off a few stripes to maintain some of the dark green color and flavor.
If you don't want to trash or compost the peels, you can pass them through a juicer or place them in a pitcher of drinking water for a little extra flavor.
Rounds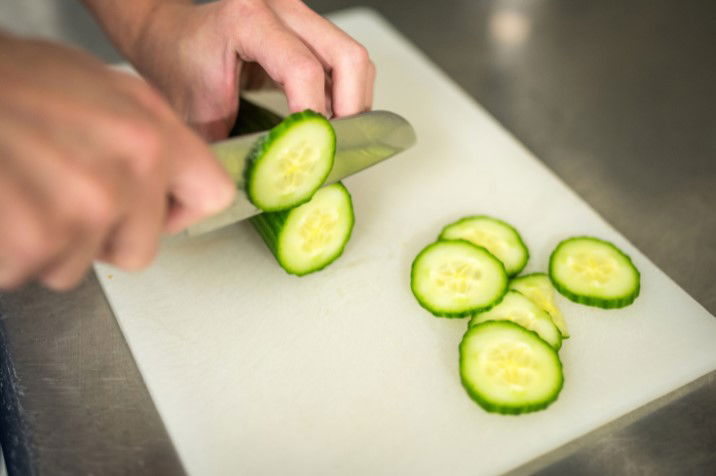 Cucumber rounds are perfect for snacking, pickling, vegetable trays, or to soothe tired and puffy eyes (spa day anyone?)
Place your clean cucumber horizontally on your cutting board. Hold it in place with your non-dominant hand, using your knuckles as a guard and a guide while you cut.
Place your knife at the very end of the cucumber and press forward and down. This first cut is to remove the stem, which you can discard.
Repeat the process, slowly moving your guide hand down the cucumber after each slice. You can make your slices as thin or thick as you would like but aim for consistent sizes.
Half Moons
Use half moons as a perfect bite size option in salads or on sandwiches. Remove the seeds and you'll be left with an attractive crescent moon shape.
To make half-moons, simply split the entire cucumber lengthwise then place it cut side down and slice it in the same way you would rounds.
If your cucumber has particularly large seeds, they can easily be removed when making half-moons. After you split the cucumber in half, use a spoon to scrape out the seeds before slicing.
Diced
Diced cucumbers are another good choice in salads, and also work well in ceviche or poke bowls.
There are two basic ways to dice a cucumber. The first is not technically a dice because it yields a wedge, or quarter round. But, it's fast, easy, and doesn't cause any waste.
To do this, split the cucumber lengthwise, then split each half lengthwise again. Now, lay all four long quarters on your cutting board and slice them into pieces that are approximately the same width and depth.
To make a true dice, first cut the cucumber in half widthwise so that the pieces are more manageable.
Next, take a thin slice off one long side of the cucumber, creating a flat edge. Do the same on the three remaining round sides so that you end up with a rectangle.
Now, split the rectangle in half lengthwise, and split each half lengthwise again. Then, line up the quarters and slice them as wide as they are thick to create cubes.
Julienne
Use thin julienne slices as a garnish or in sushi rolls. They'll stay in place, and offer even distribution through the rolls.
First, trim the edges off the cucumber and cut the whole cucumber into sections that are between 2 to 3-inches in length.
Place the sections on your cutting board on the cut sides so that you have standing cylinders.
Hold them in place with your non-dominant hand and cut down through the standing cucumber into ⅛-inch sheets.
Make stacks of the ⅛-inch sheets 3 or 4 high. Then, slice the stacks lengthwise in ⅛-inch increments again.
You don't have to get a ruler out for this but aim to get your pieces about the same width and thickness so that the finished product resembles a matchstick.
Brunoise
Break out the brunoise to show off your knife skills in your next salsa or relish.
To make brunoise, take small bunches of julienned cucumber and slice them widthwise in ⅛-inch increments. You should end up with very small cubes that are approximately the same size on all sides.
Storing Cucumbers
Whole cucumbers that haven't been peeled or cut can live in your refrigerator as is and will last about a week. But, you can get a little extra life out of them if you wrap them in a tight layer of plastic wrap first. This acts as a second layer of skin and will help keep them crisp a bit longer.
Once cut, store cucumber in the fridge in an airtight container. If you won't be using them for a couple of days, place a folded paper towel at the bottom of the container so that they don't end up sitting in their own liquid. And try to use these within 3-5 days.
Tools For The Job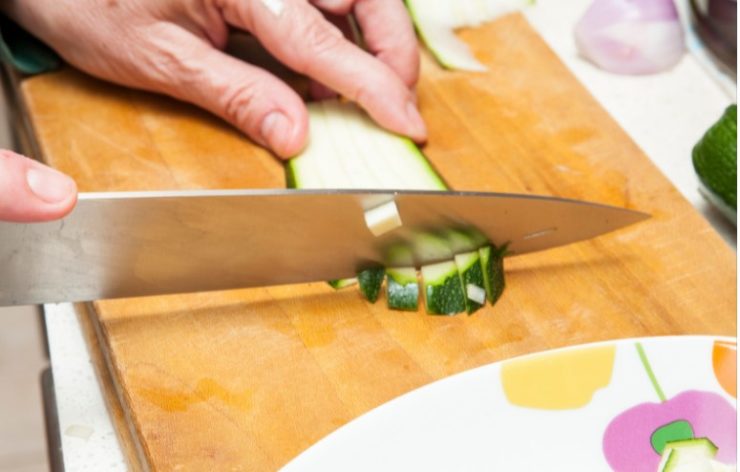 As with any cutting task, a sharp knife is key.
While you can get by cutting a cucumber with a paring knife, you'll get more consistent and accurate cuts if you use something a bit larger. A Chef's knife, santoku, or nakiri are all great choices for the job.
If you're good with a blade you can also do your cucumber peeling with your knife of choice. But, a trusty vegetable peeler is faster and less likely to waste any of the cucumbers by cutting too deep.
If you'll be making something like pickle chips that require lots of consistently cut rounds, consider swapping out your knife for a Japanese mandolin. You'll be able to tear through cases of cucumbers, with every slice being the exact same thickness.
Frequently Asked Questions
How Should I Cut Cucumber For Salad?
Rounds, half moons, and diced cucumbers are all great options for a salad. Consider the shapes and sizes of the other ingredients in the salad and choose the cucumber cut that is the most similar in size. 
How Should I Cut Cucumber For Sushi?
Julienned cucumbers are the best choice when making sushi rolls. The long, matchstick shape will stay put in the rolls and helps with even distribution throughout each piece.
How Should I Cut Cucumbers For A Veggie Tray?
Cucumber rounds that are on the thicker side are a good choice for a veggie tray. This makes them large enough to easily pick up and hold, while the thicker cut will make them sturdy enough to handle any dips that might be involved.
Print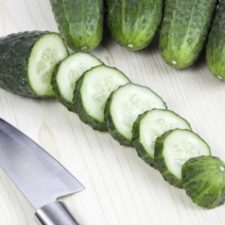 How To Cut Cucumbers
---
Author:

Total Time:

5 minutes

Yield:

1

Serving

1

x
Description
Learn how to cut a cucumber, and how to pick the right cut for each occasion.
---
---
Instructions
Clean the cucumber under cool water, taking care to remove any protective wax from the surface of the skin.

Hold the cucumber horizontally against a cutting board, and use a sharp knife to remove the stem.

Move your cuts incrementally down the length of the cucumber, slicing rounds of a consistent width from the face of the product.

Once cut, store cucumber in the fridge in an airtight container. Use within 3-5 days.

Prep Time:

5 minutes

Category:

Knife Skills

Cuisine:

Any
Keywords: how to cut cucumber, how to julienne cucumbers, how to dice cucumber, how to cut cucumber for salad, how to cut cucumber sticks