Whether you're building a new house, replacing an outdated hood, or just adding ventilation where there wasn't any before. Knowing how to buy a range hood will make the process easier and ensure you get a hood that looks good and performs well.
Below, you'll find seven different things to consider when buying a range hood. From the type of hood to power, noise level, and everything in between, these seven points will help you find the perfect hood for your home.
Know Your Space
Before you go down the road of actually looking at range hoods, there is one prerequisite. It's incredibly essential to evaluate the space where your hood will be going.
Collecting a little bit of data ahead of time will allow you to use the following list without having to constantly check on this and measure that.
So, here are some things to know that will make the process more streamlined from beginning to end.
Kitchen layout
Range type
Rang location
Range size
Ceiling or cabinet height above range
Is there ductwork in place or not
How To Buy A Range Hood In 7 Simple Steps
1. Type Of Hood
Once you've taken a little time to get to know your space, it's time to start looking at all the different aspects of a hood. And the first thing you'll want to narrow down is what type of hood you'll need.
Luckily, your space and kitchen layout will make this decision fairly straightforward. I'll go through that in a second, but first, here is a list of the 5 basic hood types to consider.
Under Cabinet
Wall Mount
Island Mount
Down Draft
Hood Insert
So, depending on where your range is located will largely dictate what type of hood will be best for you.
If there are cabinets or a cupboard above your range, you're likely going to want an under cabinet hood that mounts directly to the cabinet. Or, a hood insert that will sit recessed into a custom cabinet or hood shell. 
If your range sits against a wall but there's nothing but open space above it, a wall mount hood is probably your best bet. These mount directly to the wall and usually come with a stainless steel chimney to hide ductwork and provide a high-end professional look.
Last but not least, if your range is built into an island you'll need a hood that doesn't require walls or cabinets to mount to.
This is where the island range hood comes into play. These are sometimes referred to as ceiling mount hoods because they mount to the ceiling and hang down above your island cooktop.
Downdraft hoods are another option that are sometimes used if you're cooking on an island. These are installed at the back of the stove and are often retractable so that they are out of sight when not in use. This option looks great but is not always as effective as traditional hoods that hang above the stove.
2. CFM
CFM stands for Cubic Feet Per Minute. This speaks to how much air the hood is capable of moving and will basically tell you how powerful it is.
There are a lot of different factors that go into choosing the best CFM for you.
You'll want to look at the size of your cooktop, or how many BTUs it has if you're working with a gas range. The size of your kitchen will also play a role, as well as how long your ducts are if you'll be using a hood that vents to the outside.
And one of the most important things to consider is your cooking style and how often you cook. The more you cook and the more high-heat cooking you do, the more CFM you'll likely need.
When in doubt, a higher CFM is almost always a good idea. That gives you the flexibility to use a lower fan setting when you don't need tons of airflow, but you'll have that extra power whenever things start heating up in the kitchen.
3. Noise Level
The noise level of a hood is usually measured in sones or decibels. You should be able to find this specification on any hood you're considering and it can be an important one to pay attention to.
Now, the noise level of a hood doesn't necessarily have anything to do with how well it will perform. But, if your hood sounds like a jet engine, you're probably not going to use it as often as you should.
60 decibels is about the same noise level as your average human conversation. I like to use that as a barometer when considering how loud a hood is.
If you stick to hoods that don't go much over the 60-decibel mark, you should be able to comfortably have a conversation or jam out to your favorite tunes while you cook.
One thing to consider though is that quieter hoods sometimes come with a slightly higher price tag. Especially if you want the winning combination of high-power and low-noise. 
4. Size
In order to choose the right size range hood, you'll want to look at the size of your stovetop. At the very least, your hood should be as wide as your cooktop. But, you'll get the best results if you go for a range that is 6-inches wider than your stove.
If you can afford and also fit a hood that's 6-inches wider than your stove, you'll be creating a larger capture area. The extra 3-inches of overhang on each side will allow your hood to capture and remove more smoke and fumes before they can escape into the room.
So, all you need to do is measure the entire width of your cooktop and you're in business. If your stovetop is 30-inches wide, you'll want to look at hoods that are at least 30-inches wide, but 36 would be even better.
5. Ducted vs Ductless Exhaust
There are two different ways that range hoods go about keeping your kitchen air clean. Ducted models remove air from the home, while ductless ones clean the air before recirculating it back into the kitchen.
Deciding between the two different exhaust types can have a big impact on how well your hood does its job.
In general, ducted range hoods offer the best performance. They suck air up and physically remove it from the home through a duct and outside vent. And in most cases, a ducted hood can remove contaminated air faster than a ducted model can clean it.
Ductless models on the other hand, clean contaminated air using disposable carbon filters. Then they recirculate the "clean" air back into the room. They're often less expensive upfront and slightly easier to install. But take into account the lesser performance and ongoing cost of replacing the carbon filters periodically.
When you're getting to know and evaluating your space, you'll want to be sure to check if you already have ductwork in place. If you do, great. Take advantage of it and go with a ducted range hood.
If you don't, you'll have to decide if it's worth it to have ductwork installed, or if you just want to go with a ductless range hood that can be installed as-is.
6. Installation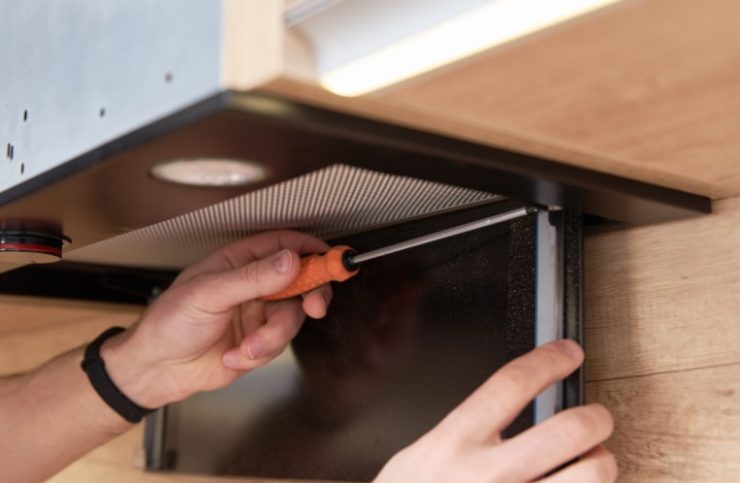 Once you decide on a hood, you should also think about the installation. In most cases, installing a range hood is a fairly straightforward process. And I think one that most DIYers should be able to tackle in a few hours.
Since hoods can be heavy and awkwardly shaped, the most difficult part is often mounting the hood to the wall, ceiling, or under a cabinet. This is where having an extra set of hands can really make or break the whole process.
The other thing to think about is whether or not you will have to do any electrical work. Some models can simply be plugged into an outlet, while others are hardwired into the wall. If you're not comfortable with electrical work, this can be a step that is definitely worth hiring an expert for.
7. Budget
When it comes to budgeting for your new range hood, there are options at every price range. You can find a hood for under $100, but you can easily spend over $1,000.
How expensive a hood is will depend on a combination of different factors. The size, power, noise level, and build quality of a hood are all things that will make a hood more or less expensive. You can prioritize some or all of those elements to find options that fit your budget.
And don't forget about the cost of installing ductwork. If you'll be going that route it can add anywhere from an extra $100 to $1,000 to the project.
Frequently Asked Questions
Is A Ducted Or Ductless Hood Better?
Ducted hoods are generally more efficient and effective at keeping your kitchen air clean. Ducted hoods work by removing air from the home, while ductless models clean and recirculate air back into the room.
How Much Do Range Hoods Cost?
Range hoods are available from under $100 to over $1,000. In general, the larger, quieter, and more powerful the hood, the more expensive it will be.
Can I Install A Range Hood Myself?
Installing a range hood can be a pretty straightforward DIY project, with two people making the whole thing a lot easier. But in some cases, there may be minor electrical work involved.