Coconut flour is a popular low-carb, keto-friendly flour. If you've run out, or it's not available where you live, there are a wide variety of flours you can substitute it with.
This high-fiber flour is great in healthy baking recipes like brownies, pancakes, and cookies. But also works well as a thickener or gluten-free breading for extra-crispy fried foods.
I've used all of these options extensively as a professional baker. So, If you need a substitute for coconut flour right now, here are 11 options with instructions for the best uses and ratios to get the best results.
11 Coconut Flour Substitutes (All Gluten-Free)
1. Almond Flour
Blanched almond flour is one of the best substitutes to get a similar taste and texture to coconut flour. It's perfect in cakes, cookies, French macarons, and pancakes. And it also makes a great crumb-based crust for cheesecakes and cream pies.
Naturally gluten-free and low in carbohydrates, almond flour is acceptable for keto diets. This flour is safe for diabetics, too, though some people may find it hard to digest due to its high-fat content.
Like all nut flours, almond flour spoils quickly. So it's best to store it in the fridge or freezer until you're ready to use it.
To use it as a substitute, use 1 cup of almond flour to replace every ¼ cup of coconut flour in your recipe. You may also be able to use less liquid and/or eggs in your recipe since almond flour is not as absorbent as coconut.
2. Cassava Flour
Cassava flour is made from manioc root and makes an excellent substitute in pancakes and other baking applications.
This flour's light, fine texture lends well to recipes that need flexibility. It makes the best gluten-free tortillas and other flatbreads. Plus, it's a nut-free option for those who are allergic.
Be aware that cassava flour is not low-carb, so it's not to be eaten in large quantities if you're diabetic or on a low-carb diet.
This flour also doesn't rise much with baking. So I wouldn't recommend it for use in fluffy cakes and other items that need a high loft.
To use, try cassava flour at a 3:1 ratio in place of coconut flour.
3. Chickpea Flour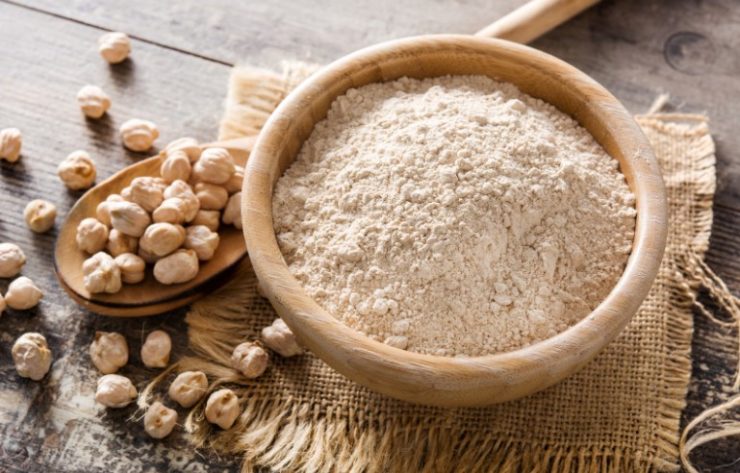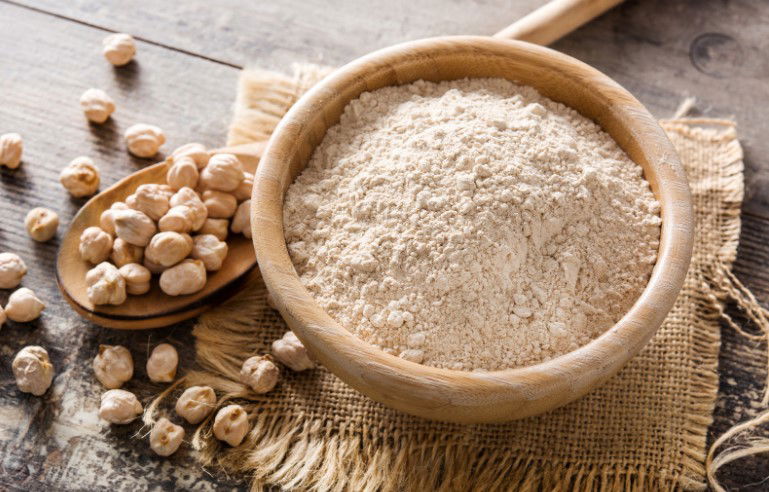 Also known as besan and gram flour in India, chickpea flour is a powerhouse substitute. It can work well in baking recipes, breadings, and flatbreads.
Chickpea flour is a great ketogenic option if you're out of coconut flour. It's famously high in protein and also has fantastic binding ability.
The only thing to watch out for with this substitute is that it can have a beany taste that may not be ideal in all recipes. In sweet baked goods, you may want to consider mixing it with other flours for better flavor.
To replace coconut flour, use ½ cup of chickpea flour for every ¼ cup of coconut flour. This is a 2:1 ratio of chickpea to coconut flour.
4. Flax Meal
Flax meal can take the place of coconut flour in breadings, pancakes, and cracker recipes. It can also serve as a thickener, but beware- it can get gooey.
This seed meal is high in omega-3 oils and is well-known for its nutritional value. In addition, its nutty flavor also lends well to items that can be a little hearty.
Additionally, it makes an outstanding egg replacer when mixed with water.
Flax meal's strong flavor may not be desirable for all your baking and breading needs. It can also get gummy, so I wouldn't recommend it as the main flour in any pastry-type items.
To use flax meal as a coconut flour substitute, use a 3:1 ratio of flax to coconut flour.
5. Oat Flour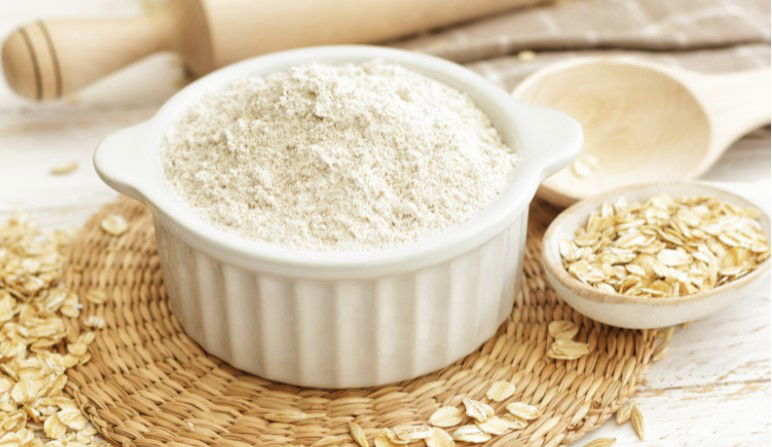 Oat flour is a delicious substitute that can replace coconut flour in almost any baking recipe. Its mild flavor melds well with brownies, quick breads, pancakes, and pound cakes.
This affordable substitute is readily available, but it's also easy to make at home on the fly. To do so, grind whole oats in a blender, food processor, or spice grinder until you have a fine powder.
Since oat flour is much higher in starch than coconut flour, it may call for some recipe testing. But if you'd like to give it a try, start with a ratio of 5 parts oat flour to replace 1 part coconut flour.
6. Buckwheat Flour
Contrary to its name, this flour is a great gluten-free replacement for coconut flour. Use it for baking, pancakes, crepes, and pasta. It also makes delicious and hearty bread.
Buckwheat has a distinctive, light, and earthy flavor that enhances most recipes. However, it requires less moisture than coconut flour to hydrate, so it may take some experimentation to find the right ratio for your recipe.
Take note that buckwheat flour can yield a sandy consistency in high quantities. If you encounter this issue, consider blending it with other flours.
Try buckwheat flour at a 3:1 ratio in place of coconut flour.
7. Sunflower Seed Flour
Flour made from 100% sunflower seeds can take the place of coconut flour in your recipes. Try it for baking cookies or in pancakes and breadings.
Containing zero nuts or grains, this is an ideal substitute for people with allergies. Sunflower seed flour is also low-carb and can be ground at home in a food processor. But be careful not to blend it too long, otherwise, you'll end up with sunflower butter!
One downside to this substitute is that it can have a grayish hue. It's also a less common flour, so it may require experimentation.
Start with a 4:1 ratio of sunflower seed flour to coconut flour to substitute.
8. Soy Flour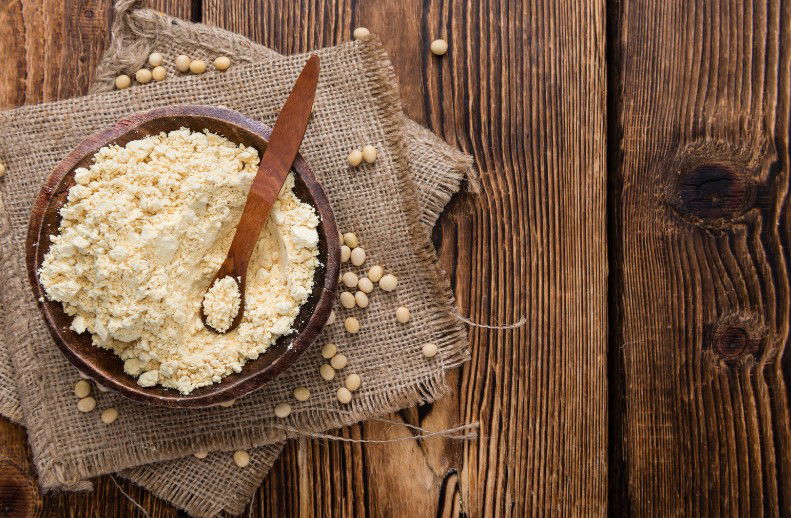 This is a substitute ideal for baking recipes and pancakes. And its high protein and low-carb nutritional profile make it a great dieting option.
Soy flour does have a bit of a beany flavor, which may not be the best for recipes with minimal ingredients. But if you're baking something with spices and other flavors, it won't be a problem.
It's also important to note that this substitute browns faster than coconut flour. So, you'll want to reduce your oven temp by 25 degrees when baking and check your items 10 minutes early.
To use it in place of coconut flour, start at a 1:1 ratio of soy flour to coconut.
9. White Rice Flour
Rice flour is an easy-to-find substitute for coconut flour. Try it in pancakes, waffles, bread, and other baking applications.
Its light flavor means that it suits most baking recipes in place of coconut flour.
Note that you may need to add binders like xanthan gum to avoid overly crumbly baked goods. For a lighter texture, you may also need to blend rice flour with starch, like tapioca or potato.
Use 3 parts of rice flour to replace 1 part of coconut flour.
10. Tapioca Flour
Also known as tapioca starch, this fine, powdery flour can replace coconut flour in pancakes and baked goods.
Thanks to its mild flavor, it's versatile and won't overpower your baked items with its taste. Aside from serving well in baking, tapioca flour is also a useful binder and thickener.
Like coconut flour, tapioca flour is highly absorptive. So you'll want to make sure you're using enough liquid in your recipes and mix it well to avoid clumping.
This flour can be utilized at a 1:1 ratio in place of coconut flour.
11. Potato Flour
Potato flour can replace coconut flour easily in yeasted bread, baked goods, and pound cakes.
This flour also has top-notch thickening ability for soups, stews, and gravies. Plus, it can also serve as a binding and softening flour in gluten-free baking blends.
While its high carb content makes potato flour a great thickener, it can also create gumminess if used in too high a quantity.
Try it at a 1:1 ratio to start, and add up to 15% extra potato flour if the recipe looks too wet.
Final Tips For Working With Coconut Flour Substitutes
Finding a direct 1:1 substitution can prove tricky when you're replacing coconut flour. Since coconut flour is exceptionally absorbent, there aren't any other flours that behave exactly like it. So don't be afraid to experiment a little.
Consider starting with nut-based flours if you want a similar result to coconut flour. You might be able to use a little less egg or liquid than your original recipe calls for.
Try out nut flours like hazelnut, cashew, pistachio, and pecan for exceptional flavor. And to keep them fresh longer, store all bean, seed, and nut-based flours in the fridge or freezer.
Frequently Asked Questions
What's the closest substitute for coconut flour? 
Blanched almond meal can bake up like coconut flour. However, it's less "thirsty," so you may want to decrease the amount of liquid or egg in your recipe.
What's a keto substitute for coconut flour?
Blanched almond meal is a great keto and low-carb substitute for coconut flour. 
Can you substitute tapioca flour for coconut flour?
Yes, tapioca flour (or tapioca starch) performs like coconut flour. Try it as a 1:1 substitute in baked goods and pancake recipes.