All-Clad is my go-to brand, whether I'm at home or in a professional kitchen. They make some of the most durable, but also most expensive cookware around. Luckily, the high price gets you pots and pans that do well on the stove, but are also excellent in the oven.
If you're considering it for your home, or you've already taken the plunge, I'll break down everything there is to know about using All-Clad in the oven.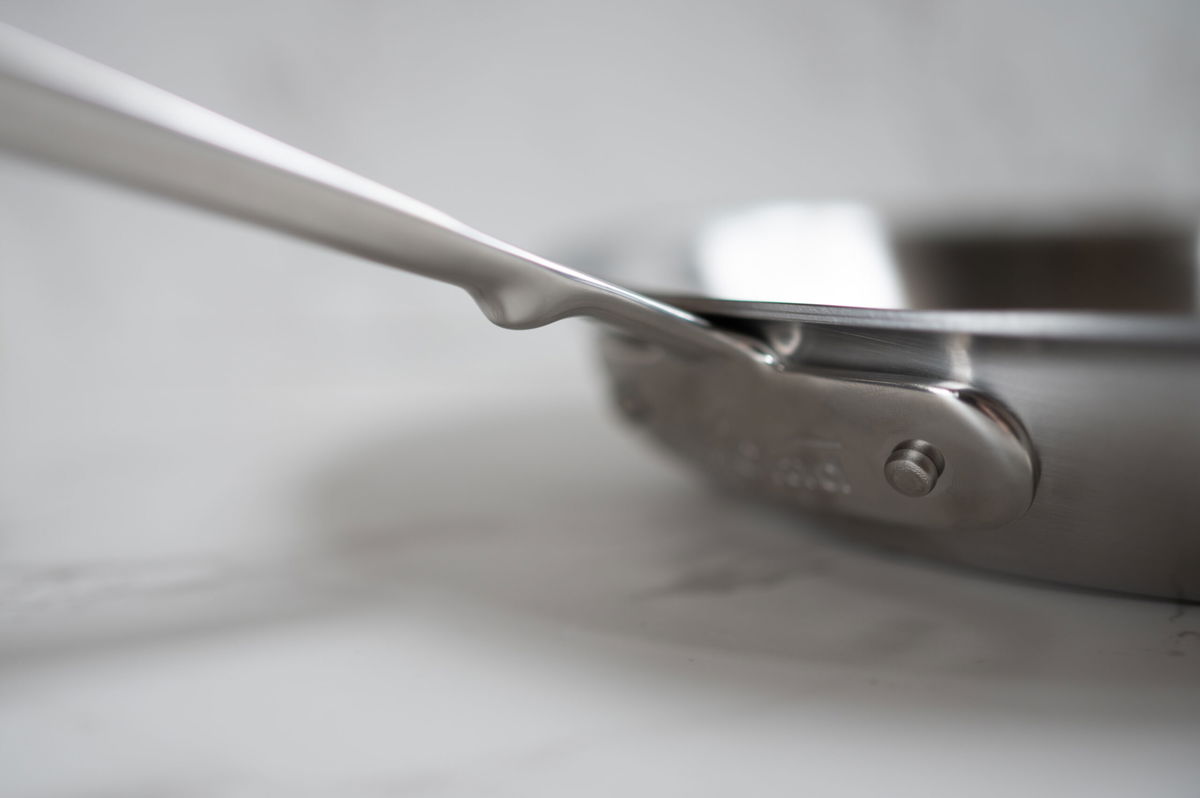 The Lines And Their Oven Safe Ratings
A quick guide to the oven-safe temperature ratings for each of the All-Clad cookware lines.
| Product Line | Oven Safe Temp °F | Oven Safe Temp °C | Material Type |
| --- | --- | --- | --- |
| D3 | 600* | 315* | Stainless Steel w/Aluminum Core |
| D5 | 600* | 315* | Stainless Steel w/Aluminum Core |
| G5 | 600 | 315 | Stainless Steel w/Graphite Core |
| Copper Core | 600* | 315* | Stainless Steel w/Copper Core |
| HA1 | 500 | 260 | Hard-Anodized Aluminum Nonstick |
| B1 | 500 | 260 | Hard-Anodized Aluminum Nonstick |
| Essentials | 500 | 260 | Hard-Anodized Aluminum Nonstick |
| FusionTec | 500 | 260 | Ceramic w/Steel Core |
*D3, D5, and Copper Core each have non-stick frying pan options. These are limited to 500°F or 260°C in the oven.
How All-Clad Lids Handle Oven Use
While All-Clad pots and pans do extremely well in the oven, it's a different story when it comes to their accompanying lids.
Unfortunately, none of the lids that All-Clad offers are actually considered to be oven safe.
All of All-Clad's stainless steel lines, as well as their FusionTec ceramic series utilize stainless steel lids. And, unlike the thick and durable cookware, the lids are much thinner and prone to warping when used in a hot oven.
Now, I have successfully used the stainless steel lids in the oven without any issue. But, I try not to use them at temperatures over 350 F.
This is definitely a use-at-your-own-risk scenario, as it is not something that is covered in the All-Clad warranty.
All of the non-stick lines on the other hand feature tempered glass lids. A warped metal lid is one thing, but the glass lids have the potential to shatter when used in the oven. Not something worth risking in my opinion.
Safety Considerations When Using All-Clad In The Oven
Lids aside, All-Clad cookware does great in the oven. But, there are some things to be aware of in order to protect you and your pots and pans.
Handles
Every one of the All-Clad lines features solid stainless steel handles. These are durable and do a good job of staying cool during stovetop use, but they get extremely hot when used in the oven.
Expect them to be as hot as the oven is and always use an oven mitt or towel to handle them. It's also a good idea to leave a towel or potholder on the handles even after they are out of the oven. That way, unsuspecting passersby don't accidentally grab the ripping hot handles either.
Warping
All-Clad is known for making some of the most durable cookware around. Their stainless steel lines are all fully clad and can easily handle just about anything you can throw at them.
I've never seen any of these pieces warp. Even in professional settings where they are constantly exposed to harsher conditions than even the most demanding home kitchens.
I've worked in kitchens where these pans are stored in a 500 F oven throughout service (several hours at a time). That way, when a cook needs a hot pan, they're ready to go and there's no time wasted preheating.
Now that's not something I practice at home, but it's a testament to the durability of their stainless steel pans in the oven.
The hard-anodized non-stick options are built from heavy-gauge aluminum. This is also durable stuff, but I have heard of rare cases where some minor warping did occur. But, with proper use that shouldn't be an issue. Especially if you follow some basic non-stick guidelines.
Discoloration
A rainbow discoloration on your stainless cookware is common and can be annoying. Luckily, annoying is really all it is, and it has no effect on health, safety, or performance.
The rainbow effect, also known as "heat tint" is an oxidized layer that is produced by the chromium present in the stainless steel. This occurs more frequently with cookware that is used at very high temperatures.
If it doesn't bother you, you can continue to cook as usual. But, these "stains" are also easily removed with vinegar or a cleaner such as Bar Keepers Friend.
Now if your stainless cookware has more than just a little discoloration, I've written a guide to get it back looking like new.
Is All-Clad A Good Choice For Cooking In The Oven?
All-Clad is a great choice for cooking in the oven, particularly their stainless steel options. All-Clad D3 is my favorite line because it offers a perfect balance of weight, performance, and price. It also happens to be what you'll find in many top restaurants across the country.
The saute pan and frying pan are two of the best pieces for oven use. They're both excellent when it comes to searing a piece of meat on the stove, then moving to the oven to finish cooking evenly.
While the saucepans and larger pots can handle oven use, they tend to be less useful for oven applications.
If you're looking to do long braises in the oven, I much prefer something like a Dutch oven. These are thicker and heavier, plus they have lids that are built for oven use and are perfect for long cook times.
And, if you're looking for a less expensive alternative to All-Clad, Calphalon has some great options. Their fully clad cookware is modeled after All-Clad, and we've done a side-by-side breakdown so you can see how they compare.
Final Thoughts
All-Clad is a great option whether cooking on the stove or in the oven. Their stainless steel options can handle oven temps up to 600 F and are notoriously difficult to damage.
Their non-stick lines also do well in the oven but max out at 500 F. Still hot enough for just about any cooking task you'll come across.
If you're curious about more cookware materials and how they stack up, check out my guide to the best cookware materials to help stock your kitchen.