Wall mount range hoods generally have tall chimneys and are prominently displayed above your cooktop. So, while they're overall performance is important, the look and design can play a larger role with this style of hood.
Whether you want the professional look of an all stainless model or a more contemporary glass visor, there are tons of options to sift through.
Through hours of research and years of professional cooking, I've picked out 3 of the best wall mount range hoods. All that offer a great balance of performance and good looks. I'll also break down the various components of a hood so you know what to look for in order to make the best choice for your home.
Professional Performance
Zline Professional 36-Inch Ducted Range Hood
The Zline Professional 36-Inch Ducted Range Hood has easy-to-use controls that let you easily control fan speed and lighting. It is a great range that can handle any kind of cooking task.
Buy Now
We may earn a commission if you make a purchase, at no additional cost to you.
11/30/2023 05:32 am GMT
The Zline Professional hood will make you feel like you're cooking in a restaurant (hopefully without the stress or hectic atmosphere). It's got top notch build quality and will keep the air clean and clear even in the most demanding home kitchens.
This is one of the most powerful home kitchen hoods that you'll find, with 1200 CFM of airflow on it's highest setting. That will allow you to perform cooking tasks like deep frying, high-heat wok cooking, or even indoor grilling without grease, smoke, and fumes filling your house.
And when you don't need that much muscle, it also operates at 280/460/670 CFM, each with its own dedicated push button. Great options for every type of cooking.
What's even more impressive than this hood's power, is that it also manages to be one of the quieter hoods that you'll come across. Even when operating at its highest speed, it maintains a noise level of only 52 decibels. High-power, low-noise is a recipe for the perfect range hood.
The underside of the hood has a similar look and design to a professional model. There are 4 stainless steel baffles (2 in the front and 2 in the back) that are steeply angled. This helps excess grease to flow into a grease channel that is easy to clean and dispose of. The baffles themselves are also easy to pop out and throw in the dishwasher for hassle free cleaning.
The light design is also better than most. Instead of only 2 cooking lights, you get 4, which makes for excellent visibility while cooking.
The one potential downside to this option is that it isn't exactly cheap. But, the $1000+ price tag does get you an industry-leading lifetime warranty on the hood's motor. Which is a nice feature for an expensive kitchen investment.
What we like
Enough power for any cooking task
The motor comes with a lifetime warranty
Very quiet across all fan settings
Power And Value
IKTCH 30-Inch Wall Mount Range Hood 
The IKTCH 30-Inch Wall Mount Range Hood is packed with power and modern touches. It is a great choice for professional-looking kitchens.
Buy Now
We may earn a commission if you make a purchase, at no additional cost to you.
12/01/2023 12:38 pm GMT
If you want professional power but you don't have a professional budget, the IKTCH wall mount range hood has you covered.
It doesn't provide quite as much airflow as the Zline range hood, but 900 CFM for less than a third of the price? I think that's a fair trade and still plenty of power for most.
With a 900 CFM blower, you'll be able to cook just about anything you want without smoking up the entire house. And, IKTCH does a good job keeping the noise to a respectable level (around 65 decibels), even when operating at high speed.
When you don't need all that power, there are 3 lower fan speeds to choose from. And, you can even turn the hood on and adjust the fan speed without touching a single button.
That's right, the digital touch panel uses gesture sensing technology that allows you to control the hood with a simple wave of the hand. A great feature that comes in handy when you need to quickly clear some smoke but you're kneading dough or handling raw meat.
You can count on good airflow and good looks thanks to the permanent stainless steel baffle filters. They're easy to remove and are dishwasher safe, which makes periodic cleaning quick and painless.
This hood is convertible, which means you can use it even without any expensive ductwork installed. And, it even comes with the necessary charcoal filters that you'll need to use it that way.
Lighting is provided by 2 LED lights, which offer plenty of visibility for any 30-inch cooktop. And, they even offer adjustable brightness, which is a great feature, especially at this price.
What we like
Ducted or ductless compatible
What We don't
Gesture sensors can be accidentally triggered
Attractive And Affordable
Cosmo 63175 30-Inch Stainless Steel Range Hood
The Cosmo 63175 30-Inch Stainless Steel Range Hood has stainless steel filters that are easy to remove, and dishwasher safe for easy cleaning and maintenance. It is a great option if you want the look of a high-end professional hood, but you don't need tons of power or the high price tag that goes with it.
Buy Now
We may earn a commission if you make a purchase, at no additional cost to you.
11/30/2023 11:42 am GMT
The Cosmo hood is a great option if you want the look of a high-end professional hood, but you don't need tons of power or the high price tag that goes with it.
With this hood, you get full stainless steel construction and permanent stainless steel baffles. So, from the outside, you would never know that it only costs around $200. You also get modern and energy-efficient LED lights and reliable push-button controls.
Remove the stainless steel baffles and you'll find a fairly small motor with a single fan. On the highest of the fan's three speeds, you'll get 380 CFM of airflow. Not exactly professional power, but that should be plenty for casual cooks that don't find themselves deep frying or searing a lot of steaks over high heat.
The noise level is about the same as the IKTCH at 65 decibels on high. While the noise level is comparable, you have to remember that the Cosmo only provides about a third as much airflow. But it's also only about half the price.
The stainless steel filters are easy to remove, and dishwasher safe for easy cleaning and maintenance. You can also purchase disposable charcoal filters if you don't have ductwork installed and want to use the hood as a ductless, recirculating fan.
All in all, this is a functional hood that has professional looks at a fraction of the price. And if you only cook occasionally, a 1000 CFM option is likely more than you need.
What we like
High-end features like baffle filters and LED lights
What We don't
Lower CFM than the more expensive options
Fairly loud considering the lower airflow
Buyers Guide: Choosing The Best Wall Mount Range Hood
Size
The best size hood for your kitchen is determined largely by the size of your cooktop. Since you want your hood to remove as much smoke and fumes as possible, you want it to be at least as wide as your range.
So, if you're cooking on a 30-inch range, you'll want a hood that's at least 30-inches wide. That should ensure most of the smoke and fumes produced will be captured and removed from the air.
But, for the very best performance and a little extra insurance, a hood that's 6-inches wider than your cooktop is ideal. That gives the hood around 3-inches of overhang on each side of the cooktop. Creating a larger capture area that will help ensure even fewer fumes and grease will make it into the air in your kitchen.
Ducted vs. Ductless
There are two basic ways that range hoods function and are installed. The very basic difference is that ducted hoods suck up fumes and send them outside your house. While ductless models filter air and then recirculate it back into the kitchen.
In general, a ducted hood is the best way to go. They're more efficient and can remove more air faster than the ductless alternative. This is especially important if you cook a lot, or like to use techniques like frying, grilling, or wok cooking. All things that can produce high levels of grease and smoke.
The one downside to ducted hoods is that it can be a significant expense to have ductwork installed if it's not already in place. But, it makes a big difference and can be a real game-changer for any avid cook.
Ductless hoods can certainly get the job done, especially over smaller cooktops or if you're not going to be cooking all that often. They work by forcing air through a carbon filter, which neutralizes smoke and fumes before sending the "cleaned" air back into the kitchen.
This option is often less expensive and can be a bit easier to install. However, they are less effective at removing large amounts of smoke or steam and can be on the loud side.
If you see models labeled as "convertible", that simply means that they can be installed with or without ductwork. A great option if you don't have an outside vent now, but may consider upgrading your ventilation in the future.
CFM
CFM stands for Cubic Feet Per Minute. This refers to the power of the hood and how much air it is capable of moving. In general, higher a CFM hood will provide more suction and will be able to clear more smoke and fumes faster.
Here's the very basic formula to find the minimum CFM you need for an electric or induction range. Simply multiply the width of your cooktop (in inches) by 10. That means if you have a 30-inch stovetop, you'll want at least a 300 CFM hood (30×10=300).
And if you have a gas range the formula is a little different but just as simple. All you do is take your range's total number of BTUs and divide that by 100. So, if you have a 50,000 BTU range, you'll want a hood with at least 500 CFM (50,000/100=500).
Now, that number is a minimum and there are some other factors that could lead to you needing a more powerful hood. The size of your kitchen and the length of your outside duct can play a role in what your ideal CFM is. Not to mention how often and what kind of cooking you like to do on a regular basis.
Filter Type
There are three common types of filters that you'll come across while hood shopping. Aluminum mesh, stainless steel baffles, and carbon filters.
The mesh and baffle filters are known as "permanent" filters because they are washable and can be used basically forever, as long as they're not damaged. These work by separating and trapping grease as air passes through them.
Baffle filters are the better of the two options because they provide the best airflow and are almost impossible to clog. If you have a ducted hood, one of these two filter types is all you need.
If you are running a ductless hood, you'll need something to clean the air before it is recirculated back into the kitchen. That's where carbon filters come in. These are relatively inexpensive but they do need to be replaced regularly for them to be effective at keeping your air clean.
If your ductless hood also has mesh or baffle filters, you'll still need to use carbon filters in order for it to work properly.
Noise Level
The quieter the hood the better. A loud hood is obnoxious and can make it impossible to socialize or listen to music while you cook. Plus, it tends to make people use them as often as they should.
Most hoods will come with a decibel rating so you know what you're getting into before you buy it. 60 decibels is about the same noise level as your average human conversation. I like to use that as a baseline to determine how loud (or annoying) a hood will be at home.
If you can find a good hood that stays under 60 decibels on its highest setting that's a big bonus. That can lead to a more pleasant cooking experience, and you'll likely get more use out of your hood.
But, you'll have an easier (and less expensive) time finding models that operate between 60 and 70 decibels. And while that can be on the loud end, almost all hoods have lower fan speeds with lower noise levels.
Mounting Height
The general guidelines for hood mounting height are between 24 and 30-inches above gas ranges. And between 20 and 24-inches above electric or induction cooktops.
Every range hood should come with a manufacturer's recommended mounting height for that specific model. Following those recommendations is usually your best bet for optimal performance.
Luckily, wall mount hoods have the benefit of being more flexible than under cabinet hoods when it comes to mounting height. Since you're not constrained by cabinetry height, you can really dial in the ideal mounting height for the best performance.
The other consideration to remember when buying a wall mount hood is how tall your ceilings are. Most models have adjustable, telescoping chimneys that will accommodate common ceiling heights. But, if you have a kitchen ceiling taller than 8 ½ or 9-feet, you'll want to make sure you can get a chimney extension for any hood you're interested in.
Control Panel
Your range hood control panel doesn't need to be fancy or complicated. In fact, good old-fashioned push-button controls are often the easiest and most reliable option.
As long as you can turn on the hood and lights, and adjust fan speed, you should be all set. I personally like models that feature a dedicated button for every speed. That allows you to get right to the airflow you need without having to cycle through each different option. Not that that's a big deal if you have to do it.
Touchscreens control panels are the alternative option. These offer a very sleek look and are also incredibly easy to keep clean. And, some models like the IKTCH take things a step further by offering touchless controls as well.
Lighting
Good lighting is a key component to an overall better cooking experience. When you can really see what you're doing, it makes the whole cooking process safer, more enjoyable.
Most modern hoods will come standard with halogen or LED lights. With LEDs being preferred by most because they are incredibly energy-efficient and long-lasting. And while the light that LEDs produce isn't always as "warm" as the alternatives, they are better in just about every other way.
Halogen bulbs run a bit hotter than LEDs, use more energy, and will need to be replaced more often. But, the replacements are easy to find and are usually less expensive.
Incandescent bulbs are the least efficient and have the shortest life span. They're also quite large by comparison and can be very fragile. It's rare to find incandescent bulbs in today's range hoods, but you may come across them on some older or budget models.
Style & Design
Wall mount hoods are mounted directly to the wall above your range and will quickly become a focal point in your kitchen.​​
The most common style is the pyramid or tapered base with a stainless steel chimney above. The chimney looks great and is also where ductwork can be hidden out of view. In most cases, the chimney is adjustable so it can be used in kitchens with a wide range of ceiling heights.
While stainless steel is the most common and classic material to use, you can also find models that are painted in different colors or feature contemporary glass visors.
Installation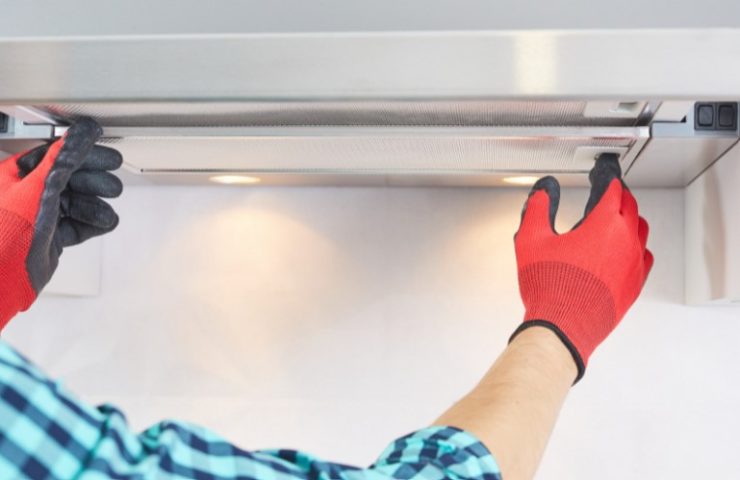 Range hood installation is a fairly straightforward process. But, they do tend to be heavy and awkwardly shaped which can make the project a bit more tricky. Not to mention, some models will require some minor electrical work, which can be dangerous if you don't know what you're doing.
Since you don't have to worry about mounting under a cabinet, wall mount hoods offer a lot of flexibility when it comes to positioning and height. But, the tall chimneys lead to a lot more material to deal with. And it's important to make sure everything is tight and secure or you can end up with a hood that rattles and shakes every time you turn it on.
My Recommendation
If it's in your budget, I think the Zline wall mount hood is about the best hood you'll find for home use. If you cook a lot and aren't afraid of a little high heat cooking, you'll definitely appreciate the 1200 CFM blower. And, the quiet operation will ensure you actually use the hood as much as you should.
Now, if you're not interested in dropping over $1000 for a hood, the IKTCH offers almost the same amount of power for less than a third of the price. But, you will have to deal with a tiny bit more noise and a slightly less refined design.
Frequently Asked Questions
Is Higher CFM Better For A Range Hood?
Yes, it's almost always better to have a hood that provides more airflow and better ventilation. And, when you don't need as much power, you can always use a lower fan speed setting. 
Who Makes The Quietest Range Hood?
Broan makes one of the quietest range hoods available. Hauslane, Zline, and Proline also make very quiet models with significantly more power.
What Brand Range Hood Is Best?
Zline is the only manufacturer that offers a lifetime warranty on their hood motors. But, the best range hood depends on what you cook, how you cook, and what kind of kitchen you have.