Before I started learning the nuances of Italian cooking, I found occasion to prepare my share of pizza rolls. Whether you're cooking frozen delicacies or a more robust meat-and-veggies meal, the best toaster oven under $100 can be your best friend. Take a look at my guide below to learn more about how these little appliances can deliver the power and versatility you need in the kitchen.
Our Top Picks
Features:

60-minute timer
Built-in toast shade control
Bake, broil, toast functions

Features:

Quality design for an affordable price
Stainless steel build
150 to 400-degree temperature range

Features:

1500 watt heating coil
Easy to read digital display
Supports everything from convection cooking to toasting bread
Best Overall
Features:
60-minute timer
Built-in toast shade control
Bake, broil, toast functions
Best Value
Features:
Quality design for an affordable price
Stainless steel build
150 to 400-degree temperature range
Best Upgrade
Features:
1500 watt heating coil
Easy to read digital display
Supports everything from convection cooking to toasting bread
09/24/2023 04:29 pm GMT
It's hard to top the design of the classic toaster, with a wide slot where you can slide-in one or two slices of bread and have them browned to perfection a minute later. With this 2-in-1 toaster oven by Hamilton Beach, where you can toast, bake, and everything in between.
This space-saving design is made to take the place of a traditional toaster and compact toaster oven, letting you take care of all your quick-heat needs with a single appliance. It offers plenty of versatility, and while you can't quite fit a 12-inch pizza into the main oven cavity, there's plenty of room for many freezer-aisle dinners or even a tray of 6 muffins. The extra-wide slot on the top is made to accommodate any of your favorite bread, even thick bagels.
The design of this small toaster oven is more about flexibility than it is sheer cooking capacity. It backs up its clever design with a range of quality-of-life features that make everyday cooking safe and easy. Toggle between an auto shut-off feature and option stay-on setting. Take advantage of the packaged accessories including two wire racks and a crumb tray for easy cleanup.
Don't pass on this Hamilton Beach countertop toaster oven if you're looking for a trustworthy space-saver that can fill any quick-heat cooking need. Though if you're looking for something with a wider array of features, or an expanded oven capacity, you might want to consider one of the other options.
What we like
60-minute timer
Built-in toast shade control
Bake, broil, toast functions
What We don't
Loses a bit of oven capacity due to upper toaster
Balancing quality with affordability can sometimes be a challenge. If you don't know what to look for it can be easy to either spend more than you'd like or settle for a sub-par product that will break in less than a year. When I'm shopping on a budget, whether it's for a toaster oven, piece of cookware, or any other kitchen necessity, my golden rule is to go for simplicity.
Meuller's small toaster oven may not have all the features of more expensive models, convection heating, an air fryer function, or digital convection, though what it does offer is a quality design at a budget toaster price. All the basics are here, including precise temperature control, choice of three cooking functions, and an easy-to-read timer. All of them can be controlled with stainless steel knobs which are as durable as they are attractive.
The bake, broil, and toast cooking functions offer a good amount of versatility, that will allow you to prepare anything from prepackaged frozen dinners to roasted meats and veggies. The 1100 watt heating coil is energy efficient, warms up quickly, and is powerful enough to reach 450 degrees.
This is the best small toaster oven for anyone shopping on a budget, or just want a space-friendly appliance for occasional use. Its sleek, stainless steel design will look so good on your countertop, no one will ever have to know you spent less than the price of a takeout dinner on it.
What we like
Quality design for an affordable price
Stainless steel build
150 to 400-degree temperature range
You might be surprised what luxury can look like in the sub-hundred-dollar price range. This Toshiba convection toaster oven stands out for its digital interface and, powerful heating element, and sleep black stainless steel design.
There are actually a lot of small surprises packed into this little countertop oven. There are 10 cooking settings including convection bake, rotisserie, and defrost, in addition to the standard options. Add in a cool-touch handle, easy-turn knobs, and a bright digital display that helps keep track of time and temperature, and you're left with a quality toaster that is well worth the price.
It also covers the basics thoroughly. The interior oven cavity is big enough to fit a whole 12-inch pizza, or if you take out the wire racks and install the rotisserie spit, a 4-pound chicken. A 1500 watt internal heating element puts it far ahead of its competitors in terms of power. And if you had any lingering doubts, Toshiba offers a 1-year warranty.
There's no dyeing that this is the best toaster oven under $100 when it comes to features, power, and cooking capacity. I would recommend it to anyone who is looking for a few high-end features for a price that anyone can afford.
What we like
1500 watt heating coil
Easy to read digital display
Supports everything from convection cooking to toasting bread
What We don't
More expensive than other toaster ovens under $100
Other Great Products to Consider
There are plenty of other toaster ovens under $100. See some more of the top brands here.
This Oster toaster oven gets big points for design. I love the digital timer and layout of the buttons which make it easy to control temperature, time, and digital convection setting. My only major complaint is that its toast settings leave something to be desired, and you'll have to watch closely to keep your bread from getting burned. Though since it's rare to find a convection countertop toaster oven at such a reasonable price, it's hard to not recommend it.
What I love about this Cuisinart TOB (toaster oven broiler) is how it takes simplicity to the next level. Those who appreciate a minimalistic aesthetic will love the fact that there are a total of six words printed on the front of the oven (and two of them are "start" and "stop"). It also has 1800 watts of power to back it up. Just be sure to know what you're getting before you buy, and don't expect a long list of cooking features.
Black+Decker certainly knows how to make an impression, with a convection toaster oven that looks like it was pulled off the deck of the Starship Enterprise. The push-button controls will let you cook potatoes, cookies, or frozen snacks with a single press. It's worth mentioning that the exterior does tend to get a bit hot during use, so watch your fingers if you're cooking for an extended time.
Buyer's Guide: Features to Look Out for
While you may think you know your way around a basic kitchen toaster oven, the fact is that these little appliances have more to them than you might imagine. Learn what to look for when choosing yours.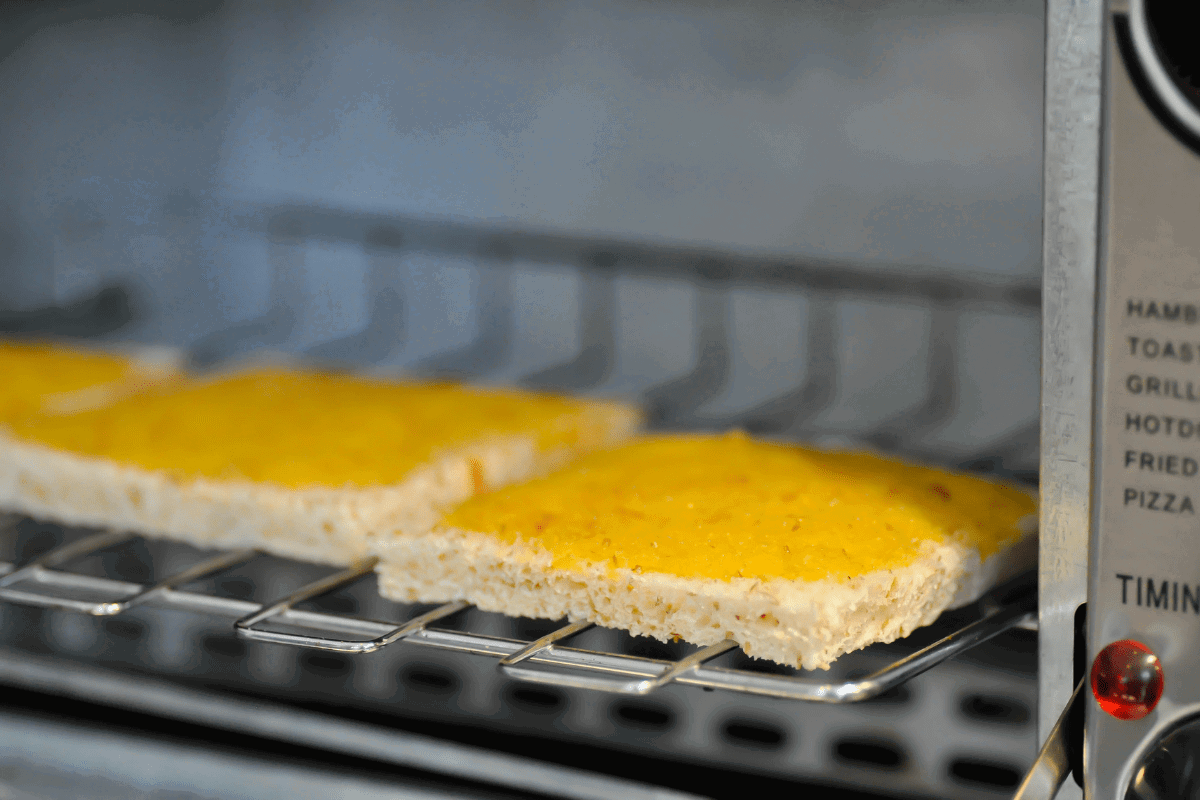 Size and Capacity
Since toaster ovens are so versatile, it's a good idea to think ahead and consider what kinds of foods you plan on cooking in yours before making a purchase. If you're sticking to one or two slices of bread at a time, you're probably better off opting for a smaller oven, though if you'd like to try to fit in a 12-inch pizza you'll want to look for a bigger option.
While manufacturers won't always list the specific dimensions of the interior oven cavity, you can usually get an idea of its capacity based on the exterior dimensions. A smaller oven will be about 15 inches wide while a larger one will be closer to 20.
Power and Temperature Settings
The standard toaster oven heating elements will be around 1500 watts, which is plenty strong enough to heat the interior oven to 450 degrees. Generally, being able to achieve a high heat on your toaster oven is important, as that's how you get your slices of toast or pizza rolls nice and crisp. Though if you want to get a little more utility out of your countertop oven, make sure it can also create even temperatures at a low setting as well, around 150 degrees. That way, you can use it to warm food.
Cooking Features
The best budget toaster oven should also have a variety of cooking settings to help round out its versatility. Whether you want to bake, broil, or convection cook, having the extra options on hand can make all the difference. Look for toaster ovens that have simple interfaces with all the features laid out clearly, so you don't have to spend time cycling through complex menus. A digital interface can be a nice way to manage all the options.
Useful Accessories
Adding a few helpful accessories is one way to boost the versatility of your toaster oven. Some models come with a few included accessories in addition to the basic crumb tray, while others can be purchased separately. Don't forget to check to see what kinds of add-ons come with your pick.
A rotisserie spit is one accessory that can add a whole other dimension to your appliance. Just make sure it's compatible with your toaster oven first. If you're looking to start a bit more simple, even something as simple as a custom-sized muffin tray or baking pan can be fun to try.
Affordability
You might be surprised at the range of prices available when shopping for a new toaster oven. While there are models ranging up to $300 and above, I find that most home cooks can get everything they need out of the less expensive models. In fact, some of my favorite toaster ovens fall around the $60 range.
In the end, the question should come down to quality rather than price. You can trust that all the toaster ovens on this list are made to last, though if you're looking to shop around on your own, stick to a few simple strategies to make sure you get your money's worth. Customer reviews are always a good indicator of major manufacturing flaws, if there are any. Otherwise, stick to better-known name brands, especially ones you've had experience with in the past.
Frequently Asked Questions
Looking to learn more about the best toaster ovens under $100? Find out everything you need to know here.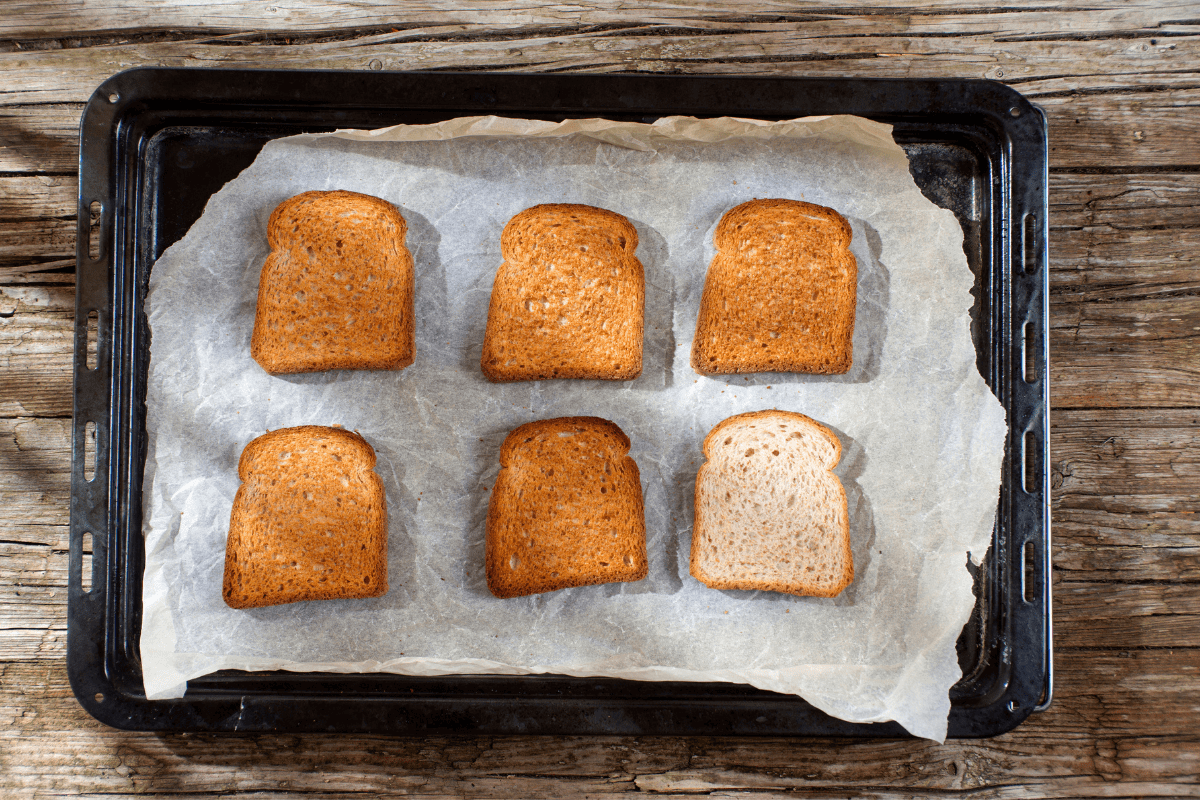 What Can be Cooked in a Toaster Oven?
As long as you have enough space, you can cook just about anything in a countertop toaster oven that you can in a traditional oven. Both of them use the same type of heating coil to warm food, the main difference being the size of the oven cavity and the amount of power used. 
Due to their compact size, toaster ovens are best suited to smaller meals. This can mean prepackaged frozen dinners, a tray of veggies, or even small cuts of meat. Most models even have a broiler feature, which will perfectly brown your dinner to perfection.
Can a Toaster Oven Replace an Oven?
For most home cooks, I wouldn't recommend relying solely on a toaster oven for day-to-day cooking tasks. The reason is that toaster ovens are usually only big enough to heat a single serving of food at a time, and even then you'll be limited to smaller dishes that can fit in its oven cavity. However, if you're a student or only cooking for yourself, a toaster oven might be a good long-term option to consider.
What's the Difference Between a Toaster Oven and a Microwave?
Even though they're the same size as some other small kitchen appliances like microwaves, toaster ovens offer totally unique advantages that you can't find elsewhere. While microwaves are a bit faster, and good for defrosting or quick-heating, they aren't able to get the same type of browning as a toaster oven. That means it's worth considering buying a toaster oven even if you're already a die-hard microwave user.
Do You Need To Preheat A Toaster Oven?
It's not always necessary to preheat toaster ovens, though it's important to know when it is and isn't going to affect your food. Generally, preheat your oven when cooking at high temperatures, and want to create a crispy, browned texture. This will ensure your food is always being cooked at the maximum heat. On the other hand, if you're just quick-heating some food or cooking a dish where browning isn't a concern, feel free to pop it in as soon as your toaster oven begins to heat.
Can I Use a Toaster Oven to Bake?
As long as you can fit your mini cake tin or muffin tray into your toaster oven, there's no reason why you can't bake any of your favorite confections with it. In fact, many manufacturers make downsized pans and trays specifically designed for toaster ovens, so bakers who prefer to work on a small scale can get their fix.
Are Cooking Times the Same When Using a Toaster Oven?
If you're trying to convert a conventional oven recipe into a toaster oven, it's worth keeping in mind that toaster oven cook times can vary. Since they're so much smaller, they will tend to heat quicker resulting in shorter cook times. Since power settings can vary from oven to oven, there's no rule of thumb to say how long to adjust your times. The best way to go is to check your food five to ten minutes before the recommended time, and adjust as necessary.
My Recommendations
It's true that the best $100 toaster ovens come in limitless varieties, and choosing the one that suits your needs may not be easy at first. I've found that the ideal ones are those that offer some of the most important features of higher-end models with a slightly pared-down design.
The Hamilton Beach 2-in-1 Countertop Oven is one such option, that combines a classic toaster design with all the functionality of a full toaster oven. Or, if you're looking to save even more money, Meuller's 4-slice multifunction oven brings all of the same functionality at a reduced price that will be attractive to students and others shopping on a budget. Whether you choose one of these or any of the other top toaster ovens under $100, you can count on getting a kitchen appliance that you'll love to use every day.