Sauté pans are often overshadowed by the venerable frying pan. The fry pan is no doubt one of my essential pieces of cookware. But, I would argue that a saute pan is even more versatile and certainly deserves a place in your kitchen.
After over a decade of cooking in restaurant kitchens, I've used all manner of pots and pans. But, the saute pan has emerged as one of my favorites for its multitasking capabilities.
Today, I'll talk about the three best saute pans for a range of budgets and why you should add one to your cookware collection.
Our Top Picks
Features:

Performs and looks like a pan that costs 2-3 times more
Comfortable and sturdy handles
Durable materials and construction

Features:

Inexpensive
Three-layer construction heats quickly and evenly
A more useful size if you only cook for a few people

Features:

Very even heat distribution throughout the pan
Highest oven-safe rating on the list
Unbeatable durability
Best Overall
Features:
Performs and looks like a pan that costs 2-3 times more
Comfortable and sturdy handles
Durable materials and construction
Best Value
Features:
Inexpensive
Three-layer construction heats quickly and evenly
A more useful size if you only cook for a few people
Best Upgrade
Features:
Very even heat distribution throughout the pan
Highest oven-safe rating on the list
Unbeatable durability
11/30/2023 11:23 pm GMT
The Calphalon Premier saute pan will give you the performance of a top-of-the-line saute pan without the high-end price tag.
It's built from three-layer, fully clad stainless steel. That means there are three layers of metal throughout the entire pan and not just at the base.
The outer layer is a durable and magnetic stainless steel that can be used on any type of cooktop, including induction. It has a brushed finish that looks good, hides fingerprints and smudges, and is easy to clean.
The interior layer is made of high-quality, 18/10 stainless steel. This is the ideal material for its strength and non-reactive quality. So it will last a lifetime and you don't have to worry about leaching and corrosion when you cook with acidic ingredients.
Between those two layers is a substantial aluminum core. Stainless steel is great when it comes to durability but not so much for heat conductivity. That's where aluminum really shines as it's one of the best heat conductors around.
When cooking, the aluminum core heats the saute pan quickly and evenly, from the base all the way up the sides. That means you can really take advantage of the entire 14-inch cooking surface without worrying about hot spots.
The stay-cool stainless steel handle is long and sturdy and does a good job actually staying cool to touch. Across from the primary handle is a strong and easy to grab "helper handle" that will come in handy when the saute pan is full of ingredients.
This saute pan is oven safe up to 450 F and also dishwasher safe. So all your bases are covered when it comes to convenience and ease of use.
The tempered glass lid will allow you to monitor food that's cooking and is also dishwasher safe. But, some owners did find that liquid and grease can easily get stuck in the metal rim of the glass lid. With that being the only real negative, I don't see it as a dealbreaker.
For less than $100 I don't think you can find a 5-quart sauté pan of this quality. So, for an unmatched balance of performance and price, this pan really can't be beat.
What we like
Performs and looks like a pan that costs 2-3 times more
Comfortable and sturdy handles
Durable materials and construction
What We don't
The lid can trap water and grime in the metal rim
For a more affordable option, the 3.5-quart sauté pan from Cooks Standard is a worthy choice. It's a bit smaller than my 5-quart top pick, but it's the perfect size if you only cook for two or three people on a regular basis.
The low price is pretty impressive considering this is a fully clad saute pan. The construction is similar to Calphalon Premier with an aluminum core sandwiched between durable layers of stainless steel.
The cooking surface is also 18/10 stainless steel for worry-free cooking and easy cleanup. And the exterior is magnetic for use on induction ranges as well as any other type of stove you may have.
The multilayered construction is durable but each layer is not quite as thick as my other top picks. That's where some of the cost savings are found. And while most owners are happy with the cooking performance, I did find a handful of cases where some warping occurred.
It's hard to say whether that was due to misuse, but it's an issue I very rarely come across with many of the more high-end options.
The stainless steel handle does a good job staying cool while cooking. The pan is dishwasher safe, and oven safe up to 500 F. Which is impressive for a budget-friendly option.
Cooks Standard includes a tight-fitting stainless steel lid. This may be a negative for some since you can't monitor food with the lid on, but I actually prefer a metal lid for its durability and ease of cleaning.
Even though this saute pan is on the smaller side, I still wish they had included a helper handle for easier carrying. But, that's a pretty small sacrifice when you consider the affordability of this pick.
What we like
Inexpensive
Three-layer construction heats quickly and evenly
A more useful size if you only cook for a few people
What We don't
No helper handle
Not quite as thick and durable as the competition
Now we're getting into high-end cookware with high-end prices. All-Clad's tri-ply cookware is my "go-to" when it comes to stainless steel pots and pans. Yes, the price is steep, but it's a line of cookware that I've grown to trust after using it extensively in extremely demanding restaurant kitchens.
The 4-quart saute pan is a perfect size. It doesn't feel too big if you're just cooking for two but can handle larger jobs when you need to feed a bigger crowd.
Just like my other top picks, the All-Clad D3 saute pan is fully clad with three layers of metal. Stainless steel inside and out, with a substantial aluminum core.
The even heat distribution across the entire cooking surface is impressive. And when you need to quickly adjust temperatures, this pan is quick to respond.
The solid stainless steel stay cool handles are long and sturdy but some first-time users may have to get used to the unique, "u" shaped design. It's definitely different than most pots and pans out there, but I think it provides a more secure grip. Especially when you have to tilt and pour from the pan.
The helper handle is strong, easy to grab, and very securely attached. The stainless steel lid fits nicely, but this is another instance where you won't be able to watch your food without removing the lid.
The pan is oven safe all the way up to 600 F (not including the lid), which is the highest oven-safe rating on my list.
All-Clad sources high-quality materials and manufactures its stainless steel cookware in the United States. That, along with their strict quality control standards and proven history makes this saute pan worth its high price, in my book.
What we like
Very even heat distribution throughout the pan
Highest oven-safe rating on the list
Unbeatable durability
Other Options That Are Great But Didn't Make The Cut
All of the best sauté pans on my list are made from tri-ply stainless steel. That's because it's the most versatile and durable option and it doesn't require any special maintenance. Plus, it covers a wide range of price points.
But, I know that stainless steel isn't for everyone. It can take some getting used to, and sticking can be a real problem with certain applications. So, if convenience and ease of use are your priorities, I've got you covered as well.
For a 5-quart nonstick saute pan, the T-fal ProGrade model covers all the bases. And, it's very affordable to boot.
The titanium reinforced cooking surface is strong and provides excellent food release. The pan is oven safe to an impressive 500 F, and while it is dishwasher safe, handwashing is easy and will extend the life of the pan.
The stainless steel handles are sturdy, and the tempered glass lid will be appreciated by those who like to monitor their food as it cooks. On top of everything else, T-fal has built in a stainless steel base, which adds durability and makes it induction compatible.
If you're on a tight budget and need to feed a crowd, this is a solid option. With its 6-quart capacity and tall sides, you can fit a serious amount of food in this one pan.
The pan comes with a tempered glass lid and the whole thing is dishwasher safe. The pan is also oven safe, but only to 350 F. That's on the low end but still hot enough for a braise or to cook a large batch of grains in the oven.
The nonstick coating does a good job while it lasts, but at such a low price don't expect to get more than a couple of years of good use out of it.
Buyers Guide: Choosing The Best Saute Pan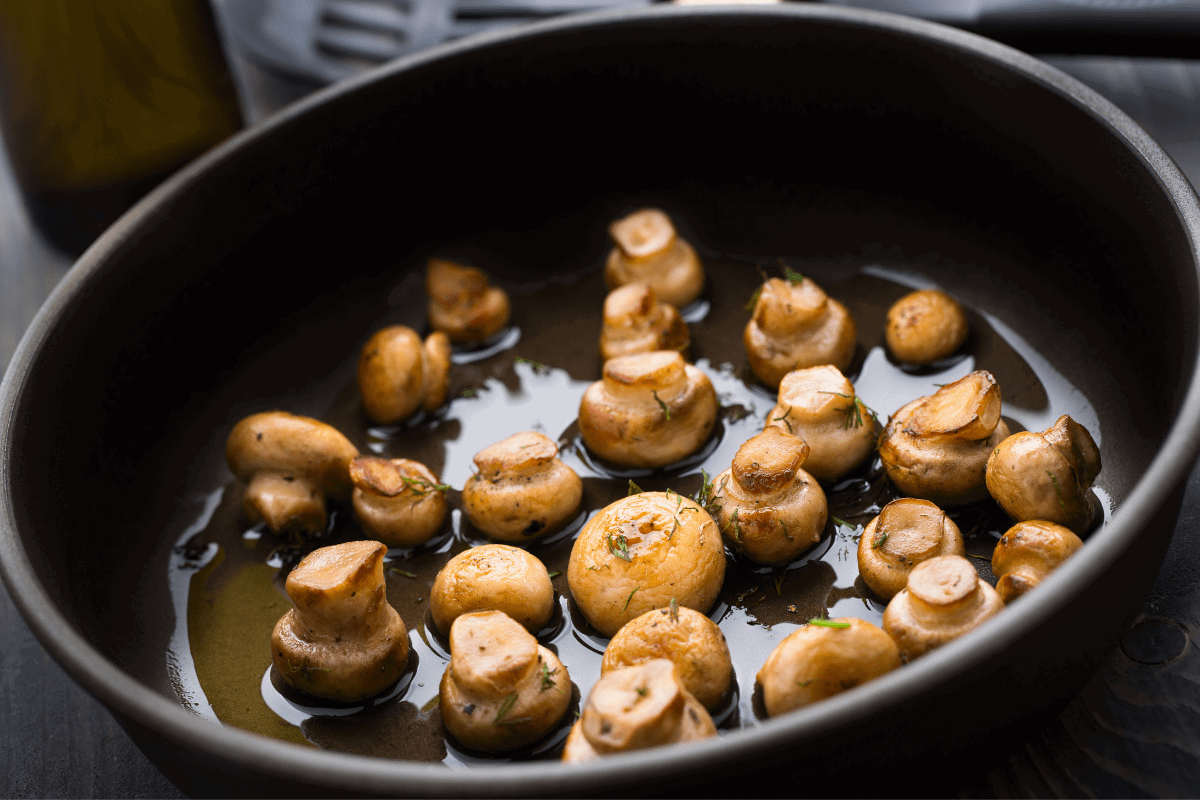 Materials: How They Impact Cooking Performance
The best saute pans will be multi-use workhorses in your kitchen. And which material you choose will determine how versatile and long-lasting it will be.
Stainless Steel
This is my preferred choice because it can be used for the widest range of cooking tasks, and good options will last a lifetime. The best saute pans are fully clad like all of my top picks. They offer stainless steel's durability and aluminum's excellent conductivity.
Aluminum
Aluminum is an excellent heat conductor. But, it's not very durable and can be prone to leaching and corrosion. Hard anodized aluminum solves those problems to some extent, but durability and warping can still be an issue. Almost all hard anodized aluminum saute pans will also have a nonstick coating. This makes the pans convenient and easy to use, but further decreases their durability.
Size: How To Get The Most Use Out Of One Pan
Saute pans can be used to saute, fry, bake, and braise. But, choosing one that's too big or small will limit its uses.
Sizes are most often measured by the quart and usually range between 3 and 6-quarts. Similar to a Dutch oven, the quart size is a decent measurement of how many people it will feed.
So, a 5-quart saute pan is great for four to six people but would be too big and inconvenient if you're only cooking for two. Of course, everyone's appetite is different so plan accordingly.
Saute Pan Design
Saute pans have a similar design across the board. They should have a wide, flat cooking surface, with straight walls that are between two and four inches high.
A tight-fitting lid is important for braising and cooking grains. And a helper handle can be extremely useful when moving a pan full of food around the kitchen.
Heat Source: Make Sure Your Pan Works With Your Stove
If you cook with an induction stove, you probably already know that you should check if the cookware is induction compatible before making a purchase.
Another important consideration is the size of the burners on your cooktop.
Saute pans are great, partly because they have large cooking surfaces. My top pick for example has a 14-inch cooking area. That's impressive, but not very useful if you have small stovetop burners that can't accommodate the large size.
Durability: Will It Last Or End Up In The Trash?
Spending a little (or a lot) more upfront can go a long way in ensuring you get a long useful life out of your saute pan.
The team at Kitchen Ambition has done extensive reviews of nonstick cookware. Time after time, we've found that even the most expensive options only last a handful of years before the nonstick coating really starts to degrade. And many budget models are only good for a few months of heavy use.
Stainless steel on the other hand is known for its durability. Even with severe scorching or discoloration, stainless steel can almost always be cleaned and put right back into use.
Affordability: An Option For Every Budget
My top three best saute pans run the gamut when it comes to price. Starting at around $50 and going well over $200, so there's something for everyone. If you're on a really tight budget but still want stainless steel, you can opt for a disc-clad saute pan. Those can be found for as little as $30.
When it comes to a hard-anodized aluminum and nonstick sauté pan, you can find options ranging from $30 to $200 and more. But spending big bucks on a nonstick sauté pan doesn't always make sense since the nonstick coating is likely to fail within a few years.
Frequently Asked Questions
What Are The Advantages Of Using A Saute Pan?
A saute pan is an amazing multitasker in the kitchen. It can do most of the functions we generally use a frying pan for, but the taller sides and lid mean it can also hold more food and handle more tasks.
What Are The Drawbacks Of Using A Saute Pan?
Saute pans can do a lot, but they're not quite as nimble or easy to maneuver as a frying pan. The straight sides are great for holding more food, but they also make it more difficult to toss ingredients while cooking. This is especially true if you're dealing with larger models.
Saute Pan vs. Fry Pan: Do I Need Both?
You don't necessarily need both. But, if you have the space and budget, it's definitely nice to have both options.
If I'm cooking eggs or a quick stir-fry, I prefer a fry pan. They're better for tossing ingredients and the shallow sides make for easy spatula access. You could certainly use a saute pan for those tasks but they can be a bit more cumbersome in certain situations.
There are also things that saute pan is much better for. Shallow frying, cooking grains, and braised dishes are all perfectly suited for the shape and accompanying lid of a saute pan.
What Should I Make In My Saute Pan If I'm Just Getting Started?
Two of my favorite uses for saute pans are braising chicken and poaching eggs. Chicken legs and thighs are a perfect candidate. They can be browned on the wide cooking surface and then covered with flavorful broth, the lid, and into the oven they go.
I used to make poached eggs two or three at a time using a saucepan. It works fine but always ends with some people waiting while others eat. With a 4 or 5-quart saute pan I can poach 8 or 10 eggs at a time so no one's ever waiting while others chow down.
My Recommendation
All-Clad's D3 cookware is my number one pick for most of my stainless steel needs. It can handle the harshest restaurant environments so I know it will never let me down at home.
But, I know the price is steep. In all honesty, most people probably won't notice a performance difference between an All-Clad D3 saute pan and a significantly less expensive Calphalon Premier one. After all, Calphalon has done an incredible job modeling their fully clad cookware after All-Clad.
So, for many home cooks, the Calphalon Premier saute pan is probably the smarter choice. If you're curious about the two heavy-weights and why one costs three times as much, check out my deep-dive of All-Clad vs. Calphalon.