The saucier is often overshadowed by the ubiquitous saucepan. Both are used for similar cooking tasks. But, the saucier is a cook's best friend when it comes to mixing and reducing sauces, stirring creamy risottos, or coating pasta in a rich sauce.
Ask any professional chef and this is likely to be one of their favorite pieces of cookware, which is the reason you'll also find it labeled as a "chef's pan".
Today, I'll use my extensive experience in restaurant kitchens to illustrate why this pan deserves a place in your kitchen and how to choose the very best saucier.
Best Overall
Best Value
Best Upgrade
All-Clad Saucier Pan, 2-Quart,4212,White
Anolon Nouvelle Stainless Steel Sauce Pan/Saucepan/Saucier with Lid, 2.5 Quart, Silver
Mauviel Made In France M'Heritage Copper 150s 1.7-Quart Splayed Saute Pan and Lid with Cast Stainless Steel Handle
Best Overall
All-Clad Saucier Pan, 2-Quart,4212,White
Best Value
Anolon Nouvelle Stainless Steel Sauce Pan/Saucepan/Saucier with Lid, 2.5 Quart, Silver
Best Upgrade
Mauviel Made In France M'Heritage Copper 150s 1.7-Quart Splayed Saute Pan and Lid with Cast Stainless Steel Handle
We may earn a commission if you make a purchase, at no additional cost to you.
The All-Clad D3 saucier is, dare I say, the perfect saucier.
From the shape of the bowl and sturdy angled handle, to the even heat distribution and durable construction. This pot has everything you need and nothing you don't.
This fully clad saucier is constructed from tri-ply stainless steel. That means there are three layers of metal from the base of the pan all the way to the rim. Why does that matter you ask? Let me count the ways:
At the center of the pan is a thick gauge aluminum core. Aluminum is one of the best heat conductors around. When you're cooking, this layer helps to distribute heat quickly and evenly on the bottom and up the sides of the pan.
The cooking surface and exterior that surround the aluminum core are made from high-quality stainless steel. This adds excellent durability to the pan and also means that you don't have to worry about the pan reacting with acidic ingredients. Plus, it means there's virtually no maintenance required.
While food can get stuck to stainless steel, it's easily removed by soaking and scrubbing with soapy water. This saucier is also dishwasher safe, but handwashing will help to keep it looking its best.
The interior of the pan is very nicely rounded so that stirring and whisking are easy and efficient. You'll never have to worry about food getting stuck in the corners or sauces getting properly mixed and incorporated.
The signature All-Clad handle offers a very secure grip, and there's never a worry that the stainless steel rivets will ever become loose or fall off.
This saucier also comes with a stainless steel lid that fits nicely and has a sturdy handle. Unfortunately, the lid does not have an oven-safe rating, but the rest of the pot is safe to an impressive 600 F.
This isn't the most budget-friendly option, but with build quality that will last a lifetime and a near-perfect design, the upfront investment is well worth it.
What we like
Exceptional build quality and durability
Very even heat distribution
A perfect shape and size saucier
What We don't
One of the more expensive options
We may earn a commission if you make a purchase, at no additional cost to you.
For a stainless steel saucier at a much more affordable price point, the Anolon 2.5-quart model brings a lot of value to the table.
The major difference between this and my top pick is that the Anolon saucier is disc clad rather than fully clad.
Instead of having several layers of material throughout the entire pan, this model has a multilayered disc bonded to the bottom. As far as cooking goes, that means you'll get nice even heat on the bottom of the pan but not up the sides.
The base of the pan is constructed from five layers of metal. There is a thin copper core surrounded by aluminum for fast and even heating. Then, a stainless steel cooking surface and base for durability and induction compatibility.
Not being completely clad is also one of the main reasons that this saucier is so affordable. It's one of the bigger trade-offs that you'll have to consider when making your decision.
The design of this saucier is very attractive. The stainless steel lid has an elegant swooping handle, and there's a band of exposed copper at the base which further elevates the look.
This saucier is oven safe up to a very respectable 500 F and is also dishwasher safe. The problem with using this pan in the dishwasher is that it will quickly discolor and even erode the exposed copper band. So, definitely stick to handwashing with this one.
For a budget-friendly, stainless steel saucier, this option has a lot going for it. From looks to performance, this is a solid introduction to the world of stainless steel cookware.
What we like
Very inexpensive
An attractive pan that looks more expensive than it is
Solid heat distribution on the bottom of the pan
What We don't
The single-ply sides don't heat as well as the thick base
Exposed copper should not be used in the dishwasher
We may earn a commission if you make a purchase, at no additional cost to you.
For the ultimate in fast and even heating, Mauviels copper saucier can't be matched. Not to mention, it's one of the best-looking sauciers around.
Copper is the most conductive and expensive material used in cookware and Mauviel doesn't skimp with the goods. This saucier is built from 90% copper and 10% stainless steel.
In terms of cooking performance, the 2.5-millimeter thick copper body heats faster and more evenly than most pans out there. It essentially eliminates the need to preheat these pans and you'll never have to worry about hot spots.
The 10% stainless steel is in the form of a thin interior cooking surface. This stainless steel layer works as a durable, non-reactive barrier for the copper. That makes the pan easier to use and care for, while still taking advantage of copper's excellent heating characteristics.
The downside to copper cookware is that it is not dishwasher safe or induction compatible. Any other cooktop is fair game, and this saucier is oven safe to an impressive 680 F.
The included lid is also made from stainless steel lined copper, and the long, cast stainless steel handle is sturdy and feels great in the hand.
I've used this line of Mauviel cookware extensively in a professional setting. The quality of craftsmanship and exceptional performance have kept it at the very top of my cookware wishlist. So, the price is high, but the beauty and functionality are unmatched.
What we like
Exceptionally fast and even heat distribution
Beautifully designed and built
Stainless steel lining makes it durable and easy to care for
What We don't
Very expensive
Not dishwasher safe
Not induction compatible
Other Options That Are Great But Didn't Make The Cut
The Breville hard-anodized nonstick saucier is a good option when it comes to convenience and easy cleanup.
While the tri-ply nonstick cooking surface is durable, it's still not strong enough to handle metal utensils. That can put some serious limitations on the whisking and stirring that you do directly in the pot. A couple of the key uses for a saucier.
Tramontina's enameled cast iron saucier is an option that offers a very different cooking performance. This heavy, cast iron saucier distributes and holds heat very well. That makes it great for slow cooking, but may not be the best everyday option for many cooking tasks.
Buyers Guide: Choosing The Best Saucier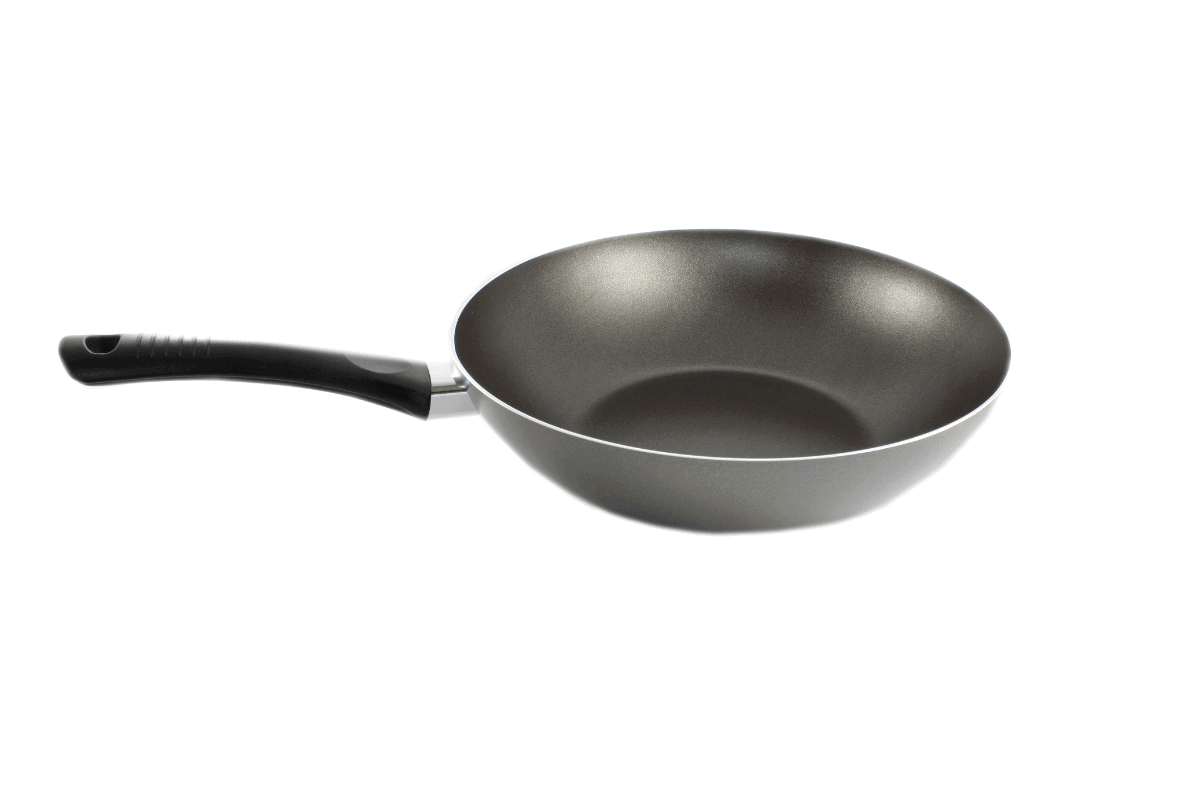 Design: Ditch The Corners
One of the biggest benefits of a saucier is that it has rounded sides and virtually no "corners" in the bottom of the pan. This is an important design feature that makes whisking, stirring, and tossing very easy and efficient.
If you take a close look at the All-Clad saucier, you'll see that there is an incredibly smooth transition from the bottom to the sides. This is an ideal example of what a saucier's shape should be. In contrast, some more affordable options have a clear line where the bottom ends and the sidewalls begin.
A comfortable, angled, or sloped handle is another key feature. This angle will provide good grip and leverage when it comes to tossing ingredients in the pan, another one of the best uses of the saucier's design.
Material: Choose Durability And Versatility
What a saucier is made from plays a big role in how versatile it is and how long it will last. I recommend going with a saucier that has a stainless steel cooking surface. A good one will last a lifetime and will also allow you to use any utensils you want, including metal ones.
Since whisking and stirring sauces is one of the best uses for this type of pan, I wouldn't want to be limited to a wood or silicone spoon or whisk.
If fast and easy cleanup is your singular top priority, then a nonstick saucier might make sense. Just be careful which utensils you use with it, and don't expect the nonstick coating to last forever.
Size: Get The Most Use From Your Saucier
Choosing the right size saucier is pretty simple. Most models hover around the same size, and many brands only offer one option. Anything between 1.5 and 2-quarts is going to offer great versatility. It's small enough to be used for things like gravy or other sauces, but large enough for making small batches of soup or pasta.
Anything 1-quart or less is going to be too small for a wide range of uses. And, anything close to 3-quarts is ok if you are often cooking for a crowd but may feel big and unwieldy for daily use.
Price: A Little Investment Goes A Long Way
It's often true that you get what you pay for when it comes to cookware. The Anolon saucier is a great affordable option at less than $50. But, it won't heat as evenly as my other top picks, and likely won't last to pass onto future generations.
The All-Clad and Mauviel sauciers do cost three or four times more. But, you should never have to replace them, and the cooking performance is more consistent and enjoyable.
Frequently Asked Questions
What Is A Saucier Pan?
A saucier is a pot designed with round and sloping sides for the specific purpose of making sauces. While it can be used for a wide range of cooking tasks, the shape of this "pan" is perfectly suited for whisking and stirring. The wide opening also allows for quickly reducing and thickening sauces. 
How Do You Use A Saucier? 
A saucier can be used for any number of dishes, similar to a saucepan. But, when making a sauce, the rounded sides give you better access to the entire pot. So, when you stir or whisk, everything will get incorporated evenly, without ingredients getting stuck or missed in the "corners".
What Is The Difference Between A Saucier And Saucepan?
The main difference between a saucier and a saucepan is the shape. A saucepan has a flat bottom and straight sides. By comparison, a saucier which has a bottom that gradually rounds up the sides. While both pans can be used for reducing liquids and making sauces, sauciers evaporate liquid faster and are easier to access every inch of the pan when stirring and whisking.
What Should I Use My Saucier For?
The obvious answer is to use your saucier for sauces. But one use that really takes advantage of the saucier's shape, is making pastry cream or creme anglaise.
These two egg and dairy recipes require constant whisking until you reach a specific temperature. The rounded shape of a saucier ensures that everything is evenly mixed and nothing gets stuck in the corners where they can easily overcook and burn.
My Recommendations
A saucier is a worthy addition to any cookware collection. While it may seem similar to a saucepan, the rounded design makes it better for stirring, reducing, and tossing.
The All-Clad D3 model isn't cheap, but for a near-perfect saucier that will last a lifetime, I think it's definitely worth the small investment upfront.
Anolon's impact-bonded saucier isn't quite as durable and doesn't heat as evenly as my other top picks. That being said, it's an excellent choice for the casual cook who won't be putting the pan through as much use and abuse.
We may earn a commission if you make a purchase, at no additional cost to you.