The rondeau may not be well known to many home cooks, but it's an indispensable piece of cookware in a professional kitchen. I've used them extensively for simple tasks like wilting mountains of spinach, to making and reducing delicate sauces.
Today, I'm here to break down the ins and outs of a rondeau pan. And by the end, I think you'll see the incredible value and versatility that this little-known, large pan can bring to your kitchen.
Best Overall
Best For Entertaining
Best Professional Option
Tramontina 6 QT Covered Braiser - Tri-Ply Clad SS - SEA - Gourmet
Le Creuset Enameled Cast Iron Signature Round Wide Dutch Oven, 6.75 qt., Indigo
Winware Stainless Steel 15 Quart Brasier with Cover
Best Overall
Tramontina 6 QT Covered Braiser - Tri-Ply Clad SS - SEA - Gourmet
Best For Entertaining
Le Creuset Enameled Cast Iron Signature Round Wide Dutch Oven, 6.75 qt., Indigo
Best Professional Option
Winware Stainless Steel 15 Quart Brasier with Cover
We may earn a commission if you make a purchase, at no additional cost to you.
The Tramontina 6-quart braiser is built like a professional rondeau, but it's the perfect size for home use.
This is a fully clad, tri-ply stainless steel rondeau. It's built with an aluminum core that helps the pan heat quickly and evenly across the entire cooking surface. An important feature for such a large pan.
The interior and exterior are made from durable stainless steel. That makes it safe to use with any ingredients and metal utensils. Plus, it's easy to clean and induction compatible.
The included stainless steel lid fits well, and the sturdy handles do a great job making such a sizeable pan look elegant.
This rondeau offers professional performance in an attractive package that's perfectly suited for heavy home use.
What we like
Excellent heat distribution
Professional build quality
Incredible value
What We don't
Stainless steel is not non-stick and can take some getting used to
We may earn a commission if you make a purchase, at no additional cost to you.
The Le Creuset round wide Dutch oven is simply an enameled cast iron rondeau. Labels and names aside, this is a beautiful and functional pan that can't be beat if you entertain or cook for a crowd.
Since it's built from cast iron, this pan will take a little longer to preheat. But, the few extra minutes are well worth it when you experience how evenly it heats and how well it retains that heat.
The entire cast iron pan and lid are completely encased in durable, glass-enamel. This means you don't have to worry about any seasoning, rust, or special cleaning techniques. And, even though it's not non-stick, the smooth cooking surface offers impressive food release.
When you put everything together, you get a pan that's functional, easy to care for, and is built to last for generations. Plus, it looks so good that you can go from stove or oven, directly to the table as the centerpiece to any meal.
What we like
The best heat distribution and retention around
Looks great as the centerpiece to any meal
Excellent build quality and durability
What We don't
Very expensive
Very heavy at over 17-pounds
We may earn a commission if you make a purchase, at no additional cost to you.
Step into most restaurant kitchens and you're likely to find either this exact same rondeau or one very similar. The Winware 15-quart model is definitely as big as I would go for a home kitchen, but they also offer models as large as 30-quarts.
This is a commercial-grade rondeau, so you know it can handle anything you throw at it at home. The pan is constructed from heavy-weight stainless steel with a tri-ply, disc-clad base.
That means the bottom of the pan has an aluminum core, encapsulated in stainless steel. The aluminum distributes heat evenly across the base of the pan, and the stainless steel makes it durable and maintenance-free.
Everything about this pan screams utility and durability. It's a great option if you cook for large gatherings, events, or maybe you're outfitting your own restaurant! But, don't expect to get much use out of such a large pan if you only cooking for a family of four.
What we like
Can cook and hold an immense amount of food
Heavy-duty construction can easily handle home use
Inexpensive
What We don't
It may be too large for many home cooktops
Buyers Guide: Choosing The Best Rondeau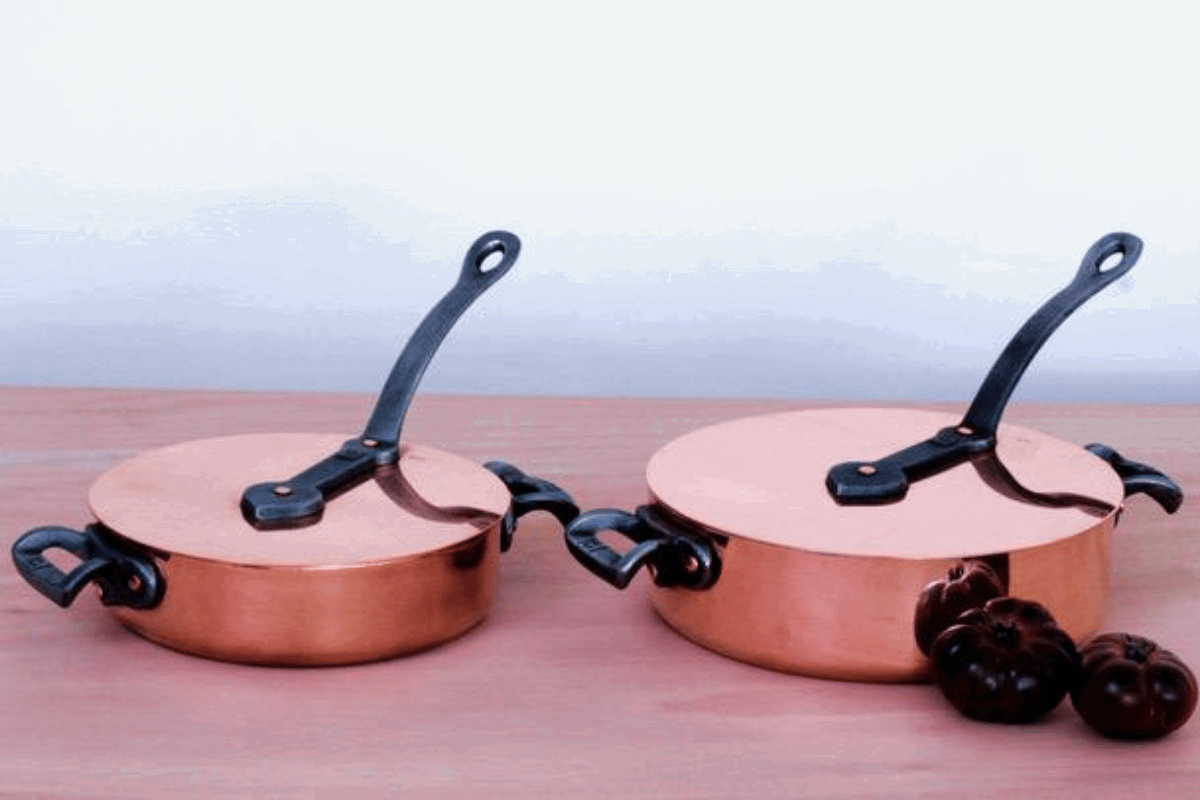 Size: Match Your Rondeau To Your Cooktop
One of the biggest benefits of a rondeau is the large cooking surface of overall size. So, I really wouldn't go any smaller than a 6-quart model.
A 6-quart rondeau can easily feed between 4 and 8 people. If you're cooking for 4 or less, I would probably skip this piece of cookware all together, and go with a saute pan instead.
If you're cooking for really large groups you may consider jumping up to a 10 or 15-quart rondeau. But, such a large size will probably be reserved for special occasions and not daily use.
Important Features: A Tight Lid And Sturdy Handles
Most rondeaus look about the same and come standard with handles and a lid. When dealing with such a large pan, it's very important to have handles that are easy to hold and are sturdy enough to support a lot of weight. These pans are heavy to begin with, and once they're full of food they can easily weigh 20-pounds or more.
A tight-fitting lid is another key component to pay attention to. One of my favorite uses for a rondeau is braising large, tough cuts of meat. When you're cooking something for several hours, you want a lid that isn't going to allow much heat and moisture to escape.
Material: Even Heating And Durability Is Essential
There are generally four choices when it comes to what material your rondeau is made from. But, there are two clear winners if you want to get the most of this type of pan.
Stainless Steel
Stainless steel is my number one choice for rondeau pans. It's durable, can handle high temperatures, and doesn't require any special maintenance. Even though it's often one of the most expensive options, both of my stainless steel top picks offer incredible value at less than $100.
Enameled Cast Iron
As you may have guessed, based on my top picks, this is the other way to go when choosing a rondeau. Enameled cast iron distributes and retains heat better than just about anything else. It's also very durable, can provide a good sear, and looks good enough to use directly on the dinner table. The only real downside is the high price.
Aluminum
Raw aluminum rondeaus have a few things going for them. They're lightweight, inexpensive, and heat very quickly. They also have two big downsides that are hard to overlook. They react with acidic ingredients, which can be a big problem if you plan on cooking with tomatoes. And, the large, wide base is very susceptible to warping and becoming wobbly over time.
Non-Stick
You get easy clean-up with a non-stick rondeau, but you also sacrifice versatility and durability. It can be very difficult to achieve a good sear on a non-stick coating and you are also limited to wood and silicone utensils. Non-stick rondeaus are not easy to come by, and I don't really recommend looking.
Care
In general, rondeau pans don't require any special care. But, due to their large size, you should plan on handwashing since it's likely that they won't fit in the dishwasher or will take up the entire thing.
Price: These BIG Pans Don't Have To Cost A Fortune
Ok, so my Le Creuset pick costs around $300. But, the other two are less than $100 and are built to last. The only way to spend less is to go with raw aluminum and I don't think the savings are worth it.
Frequently Asked Questions
What Is A Rondeau Pan Used For?
A rondeau has a lot of uses, but they're generally used for cooking in relatively large quantities. The large cooking surface and short walls make them perfect for searing, braising, and reducing. A rondeau can also be great to wilt greens since you can fit a huge quantity that will inevitably shrink to nothing.
Rondeau vs. Dutch Oven
A rondeau is wider and shallower than a Dutch oven. It's also not necessarily as thick and heavy as a Dutch oven, with the Le Creuset model being an exception.
The wide and shallow design is better suited for searing large quantities of food and also for quickly reducing liquid.
Do Chefs Use Rondeau Pans In Professional Kitchens?
A rondeau is a very important pan in a professional kitchen and where I've used one 99% of the time. They're a key piece of professional cookware for the volume that they can hold and how quickly they can reduce liquid.
In a professional kitchen, it's common to find 20, 30, and 40-quart rondeaus used for reducing stock or making large batches of sauces. Those sizes are so big that they would be virtually impossible to use on a standard home range.
What Should I Make In My Rondeau?
Using a rondeau for braised short ribs is one of my favorite uses in a restaurant or home kitchen. The large cooking surface allows you to sear a lot of meat without overcrowding the pan. Add some vegetables and liquid, then the whole thing goes in the oven for a few hours.
Once the meat is done, you can further take advantage of the rondeaus design by quickly reducing the cooking liquid for a rich sauce.
My Recommendation
A rondeau may not be an essential piece of cookware in every kitchen. But, it's a real kitchen workhorse that offers a ton of benefits when you're cooking for a crowd.
The Tramontina 6-quart rondeau is truly an unbeatable value and probably the best option for most home cooks.
Le Creuset's offering is definitely pricey. But, if it's in your budget, it's hard to turn down such a beautiful piece of cookware that's also incredibly functional.
We may earn a commission if you make a purchase, at no additional cost to you.