As an apartment-dwelling home cook who isn't afraid to make large meals for six, eight, or ten guests at a time, I know the value of the best roaster oven.
After hours worth of work whittling down my favorites based on price, size, temperature control, and other factors, I've chosen a select few to stand out as the best.
See for yourself what makes these little appliances the perfect choice for any home cook.
Our Picks
Benefits:

Self-basting lid.
Large enough for a 28-lb turkey.
Easy clean pan and rack.

Benefits:

Lid-focused design makes it easy to remove turkey.
Highly portable.

Benefits:

Big portions? This will make it.
Dishwasher cleanup.
14 temperature settings.
Our Pick
Benefits:
Self-basting lid.
Large enough for a 28-lb turkey.
Easy clean pan and rack.
Multi-Function Pick
Benefits:
Lid-focused design makes it easy to remove turkey.
Highly portable.
High-Capacity Pick
Benefits:
Big portions? This will make it.
Dishwasher cleanup.
14 temperature settings.
11/30/2023 09:42 am GMT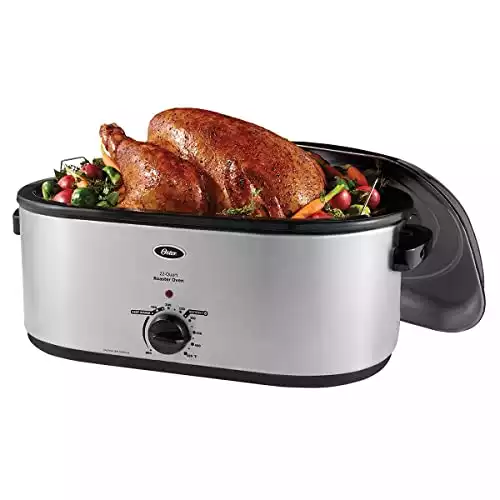 The first time I cooked Thanksgiving dinner it was a small affair for two, complete with a modest turkey, handful of sides, and dark brown pecan pie. What I didn't know then that I do now is that no Thanksgiving dinner is simple, and that a successful spread requires a lot of planning and a little help. While I'll leave the planning up to you, I think this Oster roaster oven can bring you all the help you need.
Whether you're a seasoned cook looking to add another appliance to your arsenal, or are cooking Thanksgiving dinner for the first time and aren't sure you have the oven space for a whole turkey and all your side dishes, this electric roaster oven offers plenty of helpful features. It has a total of 14 heat settings marked on its dial, along with a variable "keep warm" setting and defrost setting. This feels like a lot for a simple single-dial appliance, and will let you feel like you have perfect control over your roasting.
The 22 qt size is definitely on the large end of roasting ovens, so be sure to plan your kitchen storage space carefully. Depending on the size of your cabinets, you'll probably need an entire shelf to store this appliance. Though the larger size comes with its perks, specifically that you can fit virtually any turkey that you're going to find at the grocery store.
If you're not the sort of person who imagines themselves cooking a 22-pound turkey, don't forget that a little extra space helps when going for crisp turkey skin, or if you want to fit in a few extra vegetables. Really, I would recommend this 22-quart roaster oven to anybody who's willing to set aside a bit of extra storage space for it.
What we like
Large enough for a 28 pound turkey
Self-basting lid
Enamel-on-steel roasting pan and removable steel rack
What We don't
Eats up kitchen storage space
If you're looking for an appliance that can do more than serve as a turkey roaster once per year, it might take a bit of thinking outside the box to find what you're looking for. This Oberdome design by EaZy BrandZ may look a little different from the typical roaster oven, but with its unique design it is able to cook a variety of dishes, while still putting the perfect finish on your Thanksgiving turkey.
The design looks a bit like one of those silver cloches they put over room service meals at upscale hotels, and it works in much the same way. You place your food on the roasting pan and simply fit the lid over the top when it's time to cook. The lid's heating element is able to reach temperatures up to 450 F degrees, as high as a traditional oven.
One of the best selling points of this roaster oven is that it lets you cook such a wide variety of dishes, including pizza, bread, cake, chicken, potatoes and a full 22-pound turkey. While I don't know for certain what other foods work well with this design, I get the impression that it can bake just about anything that will fit inside it. Combined with it's highly-portable design, it's a great option to take while traveling, or even camping.
Overall, this is a good choice for those who are looking to get a little more out of their purchase, and like the idea of making small pizzas and cakes on their countertop. Keep in mind however that the unique design lacks some of the features of other roasting ovens, such as the self-basting lid, or the ability to hold a lot of liquid.
What we like
Highly portable
Unique design makes it versatile
Removable rack and pan
What We don't
No removable roasting pan
No self-basting lid
When you're looking to cook a whole turkey, having a bit of extra space helps. While an 18-quart roaster oven can be enough for some families, it never hurts to have some wiggle room to spare. This large roaster oven by Heynemo is one of the biggest I've seen, with a 24-quart capacity roasting pan that's large enough for any turkey you can imagine, plus side vegetables.
It's not size alone that makes this roaster special. It also has superb temperature control, with 14 different settings ranging from 150 degrees F to 450 degrees. It's large pan is complimented by a domed self-basting lid which will make sure the upper skin of your turkey never touches and loses its crispness. If you plan on using this appliance for dishes other than turkey, you can expect to serve well over 20 bowls of soup, stew, curry, with plenty of room for seconds!
With such a big roaster oven you'd expect cleaning and maintenance to be more of a hassle, but luckily Heynemo has got you covered here as well. The removable enamel-on-steel roasting pan and stainless steel finish racks slide easily into a dishwasher for simple cleanup after a big meal. Of course, handling and storing such a big appliance is a bit of a task on it's own, as it weighs 24 pounds, though maybe you can ask one of your dinner guests to lend a hand.
If you plan on hosting a dinner party for more than a dozen guests, this is the best roaster oven you can buy. While it certainly demands a good amount of storage space, and may be a little harder to set up as a result of its weight, it's hard to pass on the sheer volume and power it offers.
What we like
Removable pan and rack
Maximum 450 F degrees
Self-basting lid
What We don't
A little smaller than other options
Quite heavy
Other Great Products to Consider
Finding the best roaster oven all comes down to personal preference. Take a look at these other products which may be a good fit for you,
This Proctor Silex 32191 18-quart roaster oven loses a few points for having a slightly flimsy lid that doesn't retain heat as well as I'd like. However aside from this flaw, it turns out to be a pretty solid option including a stainless steel rack with handles, enamel coated roaster pan for good heat distribution, and a limited 1 year warranty. The 18 quart capacity doesn't demand too much cooking space on your counter and can fit a turkey up to 24 pounds
Sometimes these smaller roaster ovens get overlooked in favor of more bulky designs. While Nesco's 6 quart roaster oven might not be the ideal choice for cooking large birds, it does offer plenty of advantage for a variety of other dishes. It uses less energy for one thing, and can be used as a compact buffet server. When you're not roasting, it can double as a way to keep food warm, bake, and slow cook.
Are Roaster Ovens Worth It?
A roaster oven is a great tool to have on hand when you need a bit of extra oven space when preparing multiple dishes. However there are a few specific benefits it offers that even conventional ovens can't match.
For one thing, their small size makes them more energy efficient while offering even heat distribution. It can also cut down on cooking time, as the smaller space heats up quicker. If it offers a removable roaster pan it can be thrown in the dishwasher to cut down on cleaning time.
Roaster ovens are also a great choice if your goal is to retain as much moisture in the meat as possible. Since they are completely sealed, all of the juices in your turkey are retained, as they circulate within the roaster pan.
The major drawback of a roaster oven is the limited cooking space compared to a conventional oven. This is why it's important to choose the size of your roaster carefully. In most cases, go for at least a 16-quart capacity.
If you want a bit more room than a roaster oven can offer, take a look at my top electric ranges.
What To Look For
The best roaster oven should tick all the right boxes in power, size, temperature control, and convenience. See what specs and features to keep an eye out for.
Size and Capacity
While roaster ovens can be used for a wide variety of dishes, these appliances have become popular for their ability to create picture-perfect roast meats, and especially turkey. So it stands to reason that the first factor to consider should be size.
If you're looking for a roaster oven that can cook a bird large enough to feed eight people, but don't have the storage space for a 24-quart behemoth, a 16 or 18-quart capacity oven is a good place to start. If you find that it's not big enough for your needs, moving up to 22 quarts won't cost too much extra.
Smaller roaster ovens, those around 6 quarts, aren't designed for turkeys at all and are better suited to soups, chili, and roast vegetables. Though if you're often only cooking for one or two people and want a compact appliance to supplement your oven, it can be a handy tool to have available.
| Volume | Turkey Capacity |
| --- | --- |
| 6 quarts | Soup, Sides, Sauces |
| 16 quarts | 18 lb turkey |
| 18 quarts | 24 lb turkey |
| 22 quarts | 28 lb turkey |
| 24 quarts | 30 lb turkey |
Remember, these are just guidelines. Turkeys come in different shapes and sizes no matter how much they weigh.
Material
The two most common materials used in roaster ovens are stainless steel and enameled steel.
Both of them are easy to clean, dishwasher safe, and offer good levels of heat retention and distribution. The advantage of stainless steel is that it's a bit more lightweight, which makes transport, storage, and general use a bit easier.
Though if you don't mind a slightly heavier roaster oven, enameled steel can be the better choice. It has even better heat retention and distribution, which will help ensure your foods cook more evenly, while also maximizing energy efficiency.
Lid
The lid of your roasting pan will often be made of the same material as your roasting pan, which is often enameled steel. This keeps it easy to clean, durable, and good at retaining heat.
When it comes to design, a high-dome lid is best as this will allow you to fit large birds or roasts without the meat coming into contact with the lid itself. A small window can be another nice perk that allows you to monitor your food without losing heat.
Some higher-end models may even have a self-basting lid, which helps recirculate moisture to keep your meat from getting dry. It works by including spikes or ridges on the inside of the lid to help trap steam and allow it to drop back down onto the food.
Temperature Functions
It's a good idea to avoid roaster ovens that only have a simple on/off dial, as these don't offer the precision cooking you need for anything more complicated than a soup or stew. Generally, a greater temperature range and greater number of settings, will allow you to do more with your appliance.
Look for ovens that can heat all the way up to 450 F degrees.
Many roaster ovens even include other functions such as a "keep warm" or defrost setting for even more versatility. Think carefully about which settings you'll use the most and prioritize these.
Power
The power of your roaster oven is measured in watts, and will usually scale with the temperature range. Smaller, 6-quart ovens can be as low as 700 watts, while large capacity options can be more than twice that. If you're hoping to get a nice, crisp finish on your turkey skin, be sure you have a high enough wattage to support extended high-heat cooking.
Controls and Interface
Luckily, roaster ovens are pretty simple little devices, so you won't have to worry about complex touchscreen interfaces to get a handle on them.
Almost all of them feature a single dial which allows you to choose the temperature or cook setting. The other feature to expect is a heat indicator light, which simply tells you when the oven is hot. It's an easy way to keep track of your cooking so foods don't burn.
If you prefer a digital interface, you can also find models with a clock and array of buttons. This design is ideal for roaster ovens that have a wider variety of cooking features.
Portability
Not everyone with a roaster oven plans on traveling with it, though after you get used to using it you'll see how useful it can be for potlucks, parties, and (more often than you'd think) last-minute Thanksgiving emergencies. For these reasons, it's a good idea to make sure your roaster oven is a weight that you're comfortable carrying.
For storage purposes, you should be easily able to take your roaster oven out of your cabinet, and fit it into a space where it sits comfortably. Most of the roaster ovens on this list are a little over 20 inches wide and 16 inches deep, which is about average for medium ovens. Of course, if you only plan on using your oven for small meals, a more compact option can be a great way to save valuable cabinet space.
Cleaning and Maintenance
Material has a lot to do with how easy it is to clean your roaster oven, so be sure to read-through the advice I listed in the materials section above.
Generally, you should look for an option that includes a removable lid and roasting pan that is non-stick and dishwasher safe. The smooth surface of an enameled steel roaster is always a good choice for easy cleanup.
Price
The low cost of roaster ovens is one of the main advantages that sets them apart from other kitchen appliances. They're the perfect way to get a professional finish on your roast meats and veggies, without having to invest in a fancy convection oven.
I chose options that are around $40 to $60, which is typical for medium-sized roasters. Avoid ovens in the $30 range however, as they will most often be made of inferior materials that end up burning your dinner.
My Recommendations
Finding the best roaster oven is all about creating picture-perfect turkeys with half the fuss of a traditional oven. That's why my favorites are those that maximize convenience without sacrificing power.
Oster's 22-quart roaster oven is a case in point, with enough space and temperature control to give any convection oven a run for its money. If you're looking for a compact appliance that can show off some of the more offbeat capabilities of a roaster oven, EaZy BranZ Oberdome Plus model offers a unique design that can cook bread, pizzas, and more. Either way, these convenient and affordable little appliances will be sure to make a big impact on your kitchen.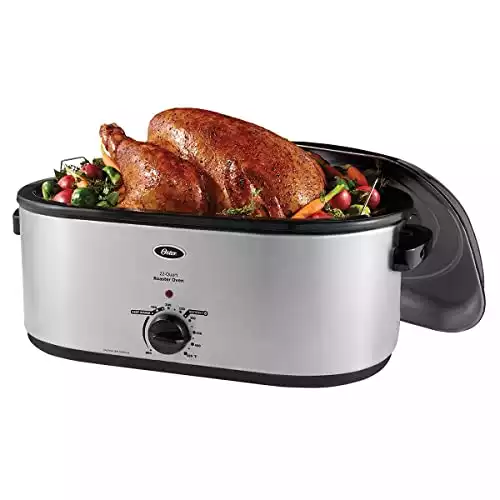 FAQs
Can I Bake Bread In A Roaster Oven?
Many roaster ovens can be used to bake bread. In fact the dry heat generated by its electric heating element will tend to produce a more crisp and flaky crust. While some roasters have a specialized setting for bread baking, you can also use most generic models. Simply follow the baking directions in your favorite bread recipe.
What Can You Cook In A Roaster Oven?
Roaster ovens are designed to cook turkey, offering many of the same advantages as a full-size oven and a metal roasting pan but in a more compact package and with less energy. The process is simple, and you can probably use the same cooking method you're used to. Just place the turkey in the roaster with whatever vegetables you like, cover, and cook at 400 degrees for 30 minutes. Then turn down the heat to 350 and roast for another 3.5 to 4.5 hours, depending on the size of your turkey.
What Is The Difference Between A Roaster Oven And A Slow-Cooker?
Generally speaking, roasters are designed to cook at a high temperature to produce crisp and flavorful skins on meats and veggies. On the other hand, slow-cookers are the opposite, producing low, even heat for soups, stews, and sauces.
Although they are technically different appliances, many roaster ovens can be used for slow cooking as long as they can cook at temperatures around 150 F to 250 F. In fact, you don't even need to adjust the cooking time or liquid levels.
Who Should Own A Roaster Oven?
The truth is that a roaster oven is a more versatile appliance than many people think. While it can be great for cooking turkey, many models can be used for large capacity slow cooking, keeping food warm, and many of the things a conventional oven can do. At around $60, buying a roaster oven is a good idea for just about anyone.
What Is The Difference Between A Roaster Oven And A Rotisserie?
Rotisserie ovens use a totally different design than roaster ovens, by placing a piece of meat on a spit and rotating inside an oven cavity. However, despite the varied approach, they offer many of the same benefits as a roaster oven such as a crisp exterior and greater moisture retention.