A range hood is an essential yet often overlooked piece of kitchen equipment. After working in professional kitchens for over a decade I've come to appreciate the benefits of a good range hood in a restaurant and at home.
While we can all agree that a hood is useful, choosing a good one isn't always that easy. So, after hours of research and years cooking under them professionally, I've picked out the 3 best range hoods to give you the best cooking experience possible.
I'll also break down the ins and outs of a range hood. By the end, you'll know the features to look for, how much power you need, and everything else to make the best choice for your kitchen.
Our Range Hood Picks
10 Specific Range Hood Buying Guides
A Detailed List of Best Range Hoods
Best Overall
Hauslane Chef Series PS18 Under Cabinet Range Hood
The Hauslane Chef Series PS18 will help eliminate harmful cooking fumes to deliver a cleaner and safer cooking experience. It is a great choice if you're remodeling your entire kitchen or just upgrading appliances.
Buy Now
We may earn a commission if you make a purchase, at no additional cost to you.
12/01/2023 06:38 pm GMT
The Hauslane chef series PS18 ticks all the boxes as one of the best overall range hoods around. It looks great, has the performance to match, and can be installed with just about any ducted system.
First of all, this hood looks great. It has clean lines and a modern touch screen that's simple to use and easy to keep clean. There are 5 touch-sensitive "buttons" that take care of the power, lights, fan speed, and clock.
When it comes to fan speed, the PS18 gives you 6 different power settings so you can dial in exactly the airflow you need no matter what you're cooking. And, no matter what speed you choose, this hood keeps the noise to a minimum.
At low speed, it operates at only around 30 decibels. And even when it's on high, cranking 860 CFM, the noise level is impressively low at only about 45 decibels.
While it may not be the most exciting detail, the versatile installation options of the PS18 are one of the features that put this hood above the rest. This hood has 3 different vent ports already built into the unit, plus an adapter for each one. That makes it easy to install with just about any duct configuration that you'll come across.
This can be a big benefit when trying to retrofit a hood to an existing system or when choosing the best venting option in a new build.
The versatility for ducted installation is second to none, but unfortunately, you'll have to look elsewhere if you need a ductless range hood.
Lighting for this hood is provided by 2 GU10 LEDs that are easily replaceable. And, you get 3 high-quality stainless steel baffles that are easy to remove and dishwasher safe.
It seems like a lot of thought went into the design of the Hauslane PS18. It has a great balance of good looks and performance and will fit nicely into a wide range of kitchen layouts.
What we like
6 fan speeds
Quiet operation across all speeds
Versatile venting options
Hi-Tech Features
IKTCH Under Cabinet Range Hood With Gesture Control
The IKTCH Under Cabinet Range Hood is packed with features you can find on more expensive models. It is perfect for a chef that wants to give his kitchen a modern, restaurant-like feel.
Buy Now
We may earn a commission if you make a purchase, at no additional cost to you.
12/01/2023 12:23 pm GMT
The IKTCH 30-inch under cabinet range hood is another powerful option that's packed with useful features. And the whole thing can be operated without pressing a single button.
Offering just slightly more power than my Hauslane pick, IKTCH gives a full 900 CFM on high speed. That's enough airflow for almost any kind of cooking you can think of. And when you don't need that much power, you can tone things down with 3 lower fan speeds.
In terms of noise, this hood does a pretty good job across all speeds with 35 decibels on low and 60 on high.
This is a good-looking and high-powered hood, but it's the control panel that sets it apart from the rest. On the face of the hood is a long touch panel. It has pressure-sensitive buttons to control power, lights, and fan speed.
But why put in all the effort of pressing buttons when you can take advantage of the Gesture Sensing Controls! On each side of the control panel is a motion sensor that allows you to turn on the hood and control fan speed with the simple wave of a hand.
It may seem like a gimmick, but it works well and can be very useful. Especially if things start getting smoky and your hands are covered in batter or you're handling raw meat. In fact, some taller owners find that it works a little too well and have actually triggered the motion sensors with their heads.
You also get permanent stainless steel baffle filters. These are easy to remove and dishwasher safe, which makes cleaning and maintenance easy. And, this is one of the few hoods that features LED lights with adjustable brightness levels.
IKTCH offers incredible value for the money. Not only do you get a high-powered motor but also get tons of features that would usually only be found on more expensive models.
What we like
Touchless control panel
Adjustable LED lights
Very powerful
What We don't
Motion sensors can be accidentally triggered
Not ductless compatible
Best Power
Zline Professional 36-Inch Ducted Range Hood
The Zline Professional 36-Inch Ducted Range Hood has easy-to-use controls that let you easily control fan speed and lighting. It is a great range that can handle any kind of cooking task.
Buy Now
We may earn a commission if you make a purchase, at no additional cost to you.
11/30/2023 05:32 am GMT
The Zline stainless steel wall mount hood is like a professional model but built for home use. It's big, powerful, and will keep your kitchen air clean no matter what you're cooking.
Since this is a wall mount hood, it will quickly become a focal point in any kitchen. Luckily, it looks absolutely stunning. The fully stainless steel construction gives a commercial look while remaining very elegant at the same time.
When it comes to power, there are very few home units that offer more airflow, especially for the price. On high, this hood produces 1200 CFM of airflow. That's more than enough for any cooking tasks and can easily handle deep frying, wok cooking, or even indoor grilling.
And, when you're not smoking up the kitchen, the lower fan speeds have you covered at either 670/460/280 CFM. A perfect range for all of your cooking needs.
Unlike my other two picks, Zline uses good old-fashioned push-button controls. They're reliable, fast, and easy to use. Plus, you get a dedicated button for each fan speed so you can dial in the airflow you need without cycling through every option.
For a hood with so much power, you may think it also makes loads of noise. But, this also happens to be one of the quieter options around with a noise level of only 52 decibels on its highest setting.
While most hoods in the 30 to 36-inch range come with 2 or 3 baffles, Zline has gone with a design that uses 4. There are 2 in the front and 2 in the back, all steeply angled from top to bottom.
This layout makes for better suction coverage across your entire cooktop. And the steep angle of the baffles makes it easy for grease to flow down into the removable grease channels. More filters do mean more things to clean, but since everything is dishwasher safe, cleaning and maintenance are a breeze.
Not only do you get more baffles, but you also get 4 lights. That's 2 more than most of the competition and provides much better cooking visibility.
The last thing that makes this one of the best range hoods is that Zline stands behind the quality of its products. They offer an industry-leading lifetime warranty on the motors in their hoods. So, while this may be one of the more expensive options, at least you know you're getting a well-made product.
What we like
Powerful and quiet
Better lighting than most
Lifetime warranty on hood motor
What We don't
Expensive
Not ductless compatible
Buyers Guide: Choosing The Best Range Hood
Type
The type of hood you choose will be dictated largely by the layout of your kitchen and where your range is located.
For instance, if your cooktop is located on a kitchen island, you'll likely need an island mount hood that's installed directly to the ceiling. Or, if you have cabinets above your range, you'll want to go with a cabinet mount hood that's secured directly to those cabinets.
Here's a quick list of the common types that you'll come across. Within each type, you'll be able to find options with different amounts of power, features, and prices.
Down Draft
Microwave-Hood Combo
Each type is also different in its appearance and design. Hood inserts, downdraft, and microwave hoods are generally out of view and can blend in well with any kitchen decor. Wall mount, under cabinet, and island hoods on the other hand are displayed front and center.
These types will quickly become a focal point in the kitchen, so choosing one that you like to look at and matches your style can play a larger role.
Hood Size
The size of your cooktop and what you like to cook play a large role in what size hood you'll need.
At the very least your hood should be as wide as your stovetop. So, if you have a 36-inch wide range, you'll also want a hood that's at least 36-inches wide.
However, if you have the space, your best bet is to go with a hood that's actually 6-inches wider than your range. That means for that same 36-inch range, you would want a 42-inch hood.
That will give you 3-inches of overhang on each side of your cooktop. And that creates a larger capture area so that less smoke, fumes, and grease will escape into your kitchen. Especially useful if you like to do a lot of high heat cooking.
Ducted vs Ductless vs Convertible
There are two different ways that hoods work to keep the air clean in your kitchen.
First, air can be sucked up and physically removed through a duct that leads outside of your house. This is how a ducted hood works.
Second, air can be forced through a carbon filter, which neutralizes smoke and odors, and then recirculated back into the kitchen. This is how a ductless system works.
A ducted hood system is almost always the best option. They are more efficient and effective at removing more contaminated air than the ductless alternative. They also do a much better job removing excess moisture if there is a lot of steam being produced while cooking.
The only real downside is that ducting is expensive to install if you don't already have it in place. In all other regards, a ducted hood should do a better job keeping your kitchen air clean.
Ductless hoods can do a sufficient job in small spaces or for anyone that isn't necessarily cooking on a regular basis. And it's definitely much better than no hood at all.
Convertible hoods are simple units that can be used with or without ductwork in place. They can be connected to an outside vent, or used with disposable carbon filters are a recirculating fan.
CFM
When looking at different range hoods you'll almost always see the letters CFM with a number in front of them. This stands for Cubic Feet Per Minute, and it refers to the amount of air a hood is capable of moving. A higher number means more airflow, which should lead to less smoke and fumes in your kitchen.
The basic formula to find out how much CFM you need for an electric or induction cooktop is to multiply the width of your stove by 10. So, for a 36-inch stove, you'll need a hood with at least 360 CFM (36×10=360).
If you have a gas stove the formula is slightly different but just as easy. You'll take your range's total number of BTUs and divide that by 100. In this case, if you have a 50,000 BTU range, you'll want a hood with at least 500 CFM (50,000/100=500).
Those numbers are very basic starting points. But, the length of your ductwork (if you have any) and what you like to cook also play a large role. If you do much deep-frying, high heat cooking, or grilling, you'll definitely benefit from a hood with a higher CFM.
And the same goes for ducting that has to travel a long way before it gets outside. While it can be more expensive, it's almost always better to have more power. After all, you can always use a hood's lower settings, but it's nice to have a little extra power available if you need it.
Noise Level
An overly noisy hood is annoying and will probably lead to it being used less than it should. Most hoods will provide a noise rating so that you know what you're getting into before spending hundreds or even thousands of dollars.
You'll find the noise ratings in sones or more commonly decibels and they'll usually provide the noise level at the hood's highest setting. 60 decibels is about the noise level for your average conversation and I look to use that as a reference point when shopping for hoods.
Going for a hood that stays at least close to the 60-decibel mark without going way over is a good way to go. That way you can ensure you'll still be able to enjoy music while your hood is on and you shouldn't have to yell in order to have a conversation while you cook.
While more power can mean more noise, that's not always the case. But, it is often true that the higher-end and higher-priced models will provide lower noise ratings. And, even if you do end up with a hood that operates on the louder side, the lower speed settings should operate with much less noise.
Filter Type
The filter type is another area to pay attention to when choosing the best range hood. The three types to know about are aluminum mesh, stainless steel baffles, and disposable carbon filters.
Stainless steel baffles are permanent filters, which means that they are washed and reused. This is the best option because it provides the most airflow, is easy to clean, and is almost impossible to get clogged.
Aluminum mesh filters are another permanent filter made up of several layers of perforated aluminum. While these are also meant to be removed and cleaned they are not always dishwasher safe like baffle filters are. And they can be more prone to clogging which leads to reduced airflow.
Carbon filters are only used with ductless hoods where the air is recirculated back into the kitchen. These work by trapping and neutralizing smoke and fumes so that "clean" air can be sent back out. Carbon filters are fairly inexpensive but the cost can add up since they must be replaced on a regular basis for the best results.
Installation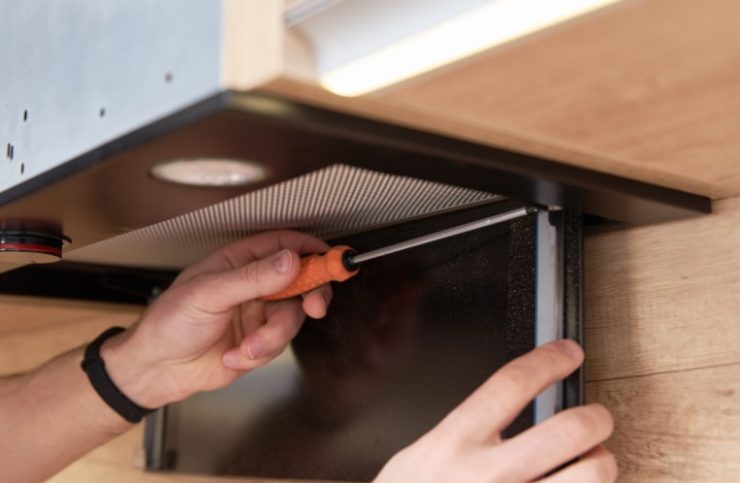 Installing a range hood is not usually an overly complicated process. Ductwork on the other hand is a different story, but if that's already in place the project is fairly straightforward.
Often, the most difficult part is the actual mounting of the hood. These things can be heavy and awkwardly shaped. That's why it's always a good idea to have a second set of hands, at least for this step.
The other thing that can be tricky or intimidating is when you have to hardwire your hood rather than simply inserting a plug into an outlet. Electrical work isn't something to mess around with, so if you're unfamiliar, that's definitely a step I would leave to a professional.
My Recommendations
It's hard to go wrong with any of the range hoods on this list. Both the Hauslane and IKTCH under cabinet hoods are similarly priced and provide similar airflow. But, in the end, I prefer the more understated look of the Hauslane PS18 and you can't beat the low noise level.
However, if my budget were on the higher end of the spectrum, I love the looks, power, and amazing warranty that comes with the Zline stainless steel hood.
Frequently Asked Questions
How Do You Measure For A Range Hood?
A range hood should be at least the same width as your cooktop but a hood that is 6 inches wider than your cooktop is ideal.
At What Height Should A Range Hood Be Mounted?
A range hood should be mounted between 24 and 30-inches above a gas stove and between 20 and 24 inches above an electric or induction stove.
How Do You Clean A Range Hood Filter?
Most range hood filters can be sprayed or soaked in a kitchen degreaser before they are scrubbed and rinsed. Many stainless steel baffle filters are also dishwasher safe for even easier cleaning.