Cooking with a gas range can be very enjoyable and gives you more control than most other options. By exploring several different cookware materials and how they function over an open flame, we will help you choose the best pots and pans for gas stoves.
T-fal is synonymous with Teflon cookware, but they are no slouch when it comes to stainless steel either. Their cookware offers great utility at very affordable prices. The ultimate stainless steel copper bottom set is a perfect example.
Copper is known to be one of the most expensive cookware materials around. In this line, T-fal offers the advantages of copper, aluminum, and stainless steel, all with a very modest price tag.
There is a thin layer of copper in the base of the pan that helps with quick heat adjustments and even distribution over the cooking surface.
On top of the copper is an aluminum core. This adds additional conductivity at a much lower cost than copper. All of that is wrapped in stainless steel, which is safe for cooking any ingredients and adds durability. This also means that metal utensils are no problem for these pots and pans.
The pieces in this set have riveted stainless steel handles and rolled edges for drip free pouring. The included lids are tempered glass with steam vents and also feature stainless steel handles.
The entire line is dishwasher safe. Some owners however, reported dulling and discoloration of the stainless steel afterwards. Discoloration shouldnt have any effect on performance, but it's a good idea to hand wash on a regular basis.
These pots and pans are oven safe up to 500 F, which is hot enough for most daily cooking tasks. They also included a limited lifetime warranty against any faulty materials or craftsmanship.
The durability and use of functional materials make these pots and pans great for gas stoves. T-fal has managed to do all of that while keeping the price tag low, making this a very attractive option at any budget.
What we like
Performs above it's price tag
Oven safe to 500 F
Multiple layers of cladding distribute heat well
Durable construction
What We don't
Dishwashing can cause discoloration
The exposed copper on the bottom easily discolors with normal use
All-Clad pots and pans are popular in the most demanding home and professional kitchens. They are built to last and they out-perform most of the competition.
The Tri-Ply (also known as D3) stainless set features pots and pans with three layers of cladding. The Interior and exterior are thick layers of high quality stainless steel with an aluminum core sandwiched in between.
The aluminum core is very conductive, helping to heat the cookware quickly and evenly. Many low-cost options feature aluminum or copper in the base, while All-Clad's bonded layer of aluminum surrounds the entire pot or pan. This extends the heating benefits from the bottom all the way up the sides.
The angled stainless steel handles are incredibly sturdy. They have even gained a reputation of being permanently riveted to the cookware. The set includes snug fitting stainless steel lids as well.
Metal utensils are safe to use, and they can be thrown in ovens up to 600 F. Hand washing is recommended to maintain a "like new" appearance, but will not affect performance.
This is one of few brands that still makes their cookware in the United States, and they strongly stand behind their products. It's generally up to the owner to send any damaged products back to All-Clad for evaluation. But it's not unusual for owners to receive a brand new replacement, even for well used items.
There are 5-layer and copper-core options but those come with significant price increases. For most users the Tri-Ply line will more than meet their needs, and at a more approachable price.
A whole set is a bit of an investment but it will likely be the last cookware you ever need to buy.
What we like
Excellent heat distribution through the entire pot/pan
Oven safe to 600 F
Top of the line construction and durability
Very secure and sturdy handles
What We don't
High end price tag
Hand washing is recommended
If you love cooking with a cast iron pan, then you should consider adding a carbon steel pan to your kitchen arsenal. They can be used for just about anything and they will last a lifetime.
de Buyer (pronounced dee-bou-yeh) has been making kitchen tools and cookware in France since 1830. They have become most well known for their no-frills carbon steel pans.
Carbon steel functions similarly to cast iron. It distributes and holds heat well but is less brittle than cast iron. This allows for cookware that is thinner and lighter.
One of the benefits of cooking with gas is that you can quickly adjust your cooking temperature. The thinner nature of the de Buyer fry pan allows you to take advantage of that. But, the pan is still quite hefty at close to five pounds.
Like cast iron, carbon steel is a raw material and does require some maintenance. The pans must be seasoned by cooking a small amount of high-heat oil until smoking, then wiping clean with a dry towel.
Maintaining a good seasoning can yield a pan with near nonstick capabilities. That being said, cleaning should only be done with warm water and a non-abrasive brush or sponge. During storage a light coating of oil should also be used to avoid any possible rust.
Some owners reported issues with seasoning and cleaning their pans, and it certainly can take some getting used to. The good thing is that you can always remove your seasoning with steel wool and a little elbow grease, and start again.
The steel handle is coated in a thin layer of epoxy, which adds comfort but limits the pan to a recommended 400 f in the oven. I have used these pans above 400 F, and did notice some smoke and foul smell as the epoxy burnt off. Beyond that, the handles' appearance and feel changed slightly, but the pan itself was unaffected.
A limited lifetime warranty covers manufacturers defects but not normal wear and tear.
If you are ok with the required maintenance that comes with these pans, they will serve you well for years to come. I myself enjoy the relationship that you develop caring for and using raw iron and steel cookware.
What we like
Even heat distribution
Can become very nonstick
Lifetime durability
A very versatile fry pan
What We don't
Requires special care for the life of the product
More expensive than traditional cast iron
Hand wash only
Le Creuset is an iconic French brand that has been making top of the line enameled cast iron for almost 100 years. They are famous for their elegant dutch ovens and cast iron skillets.

The enameled Dutch Oven is the ultimate multitasker. This piece will allow you to make soups, stews, roasts, and even bake bread. It also looks good enough that it makes a perfect serving piece directly on your dining table.
This pick takes the benefit of quickly adjusting to heat on a gas stove and throws it out the window. What you get in exchange for that is unmatched heat distribution.
The flame on a gas stove can be very uneven. This can lead to hot spots and generally uneven heating. The thick, dense nature of enameled cast iron takes some time to heat up, but it is able to hold and distribute that heat very evenly.
The Dutch oven from Le Creuset is made from solid cast iron that is then coated in a glass-enamel. The enamel protects the cast iron from corrosion and makes cooking and cleaning exceptionally easy.
Le Creuset is a luxury brand with prices that match. But, the products are built with durability and craftsmanship that are second to none. Their Dutch Ovens can often be found being passed from generation to generation as family heirlooms.
This piece is dishwasher safe but hand washing is recommended to maintain the glossy enamel finish. Metal utensils can also be used, but may leave marks on the light colored interior.
The Dutch oven is oven safe up to 500 F and is covered by a limited lifetime warranty against faulty materials and defects.
This is an investment piece that can last for generations. It's also something to use when you have some time on your hands, not a quick midweek dinner. There are few things better than a Dutch Oven gently bubbling away over a low flame all day long.
What we like
Unbeatable craftsmanship
Heirloom worthy durability
Huge range of sizes and colors available
Excellent heat distribution
What We don't
Initial cost is high
Quite heavy at over 11 pounds
Stoneline is a German company that specializes in high quality nonstick cookware. The brand is relatively new and has only been around since the early 2000s.
It's easy to find inexpensive nonstick pots and pans, but those often must be replaced in under a year. It's nice to find a brand making PFOA and PTFE-free cookware that is durable and performs well.
Stoneline applies a micro-layer of stone-ceramic to their cookware for a nonstick cooking surface. The coating is easy to clean and performs cooking tasks exceptionally well for a Teflon free option.
The base of the cookware is die-cast aluminum. The material is responsive to temperature changes but thick enough for good heat distribution.
The handles are made from a soft Bakelite material that is very comfortable and easy to maneuver. Each piece is oven safe up to 350 F, which is on the low end but hot enough for many stove to oven scenarios.
The nonstick surface is very easy to wipe clean, which makes the recommended hand washing easy to follow. The cookware is rated as dishwasher safe but that should be avoided to extend the life of the nonstick coating.
This set comes with a 12-year warranty that protects against premature damage caused by faulty materials or workmanship.
Stoneline is an excellent nonstick option if you are concerned about the potential hazards of PFOA and PTFE. The price is slightly higher than much of the competition, but the performance and durability make it worth the cost.
What we like
Very easy to clean and maintain
More durable than many in the same category
PFOA and PTFE-free
The brand stands behind their products
What We don't
Pieces are slightly smaller than average
Priced at the high end of the market
What types of cookware are best for a gas stove, and why.
The best everyday cookware for gas stoves distribute heat well and can quickly react to temperature changes.
When you adjust the temperature on a radiant heat stove you have to wait for the coils to adjust, which can take some time. On a gas stove the temperature change is almost immediate as the flame shrinks or grows. You also get a visual cue for how high or low a burner is.
Conductive materials take advantage of this by quickly adjusting along with the flame. The best heat conductors are copper and aluminum. The two are often wrapped in stainless steel which adds durability and resistance to corrosion.
The flames on gas stoves can be very irregular and uneven. Pots and pans that have good heat distribution minimize hotspots, and give you an evenly heated cooking surface.
The best heat distributors are generally iron and steel. Heavy duty cast iron cookware does not conduct heat extremely well but it is the best at distributing it evenly.
Aluminum
Aluminum cookware is lightweight, inexpensive, and conducts heat exceptionally well. But while it has some excellent cooking properties, it really lacks in the durability department.
Plain aluminum is prone to bending and warping, and it reacts poorly when used with acidic ingredients. Hard anodized aluminum options take care of some of those issues by creating a protective barrier. That makes it safe to use with most ingredients and less likely to bend or warp.
Aluminum pots and pans are usually paired with a nonstick coating. This makes them convenient and easy to use, but it adds more durability problems. This material is ok to use with a gas stove as long as you stick to low and medium heat.
Stainless Steel
Stainless steel is the best choice when you want durability, versatility, and low maintenance. This is one of the most common materials you'll see when you're in any professional kitchen.
They can be used for anything, and the good ones can handle a lot of abuse. It can be used with any ingredients, has a high heat tolerance, and you don't have to worry about rust.
The downside to stainless steel is that it takes a bit of practice and heat management to keep food from sticking and it can be on the expensive side.
Carbon Steel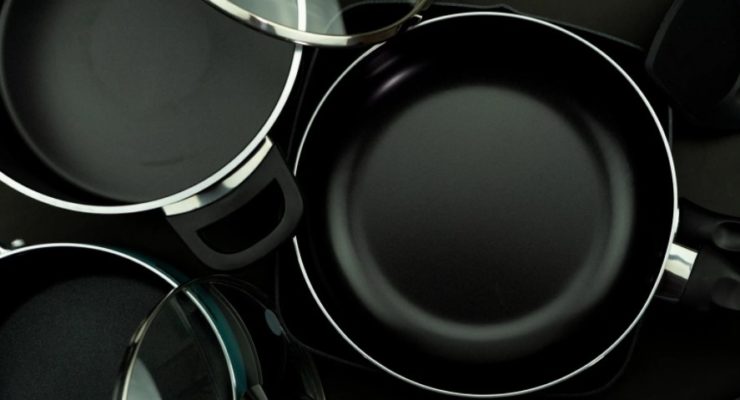 Carbon steel is another cookware type that you'll find in most restaurant kitchens. It's as durable and versatile as stainless steel, but it does require a little care and maintenance to get the most out of it and keep it from rusting.
You could think of carbon steel as a lighter version of cast iron. It has an incredibly high heat tolerance and can develop an impressive "nonstick" cooking surface. But, like cast iron, it must be seasoned and maintained to keep it from rusting.
Carbon steel is also fairly inexpensive. That, along with its durability and high heat useability makes it a good choice for gas stoves.
Cast Iron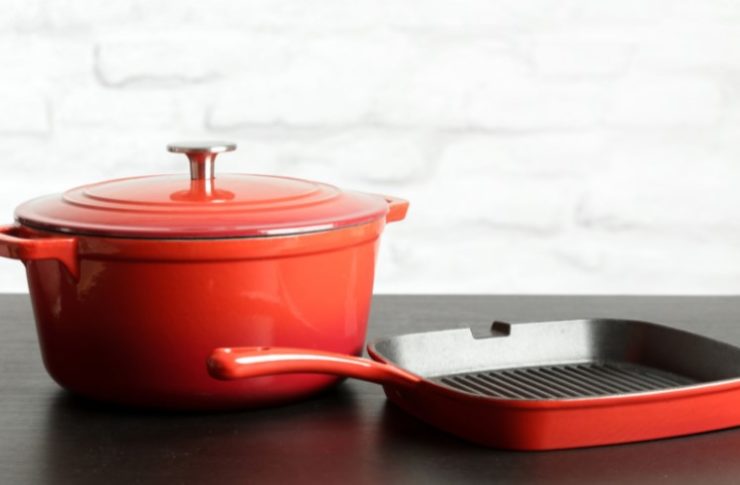 Cast iron is a durable workhorse in the kitchen. It's incredibly thick and heavy which makes it one of the best when it comes to even heat distribution and retention.
Cast iron pans and Dutch ovens are a perfect choices for a gas stove. The heavy weight helps them stay put on the stove, and the even heat distribution is helpful with the uneven flame pattern of many burners.
This can also be one of the least expensive cookware options available, and it's durable enough to last for generations. But, this is another choice that must be seasoned and maintained to keep it in good working order.
Safety concerns when cooking on gas
Many gas stoves are constantly emitting gas from each burner. A small flame (pilot light) burns off the gas being emitted. It is very important to ensure the pilot light is always lit to avoid excess gas accumulating in your home.
A good hood is also important with gas ranges as they can help disperse excess gas and smoke from your kitchen.
The more obvious concern is the open flame during use. Care must be taken to avoid loose clothing or kitchen towels from coming in direct contact with the flames. It's also important to note that oils and alcohol are much easier to ignite with a gas stove.
For the same reason, any cookware that you use should have heat resistant handles to avoid any melting or catching fire. Bakelite handles like the ones used by Stoneline have lower heat limitations and so caution should be taken when used around an open flame.
How to choose the right size cookware for a gas stove
The base of your cookware should always match the burner and flame you are cooking over.
A small pan over a large flame wastes energy and can easily burn you or the pan handle. On the other hand, a large pan over a small flame will take forever to heat up and will likely be very hot in the center and too cool around the edges.
Types of cookware to avoid with a gas stove
Just about any type of cookware will work on a gas stove. It is important to know a bit about the materials you are cooking with, and focus on flame control.
In general nonstick pans should not be used with high heat. They will work just fine on a gas stove, just dont crank your range to the max.
If using cast iron, remember that the cookware will take a long time to adjust to heat changes. A low to medium flame is all you need for most cooking tasks.
Coating And Cladding
Nonstick pans are definitely not known for their durability, so it's important to give extra attention and care to the coating. The biggest problem is that the coating can be easily scratched and also damaged from high-heat use.
When using a nonstick coated pot or pan be sure to stick to low and medium heat and avoid using metal utensils as well as any abrasive cleaners and sponges.
Stainless steel pans are certainly a more durable option, and it can pay to know a little about their cladding. This has to do with the layers of metal used in the construction of the pan.
Fully clad options will have a stainless steel cooking surface and exterior, with a core material sandwiched between the two.
The most common core is aluminum. This gives you the excellent heat distributing qualities of aluminum, and the durability and low maintenance of stainless steel.
The other option is disc-clad cookware. These also use multiple layers of material, but only on the base of pans. This also provides good heat distribution, but only on the bottom cooking surface and not up the sides.
Fully clad stainless steel is generally the best option, but it's almost always more expensive and can be a bit heavier.
Warranty And Durability
A good warranty can give you peace of mind and protect your investment. But, it's important to remember that in most cases this will only cover the manufacturer's defects. That means normal wear and tear or accidental damage won't be covered.
In general, the more durable your cookware the longer the warranty should be. So, if you're spending a lot on stainless steel or cast iron you should probably expect a lifetime warranty.
Since nonstick coated cookware is likely to wear out within a handful of years, it's more common to find 2 or 3-year warranties. But again, only against manufacturer's defects.
Our Recommendations
Cooking on a gas stove gives you more control than most types of stove. Temperature changes can happen in an instant, and you can visually see how high or low a burner is. Understanding a bit about what your cookware is made of will help you get the most from your gas range.
T-fal's stainless steel and copper cookware takes advantage of the benefits of a gas stove with great heat conductivity and distribution. If it's in your budget, our All-Clad pick offers all the same benefits and adds unbeatable durability that you will appreciate in the long run.