I have a real love-hate relationship with omelettes. Ordering an omelette at a diner can be a lovely experience. Cooking 100 omelettes during a busy brunch service is a nightmare..one I've lived more times than I'd like to think about.
Cooking an omelette can take a little technique, but having the right pan makes all the difference in the world.
I'll be using years of professional omelette cooking experience (which are luckily behind me) to break down what makes the best omelette pan. And I've picked three of the best options that you can buy right now.
Best Overall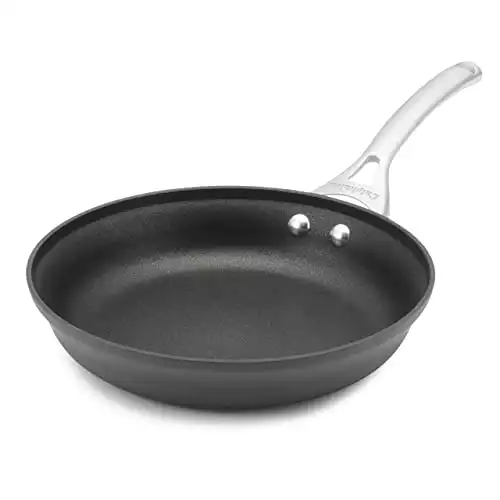 Calphalon makes some of the best and most durable non-stick cookware you'll find. So, it's no surprise that they make the best omelette pan around.
Calphalon produces a lot of different cookware lines, seven to be exact. But, I've found the Contemporary series to offer the best balance of performance and price.
The design of their 10-inch nonstick fry pan is perfect for making omelettes. The flat bottom lets you get consistent and evenly cooked eggs. And the gently sloped side of the pan lets you easily get a spatula under whether you're an omelette folder or roller.
The stay-cool stainless steel handle is comfortable to hold, and the curved design helps when it's time to slide the omelette out of the pan.
The body of the pan is constructed from heavy-gauge, hard-anodized aluminium. This is a great material choice because it's durable and also distributes heat quickly and evenly. Giving you a long-lasting pan with excellent temperature control.
While the design and construction are top-notch, Calphalon's impressive non-stick coating is what puts this pan at the top of the pack.
They use a three-layer coating for excellent durability and some of the best food release around. Letting you turn out professional-looking omelettes over and over again.
The pan is oven safe up to 450 F, and dishwasher safe. However, handwashing and avoiding metal utensils will go a long way in protecting the non-stick coating, giving you more life out of your pan.
This option isn't exactly cheap, but I think it's very reasonable for the quality and high-level performance. Other than that, there really isn't anything negative to say about it.
What we like
Excellent heat distribution and response
3-layer non-stick is very durable when treated well
Great design and shape for omelette making
What We don't
On the expensive end
Can't be used on induction stoves
Best Value
The Tramontina Professional fry pan is similar to what you would find in a restaurant kitchen. I've used countless egg pans just like this one, and while they may not look as nice as my other picks, they're very functional and very inexpensive.
Like most other good omelette pans, this one has a nice flat bottom with sides that gently slope up. The cast stainless steel handle is straight and angled up which provides good leverage when flipping or sliding ingredients from the pan.
The handle also has a removable silicone grip that helps it stay cool on the stovetop. It's comfortable and functional, but it definitely looks like it belongs in a commercial kitchen.
One of the main reasons that this pan is so inexpensive is that it is made of plain aluminum rather than more durable hard-anodized aluminum.
That does mean the pan is very light-weight, but it's also more susceptible to warping. Especially when exposed to high heat or rapid temperature changes.
The non-stick coating provides excellent food release right out of the box. But, the non-stick properties do seem to degrade quicker than the more expensive options. Some owners also experience issues with scratching and flaking after heavy use.
If you don't mind the industrial look and feel, then this is a good option for anyone on a budget, or for those who won't be using the pan on a daily basis.
What we like
Very inexpensive
Light-weight
Good shape and design
What We don't
Commercial look and feel
Plain aluminum construction is less durable
Best Upgrade
For an omelette pan that offers the highest level of performance and some of the best durability around, consider this All-Clad nonstick fry pan.
All-Clad is my go-to for all things stainless steel. I've used them in professional kitchens and my own home for over a decade and they never let me down.
Their stainless steel non-stick series offers the durability and even heat distribution of their flagship D3 line. Then it adds the convenience and easy clean up of a non-stick cooking surface. Making it perfect for all of your omelette cooking needs.
My other top picks are all built from aluminum which is an excellent heat conductor but can be lacking in the durability department. This All-Clad pan on the other hand is a fully clad, tri-ply pan.
That means it's constructed from three primary layers. A thick aluminum core, surrounded by two layers of stainless steel.
The aluminum provides fast and even heating, while the stainless steel adds incredible durability and makes the pan induction compatible.
On top of all that is the nonstick cooking surface, which is built from three layers of durable nonstick material. The pan is then paired with their signature solid, stainless steel handle.
Put everything together and you get a pan that performs like top-of-the-line stainless steel but without the learning curve or any sticking.
The downside to this pan is the high price tag. Paying over a hundred dollars for a non-stick pan is generally something that I wouldn't recommend. Because even with the utmost care, the cooking surface will eventually lose its non-stick capabilities.
That being said, I have the 10-inch nonstick version of this pan and I love it. But, because it's such an expensive non-stick option, I reserve it almost exclusively for egg duty. That has allowed me to get years of solid use and the non-stick surface is still going strong.
What we like
Excellent heat distribution and responsiveness
Second to none build quality
Induction compatible and oven safe up to 500 F
What We don't
Very expensive for non-stick cookware
Even with the high price, it can still be prone to scratching
Runners Up: Two Trusty Multi-Taskers And A Unique Specialty Option
It may be a stretch to call this a true omelette pan, but the infamous Lodge cast iron skillet really can do it all.
This isn't the pan I would use for a delicate french omelette. The straight sides, weight, and incredible heat retention just aren't suited for the task. But, for the more forgiving American-style omelet, filled with every matter of meat, veggie, and cheese, there may not be a better option out there.
De Buyer makes one of my favorite carbon steel frying pans. And while it's great for frying eggs, the straight sides aren't well suited for cooking omelettes. Enter their 9.5-inch omelette pan.
This option has everything you love about their classic frying pan, but with very nice rounded sides. Making it easy to get under your omelette to fold or roll. Once you establish a good seasoning on this pan, you'll be turning out omelettes like a pro.
This is a true specialty piece of cookware. While you could technically use it for any number of dishes, this Japanese omelette pan is purposefully built to make tamagoyaki, a type of rolled omelette.
I'll be honest, this probably isn't what you're looking for if you're reading this list. But, tamagoyaki is delicious, and who knows, maybe this will spark a new hobby and favorite dish for you.
Buyers Guide: Choosing The Best Omelette Pan
Size And Shape: One Size Fits Most
Choosing the size of an omelette pan comes down to how many eggs you'll be using in each omelette. You want the egg to cover the entire bottom of the pan without spreading so thin that you end up with something resembling a crepe.
A three egg omelette has become somewhat of the standard whether cooking at home or ordering one at your favorite diner. For that, a 10-inch omelette pan is perfect. This size can also accommodate four or even five egg omelettes but they'll end up a little on the thick side.
If you prefer a smaller portion, you may opt for an 8-inch model. This is perfect for two eggs, and is often what I prefer when making a classic French omelette.
The shape and design of an omelette pan is pretty straightforward. It must have a very flat base so that the egg cooks evenly and don't pool in the middle or around the edges.
Sides that gently curve up to the rim are the easiest to work with because they will help your omelette naturally roll inward. This makes it easy to get a spatula underneath for flipping or rolling.
Pan Material: Don't Be Afraid To Take The Easy Route
I rarely recommend nonstick pans for most uses, due to their lack of durability. But, egg cookery is an eggception and is where this kind of pan really shines.
A good non-stick pan is definitely the easiest option when it comes to consistently turning out omelettes that don't stick and tear.
A well-seasoned cast iron or carbon steel pan is another solid option. These can take a little more effort and know-how, especially if you don't like any browning on the outside of your omelette.
Stainless steel pans are my favorite for a LOT of applications. Omelettes however are not one of them. Fried eggs in a stainless steel pan are one thing, but omelettes are a whole different (and difficult) story.
Heat Source: Stovetop Compatibility
Choosing an omelette pan that works with your stove isn't very difficult for most of us. However, if you cook using an induction cooktop, you'll have to choose a little more carefully.
Carbon steel, cast iron, and most stainless steel pans will work on just about any stove, including induction. But, the aluminum used in most non-stick pans isn't magnetic and so it won't work on your induction hob.
You'll have to make sure that there is a magnetic disc on the bottom of any aluminum options. Or, you can go with a stainless steel non-stick option like my All-Clad upgrade pick.
Durability: Most Omelette Pans Won't Last Forever
Unfortunately, the best pans for omelette making are built with a non-stick coating. And that non-stick coating, no matter how well you treat it, isn't going to last forever.
The material of the pan will also play a role in its durability. Many non-stick pans are made from aluminum, which can be susceptible to warping. Leaving you with a rounded pan bottom rather than a flat one, and that's not great for omelettes.
If you go the aluminum route, the hard-anodized aluminum models offer the best strength and durability. Or, for a big step up in durability (and price), you can go with a stainless steel omelette pan.
There are a few critical steps you should use to get a longer life out of your nonstick pan. Most notably – stick to handwashing with a soft sponge, don't cook over high heat, and never use metal utensils in the pan.
I also like to keep a non-stick pan that is exclusively used for eggs. That's just one extra step you can take to get the most out of this type of cookware.
What You Can Expect To Spend
Omelette pans cover a huge range of prices. You can certainly find options that only cost $15-$20 but I would steer clear of those.
They're often made from very thin material. That makes it difficult to regulate temperatures and will often lead to a warped, bowl-shaped pan rather than a flat one.
My value pick above costs around $30 and is designed for commercial use, so it can handle a little wear and tear.
I find that the $50-$75 range is the sweet spot for really high-quality aluminum options. A lot of pans in this range are built well, have great non-stick coatings, and have a high-end look and feel.
You can definitely spend over $100 on stainless steel omelette pans. If you do, I would recommend reserving those pans only for egg use or other very delicate applications as a way to protect your investment.
Frequently Asked Questions
What Are The Advantages Of Using An Omelette Pan?
An omelette pan provides the right shape and side walls so that you get evenly cooked eggs and a way to easily flip, fold, or roll an omelette. Choosing a non-stick option is ideal for this application, as eggs can be one of the most difficult and prone to sticking ingredients known to man.
What Are The Drawbacks Of Using An Omelette Pan?
Non-stick omelette pans have one major drawback and that's their lack of durability. Non-stick coatings are very susceptible to scratching and can easily lose their abilities over time.
If you stick to low and medium heat, only use wood and silicon tools, and always handwash your pan, you can greatly extend the useful life of your non-stick omelette pan.
Now, if you opt for a cast iron or carbon steel pan for your omelette needs, you won't have to worry about durability. In this case your pan will likely outlast you, but you will have to ensure that you keep the pan well seasoned and maintained.
What Is The Difference Between An Omelette Pan And A Frying Pan?
In general, an omelette pan is a frying pan. It has a flat bottom and shallow sloped sides.
In many cases, an omelette pan will refer specifically to a non-stick frying pan that's between 8-inch and 10-inches in diameter.
There are also specialty omelette pans that have a hinge so that the entire pan can actually be folded in half along with the eggs inside. I've never tried a folding omelette pan, so I won't knock them, but it seems to be a real one-trick pony that doesn't have many other uses.
What About Omelette Pans From Other Countries?
An omelette in most other countries is still going to be cooked in a round pan similar to the frying pan that most of us are used to. The one big difference here is the Japanese omelette pan, used for tamagoyaki.
This is an omelette that is cooked in a special rectangular pan. Egg and other ingredients are added in stages and the egg is rolled in the pan.
Do Omelette Pans Require Any Maintenance?
Non-stick omelette pans don't require any maintenance. But, extra care should be taken when cooking and cleaning in order to avoid damaging the nonstick coating.
Cast iron and carbon steel pans do require some maintenance in order to keep them functioning at their best. These options must go through a process called "seasoning".
Seasoning is a protective layer created by cooking and hardening a layer of oil onto the pan. This protects the pans from rust, and also creates a semi "non stick" surface.
Are There Any Safety Issues?
Traditional Teflon-based nonstick pans provide the best food release as well as the most durability. But, there is also some controversy surrounding its potential health risks when not used properly.
We've written extensively about the topic, but the basics are that chemicals in the non-stick coating can be released into the air and inhaled. Specifically, this is a concern when exposed to high temperatures for prolonged periods of time.
What Type Of Eggs And Omelettes Should I Make If I'm Just Getting Started?
I'm a sucker for a classic French omelette. Just eggs, butter, salt, and a little technique.
I worked for a chef who would ask stages (interviewees) to cook him a French omelette at the end of the shift. A simple but surprisingly difficult task when you're caught off guard. It's not very scientific, but a well-known test of a professional cook's talent in the industry.
I also love omelettes as a way of clearing out old ingredients in the fridge (about as far from a French omelette as you can get). Especially as an easy breakfast or dinner in between grocery runs. A little of this, a little of that, plus a few eggs and you're all set.
My Recommendation
An omelette pan is a great tool to have in your cookware arsenal. I generally prefer to cook with stainless steel and iron pans, but having a nonstick egg pan is something I always keep in my back pocket. They're easy to use and even easier to clean.
The Calphalon option is a really impressive pan that offers high-end build quality, and a durable non-stick coating all at a reasonable price.
If you're not too concerned with the look of the pan, you might consider Tramontina's offering. This is a bare-bones omelette pan, but it has a great shape, solid non-stick surface, and is very affordable.
If you need an induction-compatible option, the All-Clad pan looks great and has impressive cooking performance to match.