If I learned one thing from my time working in professional kitchens, it's this:
A sharp knife is a safe knife.
Sharpening your knives doesn't just make your tools more enjoyable to work with. In fact, keeping your knives sharp will prevent accidents by allowing you to use less force for each cut.
That's why a knife sharpening system is a constant standby in my home kitchen. But you may have noticed that there are dozens (if not hundreds) of options out there to keep your knives sharp.
Which one is best for you? That's what we're here to find out today, by taking a top-down look at the whole range of knife sharpening systems available to home chefs. I'll give you my honest opinion of each sharpening method, as well as recommendations for what type of home chef each product is best for.
For Professional Grade Sharpness, Use Whetstones
After learning to sharpen my kitchen knives on whetstones, I'll never go back to any other system. Because while there's a definite learning curve for whetstones, nothing else compares to how sharp they can make your knife's edge. And what else could you call the best knife sharpener except for a tool that makes your knives as sharp as possible?
The trouble with whetstones is the experience necessary to use them well. Even a beginner-friendly water stone will still take quite a bit of getting used to. And you don't very well want to sharpen your nice knives on a whetstone if you don't know what you're doing.
My solution? When you buy a whetstone, go ahead and order a very cheap chef's knife as well. I'm talking in the sub-ten-dollars range, a knife that you won't feel bad abusing.
This knife will become your practice knife. If you mess up, that's okay — just keep practicing at fixing the edge. You'll know that you've become a master knife sharpener when you can give this cheap knife an impressively sharp edge.
What whetstone should you start with? I think there's none better for beginners than KING's start set, so let's look at that in closer detail.
Best Whetstone
A genuine Japanese whetstone set available at an affordable price? It seemed too good to be true until I bought one for home use. Now, I recommend KING's Whetstone Starter Set to any of my friends learning to sharpen their own knives.
This set comes with everything you need to get started with a whetstone. The stone itself is double-sided, with a 1000-grit side for grinding the edge down and a 6000-grit side for refining it. It's a water stone too, so you don't have to buy any oils or special equipment to use it.
The elevated base makes it easy to keep your knuckles away from the table while you sharpen. And the included angle holder simplifies one of the toughest parts of using whetstones. Just attach it to the spine of your knife, and the exact edge angle is set for you.
Pair this whetstone set with a practice knife, and you'll be making razor-sharp edges in no time. And if you don't have anyone that can give you hands-on instruction, YouTube is your friend. Korin has an excellent video on how to sharpen a knife using whetstones.
A Manual Knife Sharpener Is Good for Home Use
If watching that video on whetstone sharpening made you shudder, it's understandable. Sharpening knives can be an art in and of itself — and not one that everybody wants to practice. If that's the case, a more casual knife sharpening jig might be just the ticket.
The clamp-and-jig style knife sharpeners invert the method used with a whetstone. Instead of dragging the knife edge across an abrasive surface, the knife is clamped in. Then, an arm with a sharpening surface is run over the edge of the blade.
And while the sharpening surfaces won't ever yield quite as sharp an edge as a whetstone, they're generally safer and easier to use. Overall, the learning curve is much lower for manual knife sharpeners than for whetstones.
I'm particularly fond of the Work Sharp sharpening rig, explained below.
Best Jig
The Work Sharp Precision Adjust Knife Sharpener was designed with two things in mind: Safety and ease of use. Equipped with a simple clamp system and three sharpening surfaces, it's an easy and affordable way to learn to sharpen your knives at home.
An intuitive angle adjustment system makes it easy to get the exact grind you're looking for. Just clamp your knife into the slot, set the angle, and then lower the sharpening arm. Start with the coarse diamond surface for heavily damaged blades, then move to the fine diamond and ceramic to refine the edge.
Once you're done on one side of your blade, the clamp unlocks for quick and easy rotation. Flip the knife over, and repeat on the other side.
If you'd like to sharpen your kitchen knives and your pocket knives, the Work Sharp system is a great choice. It's much easier to use than whetstones, and provides a good degree of sharpness for almost any knife.
Electric Knife Sharpeners Are Quick and Convenient
With any sharpening system, you'll have to make a trade-off between convenience and sharpness. The faster and easier a sharpening method is, the less sharp your final blade edge will be.
But is this necessarily a bad thing? Not always. If you only use your kitchen knives infrequently, they may not need a razor-sharp edge at all times. Perhaps just having a sharp enough edge is all you're looking for.
If so, an electric knife sharpener is the way to go. They're the fastest and easiest way to sharpen kitchen knives. And they have essentially no learning curve — just pop your blades in and drag them out.
The only trouble with electric sharpeners is that they will eat away at your knife's edge faster than any other sharpening method. They're not meant for frequent use or use with high-end knives.
All that said, let's take a closer look at my electric sharpener of choice:
Best Electric Sharpener
If you want easy sharpening, it doesn't get any easier than the Chef'sChoice Electric Knife Sharpener. Equipped with three progressive sharpening zones, it will put a perfect 15-degree angle on any blade in about two minutes.
In the first two sections, diamond abrasives will reform your knife's edge. Then, a flexible abrasive in the third slot will refine your edge to an excellent sharpness. And while the first sharpening may take a few minutes, subsequent resharpenings take as little as 30 seconds.
I'm also a fan of the Chef'sChoice sharpener because it's relatively quiet. Many other electric sharpeners make quite a racket. But the Chef'sChoice clocks in at around 70 decibels — approximately the volume of ambient conversation in a cafe or restaurant.
So while it won't give the same sharpness as a manual method, the Chef'sChoice is undoubtedly faster and easier to use. And with a 3-year warranty, your investment in sharper kitchen knives is a safe one.
When to Use A Honing Rod
There's a common movie and TV image of chefs, busily dragging their knives along a metal rod. That's the honing rod, a tool commonly found in professional kitchens. But do you need one in your home kitchen?
Perhaps. A honing rod isn't used for sharpening knives — it's used for keeping them sharp when they're already in good shape. It does this by realigning the metal along the knife's edge.
Compare this to a sharpener, which uses a harder material to abrade your blade's surface. Honing rods are made of softer materials than most knives, so they're better at keeping the edge in line than sharpening it.
When would you use a honing rod in a home kitchen? If you're cooking on most days, a honing rod can keep your knives sharper for longer. Just run your blade along the rod a few times on each side before you start cooking each day.
Most honing steels are made quite similarly, but Wusthof's honing steel gets my recommendation. Let's look at why that is.
Simple, affordable, and durable. Those are the three qualities I look for in a honing rod, and they're exactly what Wusthof's honing steel delivers.
The design is simple and classic, with a comfortable non-slip handle and 9-inch rod. This is enough metal to work with, without being large enough to fit awkwardly in drawers.
You won't find a better honing rod at this price. Coming in at under $20, it's equipped with a magnetic steel rod to catch metal filings and keep your kitchen clean.
And since it's made with Wusthof's German steel, this honing rod is made to last a lifetime. In short: It ticks off every box that I'm looking for in a honing steel. And it's my top recommendation for home chefs looking for a honing rod.
Are There Professional Sharpening Services?
You can also skip all of this sharpening business and just send your knives away to be sharpened. Major cities almost always have a knife sharpener that caters to restaurants and bars.
But if you choose the right knife brand when you're buying, you may not have to pay for a knife sharpening service.
Here are three brands that offer free sharpening for the life of your knife after you buy from them:
Misen offers direct-to-consumer pricing on well-designed kitchen equipment. And all of their knives are covered for mail-in sharpening whenever you'd like.
Shun is a Japanese knife maker that also offers free mail-in sharpening for all their knives.
Messermeister produces affordable German chef's knives. They have a "Knife For Life" sharpening service included with each sale.
Common Questions About Knife Sharpening Systems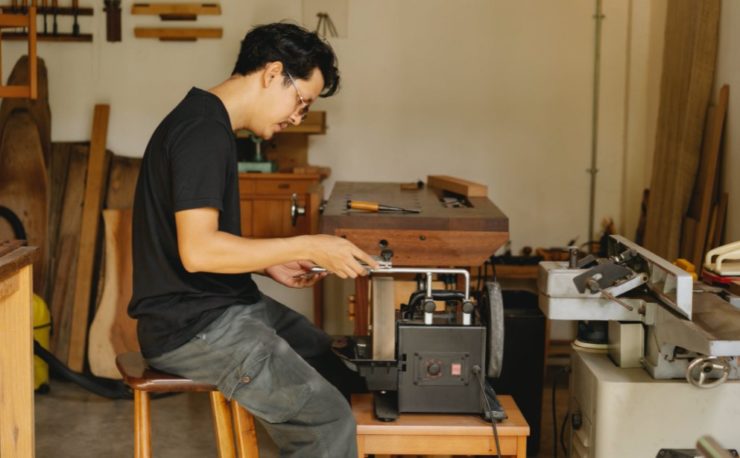 To wrap things up, let's take a closer look at some of the most frequently asked questions about knife sharpening systems. This should give you the final context necessary to make an informed decision for your choice of knife sharpening methods.
Can I sharpen a serrated knife?
Sharpening a serrated knife is one of the most difficult projects a home chef can undertake. While it's possible, it's beyond the reach of all but the most dedicated sharpeners.
If you have a serrated knife that's getting dull, I strongly recommend using a professional sharpening service for it (more on that in a moment). This will guarantee that your knife is returned good as new.
How often should I sharpen my knives?
There is no one-size-fits-all answer for how often to sharpen kitchen knives. Different knives dull at different rates, and the amount of use will vary from chef to chef.
So here's my advice: Sharpen your knives when they no longer pass the "paper test".
To do this, fold a piece of paper in half and stand it up on your cutting board. Using your "off" hand to steady the paper, draw the blade of your knife through the paper. If your knife can't do this, then it's not professional-grade sharp.
Another good test is to cut a tomato. A well-sharpened knife will cut through a tomato's skin and flesh with ease, while a dull knife will mangle it.
Should I use oil when sharpening my knife?
There is no need to use oil when sharpening your kitchen knives.
Some people recommend using a honing oil when sharpening on whetstones. But I strongly recommend using whetstones that don't require oil, known as waterstones. Most stones that recommend honing oil are meant for hunting and general purpose knives, not kitchen knives.
My Recommendations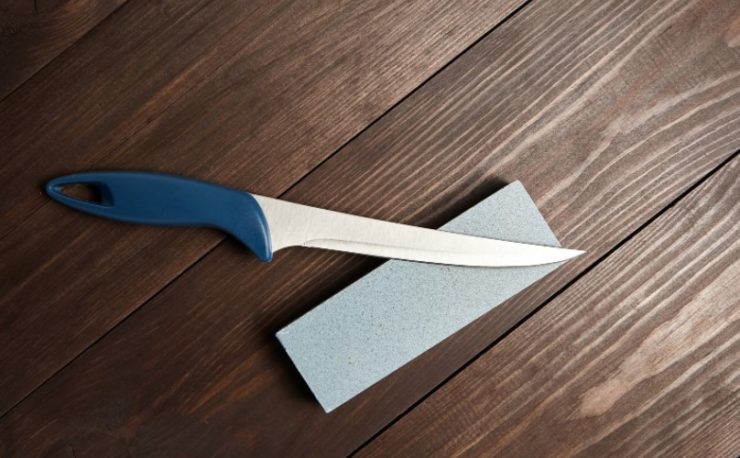 So, with all of that in mind, what do you think the best knife sharpening method is for you?
Is it the traditional whetstone method, with its steep learning curve and unbeatable sharpness?
Or perhaps the manual knife jig system, with its emphasis on safety and affordability?
If you're looking for the fastest and easiest way to sharpen a knife, an electric sharpener is the way to go.
That is, unless you buy from a brand that offers free sharpening for life. Then you won't have to worry about sharpening your knives at all — someone else can do it for you.
Any way you go, I'm glad to know that you're looking to keep your knives sharp. It'll make your time in the kitchen safer and more enjoyable.