Is it better to buy your knives individually, or get them in a set? It's one of the culinary world's most contentious questions. And one that I'm here today to answer, complete with reviews of the best knife sets available today.
For this review, I'll be combining a decade of professional kitchen experience with hundreds of hours of research. By the end of this read you'll know for sure whether to buy individual knives or a set, no matter your budget or cooking style.
Best Overall
Best Value
Best Upgrade
Best Overall
The Knives
Each knife in the Genesis series is built with materials and processes that are typical of knives twice their price. That includes high carbon stainless steel blades, and a full tang construction for maximum durability. Combine that with specialty non-slip handles, and you have knives that look as good as they perform. Beginners will also appreciate the full bolster design, protecting your lead finger while you cut.
The Block
I love the design of Mercer's tempered glass knife block. Not only is it eye-catching, but it's entirely functional, too. Since it's transparent, you never have to guess at which knife you're grabbing. And since the knives rest on their bolster, you won't have to worry about their edges laying against wood and going dull. It doesn't hurt that it's so thin either, as this saves a lot of countertop space.
The Selection
These are the knives included in this set:
8 inch chef's knife
5 inch utility knife
3.5 inch paring knife
6 inch boning knife
8 inch bread knife
Taken together, this represents the essential knives that every home chef needs.
What we like
All the essential knives you need, with no filler
Excellent construction quality for the price
Attractive and space saving knife block design
What We don't
Full bolster design isn't a favorite for all chefs
Boning knife may be redundant for vegetarians
Tempered glass is vulnerable in the event of a fall
Best Value
The Knives
All 12 knives, as well as the honing steel and kitchen shears, are made from high carbon stainless steel. The knives are fully forged, with a full tang construction for excellent durability. You'll notice that these knives are much heavier than the others I'm reviewing, due mainly to their extra wide bolsters. These are great for the safety of beginner and intermediate cooks, but may get in the way of more experienced chefs.
The Block
A natural hardwood block holds all 14 pieces of this set. It's on the larger side, so you'll need plenty of counter space for it. Each of the kitchen knives is held sideways for better edge retention. But the steak knives sit straight up and down. Consider storing them upside down so as not to dull the blades.
The Selection
These are the knives included in this set:
8 inch chef's knife
8 inch bread knife
8 inch slicing knife
5 inch santoku knife
4.5 inch utility knife
3.5 inch paring knife
Six 4.5 inch steak knives
You'll also receive an 8 inch honing steel, as well as a pair of kitchen shears. That's an awful lot of knives to choose from, and enough to share with a guest who wants to cook with you.
What we like
Largest selection of knives available at this price
Durable full tang construction
Heavy duty bolsters are great for beginner to intermediate cooks
What We don't
Heavier than more expensive knives
Number of knives may be overkill for some cooks
Larger block set takes up more space in your kitchen
Best Upgrade
The Knives
All of the Classic Ikon series knives have an outstanding combination of balance, ergonomics, and sharpness. They're forged from high carbon stainless steel with a full tang construction. Then, each knife is carefully hand-finished to ensure maximum sharpness and longevity. Easily the nicest knives in this review, they're also the priciest.
The Block
A slim and space saving acacia wood block is both gorgeous and functional. In addition to the space for all six pieces included in this set, it has dedicated spots for more specialized knives should you want to add more to your collection.
The Selection
These are the knives included in this set:
8 inch chef's knife
8 inch bread knife
6 inch utility knife
3.5 inch paring knife
Additionally, you'll receive an 8 inch honing steel and come-apart kitchen shears. All said and done, this set gives you a perfectly fine-tuned selection of kitchen knives with room to add more.
What we like
Streamlined knife selection gives you all the essentials and no filler
Beautiful and functional knife block design saves counter space
Greater sharpness and edge retention potential than any other knife set reviewed here
What We don't
Big investment for an at-home chef to make
Quality might be lost on someone without well-developed knife skills
At this price, many chefs may want to hand-select each knife they buy
Runners Up: Special Cases to Consider
I fully stand by my three picks above as being the best knife sets for most people. But there's a wide world of knives out there, and your needs might not match up exactly with mine. With that in mind, let's take a look at four other knife sets that are a better fit for specific circumstances.
The debate between German and Japanese knives is a long running one in professional kitchens. Personally, I have a place for both of them in my cooking style. But if your preferences tend towards Japanese knives, it's hard to get any better than Shun's slim knife block set. It's all the essentials that you need from a well-respected Japanese knife maker. And it's housed in a gorgeous hardwood block with a sleek and space saving design.
I'm generally not a fan of self sharpening knife blocks (more on that in the FAQ at the end). But if you're looking for a low-maintenance starter set, the J.A. Henckels Modernist 7 piece knife block set is the way to go. It's streamlined and clearly labeled, making it easy to keep your knives razor sharp with minimal maintenance.
Mercer Culinary consistently makes some of the most affordable knives for kitchen professionals. If you're looking for a basic set to take to a restaurant job, their 4-piece forged starter set is just the ticket. It combines an 8 inch chef's knife, paring knife, and utility knife in a rugged go-anywhere knife bag. Excellent for home cooks without much counter space, too.
Looking to capitalize on the discount for knife sets, but don't want a block? Take a look at Wusthof's Classic Ikon 3-piece set. It sticks to the fundamentals, with an 8 inch chef's knife, paring knife, and utility knife. That's all paired with Wusthof's impeccable quality, durability, and sharpness.
Buyer's Guide: How to Choose the Best Knife Set
In professional circles, knife sets have gained a questionable reputation. That's because if you don't choose carefully, a knife set can come at an inflated price while being stuffed with several knives you won't actually use. Additionally, some brands try to sell an impressive number of knives without paying attention to their quality.
Let's take a closer look at how to avoid both of these situations, by understanding exactly what you should be looking for in a knife set.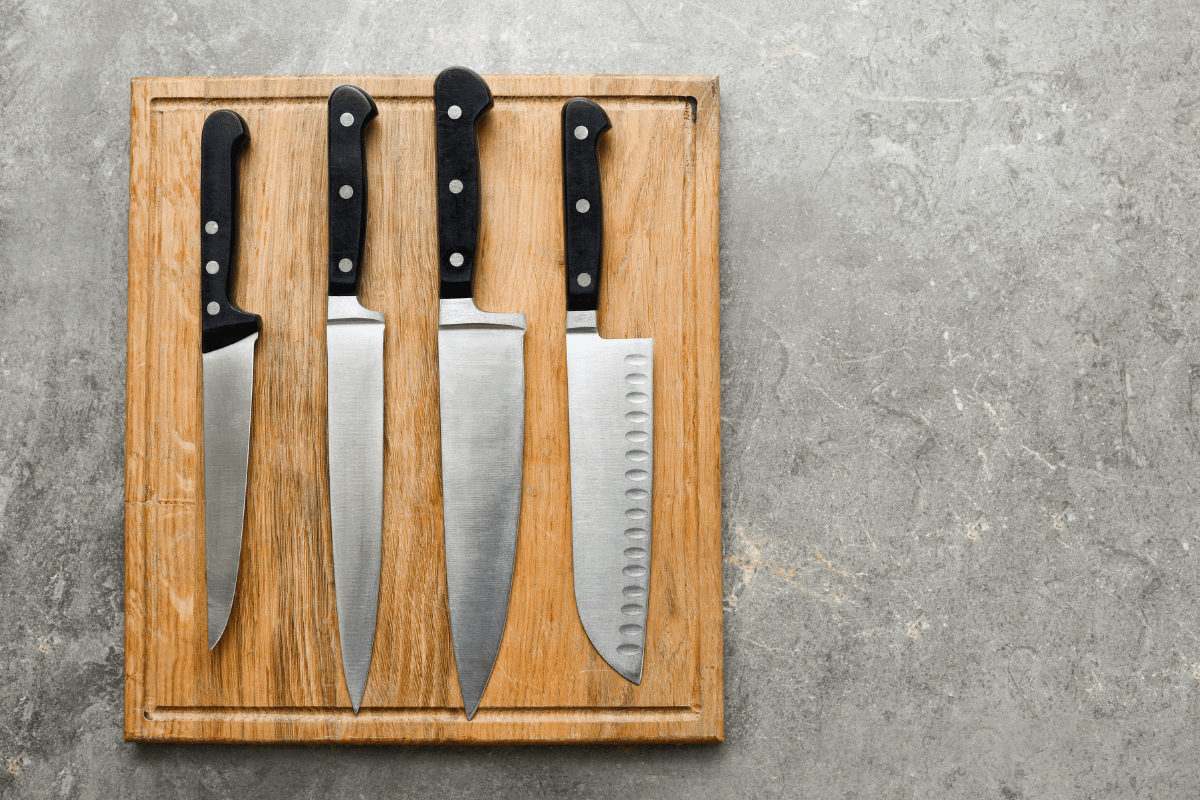 Number and Type of Knives
Just how many knives do you need in a knife set? The exact number will depend on your specific needs.
But there's a general range that is appropriate for most home cooks: Five to seven pieces.
There is a big difference between a set composed of essential pieces, and one that's stuffed with filler knives. That's why I always look for the "big three" knives first:
Chef's knife
Paring knife
Utility knife

That gives you a solid foundation of knives that can handle 90% of kitchen jobs. After that, a serrated bread knife is an excellent addition, as well as a boning or slicing knife. Kitchen shears and/or a honing steel can round out the set, giving you a complete selection of kitchen tools.
So what do you not need in a knife set? Redundant or duplicate knives are a sure sign that the knife set is bloated. You'll most often see this with utility knives, with shady sets including multiple lengths of the same knife.
Also, you'll need to consider whether you want steak knives with your knife block set. An extra four to six steak knives can make a block set look impressive. But if you don't regularly eat large cuts of meat, they'll just take up space in your kitchen.
Blade
While every part of a knife has a role to play, the blade is what separates great knives from poor ones. And the materials and production processes used for a blade determine how much the knife will cost, too. With that in mind, let's take a closer look at the qualities you should look for in a blade.
Type of Steel
High carbon stainless steel is the standard by which most blades are measured. It provides the best of low maintenance and high performance. When I'm looking for a set of knives, this is the first thing I check for.
Forged vs Stamped
The additional heat and pressure created during the forging process make for sharper, more durable knives. Stamped knives, on the other hand, are much cheaper to produce. If you're looking for knives that will last for a very long time, always go for forged blades.
Tang
And while the blade gets most of the attention on a knife, the tang is most responsible for its durability.
Tang describes how far the steel of the blade extends through the handle of the knife. In full tang blades, a single piece of steel extends from the tip of the blade through the butt of the handle. This one-piece construction gives full tang knives superior balance and durability, making it the gold standard for kitchen knives.
Partial or semi tang knives, then, only extend the steel of the blade partway into the handle. This can make for lighter weight and less expensive knives. But in my experience, the tradeoff of less durability and a compromised balance is not worth it.
Handle
A good knife handle is worth its weight in gold. Properly made, the handle will give you a safe and comfortable grip that lets you put your full focus on each cut.
These are the qualities I look for in a knife handle:
Ergonomic. A great handle should be comfortable for a wide variety of hand sizes and shapes. Older knife brands often have the shape of their handles down to a science. If you're ordering from a newer brand, be ready to return the knives if the handle isn't comfortable for you.
Durable. Every knife handle should be able to stand up to big environmental changes. If a handle can't take changes in temperature and moisture, it's not a good handle.
Slip-resistant. There are plenty of opportunities for a handle to get wet in the kitchen. And the last thing you want is to lose your grip mid-cut. Slip-resistant materials help prevent this, as does a molded handle design. Avoid knives with slick, unmolded handles.
Balanced. The most elusive quality in a handle is its balance with the blade and bolster. That's because you can't test this by looking at the knife online. Once again, older and more established brands produce balanced knives more reliably.
Storage
One of the big advantages of buying a knife block set is that you won't have to worry about finding a storage solution for your knives. They'll be safely stowed away between uses, protected from the fate of banging around in a kitchen utility drawer.
But there's one very important feature you should look for in any wooden knife block. Make sure that the knives lay sideways when stored, not up and down. This helps your knives keep an edge longer, requiring fewer sharpenings through the year. For any other style of knife block, just make sure that the knives aren't resting on their cutting edges.
While wooden knife blocks are the traditional choice, I prefer the glass holder that's included with my top recommendation. That's because with wooden blocks, you can end up getting small bits of food or moisture in the knife slots. It's easy enough to get these out using a can of compressed air. But a glass knife block set makes it easier to see how clean your block is, and take care of it before it becomes a problem.
Care and Maintenance
Do just three things, and you'll keep your knives in tip-top shape:
Always dry your knives after using them. Even a small amount of water left on the handle or blade can degrade your knives over time.
Store your knives safely when not in use. A knife block set makes this easy. Don't leave your knives loose in a drawer, as they'll almost certainly get damaged.
Keep your blades sharp. More on this below.
How much you pay for your knife set will also determine how much care and maintenance you should expect. That's because the higher quality a knife's blade, the better its edge retention. And the better its edge retention, the less often you'll need to sharpen it.
The best quality blades are forged from high carbon stainless steel. Depending on how much you use them, you can expect to sharpen these blades every six months to a year. Lower quality blades will need to be sharpened more frequently to keep them in cutting shape.
Cost
How much should you pay for a knife set? That depends on your skill level and your kitchen budget.
For beginners, an affordable knife block set can be an easy way to get started in the kitchen. Lower priced knives are usually heavier, with full bolsters to protect your lead finger. While you're still practicing your cuts, an inexpensive set is a good bet.
If you already have decent knife skills, though, consider investing more in a knife set. As you pay more for your knives, you'll notice that they have much better balance, sharpness, and edge retention.
Frequently Asked Questions About Knife Sets
When it comes to knife sets, questions abound. So before we wrap things up here, I'd like to take a look at the most common knife set inquiries. First-time knife set buyers can use this to build a solid base of knowledge. And I hope that even the well-seasoned cook will find a few nuggets of information here, too.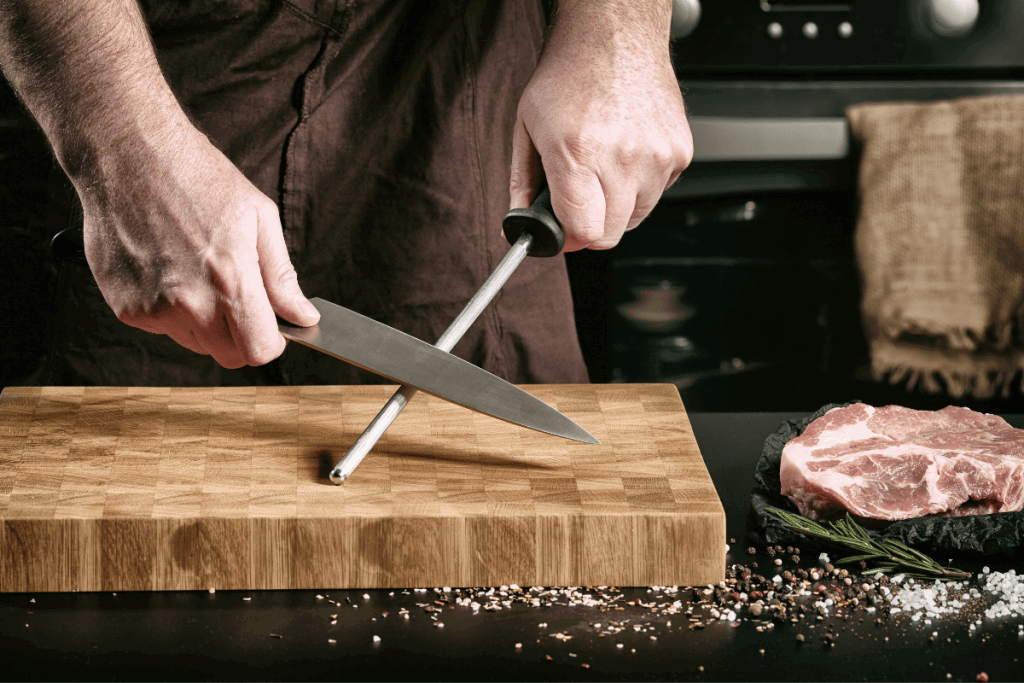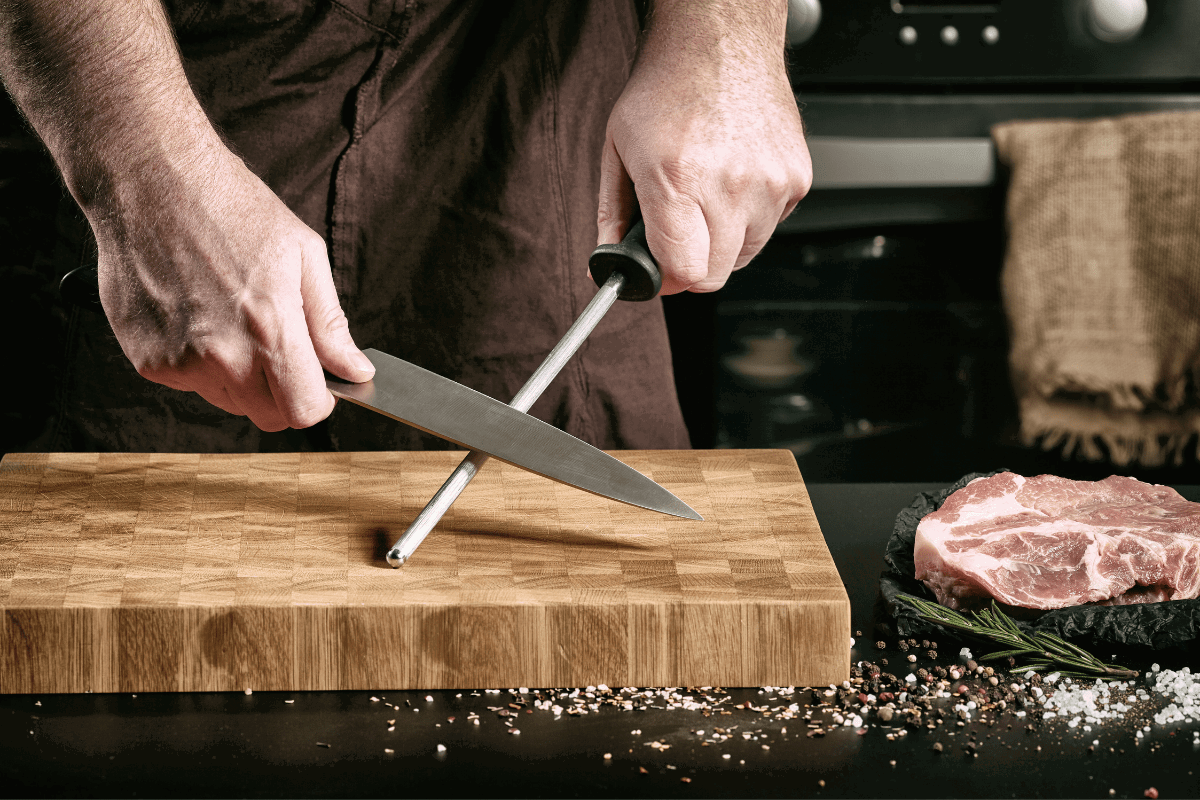 What Makes A Good Knife Set?
The best knife set is the one that's specific to your needs and your cooking style. With that in mind, this is what I look for when recommending a knife set to a friend:
An appropriate number of knives. Beginners may not need as many knives as they think; a selection of staple knives will prevent overwhelm. Even experienced cooks rely on a core set of 3 to 6 knives for nearly every kitchen task.
Durable construction. Buying a knife set is an investment, and that investment should pay off over time. Look for full tang construction with high carbon stainless steel blades.
Efficient storage. More streamlined knife blocks will take up less space on your countertops, leaving you more room for cooking.
Knife Sets vs. Individual Knives
At this point you might be wondering: What's the advantage to buying a knife set over each knife individually?
There are three main benefits to buying a knife set:
It's convenient. Rather than researching, selecting, and buying one knife at a time you can do it all in one go.
Knife sets often come with storage specially made for them. Once again, this is much more convenient than buying individual storage solutions for each of your knives.
It's often more affordable than buying the knives individually. Big brands like Wusthof and Shun offer a substantial discount on their sets, compared with buying the knives individually.
But then, there are a few downsides to buying a knife set over choosing individual knives:
Being happy with a knife set relies on finding one series of knives that you really enjoy the design of. If buying individually, you can mix and match different handle and blade styles for different cutting tasks.
If there's a knife in the set that you won't be using, that's money that could have gone towards other kitchen tools.
If you're really into kitchen knives, it's much less fun than researching and choosing them individually.
In short: Knife sets are more convenient and can end up at quite a discount from buying the knives individually. But individual knives allow for more customization of your collection.
Japanese vs. German Knives
In the knife making world, two countries reign supreme: Japan and Germany.
With bladesmithing traditions that go back multiple centuries, both reputations are well deserved. Which begs the question of which country makes better knives, right?
Well, not quite. See, both Japanese and German knives are excellent — for different things. That's because the design of each type of knife evolved alongside the food of that region.
German knives, then, tend to be heavier and more durable. They're especially well suited to cutting large hunks of meat and tough root vegetables. Japanese knives, on the other hand, are exceptionally sharp and lightweight. And that lends them well to making intricate cuts on fish and vegetables.
So in the end, the question of German versus Japanese knives comes down to your preferred cooking style.
What Knives Do Professional Chefs Prefer?
Professional chefs develop strong opinions after spending thousands of hours in the kitchen with their knives. And while specific knife choices differ, pro chefs agree on a few things about their knives:
They should be German or Japanese. The longer a chef has worked, the stronger their opinion of which country is better becomes.
They should always be forged, never stamped.
High carbon stainless steel is the standard to compare blade quality against.
The knife should feel balanced, and its handle should provide a firm grip in your hand.
Any knife that passes those tests is likely to be enjoyed by a pro chef. After that, it's all personal preference and cooking style that determines which chef's knife is best.
Are Expensive Knife Sets Worth it?
Let's talk about what you get when you invest in more expensive knives. In short, it comes down to three things:
Sharper blades with longer lasting edges. More expensive knives are made of higher quality steel.
Better balance. Pricey knives are usually handcrafted by expert knife makers who check the quality of their work every step of the way.
Greater durability and longevity. High end knives are almost always full tang, with hardy construction on their handles.
So here's the question: Do you need those things in your kitchen? Or do you care about price more than getting the absolute best performance? Personally, I fall somewhere in between. That's why I often recommend knife sets that are right in the middle of available price ranges.
Are Self Sharpening Knives A Good Option?
If you have a block anyway, why not get one with a knife sharpener? That's the usual reasoning behind getting a self sharpening knife set.
And for less expensive sets, it might make sense. After all, cheaper blades aren't going to last as long as costlier ones. So losing the blade faster won't make much of a difference in their overall longevity.
If you're going to invest in a better set, though, I'd stay away from self sharpening blocks. The sharpeners in these blocks will take off a larger amount of the steel of your blade than sharpening with a stone. Which leads, inevitably, to your knives not lasting as long as they could have.
My Recommendations
And we've come to a close on our journey through these knife sets. Thanks for coming along for the ride, and to recap:
The Mercer Culinary Genesis 6-Piece Forged Knife Block Set is eye-catching, functional, and affordable. It's my first recommendation for anyone looking to get their first set of knives.
Any home chef on a tight budget should look towards the Cuisinart Triple Rivet Collection 15-Piece Knife Block Set. It's a full collection of every knife you'll need for years to come. Excellent for beginners, and extremely affordable.
When money is no object, the Wusthof Classic IKON Walnut Block 7-Piece Knife Set is my set of choice. It combines a streamlined selection of essential knives with Wusthof's inimitable quality.
Good luck in finding the right set for your kitchen, and feel free to reach out with any questions you might have!