Choosing the best hard anodized cookware is like finding a needle in a haystack. There are hundreds of options and prices are all over the place.
I've spent hours digging through the best and worst options available and came up with three top picks that perfectly balance performance and price.
Our Top Picks – Hard Anodized Cookware
Detailed Reviews of The Best Hard Anodized Cookware
Best Overall
Buy on Amazon
We may earn a commission if you make a purchase, at no additional cost to you.
09/25/2023 06:52 am GMT
After doing an intensive review of all six of Calphalon's cookware lines, I found that their Classic series was the best overall option.
Then, while scouring the internet and picking the brains of various cookware owners. I found that Calphalon Classic maintained the top rank when compared to most other brands as well.
The Classic line strikes a perfect balance of price and performance. When compared to some top-of-the-line competitors, it might seem to lack features, like being metal utensil safe. But in my experience, no hard-anodized non-stick coating is safe to use with metal utensils, no matter how much it costs.
Calphalon Classic uses a PFOA-free, two-layer non-stick coating that is durable and offers excellent food release. Some of the more expensive options tout three layers of non-stick for additional durability. But as long as you follow the proper use and care guidelines, the two-layer design will give you plenty of good use.
The body of the pan is medium-gauge, hard-anodized aluminum that's easy to maneuver and strong enough for daily use. Not only that, but it heats extremely quickly and reacts to temperature changes in a flash.
In fact, it may conduct heat a little too well. Some owners have found the "stay cool" stainless steel handles to get hot during stovetop use.
Calphalon built in some very useful features that aren't always seen in this price range. Several of the pots have etched measurement markers and easy-pour spouts.
The lids for those pieces are tempered glass and have an integrated strainer. This feature virtually eliminates the need for a colander, and anything that eliminates extra dishes gets big points in my book.
The Classic series is not dishwasher safe, which I look at as a positive. Handwashing will extend the life of all hard-anodized cookware, so this should help reduce the temptation.
The pots and pans work great going from stovetop to oven. They are oven safe up to 450 F, which is 50 degrees less than some of the competition, but shouldn't have much of an effect on most recipes.
Calphalon Classic may not have all the bells and whistles of some of the higher-end options, but in my opinion, that's what makes it a much smarter buy. With regular use, many of those expensive bells and whistles don't really increase the cooking performance.
What we like
Available in a huge selection of sizes
All of the features are useful and don't inflate the price
What We don't
Stay-cool handles can get hot on the stovetop
Medium-gauge aluminum not quite as durable as heavy-gauge options
Affordable Option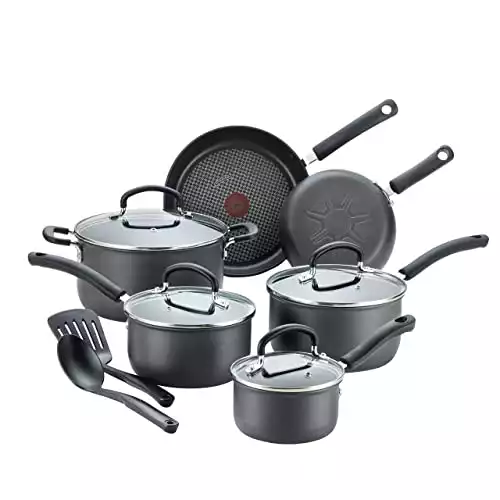 Buy on Amazon
We may earn a commission if you make a purchase, at no additional cost to you.
09/25/2023 07:27 am GMT
It's hard to beat the value that T-fal brings to the table. Most of their cookware collections are targeted towards entry-level cooks, and their prices are usually very budget-friendly.
Their Ultimate Hard-Anodized collection is no different, but it's not only beginners that will benefit from this line.
T-fal is the originator of Teflon non-stick cookware. They've been doing it since the 50s and continue to be one of the leaders in the category today. With over 60 years of experience, their non-stick surface offers some of the best food release in the business.
The Ultimate Hard-Anodized collection has a Teflon-based cooking surface that is PFOA-free. They also use titanium in their coating for added durability. That doesn't mean you can go wild with metal utensils or anything. Always stick to wood and silicon to avoid damaging the cooking surface.
If you've used T-fal before, you may be familiar with their Thermo-Spot heat indicator. This is a red spot in the center of the fry pans that changes color when they are heated to the "perfect temperature".
What that perfect temperature is, I don't know. Some owners love the feature, but I wouldn't put too much stock in it since the perfect temp really depends on what you're cooking.
The pots and pans are dishwasher safe, but as I always say, handwashing will greatly extend the life of the cookware. A common complaint from owners is that the exterior layer may start severely peeling after several dishwasher cycles.
Considering how good the non-stick quality is, wiping these clean by hand should be no problem.
The handles are wrapped in silicone, which is very comfortable but some owners find them to get too hot during regular stovetop use.
The pots and pans are oven safe up to 400 F. The tempered glass lids are oven safe too, but only up to 350 F. While 400 F is ok for a lot of cooking applications, it's on the lower end compared to much of the competition.
The overall feel of the collection is not at the same level as Calphalon Classic. The cooking performance and nonstick capabilities however are certainly comparable. So, at about half the price, T-fal is definitely worth a serious look.
What we like
Very affordable for hard-anodized cookware
The nonstick performance is as good as many higher-priced options
What We don't
Handles and lids look and feel somewhat cheap
Oven safe temperature of 400 F is on the low side
Best Upgrade
Buy Now
We may earn a commission if you make a purchase, at no additional cost to you.
09/25/2023 08:02 am GMT
This upgrade option costs more than twice as much as our best overall pick, but if it's in your budget, or if you cook with induction, this line is hard to beat.
All-Clad is best known for its professional-level stainless steel cookware. But their hard-anodized cookware brings premium features, durability, and induction compatibility to the table.
With such a high price tag you get better durability and more premium materials.
Starting with the hard-anodized aluminum, they use a much thicker gauge. Not only does this add better and more even heat distribution, but it is very unlikely that the pots or pans will ever become bent or misshapen.
On the bottom of each piece is a stainless steel base. This is what makes the cookware usable with induction cooktops as well as any other cooking surface.
Even if you don't cook with induction, the steel base adds even more durability and will ensure that your pots and pans never warp. A common problem of many budget-friendly brands.
To match those long-lasting materials, All-Clad uses a three-layer nonstick surface. The coating is Teflon-based, but PFOA-free and very hard-wearing when used and cared for properly.
The handles are made of stainless steel with deep contours that offer a very secure grip.
The HA1 line easily goes from the stovetop to the oven up to 500 F, higher than any of our other top picks. But keep in mind, the tempered glass lids do not have an oven-safe rating.
When it comes to cleaning, the collection is dishwasher safe. However, All-Clad themselves note that handwashing will increase the life of the cookware.
On that note, I have come across various owners who found the non-stick coating to peel and flake after several rounds in the dishwasher. Since the entire collection is so easy to clean, I don't think this should be much of a problem.
I think it's always the best practice to hand wash and use wood or silicone utensils, but even more so with such a large investment.
This option is definitely on the expensive side. But with it, you get better heat distribution, induction compatibility, and a longer-lasting nonstick surface.
What we like
Better heat distribution for more even cooking
Premium materials and build quality
Induction compatible
What We don't
Priced at the highest end of the category
Non-stick coating can peel with dishwasher use
Stackable
Buy on Amazon
We may earn a commission if you make a purchase, at no additional cost to you.
09/25/2023 05:07 am GMT
Calphalon Classic was our best overall pick because it performs well and won't break the bank. If your budget is a little (or a lot) higher, then take a look at the Premier Space Saving line.
It has increased durability from the heavy-gauge anodized aluminum, and the three-layer non-stick coating.
But the real standout feature is the stackable design. The 10 and 15-piece set takes up 30-percent less space as they are neatly nested one on top of the other.
They even have built-in, interlocking handles so that the cooking surfaces are not damaged while they are stacked.
If you're short on space this is a great option, but without being induction compatible and at the same price, it couldn't beat out All-Clad HA1.
Buy on Amazon
We may earn a commission if you make a purchase, at no additional cost to you.
09/25/2023 05:22 am GMT
Circulon Premier is another solid choice for quality hard anodized nonstick cookware. It is another trusted brand and is one of the main competitors of Calphalon.
Right off the bat, you'll notice that Circulon Premier has a bronze-colored exterior. This is a welcome change from the standard black and grey options, but it won't necessarily go with every home's decor.
If you look at a Circulon fry pan, you'll notice circular ridges covering the cooking surface. Those are designed to offer increased food release and added durability.
In practice, the food release is very good, but the nonstick coating seems to be more easily worn away on the tops of the ridges.
For about the same price or even less, I think Calphalon Classic is better suited for most situations.
GreenPan is a good option if you're in the market for the best hard anodized cookware with a ceramic cooking surface.
The Valencia Pro line has some impressive features. It has an oven-safe rating of up to 600 F, and the shatter-resistant glass lids can even be used in the oven up to 425 F.
GreenPan also built in a magnetic base so the cookware is induction compatible. All those features combine to make pots and pans that are easy to use for almost any cooking task.
The thing that kept GreenPan out of our top three is that many owners found that they were not easy to clean and the non-stick properties did not last. If this was a budget pick, those things might be forgivable, but the Valencia Pro collection is not cheap.
Buyers Guide: Picking The Best Hard Anodized Cookware
Greatest benefits of hard anodized aluminum.
Aluminum is an excellent material for cookware because it conducts heat exceptionally well. The problem is that aluminum on its own is very reactive and not very durable.
Aluminum that has been hard anodized eliminates those issues and maintains all of the benefits.
A hard anodized cookware set will provide excellent conductivity. This material second only to copper, and it's significantly cheaper.
Good conductivity means your pots and pans will heat quickly and evenly. Thicker gauge aluminum cookware will heat more evenly, but won't adjust to temperature changes quite as fast.
Hard anodized cookware is also quite durable, and about as hard stainless steel. That leads to cookware that should last for years.
While a hard anodized cookware set is likely going to be more expensive than plain aluminum, they can still be found for very reasonable prices.
Common Disadvantages of hard anodized aluminum
Durability is one of hard anodized aluminum's benefits, but it definitely has its limitations.
Warping is a common problem, especially with budget cookware sets that are made from thin gauge aluminum. If you've ever used a fry pan that wobbles around on the stove, then you know what I'm talking about.
The best hard anodized cookware will use heavy gauge aluminum to avoid warping. Our All-Clad pick goes a step further by bonding a stainless steel base to their pots and pans.
That leads to another possible drawback if you cook with induction. Unless the cookware has a steel base or core, you cannot use it with induction.
As induction cooking becomes more popular, more brands are adding stainless steel bases. But for now, most anodized cookware sets don't have that feature, which is a considerable disadvantage.
While it isn't required, most hard anodized cookware sets are made with non-stick coatings. That makes them easy to use, but it also decreases durability significantly.
What to look for when shopping for a hard anodized cookware set.
This comes down to finding the most durable option that fits your budget. Finding cookware that will last the longest not only saves you money but also the hassle of researching and purchasing a replacement.
Look for cookware that is built from medium gauge hard anodized aluminum at a minimum. Heavy gauge is better, and options with a stainless steel base are the best. But each of those will also come with higher prices.
Since most options today are nonstick, that's another important factor to consider. Teflon options will provide better food release and should last longer.
There are also a range of Teflon-free ceramic options available. Watch out for high-priced pieces since it's likely that the non-stick coating will still lose its effectiveness within a couple of years.
Beyond that, you'll have to decide which standard features you prefer. Things like handle material, tempered glass lids, oven and dishwasher safe, plus the overall look and feel of a cookware collection.
Does hard anodized aluminum require any special maintenance?
The anodization process makes this type of cookware very easy to use and care for. Since the entire outer layer has a protective coating on it, you don't have to worry about rust, corrosion, or reaction with acidic ingredients.
Many manufacturers label their anodized aluminum as dishwasher safe, but I always recommend handwashing. Not only will you be able to get your cookware cleaner, but you'll also be extending the life of your pots and pans.
Stick to hot soapy water and a non-abrasive sponge. That should be all you need to keep your cookware clean and looking like new.
Since most hard anodized cookware also has a nonstick coating, avoid using metal utensils when cooking. Sticking to wood and silicone cooking tools is the best practice to adopt, and will also work to extend the life of your pans.
Can I use hard anodized aluminum for high-heat cooking?
Cooking over low to medium heat will provide the best results for almost all cooking tasks. Not only will you lower the risk of burning your food, but you'll protect and extend the life of your pans and any non-stick coating.
Hard anodized cookware is durable stuff, especially if you go for a heavy gauge option. But when exposed to very high temperatures, there is still a possibility of warping.
This can lead to unstable pots and pans that wobble on your cooktop. Aside from being plain old annoying to cook with, an unstable pot is much more likely to spill. That can lead to burns, a messy stove, or even fires.
Can a hard anodized cookware set be used on any cooktop?
Hard anodized cookware is great for most cooktops. The one exception is induction.
Induction cooktops use a magnetic field to heat the cookware. Hard anodized aluminum is not magnetic and so on its own, it cannot be used with induction.
Many of the best hard anodized cookware sets have a magnetic steel base that allows them to be used with induction.
If you're curious if your hard anodized cookware set is compatible, follow these easy steps.
How long will hard anodized aluminum cookware last?
As we've mentioned, hard anodized aluminum is a very durable material. It's much more likely that the non-stick coating on your cookware set will wear out before anything else.
We've spent countless hours reviewing some of the best nonstick cookware sets. What we've found time and again, is that PTFE-based non-stick pans are the most durable. But even the best ones have a limited useful life.
With regular use, the best PTFE non-stick cookware can offer around five years of good use. Around that time the non-stick performance is usually greatly diminished.
If you go with a PTFE-free ceramic coating on your anodized cookware, the best options can be good for two or three years.
How much you use each piece will have a big impact on how long it lasts. Taking good care of your hard anodized cookware set and avoiding these common mistakes will help you get the most of any cookware you choose.
Are hard anodized cookware sets safe to use?
The short answer is yes, but depending on what cookware set you go with, things can be a little more complicated.
Raw aluminum can easily leach into food during the cooking process. Luckily the anodization process takes care of that by creating a protective barrier around the aluminum core.
If the outer layer is severely scratched then there is a risk that small amounts of aluminum could leach into your food. But even if that does happen, there is no strong evidence that small amounts of aluminum have a negative effect on our health.
A big concern for some would be the materials and potentially dangerous chemicals used in the nonstick coating of the cookware.
For more information on how anodized aluminum stacks up against other materials, check out our piece on the healthiest cookware options.
How expensive is the best hard anodized cookware?
Hard anodized cookware covers a huge range of prices. As you can see from our top three pics, you can get a pretty good hard anodized cookware set for just over $100 dollars. You can also easily spend more than $500 on a 10 piece cookware set.
The biggest impact on price has to do with the thickness of the aluminum, the durability of the nonstick coating, and if premium materials are used. Things like stainless steel, and quality shatter resistant glass lids.
If you're looking for an individual fry pan or saucepot, you can find options for $15 or less, or you can spend well over $50 for a more premium version.
Hard Anodized vs. Stainless Steel
Stainless steel is a very durable and versatile material when it comes to cookware. But, it's also not that easy to use.
There can be a serious learning curve to using stainless steel, so I definitely understand why people can be hesitant to bring it into their homes. I've been using it in restaurant kitchens for years, but there was a lot of trial and error before I became proficient.
Aside from being less user friendly, good stainless steel cookware sets can be extremely expensive.
Those are two big downsides that hard anodized cookware doesn't have, not to mention, it's also not as easy to clean.
I have to admit that stainless steel is still my preferred cookware material because a good set will last forever, and you can use it for any cooking task. Just be prepared for some mistakes along the way, and probably a few burnt dishes.
Hard Anodized vs. Cast Iron
Cast iron cookware can be a real kitchen workhorse, and definitely has a place in my kitchen. It's thick, heavy, durable, and offers even heat distribution.
Cast iron is one of the best when it comes to searing a steak, frying bacon, or cooking over a campfire. But, it also has its limitations.
It's weight can make it difficult to maneuver around the kitchen, or even just to lift when full of food. If I'm going to make a stir fry, I would always reach for a light-weight saute pan that I can flip and toss ingredients in, not a heavy cast iron skillet.
There is also ongoing maintenance that is required. Cast iron must be seasoned and carefully washed in order to avoid rust and to provide the best cooking performance.
For ease use, cast iron is probably not convenient as hard anodized nonstick cookware, but it's very inexpensive and beats most materials when it comes to durability.
Hard Anodized vs. Carbon Steel & Blue Steel
Carbon steel and blue steel may not be as common as cast iron, aluminum, or stainless steel, but I think it's worth taking the time to get to know.
It's a staple in professional kitchens for its durability and versatility. There is a lot that carbon steel has in common with cast iron, but in a much lighter-weight package.
But also like cast iron, there is an initial seasoning process and then some ongoing maintenance that make it not quite as easy to clean.
If you take the time and put in some effort, carbon steel pans can develop an incredible nonstick surface. But for easy use straight out of the box, this isn't the way to go.
For a fry pan or skillet this is an excellent choice. If you're looking to outfit your kitchen with a complete cookware set, then carbon steel probably won't have all of the pieces you're looking for.
Our Recommendation
The best hard anodized cookware set should provide convenience and durability in the kitchen. Calphalon Classic ticks those boxes and more. Calphalon is one of the originals when it comes to hard anodized cookware, and after more than 50 years they definitely know what they're doing.
If you cook with an induction cooktop then your options are a bit more limited, but our All-Clad pick has you covered. The price tag may be on the high end but I think you'll be more than happy with the cooking performance and durability that they bring to the table.
If you want to see how the best hard anodized cookware set stacks up against types of materials, check out our guide to the best cookware materials.
FAQ
Is hard-anodized cookware safe for health?
When an aluminum pan is anodized, the surface of the cookware hardens. This process prevents the aluminum from leaching into food. Most anodized cookware is also coated with a non-stick enamel. Some of these coatings are produced using fluoropolymer forever chemicals that have been linked to health and environmental controversies.
Which is healthier ceramic or hard-anodized cookware?
Cookware that is "ceramic" usually implies that a non-stick enamel has been applied to the surface of the pan. In many cases, but not always, the "ceramic" label also implies that the enamel was made without the inclusion of controversial polymers. Some hard-anodized cookware is also ceramic. If you are looking to steer clear of these controversial substances, look for a "PTFE-free" label on your cookware.
Which one is better hard anodized or nonstick?
Most hard-anodized cookware is also nonstick. In many cases, hard-anodized cookware is heavier, sturdier, and more durable than other nonstick pans.