Try and take a standard chef's knife to a fine cut of tuna, mackerel, or salmon, and you're likely to end up with a ragged mess. Why is it that your typical kitchen knives fail to achieve smooth, even cuts for seafood though? Simply put, they're not flexible enough.
That's where the fillet knife comes in. Made with thin and flexible blades, they easily glide through whole fish to create perfect cuts.
My experiences working in a Japanese restaurant introduced me to a wide variety of fillet knife styles, which I'm happy to share with you. In this guide to the best fillet knife for your home kitchen, I'll be going over my top three favorites, as well as how to choose which fillet knife is the exact right fit for you.
Our Top Picks
Features:

Thin, sharp, and flexible blade is perfect for precise cuts
Double safety measures to prevent accidental cuts
Durable and long-lasting construction

Features:

Excellent performance for the price
A sharp blade with a nice degree of flexibility
Comfortable non-slip handle

Features:

Perfectly balanced between the blade and handle
Top-notch construction gives great durability
Ultra-thin, razor sharp blade
Best Overall
Features:
Thin, sharp, and flexible blade is perfect for precise cuts
Double safety measures to prevent accidental cuts
Durable and long-lasting construction
Best Value
Features:
Excellent performance for the price
A sharp blade with a nice degree of flexibility
Comfortable non-slip handle
Best Upgrade
Features:
Perfectly balanced between the blade and handle
Top-notch construction gives great durability
Ultra-thin, razor sharp blade
06/06/2023 04:24 am GMT
Dalstrong's Gladiator Series combines everything you want in a filet knife: Precision, safety, and durability. That comes from a finely tuned design and incredible attention to detail. Everything from the shape of the blade, to the finger guard, to the materials used in the blade are top quality. In short, this fillet knife has the best performance of any I've seen.
Made with a high carbon stainless steel blade, the Dalstrong is extremely sharp and has excellent edge retention. For general purpose use — trimming fish about once a week — it will keep a razor-sharp edge for 6 months to a year between sharpenings. And with a generous portion of added chromium, the blade has high stain resistance that's a perfect complement to working with fish.
The shape and flexibility of the Dalstrong's blade lends itself well to making quick, precise cuts. From the pinpoint tip to the long, curved belly, this knife really makes filleting fast and easy.
That's all topped off by two thoughtful safety measures. First, the full bolster and accompanying finger guard prevent accidental slip-ups from turning into nasty cuts. And second, the included sheath keeps your knife safe in the kitchen or if you're traveling for a fishing trip.
What we like
Thin, sharp, and flexible blade is perfect for precise cuts
Double safety measures to prevent accidental cuts
Durable and long-lasting construction
What We don't
The handle could be slightly grippier
Mercer Culinary's Genesis series fillet knife offers the same high-performance experience that you'd expect from a knife three times as expensive. It's made with top-quality German steel, a National Safety Foundation certified handle, and a durable, utilitarian design. If you're looking for great quality at a low price, this fillet knife should be at the top of your list.
First, Mercer's fillet knife is forged from a single piece of high carbon stainless steel. This gives it a durable, long-lasting full tang construction. Moreover, it makes for a sharp blade with great edge retention, that doesn't require much care or attention. Paired with a good degree of flexibility, this top-notch construction makes for a versatile and precise knife.
A comfortable, sanitary, non-slip handle makes this knife quite easy to use no matter where you are. It's certified hygienic by the National Safety Foundation, so you know it's the real deal.
It's worth noting where Mercer Culinary's fillet knife differs from my other picks, though. It features a much more streamlined bolster design, with no finger guard to prevent accidental slip-ups. Experienced cooks won't have a problem with this, but beginners may want to go for a more protective knife.
What we like
Excellent performance for the price
A sharp blade with a nice degree of flexibility
Comfortable non-slip handle
What We don't
Does not feature a finger guard
Wusthof's fillet knife has the most amazing combination of sharpness and flexibility I've ever seen in this knife style. That's a direct result of the proprietary steel blend used by the German knifemaker. Combined with Wusthof's cultivated sense of design, this makes for a luxury fillet knife that looks as good as it feels to use.
The main difference between Wusthof's fillet knife and its competitors is the thinness of its blade. Combined with a high degree of flexibility, this allows for the most precise cuts imaginable. And since it's made of high carbon stainless steel, it also offers excellent edge retention and minimal maintenance requirements.
A comfortable ergonomic handle provides great balance to the thin, sharp blade. I especially like the small notch at the back edge. It pairs wonderfully with the finger guard to give you maximum control over the blade at all times.
Overall, Wusthof's Classic Series fillet knife takes everything I love about this style of knife and dials in the fine details. It's pricey, yes, but that cost will easily be justified once you make your first cuts with this gorgeous blade.
What we like
Perfectly balanced between the blade and handle
Top-notch construction gives great durability
Ultra-thin, razor sharp blade
What We don't
Expensive in comparison to similar fillet knives
Runners Up: Other Fillet Knives to Consider
Because of the wide range of designs for fillet knives, no list of three choices could possibly contain the perfect knife for everyone. With that in mind, I'd like to introduce you to three other fillet knives that I'd recommend as great fits for specific situations.
A modern interpretation of classic Japanese style, Dalstrong's Fillet and Boning Knife is a tricky tool to review. It's attractive for its ability to do what two knives can. But in practice, it does both of these jobs less well than their specialty counterparts. I'd solidly recommend it to someone who wants both a fillet and boning knife, but doesn't have the budget to buy both. You can also see my take on all of Dalstrong's lines here.
A neon orange handle might look ridiculous in a home kitchen. But it's just what's called for when you're trimming fish in the great outdoors. KastKing's Fillet Knife is highly visible and comes with a sheath, protecting you from unfortunate accidents while you're out on a fishing trip. Get it if you're looking to fillet fish fresh out of the water.
I don't think most home cooks need an electric fillet knife. But if you're prepping a lot of freshly caught fish, Bubba's cordless electric fillet knife will do the trick. Save this one for when you're processing more than a dozen fish in a day.
Buyer's Guide: How to Choose the Best Fillet Knife
There are as many opinions on filet knives as there are chefs and fishermen. A quick Google search will return you all of that and more, but leave you no better educated. That's why I'd like to take a moment to break down exactly what makes for a good fillet knife. And that includes the choices you'll inevitably have to make when deciding the best filet knife for your personal style.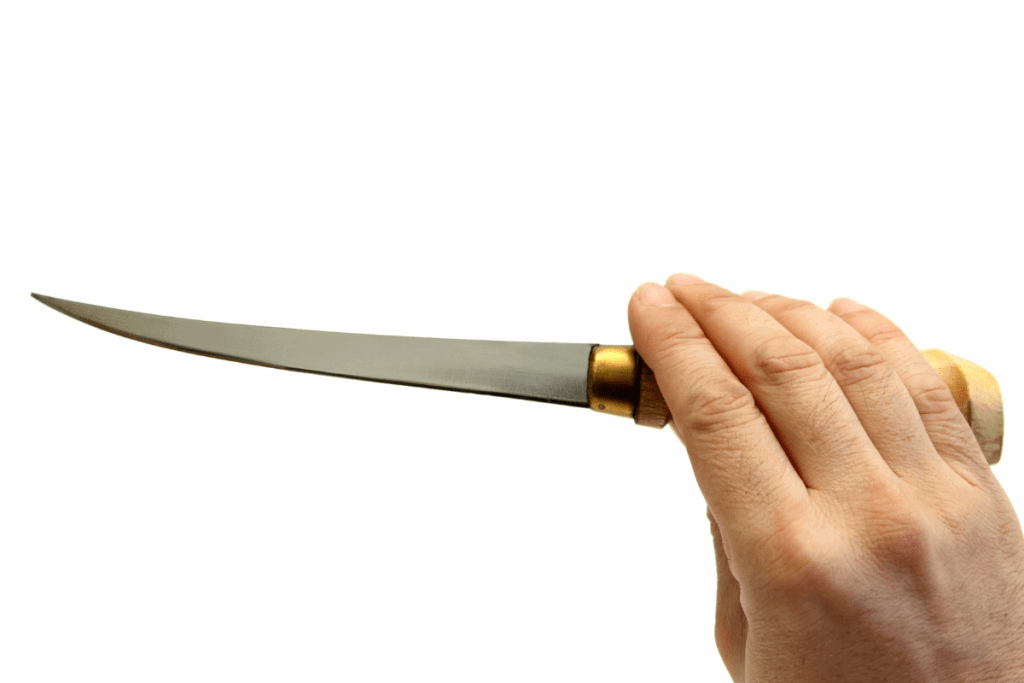 Types of Fillet Knives
Every type of fillet knife puts its own spin on the same basic design. This includes:
Flexible fillet knives, my style of choice in almost every situation. The blade's flexibility is crucial for making smooth, precise cuts around small fish bones. It also makes it much faster and easier to remove fish skin.
Inflexible fillet knives, including the Japanese gokujo, feel like a combination of boning and fillet knives. And really, they can do some of the jobs of both knife styles. This comes at the cost of doing neither of those jobs quite as well, which is why I don't often recommend inflexible fillet knives.
Electric fillet knives are usually employed in the industrial preparation of fish. They can also be helpful for fishermen out on a trip because they let you prepare fresh filets in half the time. The downside, of course, is that the cuts an electric knife makes will be more jagged and less visually pleasing.
Shape and Size
The fillet knife is designed to maximize the blade's belly, the curved part of the cutting edge. It does this by using a trailing point design — that is, a blade that curves gently upward from the handle to the tip. Combined with the fine tip, this allows fillet knives to make smooth and precise cuts. And that's exactly what's called for when preparing a fillet of fish!
You don't want your fillet knife to be too long or too short. That's why you might notice that every model I've featured in my top picks has a 7-inch blade. Through personal experience, I've found this to be an ideal length for preparing clean cuts of fish. Any shorter, and you'll struggle with taking off the skin in one piece. Any longer, and you'll run the risk of digging the tip into your cutting board while repositioning for new cuts.
Blade Sharpness & Retention
There's a good reason that professional chefs are fanatical about the steel their knives are made of. Depending on the type of steel, and how it's processed, you can end up with a razor-sharp knife — or a dull, disappointing edge.
To get the best sharpness and edge retention for your knives, look for blades made of high carbon steel. This makes the blades harder, which in turn allows them to take a sharper edge.
And to make care and maintenance easier, try to go for high carbon stainless steel blades. This is especially important for fillet knives, which will often be wet while you're using them. If it's not stainless, you'll be fighting a losing battle to prevent corrosion and rust.
Construction and Durability
Because fillet knives usually feature flexible blades, they can be put under a lot of shear stress while cutting. The best way to ensure the longevity of your blade is to look for knives with full tang construction. This means that a single piece of steel extends from the tip of the blade through the butt of the handle. The result? The strongest, most durable construction available in a knife. Full tang knives are more expensive, yes, but you'll thank me 10 years down the road when your knife is still in great shape.
Handle
Comfortable, non-slip handles are the name of the game for kitchen knives. But those considerations are doubly important for fillet knives, where you'll often be working in wet and oily conditions.
That's why I prefer molded synthetic handles for my fillet knives. In my experience, they offer the best combination of comfort and non-slip grip while also being hygienic.
And if you'll be using your fillet knife in the great outdoors, synthetic handles offer another benefit: They can be brightly colored. This makes it easier to keep track of your knives outside of the confines of a clean, well-lit kitchen. And the better you can see your knife, the smaller the chance of accidental injury.
Finger Guard
Fillet knives have a feature that's uncommon in kitchen knives: A finger guard. A natural extension of the bolster, these guards prevent your forefinger from slipping onto the blade's razor-sharp edge. Are they absolutely necessary? No. But I appreciate their ability to prevent unnecessary injuries, and they don't cost much extra, either.
Frequently Asked Questions About Fillet Knives
Before we wrap things up, I'd like to take a moment to answer some of the most common questions about fillet knives. While I'll focus mostly on foundational information for beginners in this section, experienced cooks may also find a few meaningful new details here.
What Are Some Common Uses for Fillet Knives?
Fillet knives are the kitchen tool of choice for preparing whole cuts of fish. Though they look very similar to boning knives, the main difference is how thin a fillet knife's blade is. And that thinness is key to the fillet knife's function: Gliding effortlessly through fish, without tearing the natural muscle fibers.
If you have any interest in breaking down whole fish, or even just taking the scales off a salmon filet from the grocer, a fillet knife will do the trick. But really, it's useful for preparing any type of seafood, from scallops to oysters to shrimp.
Should A Fillet Knife Be Flexible?
Flexibility is a fillet knife's key difference from a boning knife. Otherwise, both knives are long, thin, and come to a precise point. And if you want to get the best performance out of your fillet knife, I always recommend choosing a flexible one over an inflexible one.
Why? It all comes down to the bones. Fish bones, that is. They're much smaller and more delicate than the bones found in red meat. To cut around them rather than crushing them, you'll need a maneuverable blade. That's exactly what a flexible blade offers, and why I'll only use flexible fillet knives.
Boning vs Fillet vs Gokujo: Similarities and Differences
The boning knife, fillet knife, and Japanese gokujo (all purpose) knife fit neatly into a spectrum. On one side, you have boning knives — hard and not very flexible. On the other, fillet knives — made of thinner and more flexible steel.
Somewhere right in the middle, you have the gokujo. The shape of its blade is nearly identical to a fillet knife, but they're made of inflexible steel like a boning knife. They can be used for both boning and filleting tasks, but won't be quite as precise as either knife individually. Barbecue enthusiasts love them for their ability to trim fat off of smoked briskets.
Should I Consider An Electric Fillet Knife?
I can think of only one situation where I'd recommend an electric fillet knife over a manual one. That's if you're doing a lot of fishing, and need to quickly prep your catch and get fillets on ice. In this case, an electric fillet knife will speed up your skinning and carving process, giving you more time to focus on fishing or warming up after a cold day on the water. Then, when you get home, you can clean up those electric cuts with a manual fillet knife.
Do I Need A Fillet Knife For My Kitchen?
How often do you make meals with raw fish? Or, how often would you like to, if you had the appropriate tools? Fillet knives are a dedicated specialty tool, so if you won't be skinning or slicing fish, you may not need one. But if you want to get the best prices possible on fish from your grocer, doing a little bit of your own prep will pay off in a big way.
How Do You Sharpen A Fillet Knife?
Fillet knives are almost as easy to sharpen as any other kitchen knife. If you're already familiar with using a whetstone, there's just one thing to look out for: The finger guard. That'll make it tricky to sharpen the entire length of the blade. So if you're not entirely comfortable with sharpening knives at home, taking your fillet knife to a professional is a better bet. And since most of these knives won't see as much abuse as a chef's knife, they won't have to be sharpened all that often.
What Other Knives Should I Have In My Kitchen?
The fillet knife is far from being the first knife you should get for your kitchen. I always recommend starting with a high-quality chef's knife. Then, complement that with a paring knife for detailed work.
From there, I'd recommend taking a read of my guide to the essential kitchen knives every home cook needs. That'll get you up to speed on the knives you need to handle 95% of the cutting tasks you'll find in cookbooks.
My Recommendations
Now that you're in the know about all things fillet knife, which one do you think is best for you? Allow me to give you a quick recap of my choices:
Dalstrong's Gladiator Series 7 Inch Filet Knife is a durable and efficient all-rounder of a fillet knife. It has just the right amount of flexibility without sacrificing durability or sharpness.
The Mercer Culinary Genesis 7 Inch Flexible Fillet Knife is shockingly affordable for its quality. Anyone on a tight kitchen budget should go for this one to round out their knife selection.
Wusthof's Classic 7 Inch Fillet Knife takes everything good about a fillet knife, and then fine-tunes the details. It's perfectly balanced and exceptionally sharp, with a long-lasting construction that means you'll be using it for years.