A great boning knife can be your secret weapon for saving money on big portions of protein. Because bone-in meat is significantly less expensive than trimmed meat, a little "know-how" with a boning knife can translate into big savings.
More than that, though, regular practice with a boning knife will give you mastery over your every cut of meat. During my decade in professional kitchens, I found the boning knife to be an indispensable tool for cutting back on waste.
If you're keen on saving money and reducing waste, then this guide is for you. I'll be covering a few of the best boning knives out there, from the stiffest to the most flexible. And with options for every budget, I hope you'll find the perfect knife for your tastes.
Our Top Picks
Features:

Back-curved blade allows for long, smooth cuts
Pinpoint tip lets you trim with great precision
Durable and long-lasting full tang construction

Features:

Exceptionally affordable for a knife of this quality
Made of top-quality German steel
Versatile applications for meat, fish, and poultry

Features:

Thin, scalpel-like blade for precision cuts
The molybdenum steel blade is low maintenance
Excellent edge retention
Best Overall
Features:
Back-curved blade allows for long, smooth cuts
Pinpoint tip lets you trim with great precision
Durable and long-lasting full tang construction
Best Value
Features:
Exceptionally affordable for a knife of this quality
Made of top-quality German steel
Versatile applications for meat, fish, and poultry
Best Japanese-style
Features:
Thin, scalpel-like blade for precision cuts
The molybdenum steel blade is low maintenance
Excellent edge retention
11/30/2023 11:18 pm GMT
From the razor-sharp back-curved blade, to the sturdy full tang construction, to the precision tip, Wusthof's Classic curved boning knife is a knife-making work of art. It's perfectly suited to the tasks of trimming, separating, and cleaning up cuts of meat and poultry. And with a little practice, it can even be used to cleanly skin seafood. If you're looking for a boning knife that you can pass down to your kids, this is the one.
First, the curved blade. It's made of high carbon stainless steel, ensuring that it is sharp, durable, and has great edge retention. It's a stiff and inflexible blade, allowing you to make exacting cuts and beautiful presentations for your meats. And because it has such a steep curve, you can use a huge portion of the belly of the blade to make long, smooth cuts as well.
Full tang construction means that this boning knife can hold up to the wear and tear of prepping large cuts of meat. Forged from a single piece of steel that extends from the butt of the handle through the tip of the blade, it's made to last for generations.
The ergonomically molded synthetic handle gives the Wusthof boning knife a comfortable and secure grip. It also provides solid balance to the blade, making cuts smooth and effortless. You can really get into pinpoint trimming of fat and cartilage thanks to the control offered by this handle.
What we like
Back-curved blade allows for long, smooth cuts
Pinpoint tip lets you trim with great precision
Durable and long-lasting full tang construction
What We don't
Fairly pricey for a specialty knife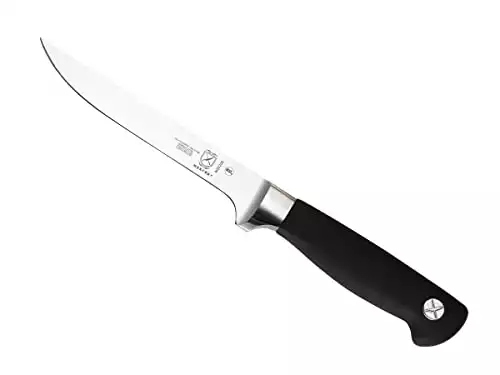 If you've been sticker shocked by most boning knives out there, Mercer Culinary's take on the style will be a breath of fresh air. It's ridiculously affordable for the performance it offers, especially the quality of its steel. If it were a stiff blade (rather than a flexible one), it likely would have been my top choice.
To begin with, the blade for Mercer's boning knife is made from German high carbon stainless steel. That's the same sort of steel offered in brands that cost well over twice as much. It gives this boning knife best-in-class sharpness and edge retention, as well as great durability and stain resistance.
Some cooks may appreciate the degree of flexibility in this boning knife. While I generally prefer stiff boning knives for their pinpoint accuracy, flexible knives have more versatile applications. You could easily use this knife in place of both a boning knife and a fillet knife.
Lastly, Mercer's boning knife is finished with a slip-resistant and comfortable handle. It's made of hygienic Santoprene, a material that's been approved by the National Safety Foundation for use in professional kitchens.
What we like
Exceptionally affordable for a knife of this quality
Made of top-quality German steel
Versatile applications for meat, fish, and poultry
What We don't
Flexible blade makes it less precise than stiff bladed boning knives
One look at Mac Knife's Japanese Series boning knife lets you know you're dealing with a very different sort of blade. It's a fine example of the honesuki style, originally designed to make preparing whole chickens fast and efficient. Of all the blades I've tested and reviewed, it's by far the sharpest.
Most of that precision comes courtesy of the shape and design of the blade. By narrowing to a point at such a steep angle, it allows for scalpel-like accuracy when jointing and trimming meat. And at just 3 mm thick, it offers better precision than any other boning knife.
This knife's blade is made of an uncommon molybdenum steel blend, too. That means it's not only incredibly sharp, but it also offers amazing edge retention and stain resistance. It's easier to care for than most Japanese steel knives and less prone to corrosion that can damage its razor edge.
The only downside? Getting used to a knife with such a specialized design can take a while. Once you've practiced with it, you might never want to use another boning knife. But be prepared to have a lengthy breaking-in period while you get to know this Mac knife.
What we like
Thin, scalpel-like blade for precision cuts
The molybdenum steel blade is low maintenance
Excellent edge retention
What We don't
Uncommon knife style can be challenging to use at first
Runners Up: Other Boning Knives to Consider
Did you know that there's a surprisingly large field of designs for boning knives? That made it quite the trick to narrow everything down to my top three picks. To do full justice to the variety of boning knives available, I'd like to introduce you to just a few more in this section.
I'll be entirely honest: Both of Wusthof's boning knives are incredible pieces of knife-making craftsmanship. I chose their stiff boning knife as my top recommendation because my personal experiences have made it a favorite. But when I surveyed a few of my chef friends, I got strong recommendations for Wusthof's flexible boning knife, too.
It seems the main difference is how you like to grip your knives. This flexible boning knife has a finger guard that favors people who like to grip far up on the handle. But the stiff boning knife favors a grip that's stronger on the butt of the handle.
Either way, you can't go wrong with Wusthof.
This traditional style gokujo is designed by Shun to work as both a fillet knife and a boning knife. It features a steep curve to its inflexible blade and is made of extra-hard Japanese steel. Is it my first choice boning knife for most people? No. But if you're looking to add both boning and a fillet knife to your kitchen, it can be a useful all-in-one solution.
If you liked the looks (but not the price) of Shun's gokujo listed above, Dalstrong has you covered. They made a remarkably similar knife that's slightly less sharp, but available for about half the price. It's an excellent meat prep all-rounder.
Buyer's Guide: How to Choose the Best Boning Knife
Because of the large variation in boning knives, nailing down the perfect one for your kitchen will be a journey. Along the way, the more you can learn about these knives, the better prepared you'll be to choose the best boning knife for your cooking style. In this section, I'll outline the qualities I look for to differentiate great boning knives from not-so-great ones.
Types of Boning Knives
Each of the three main boning knife styles has a distinct range of purposes. Allow me to explain:
Flexible boning knives are closely related to fillet knives, but usually feature a less exaggerated blade curve. They're excellent for maneuvering through large chunks of meat, but not as precise for trimming cartilage and fat.
Inflexible boning knives are the standard choice of most chefs. They allow for direct, precise cuts that preserve the integrity of the meat. I recommend these as your first choice, because they make it much easier to separate bones and prepare whole cuts of meat.
Gokujo knives are a Japanese "all-purpose" blade that sits somewhere between fillet and boning knives. They feature the steeply curved blade of a fillet knife, and the stiff structure of a boning knife. This makes them versatile, but not as specialized for either de-boning or filleting.
There's also the lesser-known honesuki style Japanese boning knife, which I've featured in my top three picks. It strongly resembles the construction of a chef's knife, but its blade has a much steeper angle. This gives it a small, precise tip that's perfect for separating the joints in poultry. And with a bit of practice, you can use a honesuki for trimming large cuts of red meat and filleting fish, as well.
Shape and Size
Boning knives come in a wide range of shapes and sizes, to accommodate the needs of different cuisines. But they all have one thing in common: A steep blade angle that leads to a narrow, pointed tip. That design allows for precise maneuvering around bones, and the ability to trim fat and cartilage.
Because you'll mainly be using a boning knife for small cuts, a shorter blade allows for better control. Six inches is a good baseline that can handle poultry just as easily as red meat.
Blade
No matter what material is used for your boning knife's blade, you'll have to decide whether you want one that is stiff or flexible.
In most cases, I recommend choosing a boning knife with a stiff blade. When you're getting into the nitty gritty of separating joints and trimming from around bone, a stiff blade will let you make focused cuts.
If you'd like a boning knife that can double as a fillet knife, though, you'll want a semi-flexible blade. This will make it easier to trim the skin off of fish fillets or work around their small pin bones.
Tang
While making exacting cuts with a boning knife, the blade can be put under a lot of stress. That's why I always recommend looking for a knife with a full tang construction. This means that a single piece of steel extends from the tip of the blade through the butt of the handle. The resulting stiffness and durability make for a knife that's strong and long-lasting.
Handle
When you're working with large cuts of meat, poultry, or seafood, there's a good chance your hands will get wet or greasy. That's why the handle for a boning knife is of particular importance. Look for hard synthetic or natural wood handles, with non-slip textures. Avoid slick synthetic handles, or any that are made from cheap and lightweight plastic. They won't feel comfortable in your hands, and they won't provide a fine balance to the weight of the knife's blade.
Finger Guard
As an additional safety precaution, some boning knives will feature a small finger guard at the junction of the handle and the blade. While I like this feature for fillet knives, that's mainly because you'll be working in wet environments while cutting fish. For boning knives, a finger guard or full bolster is less relevant and can safely be ignored by most chefs. Beginners who haven't developed confidence in their knife skills, though, might appreciate the peace of mind that comes with a finger guard.
Care
Proper care and maintenance will extend the sharpness and overall life of your knives. For boning knives, this means you'll need to pay attention to two main things:
Keep your boning knife dry in between uses. Even stainless steel knives can start to discolor or corrode if they're frequently left wet when not in use.
Have a safe place to store your boning knife. This can be in the case it came to you in, on a magnetic knife rack, or in an in-drawer storage system. Whatever you do, don't put a loose knife in a drawer to bang around with other kitchen tools.
Aside from that, it's advisable to sharpen your boning knife regularly. If you use this type of knife say, once per week, it can go for 6 months to a year between sharpenings.
Cost
How much should you pay for a top-quality boning knife? That depends on your kitchen budget, and what sort of performance you expect out of your knives.
At higher price ranges ($80+), you're getting not just a sharp and well-balanced knife, but also one that will last for well over a decade. Inexpensive knives will work well for a shorter amount of time, but ultimately you'll need to replace them more often.
In short: A great boning knife is a significant investment.
Frequently Asked Questions About Boning Knives
As we're getting to the end of this guide, I'd like to take a moment to answer a few of the most common questions I see boning knives. Beginners can use these questions to build their foundational knowledge. And I hope that even experienced chefs might gather a morsel or two of fresh information along the way.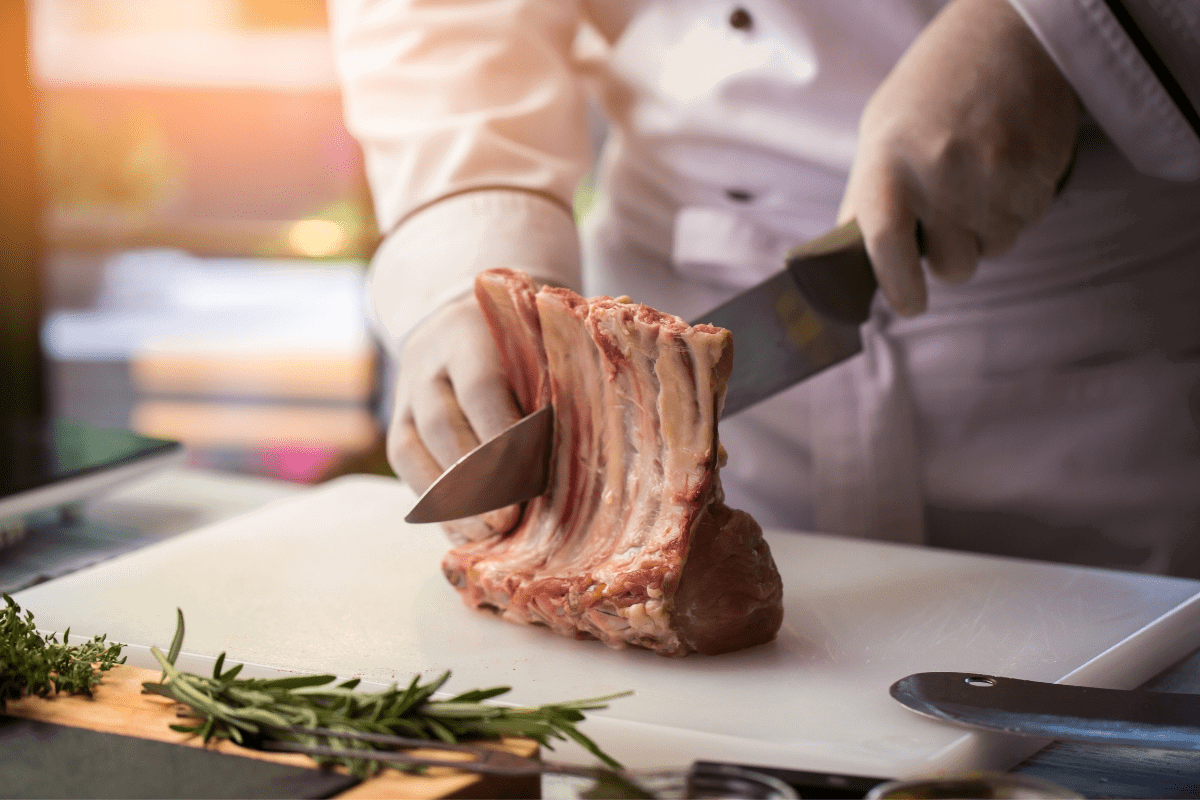 What Are Some Common Uses For Boning Knives?
Unsurprisingly, boning knives are most commonly used for removing bones from cuts of meat! They're meant more for the large bones of poultry and red meat, though. In contrast, fillet knives specialize in handling the small bones found in fish. Think of a boning knife as your solution to splitting, trimming, and deboning poultry, pork, beef, and lamb.
Should My Boning Knife Be Flexible?
Both boning and fillet knives can be used to remove bones from cuts of fish, poultry, and meat. But where you want flexibility when working with small fish bones, trimming around larger bones is best done with an inflexible blade. That's why I recommend favoring a flexible blade for fillet knives, and an inflexible one for boning knives.
How Do You Sharpen A Boning Knife?
Boning knives are just as easy to sharpen as any other knife in your kitchen. If you already have a method for sharpening your knives, it will work just fine for your new boning knife, too. I prefer a simple set of whetstones for sharpening my own knives, as it lets me choose the exact blade angle I'd like to use. If you're not comfortable sharpening your own knives, I'd advise taking them to a professional sharpener every 6 months to a year.
Is A Boning Knife Necessary? What Other Knives Should I Have In My Kitchen?
How often do you prepare meals from whole cuts of meat? Or better yet, how often do you think you might if you had the proper tools? That's the question you'll have to answer for whether a boning knife is necessary for your home kitchen.
In my own kitchen, I've found that a great boning knife will pay for itself. How? By reducing the cost that you pay for large cuts of meat.
Take boneless, skinless chicken breasts as an example. Buy them from the grocery, and you'll be paying a premium for the work that's put into preparing them. But if you learn how to break down a whole chicken yourself (see below), you'll both save money and end up with everything you need for homemade chicken stock. Do that over the course of a year, and you'll save enough money to pay for the cost of your boning knife.
Of course, you won't get far in your kitchen if you only have a boning knife. I always recommend starting with a top-quality chef's knife and paring knife, then assessing what other knives you might need for your cooking style.
My Recommendations
Well, we've certainly come a long way from those first few explorations into boning knives, haven't we? I hope you're feeling confident in choosing the right one for your home kitchen. To give you a brief recap, here are my favorites:
The Wusthof Classic Curved Boning Knife has a refined design and rugged construction that make it a perennial favorite of professional chefs. It's pricey for a specialty knife, but well worth the investment given its longevity and durability.
Mercer Culinary's Genesis Series Flexible Boning Knife is an absolute steal for the price, and a perfect alternative for cooks on a tight budget. Its semi-flexible blade can let it stand in for a fillet knife on occasion, too.
The honesuki style Mac Knife Japanese Series Boning Knife is amazingly sharp, allowing for the most precise cuts of any knife on this list. As long as you're willing to learn how to use this uncommon knife style, it will repay you in spades.