There's really no reason not to have a bamboo steamer as part of your cookware arsenal. They're inexpensive, easy to use, and indispensable if you want to make dim sum at home.
Bamboo steamers have been around for thousands of years without the need for change or major improvement. I grew up watching my grandma use a Chinese bamboo steamer basket and I continue to use one today.
From first hand use and thorough research, I've chosen three of the best bamboo steamers so you can take advantage of this simple and ancient way of cooking.
Best Overall
Budget Option
Best Splurge
Hcooker 3 Tier Kitchen Bamboo Steamer with Stainless Steel Banding for Asian Cooking Buns Dumplings Vegetables Fish Rice
Helen's Asian Kitchen Bamboo Food Steamer with Lid, 10-Inch
JIA Inc Steamer Set - (Large)
Best Overall
Hcooker 3 Tier Kitchen Bamboo Steamer with Stainless Steel Banding for Asian Cooking Buns Dumplings Vegetables Fish Rice
Budget Option
Helen's Asian Kitchen Bamboo Food Steamer with Lid, 10-Inch
Best Splurge
JIA Inc Steamer Set - (Large)
We may earn a commission if you make a purchase, at no additional cost to you.
The Hcooker bamboo steamer is similar to other options on the market. But it has a few key features that make it just a bit better than the rest.
The first quality that stands out is that Hcooker makes a 3-tier steamer while most similar products are constructed with only two tiers. That means there are three separate levels where food can be placed and steamed, plus a tightly woven bamboo lid to hold in steam.
This design feature gives you more space for steaming food without having to buy multiple steamer sets. And, when you're not cooking as much food, it's easy to use just one or two tiers instead of all three.
The second thing that sets this steamer apart are the stainless steel bands. They add durability and also help each tier fit together seamlessly. There are other bamboo steamers available with metal rims, but they often use small nails to hold them in place which can be a hazard. This is because the nails often rust in such a wet environment.
The last big benefit that you won't find from anyone else is the variety of sizes available. 6, 8, 10, and 12-inch steamers are easy to find. But, Hcooker takes it a few steps further by offering their bamboo steamer basket in 13 different sizes.
They start at 7-inches in diameter and go up to 12.2-inches, with standard and deep options available in each size. While 13 sizes may seem like overkill to some, it will make it much easier for you to find a perfect size match to fit a pot that you already own. That can be very useful if you don't have a wok to use as your heating vessel.
Along with the handmade steamer basket, you'll also get three reusable cotton liners. These are great to get started with, but after a few uses, you will want to acquire some parchment or cabbage leaves to use rather than cotton.
What we like
Well thought out stainless steel rims
One more cooking level than most competitors
Wide range of sizes
What We don't
More expensive than many other options
We may earn a commission if you make a purchase, at no additional cost to you.
The Helen's Asian Kitchen bamboo steamer is a straightforward, no-frills steamer that gets the job done. It's a great and inexpensive option if you're trying out a bamboo steamer for the first time.
The 10-inch diameter and 2-tier design is a great multipurpose size that can be used for individuals or small groups of people. If you ever need to cook for larger groups you'll have to buy additional sets in order to have more cooking levels.
The entire steamer is made from 100% bamboo. That makes it a totally natural, bpa-free cooking tool that's also very eco-friendly. It has a traditional look and the tightly woven bamboo lid does a great job holding in steam while your food cooks.
There is one downside to the 100% bamboo construction. As it is heated and cooled the bamboo can easily change shape and in severe cases this can lead to warped or even broken steamers.
While this is an excellent option if you are trying bamboo steaming for the first time, it's also what my Chinese grandmother used when I was growing up. And I would say she was an expert-level steamer. So, this budget pick may lack some durability but it can still steam as well as the more expensive options.
What we like
Inexpensive
Cooks food just as well as more expensive options
100% bamboo makes it eco friendly and light weight
What We don't
Not the most durable option
We may earn a commission if you make a purchase, at no additional cost to you.
The JIA Ceramic and Bamboo steamer set is a bit of a departure from the classic bamboo steamers that most of us are used to. The price is much higher than any of my other picks, but you're also getting a beautiful ceramic pot that can be used for a number of other cooking tasks.
The pot is made from fireproof ceramic and can be used to cook rice or other dishes with or without the steamer basket on top. Using the bottom pot for one recipe, and the steamer basket for another is an excellent way to make a complete meal with a single piece of cookware.
The whole thing also looks good enough to use directly on the dining table as the centerpiece of any meal.
The included steamer basket has a 10-inch diameter and uses a unique, perforated terracotta base. The terracotta heats very evenly and can also absorb a lot of moisture so that ingredients never end up sitting in excess water.
Unfortunately, the set only comes with one tier for steaming. You can buy additional steamer baskets with the terracotta base, but they are on the expensive side. Luckily, you can also use standard 10-inch bamboo steamer baskets if you want to add more cooking layers.
For a lot of people, this is not going to be the most practical choice when you consider the high price. But, it can be a show stopping centerpiece when you entertain and it also makes an impressive gift for foodlovers that seem to have "everything" in the kitchen department.
What we like
Beautifully designed and constructed
No additional wok or pot needed
Cook multiple dishes at the same time
What We don't
Very expensive compared to standard bamboo steamers
Only comes with one-tier for steaming
Other Options That Are Great But Didn't Make The Cut
I like the Flexzion 10-inch bamboo steamer for it's durable construction. It's a traditional bamboo steamer that features a stainless steel rim on the top and bottom of every layer. That makes for a steamer set that is a lot sturdier than many of the competitors. Unfortunately, the small nails that attach the metal bands are not stainless steel and many owners found that they rusted after only a few uses.
The 6-inch steamer baskets from Yuho Asian Kitchen are great for individual portions or if you are making a lot of different items, dim sum style. The small size is perfect for those applications but is less useful for most other steaming needs. It can also be difficult to find the right pot that is compatible with the small diameter of these baskets.
Buyers Guide: Choosing The Best Bamboo Steamer
Size: Get The Most Out Of One Steamer
Bamboo steamers are generally sized by their diameter in inches. 6-inch steamers are the smallest size and are good for individual portions. They're common in restaurants which use large steam tables to heat them, but are less useful at home.
12-inch steamers are excellent if you want to make something like a steamed whole fish or other dishes where a large plate needs to fit in the steamer. Keep in mind that you'll need a wok or a pretty large pot in order to use this size.
I think a 10-inch steamer is the ideal size for most home cooks. It's a perfect size that's incredibly versatile. It can be used for one person or additional tiers can be added to accommodate any number of hungry mouths.
Tiers: The More The Merrier
More tiers allows you to cook more food at the same time. Each layer can be a different item or you can make large quantities of the same thing. Either way, more tiers will give you the flexibility to feed more people when you need to. And when you're cooking for fewer people, it's just as easy to use fewer levels.
Most steamer sets come standard with 2-tiers. My best overall pick comes with 3-tiers, which is just one of the reasons I think it's the best bamboo steamer around.
The Importance Of A Good Lid
A good lid makes for more efficient cooking. Bamboo is a great material for this because the tightly woven fibers absorb water and swell when they are heated. This keeps steam from escaping and creates a very hot and even cooking environment inside.
There shouldn't be any large gaps in the lid. If there are, steam will escape and cooking times will likely be longer and more uneven.
Materials: Durability And Price.
High quality bamboo steamers are tightly woven and fit well together so excess steam doesn't escape during cooking. And a high quality steamer doesn't need to cost a lot.
My budget pick at around $20 will serve the needs of most home cooks. It's well made and does a great job trapping steam while you cook. But, with heavy use, the constant change of heat and moisture can take a toll on these steamers.
For some added durability you can opt for models with enforced metal or plastic rims. These are likely to be a little more expensive but will often outlast the plain bamboo versions.
Pot or Wok: Which Works Better?
A wok is the traditional heating method and is great because it can accommodate a variety of steamer sizes.
A pot works just as well but it can be tricky finding one that perfectly fits a particular steam basket. An easy solution to that is to add a steamer ring. A steamer ring sits on top of any regular saucepan and can hold a variety of bamboo steamer sizes.
An additional benefit to using a pot, is that you can cook a dish in the bottom and use the steam from that to heat your steamer baskets above.
Safety Concerns To Keep In Mind
I've had my share of burns working in restaurant kitchens. But it's the steam burns that always catch you off guard. By the time you know what's going on it's usually too late. So, always be careful when removing the steamer lid and never place your face directly over the baskets.
If you're steaming items for a long time, it's also important to make sure you don't run out of water. Replenish your wok or pot with warm water so you don't end up with a scorched pan.
Frequently Asked Questions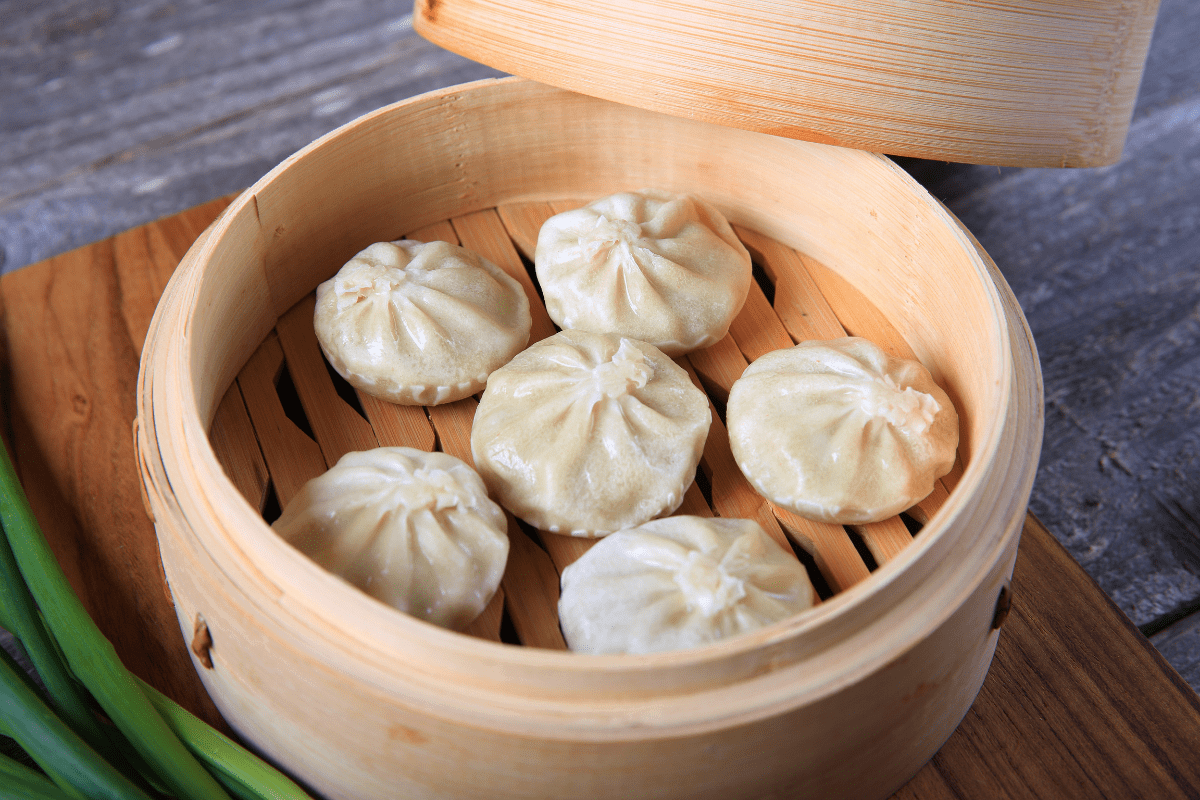 Why Should I Use A Bamboo Steamer?
A bamboo steamer is a great way to cook without using any oil or fat and is the best way to cook many different kinds of dumplings. Cooking with a bamboo steamer is also very efficient and produces even results without drying out food. Plus, they're generally a very inexpensive piece of cookware.
Are There Any Drawbacks To Using A Bamboo Steamer?
When it comes to steaming food, a bamboo steamer is one of the best tools for the job. The only downside is that they often lack durability. Choosing a steamer with a metal rim will add some durability, but still don't count on them lasting a lifetime.
It's also necessary that you hand wash your bamboo steamer and avoid using soap as much as possible. The natural bamboo can absorb soap and other chemicals which can lead to food with an off taste.
Is A Bamboo Steamer Better Than A Metal One?
A metal steamer is durable and easy to clean. But, bamboo is a much better material when it comes to cooking performance. Bamboo is able to absorb a great amount of liquid so that the food you're cooking doesn't end up sitting in a puddle of water. As it absorbs liquid it also swells, helping it to trap in more moisture and heat.
Is A Wok Required?
A wok is great because it can be used with a range of steamer sizes but it's definitely not required. Any old pot will work fine, it's just a matter of finding the right size for whichever steamer you choose. Or, you can simply add a steamer ring that will likely work with a pot that you already have.
How Do I Use A Bamboo Steamer And What Should I Cook With It?
Before you start cooking you should line each steamer basket to keep food from sticking to the bamboo. Parchment paper with holes, cabbage leaves, and cotton or silicone steamer liners all work great, and many sets come with steamer liners to get you started.
Next, place your ingredients in the lined baskets. Make sure that there is space between each item and around the edges so that steam can circulate around the food.
Finally, place the bamboo baskets (with the woven lid on) over a pot or wok with simmering water and steam away.
Steaming is a great way to cook vegetables without losing any of the nutritional value. Dumplings and other dim sum dishes are also perfectly suited for this cooking technique. But, my favorite use for a bamboo steamer is for delicate fish and other seafood.
Try steaming a piece of fish over a bed of ginger and scallions. When it's done, a simple dressing of soy sauce and toasted sesame oil is all you need. That, and a bowl of rice is a perfect dish in my book.
My Recommendation
A bamboo steamer definitely deserves a place in most kitchens. It's a simple and inexpensive piece of cookware that offers a wide range of cooking benefits.
My budget pick is a trusty standby and is similar to the ones I grew up using. But for me, I think it's worth it to upgrade to my overall best bamboo steamer. It's not much more expensive and you get more cooking tiers, better durability, and a lot more options when it comes to size.
If you're also looking for a wok for your steaming and stir-frying needs, here are a few of my favorite carbon steel woks. You can find a variety of good options in the $20-70 range.
We may earn a commission if you make a purchase, at no additional cost to you.