Air fryers are one of the fastest and easiest ways to make delicious and crispy food, all without the mess and calories of a deep fryer.
The problem is that there are 100s of models available, all claiming to be the best.
I've cooked in professional kitchens for over 10 years and have a good idea of what's gimmick and what's useful when it comes to cooking appliances.
So, after hours researching the options and comparing the features and cooking results, I've come up with the three best air fryers under $100. These are all great options to get in on the air fryer craze without a big investment.
Best Overall
Ninja AF101 4-Quart Air Fryer
The Ninja AF101 4-Quart Air Fryer has a simple and intuitive control panel that keeps the buttons to a minimum. It is a perfect choice if you're looking for a budget-friendly air-fryer.
Buy Now
We may earn a commission if you make a purchase, at no additional cost to you.
09/28/2023 02:18 pm GMT
Whether this is your first air fryer or an upgrade, the Ninja AF101 air fryer is a perfect all around option. It's reliable, consistent, and well loved by air fryer offianados.
The Ninja air fryer has a simple and intuitive control panel that keeps the buttons to a minimum. That makes it quick and easy to use without having to navigate too many symbols and settings.
Plus, it might just be the best looking air fryer around, and fits in nicely if you already have any of Ninja's other countertop appliances.
Even though the controls are simple, this machine can still do a lot. There are four preset functions that include air fry, air roast, reheat, and dehydrate. Each taking advantage of the machine's wide temperature range of 105 F up to 400 F.
The build quality also may be the best on this budget friendly list. The main basket and crisper plate are ceramic coated for better heat transfer and easier cleaning. And, there's an included multilayer rack which is great for making larger batches of dehydrated snacks.
With a 4-quart capacity, the Ninja air fryer is a good size for 2 or 3 people. If you'll be cooking for a crowd, consider my next pick. Or, for a bit of a splurge check out Ninja's larger 8-quart sibling which was one of our top picks for the best large air fryers.
What we like
Simple and easy to use design
Good multipurpose size that doesn't take up too much counter space
Dishwasher safe basket and crisping tray
What We don't
At the high end of the $100 range
There can be a strong plastic smell during the first couple of uses
Best For Large Families Or Groups
Big Boss 16-Quart Air Fryer
The Big Boss 16-Quart Air Fryer`s bowl is made entirely from durable ceramic glass. The best thing about this glass design is that you can constantly monitor your food as it's cooking. All without having to remove a drawer and interrupt the cooking process like with most models.
Buy Now
We may earn a commission if you make a purchase, at no additional cost to you.
09/28/2023 12:42 am GMT
As the name implies, the Big Boss is huge! If you're only cooking for a couple of people this may be overkill. But for larger groups, this option is hard to beat.
The design and look of the Big Boss is vastly different than most options that you'll come across. The large cooking bowl is made entirely from durable ceramic glass.
The best thing about this glass design is that you can constantly monitor your food as it's cooking. All without having to remove a drawer and interrupt the cooking process like with most models. Plus, you can easily use the glass bowl as a serving piece directly on the table.
The Big Boss has controls that couldn't be easier. Everything is done through two dials. One for temperature and one for cooking time.
Another impressive feature is the high max temperature of 482 F. Most other models will only go to 400 or 450 F. But the higher setting of the Big Boss means you can even get a decent sear on steaks and chops.
What we like
Very large cooking capacity
482 F max temperature is higher than most
Glass bowl lets you monitor food as it cooks
What We don't
149 F minimum temperature is a little too hot for dehydrating
Quite heavy at 16.5 pounds
Best For Small Spaces
Dash Compact 2-Quart Air Fryer
The Dash Compact 2-Quart Air Fryer has very straightforward controls, with one knob for setting the cooking time and another for setting the temperature. It is a perfect choice if you are looking for a portable, affordable, and dare I say, cute package.
Buy Now
We may earn a commission if you make a purchase, at no additional cost to you.
09/28/2023 02:02 pm GMT
Dash has taken the convenience and crispability (that's a word right?) of an air fryer and shrunk it into a portable, affordable, and dare I say, cute package.
But, don't let the small size fool you. This little machine can crisp with the best of them, thanks to their AirCrisp technology. Which is just their way of getting air to effectively circulate around the food from all sides.
The controls are very straightforward, with one knob for setting the cooking time and another for setting the temperature.
The temperature range starts at 170 F and goes up to 400 F. So you're covered for most cooking tasks. But, the temperature knob only shows a few markings which makes it difficult to accurately dial in the correct cooking temp.
With it's 2-quart basket, this air fryer is best suited for 1 or 2 people. And it's small size makes it perfect for dorm rooms, small apartments, offices, or on the road in a camper or RV.
What we like
Compact size fits in the smallest spaces
Heats up and cooks very quickly
What We don't
Hard to accurately dial in the cooking temperature
Some owners found the nonstick coating to easily scratch and flake
Buyers Guide: Choosing The Best Air Fryer Under $100
Size And Cooking Capacity
Countertop air fryers come in a variety of shapes and sizes. When choosing the best option for you, be sure to consider how many people you'll be cooking for on a regular basis.
2-quart models are definitely on the small end and are really only good for 1 or maybe 2 people. You'll be able to fit about a half pound of french fries or 6 chicken wings. So this size could even end up being too small for anyone with a large appetite.
On the other end of the spectrum you'll find very large options that range from around 10 all the way up to 20-quarts. These extra large machines definitely take up a lot of counter space, but they can be useful for large families or if you do a lot of entertaining.
I think the sweet spot for most people is going to be the 4 to 8-quart range. Those sizes are small enough to live permanently on the counter, unless you live in tight quarters. And, they have enough cooking capacity to easily feed a family of 4.
Temperature Control: Wider Temperature Range = More Versatility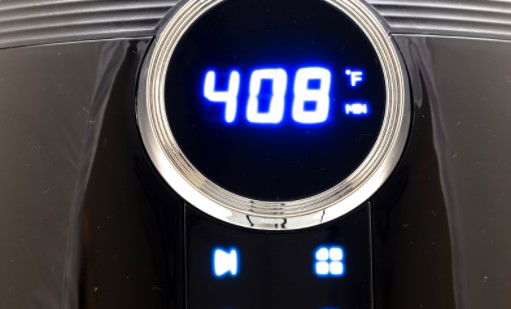 The most common air frying applications use temperatures between 350 and 400 F. That's the temperature range where you'll get food that's GBD (golden brown and delicious).
Just about every air fryer has you covered there. But, models that also have very low and high temperature capabilities can open up even more cooking possibilities.
If you have a machine that can maintain temperatures under 150 F, you have a very effective food dehydrator. On the other end, temperatures between 400 and 500 F can actually get you a decent sear if you plan on cooking a lot of proteins in your air fryer.
Controls & Presets: Keep It Simple
I'm a believer that simple is often better when it comes to kitchen appliances. Even when I have a lot of presets available, I often find myself using the manual settings in order to get the best cooking results.
For instance, the fish setting on an air fryer isn't going to know the type of fish, how thick it is, or how well you like it cooked.
As long as you have control over the time and temperature, you're pretty much all set. So, the simple two knob models will get the job done. But, a nice digital display looks good and can offer some useful settings, like fan speed adjustment.
Cooking Speed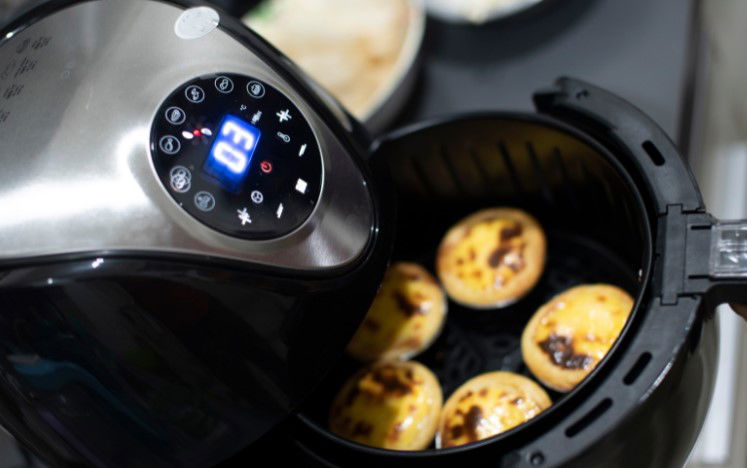 Aside from the crisping ability, cooking speed is another place where air fryers really shine.
For one thing, air fryers have an incredibly fast heat up time. I'm talking just a couple of minutes to get up to around 400 F.
That means you can generally place your food in the air fryer before you even turn it on so there's no time wasted waiting around.
Also, the compact design of an air fryer's cooking compartment means that heat is very effectively concentrated on your food. That, accompanied with strong air circulation, cooks things in a flash.
Reheating leftovers can usually be done in around 5 minutes, and you can go from raw potatoes to french "fries" in less than 15 minutes.
Cleaning & Maintenance
Just like you would clean a pot or pan after cooking, your air fryer basket should be cleaned after every use.
Most models are built with dishwasher safe components. And that's a good thing since there are often a lot of nooks, crannies, and air holes in the baskets and crisping trays that can be difficult to clean. It's also a good idea to check the fan, as food can find its way in and get stuck there.
For the exterior of your air fryer, just be sure that you are wiping it down regularly to avoid any oil and grime build up.
Warranty And Common Issues
Most Air Fryers on the market come with a 1-year warranty. That's true for these sub $100 models as well as many options that cost $200 and more.
While air fryers are getting better, many of the lower budget options aren't going to last for years and years and years. In general you should expect a solid 2 to 3 years of use. But that will always depend on how often you use your machine and how well it is cleaned and cared for.
While it's not common, there have been some instances of air fryers actually melting during use. It's not something that happens on a regular basis but it's worth keeping an eye on your machine while it's cooking. Afterall, most models are built primarily from plastic components surrounding a very hot heating unit.
Frequently Asked Questions
What Is An Air Fryer And How Does It Work?
You can think of an air fryer as a miniature oven with a built-in fan. There's no frying that actually goes on inside. Instead, the fan moves hot air around, which helps to evaporate moisture from the surface of the food.
By evaporating moisture from the food while it cooks, you get faster cooking times and much better browning and crisping. This is the same process at play in a convection oven, only in a smaller and more confined space.
What Are The Main Benefits Of Using An Air Fryer?
Air fryers are really good at cooking food fast, and creating a crisp exterior. Most models are also very compact and take up less space than a microwave or toaster oven.
The crisp, fried-like texture that you can achieve is how these machines got their name. But unlike a conventional deep fryer, you don't have to use nearly the same amount of fat while cooking. So, you can get somewhat similar crunchy results in a healthier way.
Air Fryer vs. Toaster Oven vs. Convection Oven: Which Is Better?
Air fryers really excel when it comes to convenience. But, their small size does make them somewhat limited in their uses.
A toaster oven is awesome when it comes to toasting bread and melting cheese, plus you can fit a lot of food in them. But, toaster ovens without a fan tend to heat unevenly and don't have the crisping and browning power that you get from an air fryer.
A convection oven is really the best of both worlds. When you think about it, an air fryer is really just a miniature sized convection oven.
I think this is the most versatile of the three. They can be used with or without air circulation and they are big enough to cook a lot more food. While you can find some models under $100, you'll get a lot more bang for your buck with one of these countertop convection ovens.
Is There Such A Thing As A "Bad" Air Fryer?
All air fryers function in about the same way. They have a heating element and a fan to circulate hot air.
I wouldn't say that there are "bad" air fryers, but you'll often get a bit more durability from some of the higher end models. Picking a model that is the right size for you will go a long way in getting the best experience from your air fryer.
My Recommendations
With so many air fryers on the market, I think it's important to choose the models that have been widely used and have a good track record. Also, be sure to pick a size large enough to be the most useful for you. Afterall, you won't have great results if you end up packing your air fryer full every time you use it.
If you'll be using your air fryer to cook for a large family, I think the Big Boss is a great option. It may not look as high-tech as many models, but I love the durability, easy cleanup, and view that you get from the large glass bowl.
But for most people I think the Ninja is the way to go. It's easy to use and has the lowest temperature setting which is great for dehydrating. Plus, it looks good enough to leave on the counter at all times.
Best Overall