Basil Pesto offers a creamy convergence of flavors. It's something you can make fresh from the garden during the summer months. It's quick, the kids love it, and making it together creates several teachable moments for the family.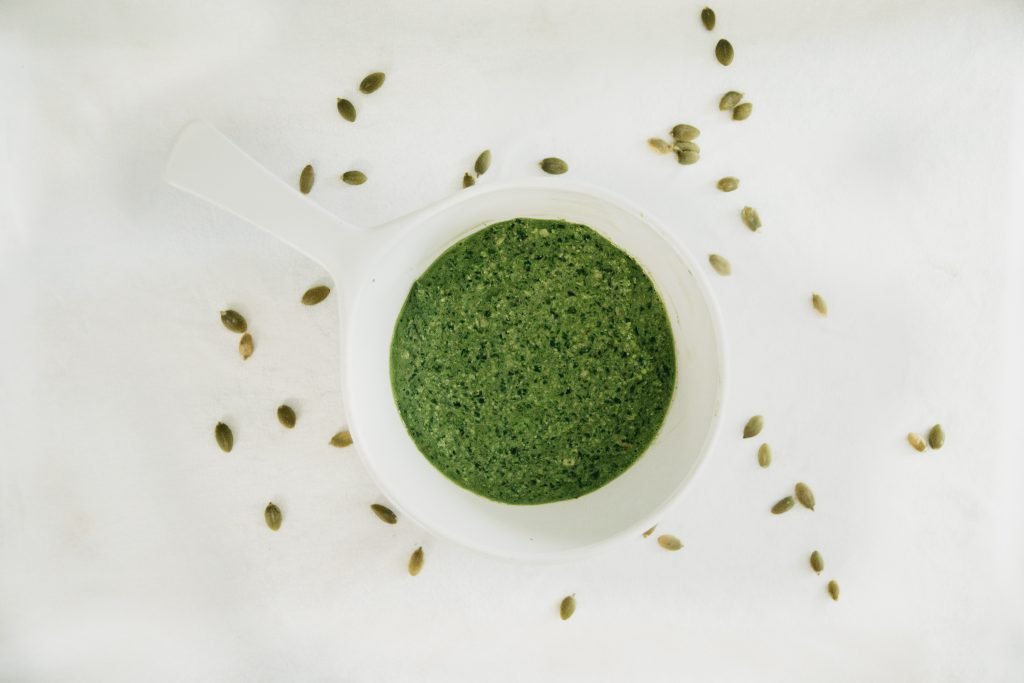 Why This Pesto Works
This Basil Pesto recipe is based on the growing region around Genoa, Italy, but its fundamental principle of making green sauce is more universal.
We've shared a few suggestions, like adding local ingredients and sweat-saving conveniences of the modern kitchen. This classic pesto is truly something you shouldn't miss.
Here are a few reasons why you must try this basil pesto,
The 'bright' flavor and color. This pesto tastes as bright as it looks. If you taste it patiently, you'll recognize each distinct note of the herbs, garlic, cheese, and pine nuts in the sauce. Depending on the variety of basil, you may also notice mint, cinnamon, or anise undertones.
It's truly versatile. Pesto can be had as a sauce, dip, or spread. The obvious choice is to toss some pasta in it. But try drizzling it over a salad or grain bowl. Amp up your mac n cheese, make a homemade pizza, or drizzle it over scrambled eggs for breakfast. The possibilities are endless.
It's very customizable. It's very easy to make substitutions. This recipe works well with many local ingredients (green herbs, oil, nut, etc.) sourced from various regions. Once you learn the basic formula, then you can make pesto to suit your taste buds. You can even make it allergen-free.
Ingredient Notes
Basil – Use fresh basil leaves that are not wilted. The pesto is only as good as the quality of the basil leaves used. So if you're like me and want to make the best pesto possible, you may want to consider adding basil to your home harvest.
Pine Nuts – They are the traditional choice as they are tender, buttery, and high in fat, resulting in a silkier pesto.
Garlic – Fresh garlic cloves add a nice bite to the pesto.
Extra Virgin Olive Oil – I used Mt. Kofinas EVOO, which is produced in a Sicilian style. Unlike Tuscan-style oil, these olives are taken from a late-season harvest making the oil less bitter with a more subtle olive flavor in the oil.
Parmigiano Reggiano – It's creamy and salty, so it beautifully balances the strong flavor of fresh basil.
Pecorino Fiore – It has a strong cheesy flavor. If you want a lighter flavor, then use Pecorino Romano.
Sea Salt – Or granulated salt.
Water – The friction in the food processor produces heat which leads to the discoloration of the basil. Add cold water to prevent the pesto from losing its color while blending.
The Best Equipment for Making Pesto
I recommend using a food processor, high-speed blender, or immersion blender. If you want an adventure, you might also try mortar and pestle. We haven't done it, but it's the traditional way. More power to you if you go the extra mile. A mezzaluna can also do the job.
Easy Instructions
Prepare the ingredients. Measure the ingredients and wash the basil.
Make the pesto. Add all the ingredients to a food processor except olive oil. Grind until a loose paste forms.
Give finishing touches. Drizzle olive oil on it and mix. Then taste and adjust the flavor.
Serve it.
Tips and Tricks
You can easily modify and adapt this recipe as per your locale. Add radish greens or parsley instead of basil for more bite and sharpness. Switch the pine nuts with pepitas (pumpkin seeds) or walnuts to suit your choice. You can even replace EVOO with peanut oil, sesame oil, or any oil you like.
Flavor adjustment & enhancement
Make sure you taste the pesto and make the necessary adjustments.
The most important is salt because if the salt is less, then the rest of the flavor won't taste prominent enough, and if it's too much, it can overpower the rest of the flavors.
You might consider adding more Parmigiano Reggiano or Pecorino Fiore to enhance the cheesy flavor, some garlic to increase the bite, or an extra squeeze of lemon for more brightness.
Making vegan pesto
Remove the cheese and add nutritional yeast instead. It gives the same umami and cheesy flavor that you usually get from dairy cheese.
Serving suggestions
To keep it simple, you can serve it as a dip, use it as a salad dressing, or spread it on sandwiches and toast.
Fettuccine noodles are a great option for tossing pesto. But if you're like me and want to make the most out of it, then Banza Penne it is. If you haven't heard of them before, Banza noodles are made from chickpeas. They taste similar to traditional pasta but offer boosted protein, fiber, and fewer carbs.
If you're looking for other delicious applications for this recipe, try adding it to a Caprese Tart with Heirloom Tomatoes.
Storage
Store the pesto in an air-tight container or jar in the refrigerator for up to 5 days.
Do not attempt to heat it, as the added temperature will spoil the basil's fresh flavor and color. Allow the pesto to come to room temperature by leaving it on the counter for a few minutes.
Basil Pesto is always best when made fresh. But if you're looking to save some time. Freeze it in ice cube trays and add olive oil on top to preserve the bright green color. Once frozen solid, you can transfer the pesto cubes to a freezer-safe Ziploc bag.
Print
Basil Pesto
---
Author:

Total Time:

10 minutes

Yield:

Serves 4
Description
Preparing vegan pesto requires no special skill, only a few fresh ingredients and about 10 minutes of your time. 
---
2

-cups, fresh basil leaves

2 tablespoons

, pine nuts

3

cloves garlic

½ cup

, extra virgin olive oil

½ cup

,

Parmigiano Reggiano (grated)

¼ cup

,

Pecorino Fiore

¼

-teaspoon, granulated or sea salt (plus more to taste)

3

to

4

tablespoons of water (chilled)
---
Instructions
Prepare your ingredients. Measure

portions of all ingredients and wash the basil.

Add the pine nuts, garlic, and salt to your food processor or blender. Grind it until smooth.

Then add the basil leaves, water, Parmigiano Reggiano, and Pecorino Fiore. Mix until a loose paste forms.

Drizzle the olive oil over the paste and mix.

After you reach the desired consistency, taste and adjust the flavor as needed.
Notes
Try adding radish greens for more bite to your recipe.
Prep Time:

10 minutes

Category:

Sauce

Method:

Food Processor

Cuisine:

Mediterranean
Keywords: vegan pesto recipe
FAQ
Why is some pesto not vegan?
Traditional pesto is not vegan. It contains Pecorino and Parmigiano-Reggiano, which are both made from milk curdled in animal rennet. In addition, be careful while buying it at any supermarket. Store-bought pesto often contains added lactic acid, so make sure you read the label carefully.
Is vegan pesto healthier than regular pesto?
Vegan pesto is considered to be healthier than regular pesto because it is free of cheese. It also has nutritional yeast, which is known for its low-glycemic nature that helps regulate blood sugar. Experts suggest it also boosts heart health and the immune system.
What do you eat pesto with?
It is very versatile. Pesto is traditionally eaten with different kinds of pasta but also pairs well with chicken, pork chops, cold salads, and pizzas, among other dishes. You can even enjoy it by spreading some on toasted bread.